A Collection of Fresh Graduation Graphics to Celebrate the Class of 2020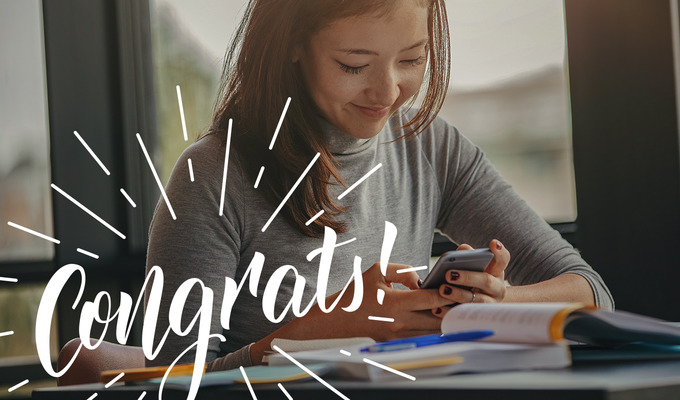 This year's graduation ceremonies, like so many other events, won't look anything like those of previous years. In the midst of social distancing policies and stay-at-home orders, members of the Class of 2020 will have to get (digitally) creative when it comes to celebrating their hard-earned titles.
Whether you're designing digital graduation announcements, greeting cards, email graphics, social media posts, or pieces for at-home celebrations, here is a handpicked collection of graphics to commemorate the effort, accomplishments, and persistence of 2020 graduates.
Pre-designed Graduation Lettering
These typography lockups can be used as photo overlays, web headings, or card covers. Their hand-drawn aesthetic adds a casual touch that can break through the clutter of typical collegiate visuals.
Some of these lettering products even include an SVG cutting file you can use with the Silhouette Cameo or Cricut. They can come in handy if you're considering mailing a greeting card or creating decorations at home.
Graduation Announcement Templates
Get a head start on your graduation announcements with pre-designed layouts. These templates include placeholders to customize the alumni's name, college, graduation date, program, and photo. Some of them include party invitation templates which, given the circumstances, can also be used for group call links (e.g. via Zoom) or some other content like the graduate's favorite quote.
Standalone Graphics
Perhaps you've already thought of a special layout you'd like to build and all you need is that stunning graphic to perfect it. These graduation illustrations and icons are a great addition to your messaging. Pick one that fits your preferred visual aesthetic; they come in different styles that go from flat and minimal to textured and intricate.
Inspiring Design Is Not Cancelled
The Class of 2020 has worked hard for this moment! Let's make the best of it by designing beautiful pieces that make them feel proud of their efforts and encourage them to reflect on the importance of this accomplishment.
---
Products Seen In This Post:
Download 6 Products for Free
Making beautiful design simple & accessible to all.