How to Become a Twitter Power User and Find More Customers
Twitter can be a great tool to promote your products, increase your shop's exposure, find new customers, and make money. It isn't hard to become a Twitter power user, all you need is a few tips and tricks, and you're ready to go. Creative Market offers a simple way for you to instantly share your products on Twitter. All you have to do is go to the product page and look in the bottom right hand corner, there you will find a "tweet" button, simply click and customize your tweet and you're all ready to go.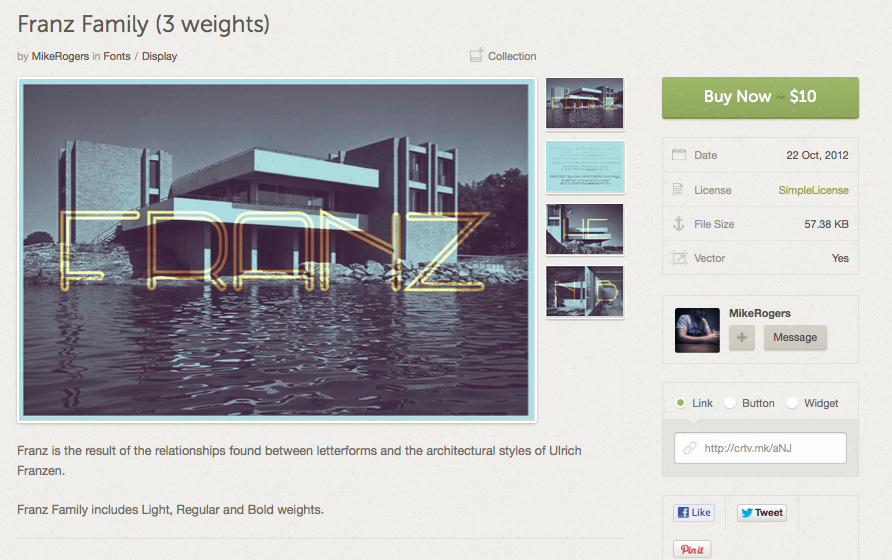 How to Become a Twitter Power User
Twitter is a great and powerful resource to connect with people interested in design. Not only can you broadcast updates on design products you create, but you can learn a lot of cool information and get great inspiration for your future work. By registering for twitter directories, using hashtags, and tweeting interesting articles more people in the design community will be able to find your Creative Market profile. There are a few simple steps to promoting your Creative Market profile:
Build Out Your Profile: The first thing to do when it comes to Twitter is to build out your profile. Make sure you have an accurate description of yourself and profile picture along with a link to your website. Make sure to include @CreativeMarket in your profile, so people know where you sell your items. Write something like "Check out my products on @CreativeMarket" in your profile to show where you sell your items. You can even include the link to your Creative Market profile.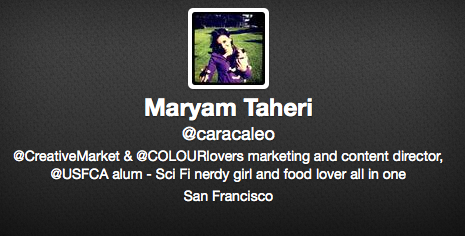 Register Yourself on Twitter Directories: A Twitter directory is a place to help you find influential people. You can search and discover people well connected in the design world and find out who to follow and connect with. Register yourself on some the following sites WeFollow, Twellow, and Just Tweet It. Use these sites to identify yourself in categories like "typography" and "graphic design," so people know to follow you for interesting resources on those topics. In addition, it's a great way to connect with the most influential people in those categories. Make sure you tweet to these people, and re-tweet their articles in the hopes they will notice what you're posting.
Tweet Interesting Posts: Find interesting articles on the internet that people will want to read. You can also attach images to your posts to make them more interesting, and visually appealing. Tweet anything from news articles, to funny stories related to design, and people will start to notice you. Check out sites like: Visual News, COLOURlovers, Mashable, Toxel, Designer Daily, Buzzfeed, and PopUrls to find what is trending on the internet and in the design world. All of these sites will have interesting articles you can tweet out to help you can more followers. If a person is searching through twitter and sees that you tweeting an interesting article, they are more likely to check out your other tweets.
Tweet Your Products: Make sure to not only tweet out your Creative Market profile, but also all the products you sell on Creative Market. In addition, we've set it up so that whenever you tweet out a product it will include an image of that product inside the tweet, so that people can really see what you have to offer.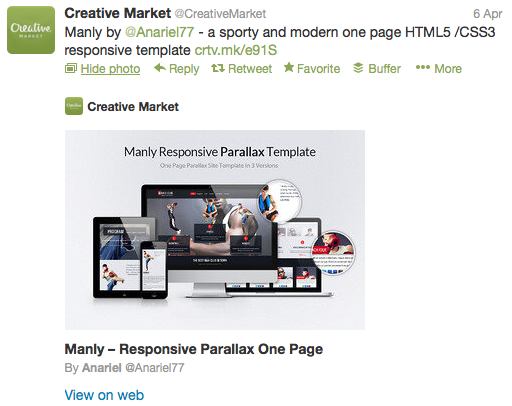 Understand Hashtags: Hashtags can be a great way for people to find the interesting content that you post on Twitter. Find out what is trending content on Twitter through sites like Hashtags.org, and then incorporate relevant hashtags into your tweets so people find your content.
Post Regularly, But Not Too Often: You'll probably find a lot of interesting articles you want to post, along with posting your own content. However, you don't want to bombard your twitter followers with constant information, because it will be too much information they won't be able to absorb. Instead, schedule out tweets at peak times so you area constantly posting content around the clock. Use a program like BufferApp to schedule out interesting tweets at peak times of the day. You can even use the app to schedule RT or replies.
Tweet to@CreativeMarket: make sure to tell us what you've got going on. If you've recently added a cool product and want to tell people about it make sure to mention us so that we can re-tweet and share your product with our followers.
Find Customers
One of the best ways to find customers on Twitter is to do a keyword search, or advanced keyword search using targeted words. You can search for people discussing fonts, Photoshop brushes, and more. Once you find people talking about the product you are trying to promote, Tweet to them and let them know you have something they might be interested in.
Use the sites mentioned above in the Twitter directories category to Tweet to influencers. Influencers are people that have a large following in a certain field. If you Tweet to them about something interesting, there's a chance they could re-tweet and share your product with their followers. Make sure to re-tweet their messages, and respond to Tweets they've posted before you try to get them to re-tweet one of your posts. You want them to notice you're engaged in the community they are trying to create.
Here are a few ways to reach out to potential customers:
Ask them for their opinion on something
Offer assistance or help
Mention their product, company, or service
Share an interesting link
Compliment their content
Re-tweet their posts
Follow Them
When it comes to Twitter, it's about tailoring your messages to fit the setting. Check out this example of real world marketing versus the Twitter world.



The Final Word
Twitter is just like any other marketing tool where you have to put in some time and effort to see results. Finding customers on Twitter is actually easier than you think..simply search for people discussing fonts, looking for help in Photoshop, and anything related to your product. From there, all you have to do is message them and get the conversation rolling! People will usually respond if you're providing them with an answer to their question or you've found something they've been searching for.
Getting started with hand lettering?
Free lettering worksheets
Download these worksheets and start practicing with simple instructions and tracing exercises.
Download now!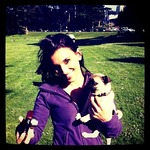 Maryam Taheri
I'm a recent graduate of the University of San Francisco with a degree in Biology and a passion for the creative arts. I love building websites, trying new things, and I have a passion for social media.
View More Posts