Incredibly Common Photoshop Fails to Avoid
As we know, Photoshop is a powerful tool. It's the industry-standard image editor for designers everywhere and has even worked its way into the common vernacular. (For example: "That photo of me looks terrible! Can you Photoshop it?"). But in the wrong hands, Photoshop can be a hazard. Whether you're a first-time novice or a seasoned user, you can still afford to brush up on your skills. Here's our list of all-too-common fails when using Photoshop, and how to avoid them.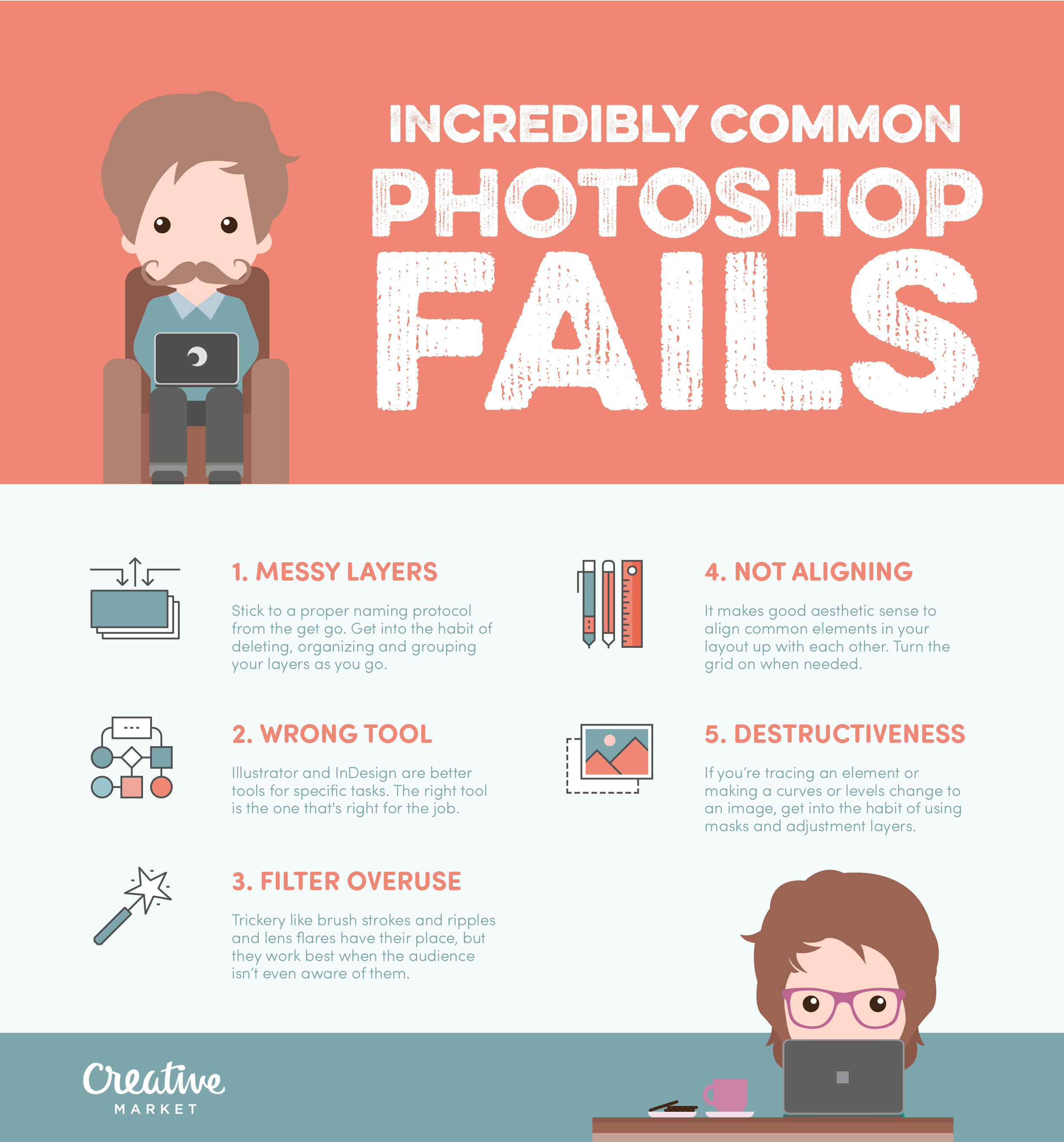 1. Not Organizing Files Properly.
When working on a complex design job, it's easy to end up with a stack of layers in your Photoshop document. If you don't stick to a proper naming protocol from the get go, you'll find yourself with hundreds of unruly layers, all with indistinguishable names like "layer 7 copy copy 53". Get into the habit of deleting, organizing and grouping your layers as you go, and give elements of your document (including filenames themselves) simple, descriptive labels that will make sense to you (or another designer) next time you open your document.
2. Using Photoshop Instead Of Illustrator or InDesign.
Photoshop works well with raster-based images and photographs, and can handle typography up to a point. But if you often find yourself scaling and resizing shapes, or doing complex typesetting or page layouts, switching to InDesign might be your best bet. Or, if you're working with a lot of text or vector elements, you might be better off using a program like Illustrator. As always, the right tool is the one that's right for the job.
3. Overuse Of Filters.
Photoshop has a whole suite of powerful filters and effects. But subtlety is the key to their good use. Trickery like brush strokes and ripples and lens flares have their place, but like CGI in a movie, they work best when the audience isn't even aware of them. You can also check out Creative Market for a range of awesome, unique Actions and Plugins that will help stand you apart from the crowd.
4. Not Aligning Elements.
Great design sticks to a grid. If you're not up to speed on the idea of designing with a grid in mind, have a read here. But in general, it makes good aesthetic sense to align common elements in your layout up with each other. You can do this in Photoshop by turning the grid on when needed, or snapping elements in line automatically.
5. Destructive Design.
If you're tracing an element or making a curves or levels change to an image, get into the habit of using masks and adjustment layers. That way, your original layer is kept intact and untouched, and ready to be revisited if your edit doesn't work out.
What Are Some Other Common Photoshop Fails?
So there you have it, Photoshop fans. Know of any other common Photoshop mistakes, tips or tricks? Let us know in the comments.
---
Products Seen In This Post:
Getting started with hand lettering?
Free lettering worksheets
Download these worksheets and start practicing with simple instructions and tracing exercises.
Download now!