Inspiring Work From Home Setups From Designers Around the World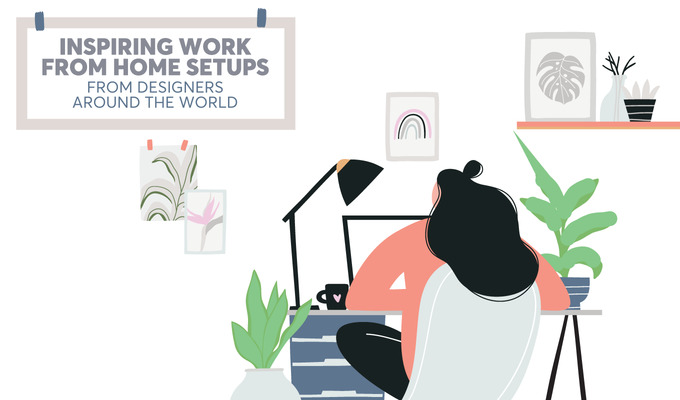 Given the circumstances brought on by the COVID-19 pandemic, many creators have abandoned the routine of heading into the office or working from a cafe, to working from the comfort of their homes instead. While working from home has its perks, such as skipping the morning commute or spending more time with your furry friends, this "new normal" may also pose a challenge as you build a home office that invokes your creativity.
Whether you prefer a comfy couch or standing desk, the most important thing is that you feel productive and creative in your new work environment. To give you a little inspiration, we've asked shop owners from around the world to submit photos of their work from home setups.
Stockholm, Sweden
"Before the pandemic hit Sweden, I usually switched between working from home, at clients' offices, or from cafés. If it's typeface design I usually sit at home with the iMac. If I'm working on UI/UX projects for clients, I usually go to their office. That way, I got a good mix of everything. When the pandemic hit, I switched to working from home full time. Before, I had this little workspace in a darkish hallway. Ergonomics & lighting was pretty bad - but since I didn't sit there full time it wasn't a problem. But a month into the pandemic I decided to make some changes. I bought a standing desk, moved it into our bedroom where there is great natural light, and now I feel it's pretty great, both ergonomically and creatively."

—Daniel, Great Scott!
Cluj-Napoca, Romania
"Here's where most of my work gets done. I've been working from home for about 7 years and nowadays I mostly use my PC (under the desk). The laptop is there in case of emergency but it served me well for a good couple of years before I switched to PC so I think it deserves some rest.

Working from home has its challenges at times. Waking up early in the morning in a different timezone, postponing stuff until the very last day, and so on. But the perks of setting my own schedule, not having to deal with the annoying morning alarm, and just general comfort are well worth the cons."

— Richard, Alien Valley
Paris, France
"I live in Paris and my office is actually my studio apartment. I have my desk/table in front of a big window so I can get some natural light. On my desk, I have my printer and scanner to one side, and all my papers and writing and painting supplies on the other side, along with my laptop. Next to my desk, in the corner, I have my turntable and record collection, which I listen to all the time while working.

In case anyone out there needs a tip on how to maximize space, I put a cover over my table so I can use its underside for extra storage. Not sure if it looks great, but it's better than having all my luggage and bags on display (plus it protects the table from paint splatters!). Most of my fonts were made in this cozy area."

—Ana, Ana's Fonts
Syracuse, New York, United States
"This is my workspace. I live in a small two-bedroom apartment with my son and this area is technically the kitchen. We use a smaller table set up in the living room for our meals. I have my computer and art supplies and printers all near me so I can access them whenever I need. My cat thinks my Canon printer is his bed."

—Maria, Maria B. Paints
Krasnodar, Russia
"I have a small workspace in the kitchen. Trying to work from home has brought me to this cozy space with direct sunlight and a view outside the window that helps me relax. My kitty likes to lay on the windowsill and watch me while I work. I also enjoy keeping flowers nearby, especially peonies since they are in bloom this time of year."

—Elen, The Everlasting Story
Reykjavík, Iceland
"My name is Rhian Awni, a graphic designer and illustrator based in Iceland. I am always working from my home office. My favorite part of my office is the large window right by my desk and my collection of the art books filling the shelves on my side. I also like to have my art supplies (watercolor, acrylic gouache, pencils, sketchbooks) within arms reach for when the inspiration strikes."
Athens, Greece
"I am located near the coastline in Athens, Greece. My office is a room within my home and even though it is small and cozy, I feel like I have all the tools and space I need, plus an ocean view from my balcony!"

—Irene, Youandigraphics
Banda Aceh, Aceh Province, Indonesia
"This is my home office setup, with a simple and minimalistic desk. In addition to the beautiful garden view from here, I placed plants around the room as decoration.

This is where many of my font products are created by me and my team members, including my friend and my wife. My workspace is where we discuss and explore new skills. Sometimes in the afternoon, we move to the front yard where we relax and enjoy some coffee."

—Hendra, DirtyLine Studio
Hamilton, Victoria, Australia
"The left side of the desk is where I do my illustration and watercolor painting. The right side is where I have my computer, printer, and scanner, where I do all and any work which involves a computer, such as digitizing artwork, making previews, listing, replying to emails, etc."

—Lucy, Creativeqube Design
Rome, Italy
"Here is my minimalistic studio located in Rome. It's a simple yet super functional setup! I keep all things minimal, from personal experience the environment has a big impact on creativity and productivity. These days it's very easy to get distracted so I do my best to keep my studio as simple as possible. I'm working on a 27" iMac, and I love how precise the color tones are on this screen. I really enjoy drawing and creating handmade products like my Delicate Logos collection. For this kind of design, I use a 12" iPad Pro first gen + Procreate app. I also have some sketchbooks that I use for logo designs, hand lettering projects, and brainstorming."

—Davide, Davide Bassu
Almaty, Kazakhstan
"I've enjoyed being under quarantine. It has been the best time of my life." —Alexandr, Bakani
Download 6 Products for Free
Marketing Operations | Creative Market 🎨✨💻