How Nicky Laatz Designed Her Way to One Million Dollars
Nicky Laatz
is the most successful graphic designer and shop on Creative Market. She's the first to reach the lofty milestone that everyone else is arguably also striving for: surpassing $1 million USD in sales. How did she do it?
This entrepreneur/stay-at-home mom runs her successful business from her Cape Town home in South Africa. Over the years, she's perfected the art and science of not only designing wonderfully creative products that people want to buy, but also marketing them in a savvy way to increase their appeal and increase her revenues.
So what are Nicky's secrets for success? We recently caught up with her to learn more.
In this piece, we'll look at some of the inspiring tips and tools that empowered her to:
Create desirable market trends

Set the standard for product marketing

Establish her unique niche within a competitive market

Regularly create new products to maintain her momentum

Tie all that together to build the first

million-dollar Creative Market shop
Take Charge of Your Brand With Memorable Work and Products
Having an identifiable personal brand is important to success, but Nicky points out that it's not absolutely crucial to make or break somebody's artistic career. While having a personal brand is definitely useful because it helps people to remember your work and build loyalty, it's not the end of the world if you don't have one immediately.
Still, according to Bop Design,
45% of a brand's image
can be attributed to what it says and how it says it. So if you do eventually develop your own brand, it's of the utmost importance to deliver to your customers what they expect and deliver on that promise.
"I think an identifiable personal brand certainly helps people remember you and your work, but I don't believe it will make or break you as an artist in the long run. If your quality shows through, your 'brand' develops itself without you trying. To get a good head start though, having a branded look that reflects your work is very beneficial in forging ahead," she says.
When it comes to branding, she recommends the following:
You can inadvertently create your own brand simply by the excellent work you create and show.

Create momentum around trends. In Nicky's case, her script-style fonts have come to influence

Creative Market's Popular page

though she didn't consciously try to start that trend! However, momentum was created around that developing trend, so Nicky went with it, and it took off.

Make time to create the items that you as a designer truly enjoy. While creating popular products is well and good, artists need to balance the two.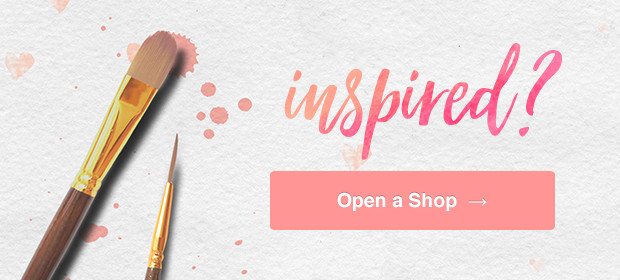 Awesome Product Images Go a Long Way
Screenshots are absolutely crucial to successful marketing! Using images in general to sell products online is a winning formula: According to an Internet Retailer Conference & Exhibition 2012 report, 75% of consumers list
the quality of a product's image
as the most important factor in a buying decision.
Nicky says, "It's half the job of making your item sell. Even the most experienced designers need shop owners to help them see how the product can be used."
She approaches
the process of getting awesome screenshots
in an insightful way. Here's her results-oriented process:
First, you create your product.

Second, you imagine how you can use that product (In other words…for which media or end-products would it be best suited?).

Finally, you should put TLC (tender loving care) into your creations to come up with some examples of how their screenshots will look.
In spite of Nicky's marketing success, though, she's wary not to fall into the trap of always trying to please everyone all the time. In her experience, it's the fastest way to lose one's passion for design—and no designer wants that!
She says, "I always like to think there are no true mistakes in terms of how you showcase your product, as long as you're having fun and you're happy with what you make. Of course, not every single product will appeal to the masses, but there will still be plenty of other people who appreciate your finished product just as much as you do. That's important to remember, because that is how you keep loving what you do. If you keep trying to please 100% of the people, you will run out of design mojo very very quickly."
Research the Market so You Understand Your Competitors
If you've ever felt embarrassed or awkward about keeping tabs on your competition in the marketplace, then stop. In Nicky's experience, it's a great source of inspiration to find new ideas, find out what people want to use and buy, and even learn about other designers.
She suggests doing the following to understand your competition:
Browse the homepage of creative marketplaces like Creative Market to stay informed about what people are interested in

Browse additional category pages to get an even deeper sense of what's popular

Draw inspiration from demand the marketplace isn't currently meeting
Looking at the market also provides opportunities to create new products or styles that are in demand, but currently aren't being made.
"If I see a need for something that's hard to find, and it's the kind of style I love making/looking at, I'll jump in and it will be a joy to make (even more so knowing it will be needed)," she says.
Never Stop Learning
Amazingly, for all her success, Nicky is a self-taught graphic designer. This makes the point that you don't necessarily need an expensive, formal education in design to be extremely
successful as an entrepreneur
. Nicky's been constantly learning her craft for the last two decades.
She asserts, "I'm a self taught designer and still learning. It's been a 19-year-home-school experience, and I love every new exciting thing I figure out how to do!"
To perfect one's craft, one has to be receptive to inspiration, too. Luckily for her, she sees inspiration everywhere…literally. Here's what she does and what you can do, too:
Take in all sorts of info about color palettes, shapes and pretty stuff that you see in your daily life.

Retain this info (It should be automatic if your design passion is high).

Use all of this inspiring, visual info as a creativity catalyst when you're throwing yourself into a design project.
Nicky's approach is learning as she goes, but she's open to taking some online courses in the future (if time allows, of course!).
"I tend to learn on an as-needed basis, inevitably finding the solution/tutorial/video to the particular thing I want to do in the moment," she confirms.
Running Your Shop Like a Business
You don't have to do everything yourself if you're an entrepreneur. You can delegate tasks to others that aren't your strong suit. This can be people in your network, professionals or others who are trustworthy. Some creatives just need to be able to separate business from the enjoyment they get from creating.
In Nicky's case, she's able to focus on the creative and design side of things, which are her strengths, because her kind husband handles the financial and tax side of the business.
"Yes, my husband has kindly taken on the financial/tax end of the business," says Nicky, "which has been a god-send. It has allowed me to just do what I love doing: be creative."
Nicky has these pointers for designers running the business aspect of their careers:
Don't think you have to delegate

everything

. Nicky doesn't delegate her artwork, design or production to anyone, feeling most confident when she does everything herself.

Balance both the design and business side of things for maximum success.

Don't be afraid of relying on only the basics like your email inbox and messages (which you should check regularly to stay on top of client communication). Task managers and productivity tools may help, but they're not always necessary.
Check out this video, where Nicky explains how and why she decided to get started as an entrepreneur:

Be Disciplined and Always Launch New Products
Nicky is always making new things. Let's not forget that she's a creative, first and foremost. However, having a disciplined work ethic is essential to making a good living, which has taken her far in her career. Here's what Nicky advises with regard to creative output:
Have at least one new product finished and launched in any given month. You can always be making products, but it's imperative to actually

launch

them regularly.

Keep up a steady rhythm of new products that you launch.
Don't think that customers will just keep coming back; if they keep visiting your store and see you haven't made anything in a while,
they won't return
they're less likely to return.
Nicky declares, "It's good to keep things rolling and fresh in order to keep your customers coming back to see what you've made next. If customers keep coming back and they see you haven't made anything in a while, they'll stop coming."
If you've been as inspired by Nicky's philosophy and story as we've been, then
open your own shop
today, and experience firsthand how rewarding being a successful entrepreneur can be!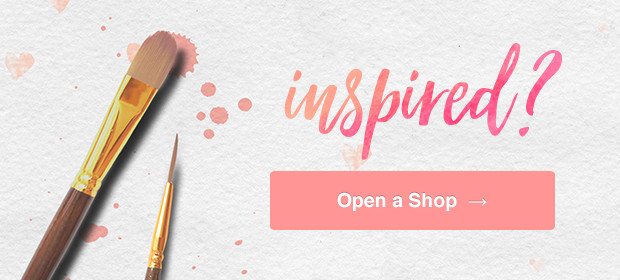 Getting started with hand lettering?
Free lettering worksheets
Download these worksheets and start practicing with simple instructions and tracing exercises.
Download now!
Marc Schenker
Marc is a copywriter and marketer who runs The Glorious Company, a marketing agency. An expert in business and marketing, he helps businesses and companies of all sizes get the most bang for their ad bucks.
View More Posts