6 Beautifully Designed Notion Templates to Boost Your Productivity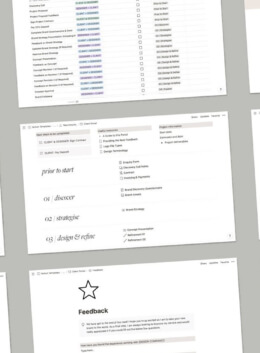 Thanks to technology, it's easier than ever today to manage time, keep track of projects, and stay organized. One example is Notion: a productivity and note-taking program that was created to help people keep track of their deadlines, collaborate on projects with others, become more efficient, and ultimately maximize their productivity.
One of the coolest parts of Notion is that you can customize the software to work as you need it to: you can turn it into a document, use it as a spreadsheet, write lists, doodle freely, and more. For people who want to use Notion to boost productivity but don't want to take the time to turn their Notion into the product that they need, they can use a Notion template for designers from a Creative Market designer that has already been built to help them manage a certain aspect of life or work. Here are some of the best Notion templates on the site.
Notion Life Tracker Command Center By LeadJenna Digital is a collection of daily trackers and checklists that was designed to lead someone through the day so they can stay on top of everything they need to. The designer has offered some unique Notion goals templates and a daily life tracker database so that you can roll up all of your lists into one place. The command center has a slew of varied lists, including:
Daily Life Tracker & Habits Rollup
Today's To-Do List
Workout Summary (Track Steps/Weight)
The Brain (Track TV Shows, Books, Movies, etc…)
Food Planner (Groceries & Meals)
To Do
Daily Journal & Mood Tracker
Products & Assets Manager (Clothing and items)
I've Sorted it into Parts of the day
Breakfast & Workout (Track your weight, breakfast, and workout)
Morning Routine (Miracle Morning Savers + Morning Checklist)
Lunch and Dinner (Meal Planning)
Evening (Checklist + Brain (TV Show, Movie, Book Tracker)
One of the best parts of the Notion Life Tracker Command Center is that the designer also provides a video tutorial of how to best use the command center. That way, you can ensure you get the most out of your purchase!
Deeply Rooted Studio created a Sales Page Template for anyone who wants to use Notion for keeping records for their own business. The designer explains that the template is made for "entrepreneurs, coaches, designers and business owners who are looking to get their ideas out there yet they struggle to afford platforms like Kajabi and Kartra." The template is versatile and can be used for a business in nearly any industry, and it is also complex and in-depth, containing the following elements:
Countdown Timer Widget
Pricing Tables
Mockups
Testimonial Section
Objection Handling Section
About You Section
Who Is It For
Canva Templates
In addition to the template, the designer has included a Course Vault template that can help you create a guide to any course you teach. You can create this course in a member's-only vault to limit access to only the people who signed up to take the course. You can use all of the features of the template with the free version of Notion.
Are you just simply a list person? Do you like to keep track of different aspects of your life by writing them down? Then this notion template by LeadJenna Digital was made just for you. It's simply called Asset Management, and it has a collection of templates of checklists that will let you keep track of a range of things in life. There are templates for the following areas inside of this collection:
Moving – knowing where everything is
Shopping – knowing when you're out of something and need to go buy more
Organization – knowing where you store everything in your house and where you can find your stuff
Client Portal Template on Notion by HASU Design is for anyone who runs a business that works with clients. This template helps you keep track of your "client process" so you can ensure that you've covered all your bases when it comes to providing the best service and making sure that everything gets done. In addition to offering a template to create branded presentations for every client, this template comes with several Notion project management templates, as well as a way to gather feedback from clients, a task list so you stay on top of your to-dos, and a guide to all the file types you receive when you make a purchase. Here is a list of everything that's included when you buy this comprehensive client-focused template:
Project summary area with key deliverables, dates, and next tasks
Useful resources for clients:
Providing the best feedback
A guide to the different file types
Design terminology
Onboarding notes and discovery question prompts, contract page, and payment tracker
Pages to deliver concept presentations and gather feedback (feedback questions provided)
A brand suite for clients
Feedback questionnaire for your design business
Customizable step-by-step process guide and calendar
One thing that the designer explains in the product description is that while all of the features of this Notion template are accessible and workable on the free version of Notion, the number of times you can use each template is limited if you don't have the paid version of the program. If you upgrade to pay for Notion, you can use each template again and again, and really make this creation work for your client-centered business.
Do you want to use Notion to keep track of a Bible study? Or run a Bible study and stay organized with Notion? This Notion template By Pin Perfect Studios was created for the sole purpose of helping someone study the Bible chapter by chapter. The designer calls this template a "digital bible study notebook" that allows you to go back and edit notes chapter by chapter as you learn more about the text while you read. The template also has room to add "videos, links to resources, images, notes from sermons, and more." One feature of the template is that you can check off a chapter of the Bible when you are finished studying it, so you can visually see how much of the Bible you've taken in. In addition to this list, here is what is included in the template:
Includes:
A breakdown of every book of the Bible including a one-sentence summary, time it was written, who the author was, and just for fun, an emoji representing that book.
Within each book of the Bible, there's a place for video summaries of the book (currently using The Bible Project), but you can add your own.
There's a breakdown of every chapter in the Bible, including a one-sentence summary, space for study notes, space for references (you can embed videos here too), and a place for you to write your questions and vocab to study deeper.
The designer says they are going to continually update the template, so check back over time to see what features have been added and how it can enhance your Bible study and reading experience.
Become Even More Efficient with Design Assets on Creative Market
Designers on Creative Market have created templates for Notion that allow people to use the app right away. They've made Notion habits tracker templates, project management templates, among many others. Templates are inherently helpful when it comes to productivity and efficiency because they take a step out of the process of getting started.
But Creative Market shop owners have way more than just Notion templates to help with productivity. Nearly all of the design assets on the site can help make you more efficient since you can find assets like premade logos, styled stock photos, branding elements, and more that are pre-designed by professionals. By purchasing design assets for a project from the marketplace, you can ensure your project looks good—and save yourself time to work on the aspects of a project you enjoy most.
Getting started with hand lettering?
Free lettering worksheets
Download these worksheets and start practicing with simple instructions and tracing exercises.
Download now!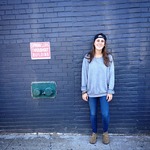 Becky Bicks
Becky is a writer, photographer, and interior designer based in Brooklyn. Despite her current status as a New Yorker, she considers herself a Memphian.
View More Posts