Pantone Dictionary: 20 Terms You Should Know and Understand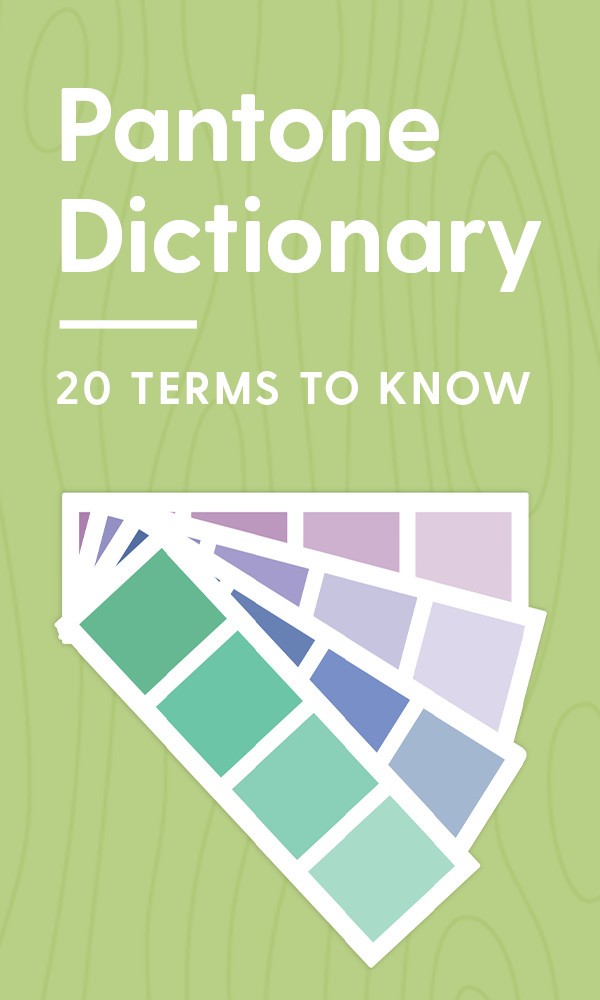 Pantone is the global standard for color, the
lingua franca,
as they say. What that means is that a Pantone color stays consistent regardless of what kind of design project you are working on, or where and how it's being printed.
Pantone started out of a commercial print shop in New York City during the advertising boom of the 1950s. The Pantone Color Guides were their primary product and allowed designers to accurately color match for specific colors based on a standardized numbering system called the Pantone Matching System.
For designers working across media from print to product to web and environment, the Pantone system provides the way to have consistent color.
Today, Pantone provides a variety of guides for different applications and uses. For those new to the Pantone color system, the guides and the language used to describe the various elements of the Pantone systems can be a bit complicated. With that in mind, we created this Pantone Dictionary of useful terms to help you decipher the Pantone Color System.
Pin this dictionary

Fan Deck
The Fan Deck is the slender deck that includes the Pantone Colors. The Pantone Guides are designed as fan decks to make it easy to fan the pages out, flip through, choose and compare colors. The Fan Deck product design hasn't changed much over the years and is a key way you can differentiate the Pantone guides from other color guides.
Chip Book
Chip books are a different product design format from Pantone and present the Pantone Color Guides as rectangular books with tear-out chips in three-ring binders. Chip books are useful because you can include the individual chips in presentations, mood boards, design concepts and color palettes.
PMS
PMS stands for the Pantone Matching System, and is the numbering system for Pantone colors. So, if a printer asks you for the PMS number, they are asking for the Pantone number, which is essentially the Pantone color. The PMS number is followed by a letter that describes the surface on which the color is printed, like C for Coated or U for Uncoated, which are explained below.
Coated
Pantone 'coated' colors refer to the ones in the coated color guide. They show how the color will look on coated paper, which is paper with a smooth, glossy surface. Coated colors take ink better and appear richer. Coated colors are also the most popular for print design projects. If you are considering what color guides to purchase, this is usually one of the first ones designers buy. You will know if a color selected is on coated paper if the color number is followed by a capital
C
, like
312 C
.
Uncoated
Uncoated refers to colors printed on an uncoated paper stock that does not take ink as well so they can appear lighter and less intense. You will know the color is specified to be on uncoated stock if the PMS number is followed by a
U
, like
686 U
.
Formula Guide
The Pantone Formula Guide is the standard Pantone Guide set that includes the 1,867 Solid Coated and Uncoated color values. The guide includes PMS numbers and ink formulations.
Color Bridge
The Color Bridge Guide includes PMS numbers and ink formulations and also CMYK, HEX and RGB color values. The Color Bridge makes it easy to develop consistent color palettes across digital and print media by providing cross-referenced color values.
Spot or Solid Color
Pantone Inks are made up of Spot or Solid colors. They aren't layered or combined to create a sum of their parts like CMYK but instead are pre-mixed into flat and solid colors. For this reason, Spot Colors are more uniform than Process Colors (CMYK) which is the main reason they are used for universally consistent color. Spot Colors are more expensive than process colors though, so you might see CMYK being used as a stand-in for projects created by a less expensive printer. That's why it's so important to have that CMYK Color conversions information alongside each Pantone Spot Color, as they appear in the Pantone Color Bridge guide.
CMYK
CMYK is four-color or process printing and is used for printing material with a lot of colors intermixed, like a photograph. Pantone Spot colors are used most often for solid blocks of color, like for the color of a logomark, for instance. CMYK is used in printing alongside Pantone and sometimes you may need to have both the CMYK information and the Pantone information when printing a job. For this reason, Pantone Color Bridge guides include the CMYK values next to the PMS Pantone Solid color values.
CMYK stands for Cyan, Magenta, Yellow, and Black. Black is denoted by K because it stands for Key Color and is the one printed first in a four-color print job. CMYK colors are made by layering small dots of color via halftone printing. CMYK color is different from Pantone because the color is made up of many other colors, instead of being a full solid color.
Process Color
Process Color is CMYK color and is therefore created with four-color printing. To print a project the artwork is separated into four different colors Cyan (C), Magenta (M), Yellow (Y) and Black (K). These are called screen tints. The screen tints are made up of tiny dots of color (half-tone) and are separated into four different printing plates of each color that are then combined to make the final print.
Gamut
When you compare/contrast the Pantone Color to the CMYK in a deck you will find that they may differ slightly — this is because CMYK colors have a limited gamut. The gamut is the color range that can be printed. Since CMYK colors have less of a gamut then it is a good idea to choose colors with less overall color range if you want to pick colors that can be more accurately matched between the Pantone and CMYK color spaces. What that means is choose CMYK colors with one value at 100% or 0%.
RGB
RGB is a color system for representing color on the screen. JPG and PNG images you create in an application like Photoshop are created within an RGB color space. RGB values are also included in the Pantone Color Bridge so you can match Pantone colors to screen-based images.
HEX/HTML
Hexadecimal color values refer to the color system used in HTML, CSS, SVG, and other computing applications to represent color. Hexadecimal values are a six number and letter set beginning with a hashtag. So, for instance, #FFFFFF is white, #000000 is Black, and #3399ff is a nice bright blue. These values are included in the Pantone Color Bridge so that you can match Pantone Colors with colors in mobile and web projects easily.
Additive Color
Additive color is created by mixing different colors made of light. Light-emitting computer monitors and televisions use additive color. RGB colors are additive colors.
Subtractive Color
Subtractive color is made by mixing pigments, dyes, and inks. The colors mix and subtract from one another, unlike color created from light (additive color). CMYK colors are subtractive colors.
Pastel
The Pantone Pastel Color Guides come in Coated and Uncoated versions and include 154 soft and soothing pastel colors. The guide comes with ink mixing formulas and a lighting indicator.
Neon
The Neon Color guide includes fifty super vibrant neon colors and color mixing formulas. This guide comes bundled with the Pastel Color Guide.
Metallics
Pantone Metallics is a set of 301 Metallic colors that takes the guesswork out of printing gold, bronze, silver, and other metallic colors in your projects. The Pantone Fan Guide comes with ink mixing formulas and seven base colors shown with and without glossy varnish.
Lighting Indicator
The Pantone Lighting Indicator is a tool for matching colors in the best possible light and comes with the Pantone Plus Series guides. As you work with colors you'll find that they change based on lighting and that the best light is daylight.  Owning a lighting indicator makes it possible to accurately tell whether you are in daylight viewing conditions.  If you don't have a lighting indicator your best bet is to match color outside in natural light.
Pantone Capsure
The Pantone Capsure is a Bluetooth-enabled device that lets you snap color inspiration from just about any surface and match it easily to any Pantone Color. You can capture color inspiration from any material or fabric and even from small, patterned, and multi-colored textiles and surfaces. Pantone Capsure is particularly useful for those in Interior and Fashion design.
---
Products Seen In This Post: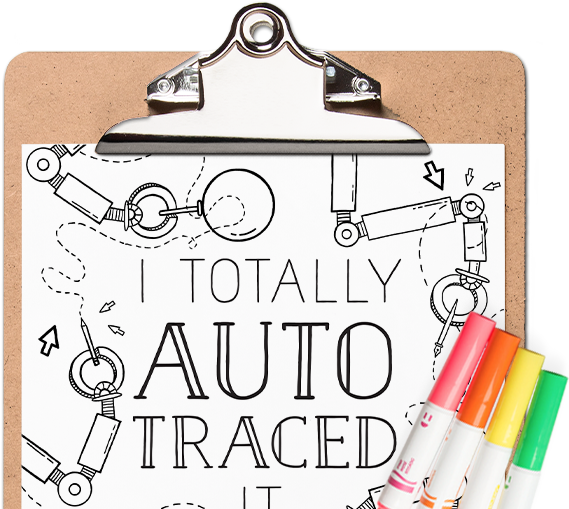 Stop stressing, start coloring.
Download your free coloring book
Designer life got you down? We designed this coloring book to help you laugh, relax, and celebrate the things that make our craft unique.
Get your book
Greta Harding
Creative source. Find Topo Map, Terrazzo, Neo Geo, Gradient, Minimal and Wabi-Sabi design items here.
View More Posts