Realistic Grain Textures for Worn Out Photos, Text & Graphics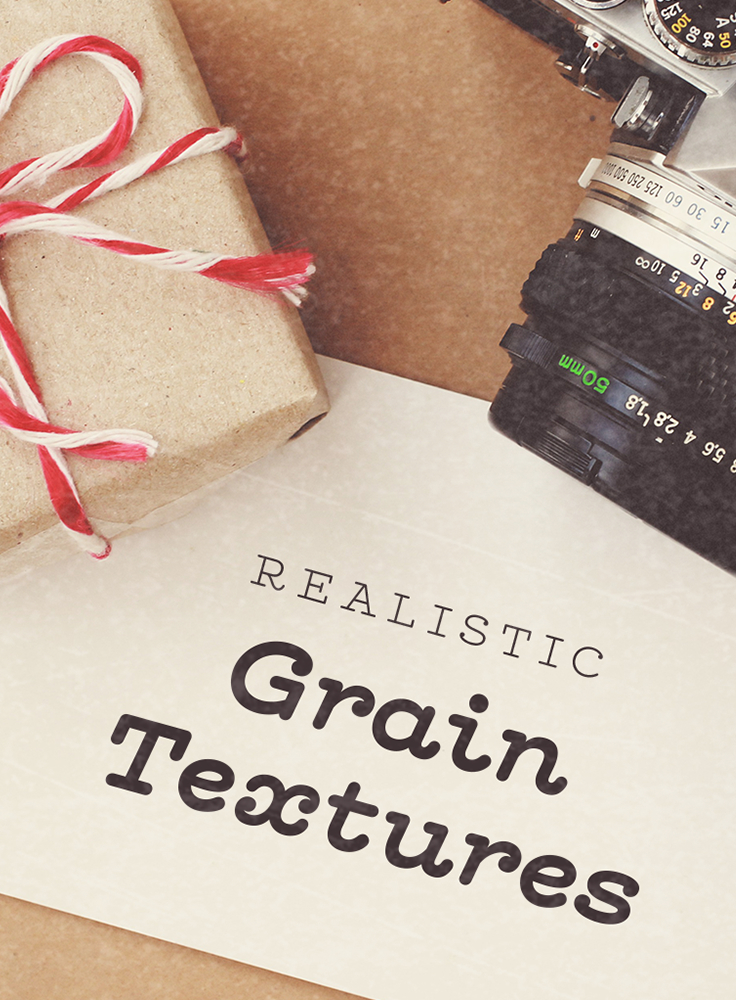 Ever look through the photos on your phone? If you're like me, you've got some from 5-10 years ago, before the technology got so fancy, and they don't age particularly well. Not so for my old physical media. I have this Polaroid that a photographer took of my car when he shot it for a magazine. To preserve it, he dipped it in this weird fluid, and sure enough, it's still just as good now as it was then. Like a prehistoric fly trapped in amber, it reminds me of so many stories and events simultaneously that it's almost overstimulating. Those were good times.
Today, my phone handles the bulk of my photography, and it doesn't have the antique flair of that Polaroid, or the ones my mom took when she was a kid. Wouldn't it be neat if there was a way to make new photos look like old ones? And then to take your graphics and text to that same level? There is — and they're so robust that you can use them in professional work, too. So what're we waiting for? Let's dive right in.

Dust and Scratch – Photo Overlays

The older a photo is, the more scratches and bends will be visible. And that makes sense. Think about it: How many times would a picture be taken in and out of a picture box, or put into a frame? The more it's handled, the more damaged it could become. That's why this pack includes 30 dust and scratch overlays that you can resize and tweak for your own documents. Combine that with five retro Photoshop actions, and you've got a winning combination for some truly antique looking photos.
210 Premium PS Actions Bundle

Typically I don't do bundles for this type of list, but there are so many applicable groups in this set, that it's hard not to. For example, Bleached, Muted and Lightleaks (1 and 2) all work great to give your photos that old-school look, and if you play around with Film and Color Bombs, you're pretty good, too. The argument could be made that this is the only set you need. I'm not going to be the one to make that argument, but you get the point.
Glitch Text Effects for Photoshop

Back in the day, watching TV meant occasionally adjusting the antenna on the top to get the signal just right. And if you didn't, the colors would misalign and everything would look all wonky. that, in a nutshell, is Glitch Text Effects, but it's all about your text.
It's super easy: Open up the Smart Object layer in Photoshop, then type in your text. Save and close the Smart Object doc, and the resulting text is all glitched up. No big deal at all. You can even play around with colors and effects even more to get it just right. Man, does this make me nostalgic for an old TV.
VHS Template

Remember VHS tapes? I not only remember them, but I've got a few stashed in my TV cabinet right now. For the younger readers, they were physical media that had a reel of tape inside of them that you would use to watch your favorite films. Think DVD before that existed. Anyway, because they were tape, sometimes it would twist up or degrade, and the results were, well, like this filter pack. Not only is there a ton of grain here, but it's also structured as effects and overlays for a lot of flexibility. I may never watch my VHS tapes again, but with this add-on, I can make my shots look like they're in one.
Photoshop Retro Photo Kit

A good package has a few different things going for it, which is why I like this set. There are 15 color retro filters, so you can change the look of your photo however you like. If you want to go black and white, there are even six grainy versions of that as well. And if you want the grainy look for your color shots, there are four actions for that, too. Another cool feature? Light leaks. That look comes from old film cameras when there would be a gap between the film loading area and the outside. That's included in this setup, too. See? It's got a bunch of different things going for it, just like I said.
Lo-Fi Photo Action

Grains, glitches and tweaks are what the Lo-Fi Photo Action pack is all about. You get three color glitch effects, an image blur/distortion twist and a bunch of color options. But the important thing is what they look like when it's combined, right? I love the way the samples look on this one. They're blurry, but not so much so that it's distracting. It's just got the look and feel of a photo I would've taken when I was a kid, and I like that.
Vintage Effect Photoshop Action

What I like about this one is its old-west feel. Back then, every photo had that sepia tint and the grain was heavy. Cameras weren't that awesome, after all. So I like that it's all captured in one cool set. I also appreciate that everything is an action, and that I can run one of the included 10, or all of them at once, and mix up the results however I like. Also, they include non-destructive smart filters, so there's no reason to worry that I'll mess anything up. Perfect.
WET PLATE Photoshop Template PRO

My dad used to do some amateur photography, and back then he developed his own film. He used to talk to me about how some photographers back in the 1800s used to do things with an ambrotype. Fascinating stuff to be sure, but now you can recreate that effect with this template. There are grains, effects, and tones that you can add to even customize it further. Now that's an extra layer of old school that I can appreciate.
Old Photo Effect Photoshop Action

When my great aunt passed, we went to her house in Vermont to go through and clean up her old things. There were tons of photos, including a bunch that looked like the kind you can now create with this Photoshop action. They're not quite black and white, but not quite sepia either, and have enough grains and tweaks to make it look authentic. That last part makes it worth the purchase for me, because sometimes photorealism is the name of the game.
Instant Vintage Photo Effects

This one is fairly straightforward: 15 textures, three vintage effects and a vignette layer, all in one package. Take your image, graphic, or text, drop it in and age it up appropriately and quickly. How old will you go? Well that's up to you, but I think the results speak for themselves.
And there you have it: 10 creative actions and plug-ins to tweak your fonts, photos, and graphics for that old-school feel. Whether you want to make your old photo look older, or tweak your graphics to fit an era, these are some of your best options. What will you make with tools like these? I don't know, but I can't wait to see them.
---
Products Seen In This Post:
Learn DSLR basics and improve your photos.
Start doing more with your DSLR
We get it. Sometimes technical terms can make DSLR cameras seem too complicated. Download this cheatsheet and card to start your journey to better photos.
Download them here