Staff Picks: Our 18 Favorite Handwritten Fonts
Staff picks is a regular series where we take a look at some of the personal favorites of the Creative Market Staff. We'll choose a category, then each staff member will pick their two favorite products within that category. This week's Staff Picks category is handwritten fonts.
Kelley Johnson
I love that this font reminds me of the typography from the old fairytale books I used to read as a kid. Also, I'm a Pacific Northwestern girl, so the font had my heart from the start.
This font is exactly how I wish my handwriting looked on a daily basis. It's stunningly beautiful, yet heartfelt and simple.
Josh Johnson
A fantastic handwritten script that has an edgy feel. It's quickly becoming my go-to font when I need a messy, hand-scrawled touch.
Brush Up has a fat, hand-painted look that I really love. It has a rock 'n' roll feel to it, like something you'd see in a record store.
Zack Onisko
This is probably one of the better fonts out there in the world. If you're looking for a nearly perfect handwriting font that says, "Wow, whoever wrote this note must be extremely cool and handsome," then this is the font for you.
Vans are awesome! So is this font.
Liam McKay
Lickety split does not hold back. It's loud, rough and in your face! Give it respect though and I'm sure you can have a lot of fun with this font.
Aside from including an incredible 1800 glyphs, 38 different fonts, and 98 bonus icons, this handwritten collection comes packed full of character, quality and charm, making it one of the easiest purchases of my life.
Stephen Hallgren
A clean, simple and elegant written font that has a lot of type variations and embellishments.
A beautiful, hand-inked font that reminds me of the olden days when all things were handwritten and people actually had amazing looking writing.
Gerren Lamson
I love how Design incorporated hints of Art Deco styling in this classy display handdrawn font. In particular, I like the low cross bars on the E and F, and the charming feel of the B, R, K, and 0. Plus, it's got a fun interior bulb finish for the capital letters too!
It's really difficult to capture loose hand-drawn lettering in a font format, but PintassilgoPrints managed to produce a beautiful execution with Blueshift.
Chris Winn
I love any font that reminds me of opening an old book. It feels imperfect in all the right ways.
Great example of how much craft and detail goes into something that comes off as fun or simple.
Chuck Haycox
I've always loved Arabic caligraphy. There is something magical and poetic about it.
Again, I love caligraphy and this reminds me a lot of my childhood where I spent countless hours trying to replicate the art found in San Francisco's Chinatown. I was never successful, but I don't need to be with a font like this!
Greg Corby
I love the hand-painted style of this typeface, reminds me of an 80's horror flick.
There's something about the rebellious, amaricana style that I just can't get enough of.
---
Header image created using Logotype Frenzy
---
Getting started with hand lettering?
Free lettering worksheets
Download these worksheets and start practicing with simple instructions and tracing exercises.
Download now!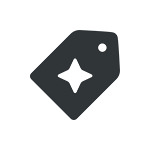 Creative Market