The Graphic Designer's Guide to Texture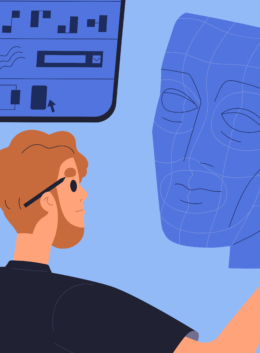 When people think of texture, things they can touch and feel come to mind. These textures permeate our lives and add depth and feeling to our sensory experiences. A porous stone, a silk shirt, and sand on the beach all convey different meanings through their textures.
While you can't reach out and touch their creations, graphic designers use texture in their work to create the same feelings. Texture adds depth and interest. It can induce feelings of nostalgia, create sensations of movement or action, and generate impact through designs that feel alive.
When it comes to using texture in graphic design, creatives leverage a variety of tools and techniques. From textured backgrounds and overlays to photography and illustrations, there's no shortage of methods to add rich textures to design projects.
In this article, we'll explore the use of texture in graphic design through seven creative methods you can start using today. But first, let's take a closer look at the texture and its role in graphic design.
What Is Texture in Graphic Design?
Graphic design is a discipline that includes deliverables in both print and digital forms. In print, texture can describe the physical qualities of the final product. For example, a wedding invitation printed on paper with stamped inlays and embossed text has elements you can physically feel. These are called actual textures.
Although actual texture influences the choices a designer makes during their design process, the use of texture in graphic design describes the quality of the composition's visual tone. It's how the project looks and feels. This is known as implied texture.
While it's not felt physically, the implied texture is felt in other ways in graphic design, and like physical texture, it transmits sensations, feelings, and moods.
What Is the Difference Between Texture and Pattern?
Designers sometimes use patterns to add texture to their designs. For example, a paper pattern on a background can make a digital composition feel more natural and organic. But there's a distinction between textures and patterns that's worth pointing out.
Where texture is the implied visual quality and feeling, describable in terms of roughness or smoothness, patterns are repeating designs or images used to decorate a design element or canvas.
For example:
Texture describes the qualities of the composition, while pattern describes repeating visual elements.
You can use natural or artificial textures in graphic design, while the pattern is almost always artificial.
Texture can be regular or irregular, while patterns are always regular.
Both textures and patterns are methods you can use to add visual interest to your designs. Although textures can come in the form of a pattern, many of the most creative texturing techniques aren't patterns at all.
7 Creative Ways To Use Texture in Graphic Design
There are countless ways to incorporate texture into your designs. Naturally, the best approach depends on the mood you're going for and the message you're trying to convey. At the same time, there are texturing techniques you can use in a broad sense that adapt to nearly any design. Let's take a closer look at seven creative ways you can use texture in your graphic designs.
1. Channel Your Inner Painter
Long before digital design existed, artists and painters described texture the same way we do today. Painting with brushes is one of the best ways to add texture to graphic designs, and nearly every design tool has painting capabilities, along with customizable brushes.
In most tools, brushes adjust to pressure sensitivity, allowing you to ease the thickness of each stroke, lending your brushwork a realistic painted quality. While countless types of brushes are available, watercolor texture brushes and oil brushes are among the best for adding a rich textured look to your designs.
If you're an iPad or Procreate user, this set of 52 brushes from Guerillacraft Studio is an excellent set to add to your design arsenal. These immensely detailed brushes can bring projects to life with realistic paint strokes that feel organic and natural. Design isn't art, but adding a little art to your design can do wonders.
2. The Endless Varieties of Paper
Thanks to the many qualities paper can possess, it's one of the essential textures, capable of adapting to nearly any project. Clean, smooth paper textures can bring minimalist designs to life without overwhelming them, while distressed paper textures can help grunge projects feel more authentic.
Lying somewhere between minimalism and grunge, this set of vintage paper textures from ArtistMef is as versatile as it is large. With 391 textures, ranging from ancient papyrus to retro newspapers, this set should satisfy your paper texture needs for a long while. It includes distressed variations with folds and tears, giving you plenty of variety and versatility. Since they're high-resolution, you can even use them for print projects, such as business cards or invitations.
3. Texturing With Photos
On their own, photos are capable of communicating the narrative. But they're also a form of texture, adding depth, movement, and visual interest to design projects. However, as powerful as they are, photos are more difficult to balance.
When using photos in your work, you'll explore many options, such as sizes, color adjustments, and compositions, to find the right balance and tone. For example, if your project represents a wider historical milestone, finding high-quality photos that feel authentic can be challenging.
For these kinds of projects, photo effects can help keep design compositions aligned. By applying the right effects to a modern, high-quality photo, you can widen your range when it comes to potential photos. For example, Harmonais Visual Studio's Retro Photo Effect pack can transform any photo into a vintage texture masterpiece. Made for Photoshop, this effect pack features smart layers and one-click applications for simple and easy retro conversions.
4. Down to the Grain
Next to paper texturing and brushwork, grainy effects are one of the most popular assets seasoned designers keep on hand. Thanks to high versatility, they're one of the most popular graphic design techniques and essential to any designer's toolkit.
You can use grainy textures with a heavy hand to give elements a stone-like quality, or you can use them to subtly texture a background, helping other elements stand out and draw the eye. For vector artists, grainy textures are indispensable in creating lifelike imagery from flat elements.
Start building your own grainy texture collection with Pixelbuddha's Risograph Grain Effect. Made for Photoshop, this PSD gives you five separate textures, three-grain strengths, and 50 premade gradients to take your work from flat to masterful.
5. The Textural Stamp of Approval
Stamps with textured imagery and illustrations can add character to projects with a vivid or playful aim. Although stamps are repetitive design assets, unlike patterns, you're free to place each one where and how you choose, making your composition more organic and original.
For Procreate designers, the Procreate Texture Brush & Stamp Pack created by Essillustration provides a variety of stamps and brushes to add character and texture to your projects. The pack comes with 48 resizable texture and pattern brushes and 20 stamps that you can mesh with clipping masks to attain the perfect textures.
6. Good Old Fashioned Shading
In traditional art, the study of light and shadow is essential to mastering shape and form, and shape and form are two of the basic elements of design. In simple terms, shading techniques can add significant texture and originality to your work.
Adding highlights and lowlights infuses elements with depth and movement. When paired with vivid hues, colorful textures add memorable and unique elements to your work. This makes a great set of halftone brushes essential to every designer's collection.
Bracken's Half Tone is a pack of 122 high-quality halftone brushes with immense shading versatility. All the brushes are scalable and seamless, and each one is a different take on ancient printing techniques, giving you a robust set of shading tools that covers nearly any scenario.
7. Find the Perfect Style
One of the highest aims is knowing what techniques to use and how to use them to communicate a project's theme and message. And while all designers should strive for flexibility, each individual evolves throughout their practice, developing a style that's uniquely their own.
In this sense, you'll find yourself drawn to certain types of brushes, textures, images, and effects that complement the kinds of projects you love to work on the most. In defining your style, take the time to explore thematic sets, such as RetroSupply Co's ColorLab Procreate Vintage Comic Kit.
While it comes with many of the components mentioned throughout this article, this set is stylized for vintage comic creation. You can use the 21 halftone brushes, 125 premixed process color files, textured paper templates in two sizes, key line ink pens, and print defects brushes to design and bring your comic designs to life. More importantly, you'll have a robust set of tools you can use across a variety of future projects.
An Essential Element in Graphic Design
Along with color, shape, form, line space, and typography, the texture is essential in graphic design. Taking the time to collect the right assets and learning to use them will reward you with dividends. Whether you're designing for a business, promoting your favorite brand or band, or telling your story, the texture is the element that turns bland designs into living creations.
Getting started with hand lettering?
Free lettering worksheets
Download these worksheets and start practicing with simple instructions and tracing exercises.
Download now!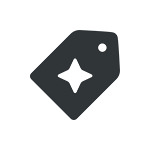 Creative Market