The Complete Guide To Creating Your First WordPress Blog
No matter what type of site you're looking to create, there's a good chance WordPress will be able to help you out. The powerful platform has the capacity to be as simple or as complex as you'd like. It's really up to you. To get you started on your own WordPress journey, we've created the guide below. Whether you're an expert or an apprentice, you'll be going live in no time. Enjoy, and let us know in the comments how you go.
1. Install WordPress
First of all, you're going to have to install WordPress. This is probably the most involved stage of the process. But don't worry, there's loads of resources out there to help you if you get stuck. Installing WordPress can be done in a number of ways, however for this guide we'll cover the famous "five-minute install".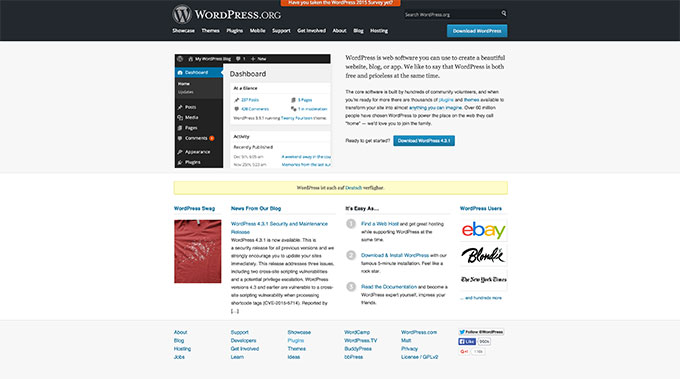 To start off, download and unzip the WordPress package from the official site. You'll then need to do a bit of backstage work to setup the databases your blog will need to work. This is done by logging on to your server's control panel or administration interface and create a database and user within MySQL. This sounds more complicated than it really is. In fact, most hosting providers will have detailed instructions on how to do this, and your setup may even have a one-step install process that does it automatically. After that's complete, upload the WordPress files to the desired location on your web server. Usually this is the root of your domain (like http://yoursite.com). And then finally, run the WordPress installation script by accessing the site in a web browser, and you should be on your way.
2. Log in to WordPress
Now you've got the trickier stuff out of the way, it's time to get under the hood of WordPress and start having some fun. Visit the Admin page for your website, which should be at: http://yoursite.com/wp-admin Where yoursite.com is the URL you've chosen above in step one. Now, enter your username and password, and click on the Log In button. If all goes well, you'll be behind the scenes looking at your WordPress dashboard. This is where the magic happens. From here you can control how things will look and act, as well as edit and publish site content.
3. Choose A Theme
To get you started, WordPress supplies you with a fairly basic theme. It's not bad, but half the fun in creating your own WordPress site is customizing it with one of the many designs out there. Call us biased, but we think the themes here at Creative Market are pretty sweet. Whether you're a designer looking for a bold portfolio, a publisher looking for a slick magazine template, or a wedding planner after something elegant, there's plenty of options to choose from.
Once you've decided which theme you'll go with (and believe us, with the awesomeness that's on display, it's no easy choice), you're ready to install it in your WordPress setup.
4. Install Your Theme
On your chosen theme's product page, press Download to grab the zip file that contains your theme and save it your computer.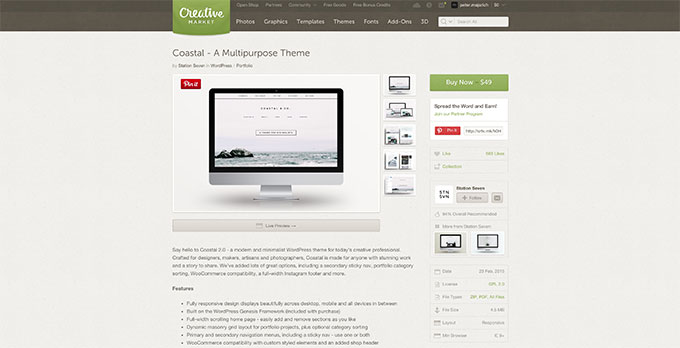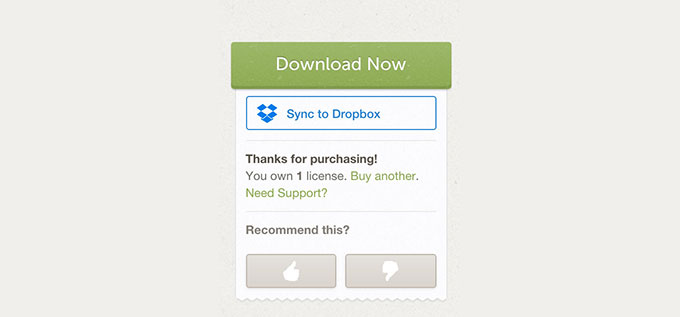 Once your files are downloaded, head back to your WordPress dash. On the left sidebar, click Appearance > Themes. From that page, click on the "Install" tab and then click Upload. This will give you the option to browse for that file you downloaded a few minutes ago. Select the ZIP file containing your them and then click Install Now. NB: If you're having any trouble at this point, it's worth heading over to the Creative Market discussion forum. It's filled with like-minded folk who might be able to help. You can also contact the owner of your Creative Market theme who may assist. If all has gone well, this will upload your theme in your WordPress setup and let you know when the installation has been successful. Click Activate, and grab yourself a congratulatory coffee. Your website will automatically switch to your new chosen theme and now you can start customizing your site and publishing your content.
5. Create Your First Page Or Post
This is where you'll be able to start adding and customizing the pages that are going to make up your site. Depending on your content, you could start with some simple pages like "About Us" or "Contact". To do this, click Posts in the left sidebar within the WordPress dash, and then Add New. Fill in the blanks (Title, Body) as you see fit and then when you're ready, click Publish. If you're site's going to be a blog, you can try making your first post. This is as easy as clicking Posts > Add New in the left sidebar within the WordPress dashboard. Start by adding a title, fill in the body of your post, and then press Publish once you're done.
6. Get Customizing
Some themes will work well right off the bat, but some will require a little customization. In any case, it's worth checking out the wide range of customization options available in your WordPress backend. Now, it's easy to get a little overwhelmed at this point. There's a tonne of sections, buttons and tabs to click on. But like a car engine, you don't need to know everything that's going on inside the engine to achieve full performance. It doesn't hurt, however, to know how to change the oil and check the fluids. NB: Some developers recommend creating a Child Theme before making changes to your site. A child theme is like a backup copy of your theme that you can modify without altering your original theme files. To learn more about creating a child theme, check out the WordPress documentation.
As we've indicated, the beauty of WordPress is that it can be as powerful or as simple as you like. Within your site's backend, you can create an assortment of pages and posts, tinker with your your site's typography, adjust header and background images, and install any number of different plugins. From there, you can play around with the options you see, and check out the many articles and blog posts out there to find out how to do whatever you'd like to do next with your site. You can even create your own WordPress themes and sell them at Creative Market. It's all up to you and your creativity.
Tell Us Your Thoughts
Got a favorite WordPress theme? Or a handy tip or technique you'd like to share? Let us know in the comments below.
Getting started with hand lettering?
Free lettering worksheets
Download these worksheets and start practicing with simple instructions and tracing exercises.
Download now!