Unique Flamingo Graphics to Design Your Own Paradise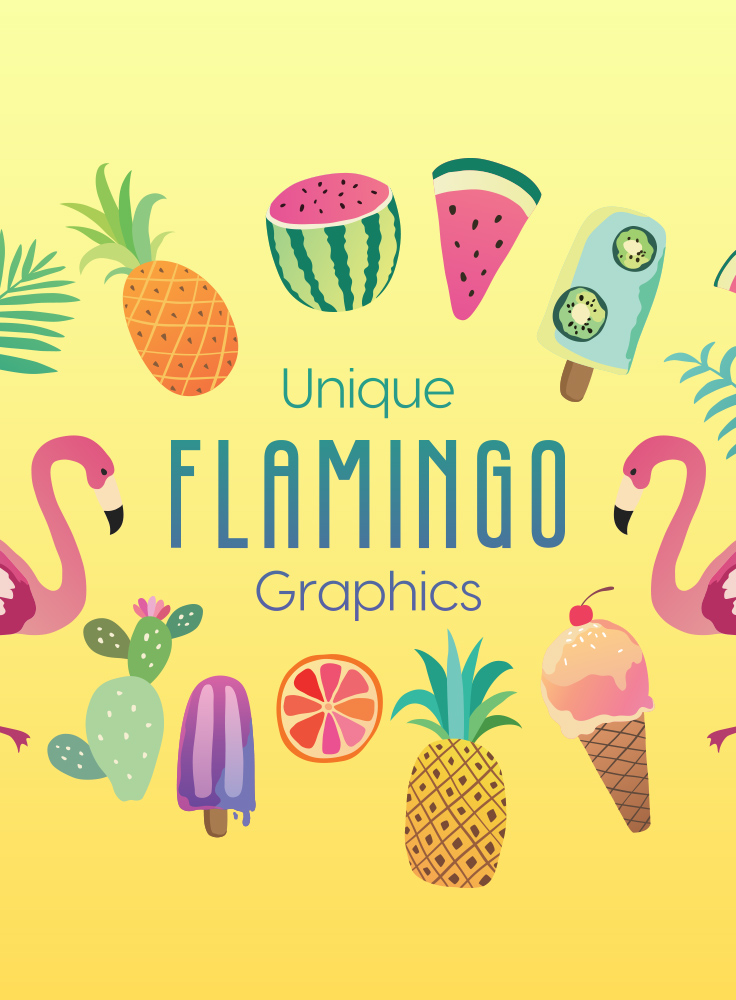 The beauty and amusing awkwardness of flamingos can make any image stand out from others. With the following large collection of flamingo-inspired designs, you can create a variety of products, including greeting cards, textile patterns, and website backgrounds. As always, make sure to read our
license specifications
to find which type works for the kind of project you're using these assets for.
Flamingos, Tropical Leaves Pattern
Designer Nataly Magnifica created
Flamingos, Tropical Leaves Pattern
by combining the subtle pink color of flamingo birds with gray tropical leaves. The pattern shows flamingos and feathery leaves in a variety of positions, making this illustration perfect for cards, textiles, wallpaper, and even swimwear.
Flamingo Seamless Pattern
Maria Galybina
spent time drawing this pattern's flamingos, palm tree leaves, monstera leaves, and flowers by hand, giving it a unique quality that mixes a variety of colors and styles. You won't find another design that looks like this. Plus, you can edit the pattern in Adobe Illustrator before using it for cards, wrapping paper, desktop wallpaper, or a website background.
Boho Flamingo Watercolor Set
Evgeniia's
Boho Flamingo Watercolor Set
brings a rare level of personality to computer graphics. The flamingos in this set wear eyeglasses, headbands, and other accessories to express their personalities. The watercolor approach gives the designs an arty aesthetic that's perfect for scrapbooking, posters, and greeting cards.
Flamingo in the Palm Leaves
GooseFrol's
Flamingo in the Palm Leaves
depicts several pink flamingos stationed in their natural environment, surrounded by palm leaves. The collection comes with several variations on the theme, so you can use GooseFrol's creation for a weekly planner, to-do list, or decoration.
Flamingo Vector Illustration
Tropicana illustrator Nataly Magnifica gets a little wild with this unique image of a
watercolor flamingo
. Magnifica drew the flamingos outline and details by hand. When it came time to add color, though, she drew inspiration from renowned illustrator Ralph Steadman. The result is a beautiful, though intentionally messy, work of art.
Miami Night '80s Synthwave Flyer
Denny Budi Susetyo taps into a
1980s aesthetic
that would look at home on the cover of a VHS tape. The flyer features a bright pink flamingo positioned in a triangle. The color scheme comes straight from "Miami Vice," one of the '80s most beloved television shows.
Watercolor Flamingo Pattern
Nataliia Kravchata draws inspiration from repeating patterns, M.C. Escher, and French watercolor paintings to make
Watercolor Flamingo Pattern
. The image features flamingo necks, beaks, and eyes. The birds' bodies meld together to create a textured background that will look amazing on websites or clothing.
Tropical/Flamingo Template Vector
Ng Lye Yee gives you an opportunity to customize this lovely depiction of
flamingos standing among palm fronds
at night. Vegetation threatens to overtake the image's bottom half, but the flamingos arise from it with dignity. Add your own words to make custom cards, invitations or web pages.
Flamingo Clipart, Watercolor
Monique Digital Art takes a whimsical approach to redefining the
beauty of pink flamingos
, flowers, and colorful leaves. The artist handcrafted every aspect of the design, so you get an authentic representation of what flamingos might look like if they were covered in fur instead of feathers. It's a fascinating aesthetic for planners, scrapbooks, and other projects.
Flamingo Paradise Watercolor Set
This watercolor set from Natali Smolova gets its inspiration from birds and the environments they call home. Most of the
designs feature realistic flamingos
that have dark beaks and intense eyes. Some of the flamingos, however, have not been enjoying their diet of pink-colored shrimp, so they have gray feathers that add variety to the images.
Flamingo, Leopard
Olga Zubanova delivers
two seamless patterns
that draw inspiration from wild, exotic locations. One image features flamingos, palm trees, and birds in flight. The other replaces flamingos with cartoonish leopards. The designs could work perfectly for clothing, website backgrounds, and greeting cards.
Flamingo Digital Paper
Kiwi Fruit Punch delivers
12 original digital patterns
featuring flamingos, flowers, and trees. Use them to add flair to party invitations, greeting cards, and other festive items.
Flamingo Party Seamless
The
seamlessness of this design
from origami prints makes it perfect for desktop wallpapers and website backgrounds. It comes in PSD and JPEG formats for easy editing.
Flamingo Vector Mega Set
Berryshop's
Flamingo Vector Mega Set
includes a wide variety of styles. The set includes 74 seamless images that feature flamingos and various plants.
Flamingo Vector Seamless
8 3 O's
Flamingo Vector Seamless Pattern
has the high quality needed to make clothing as well as website backgrounds. The artist's inspiration comes from nature, so it will look beautiful in any setting.
Flamingo Party
Flamingo Party
from GooseFrol includes 20 designs that are perfect for party invitations, postcards, weekly planners and other items. With so many designs, you'll find one that matches your needs perfectly.
Pink Flamingo, Palm Tree
Tropicana offers this unique vector design that includes a realistic illustration of a flamingo, palm tree, leaves and botanical elements. Use
Pink Flamingo, Palm Tree
for cards, wallpaper or even clothing.
Watercolor Tropical Leaves Flamingo
GrafikBoutique has created a remarkable collection of graphics that features flamingos, monstera leaves, flowers and other tropical elements.
Watercolor Tropical Leaves Flamingo
has a natural look that draws inspiration from nature.
Tropical Set of Flamingos
This
Tropical Set of Flamingos
from Fay Francevna comes with 25 images. Most of the images have a cartoon aesthetic that make them perfect for flyers, banners, cards, and even smartphone covers. Bring some fun into your life with these 25 designs.
Pink Flamingo
OJardin presents
Pink Flamingo
, four images that use flamingos, palm trees, and pineapples to create a festive atmosphere. The artist avoids realism in favor of a cartoon style that is perfect for websites and casual prints.
Don't miss some of the most unique flamingo graphics on the internet. One of these designs will match your project. With so many options, that's a certainty!
---
Products Seen In This Post:
Getting started with hand lettering?
Free lettering worksheets
Download these worksheets and start practicing with simple instructions and tracing exercises.
Download now!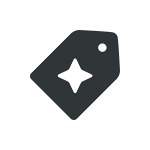 Creative Market