How to Create Vintage Photo Effects in Seconds With Photoshop Actions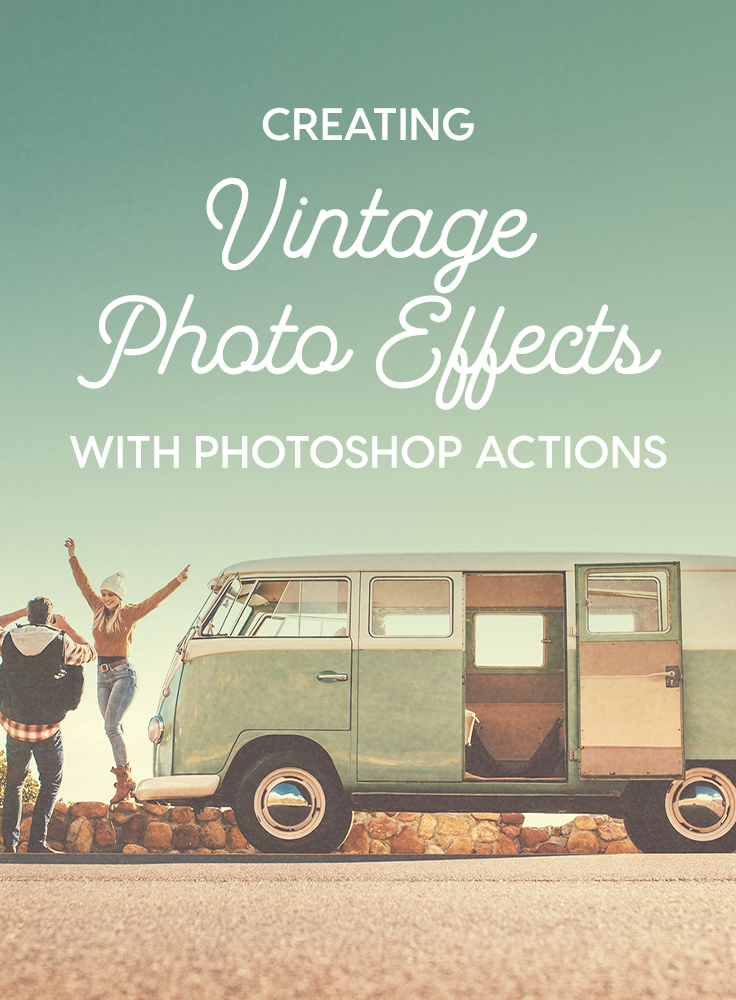 Editing your photography with vintage effects can add a unique touch to your work. In this post, you will learn how to take your photo editing skills to the next level by creating vintage photoshop actions. At the end, I will also share some of my favorite vintage photoshop actions that are available here at Creative Market. Let's be honest – photo editing can be a tedious process especially if you have dozens of photos to edit at once. But you can easily batch edit your photos in seconds if you learn how to use and create these useful photoshop actions. These actions will not only save you time but will keep your photos looking consistent in your desired vintage aesthetic. You can use these to keep your social media and website photos looking like a cohesive collection. These actions edit your photos in just a few clicks so you can focus on sharing your gorgeous vintage-inspired photos. Here are some examples of what these Photoshop actions can create: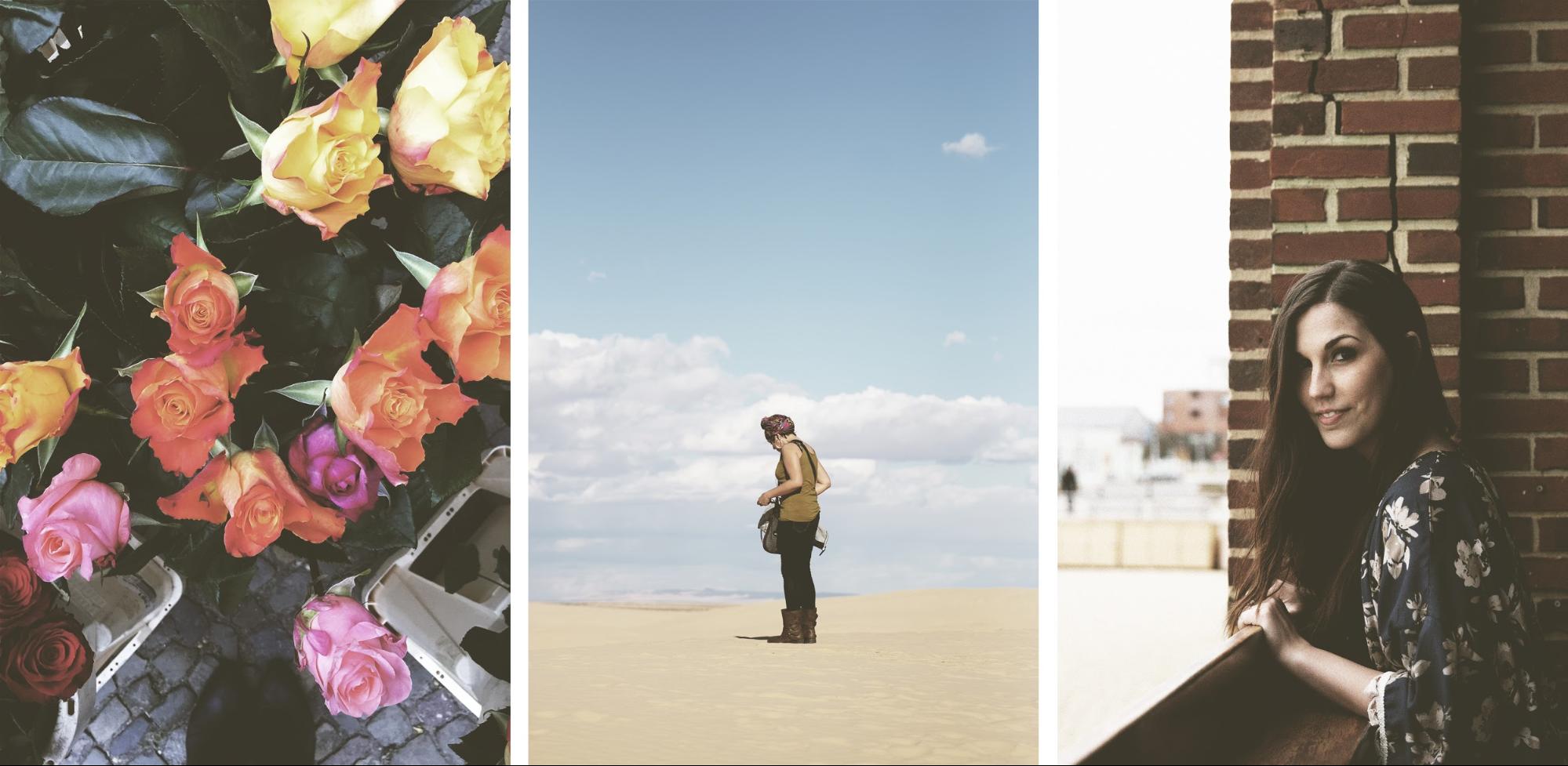 Photoshop actions work by recording all of the steps you take to edit your photos. You can use them to batch edit your photos easily and quickly.
Step by Step Instructions
We are going to start by recording our editing actions to create a vintage effect. Be sure to have your Actions window open. If you don't see it, go to window, actions and the window will appear.
Let's start by creating a new action folder. We are going to create our own new folder by clicking the folder icon below in the action window. This is the 4th icon from the left at the bottom. This brings up a window where we are going to name our new set. I am going to name this set "vintage effect". Feel free to name this set whatever you like.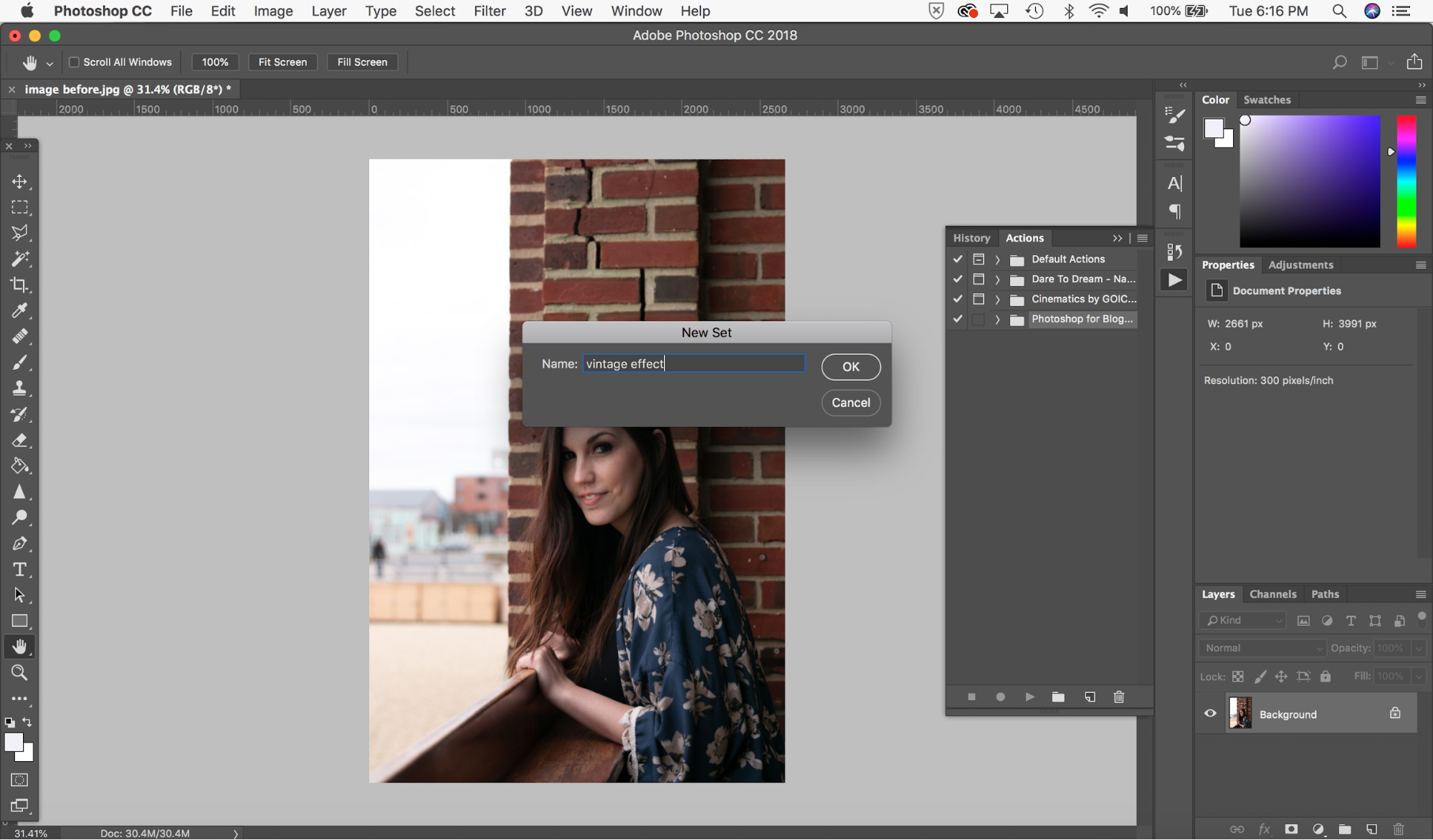 Now we are going to start recording our steps. Click the new icon (it's in between the folder we just worked with and trash can icon). Let's name our new action – "adjustments" and press record. You should see the record icon turn red — which means Photoshop is now recording every action we do until we press stop.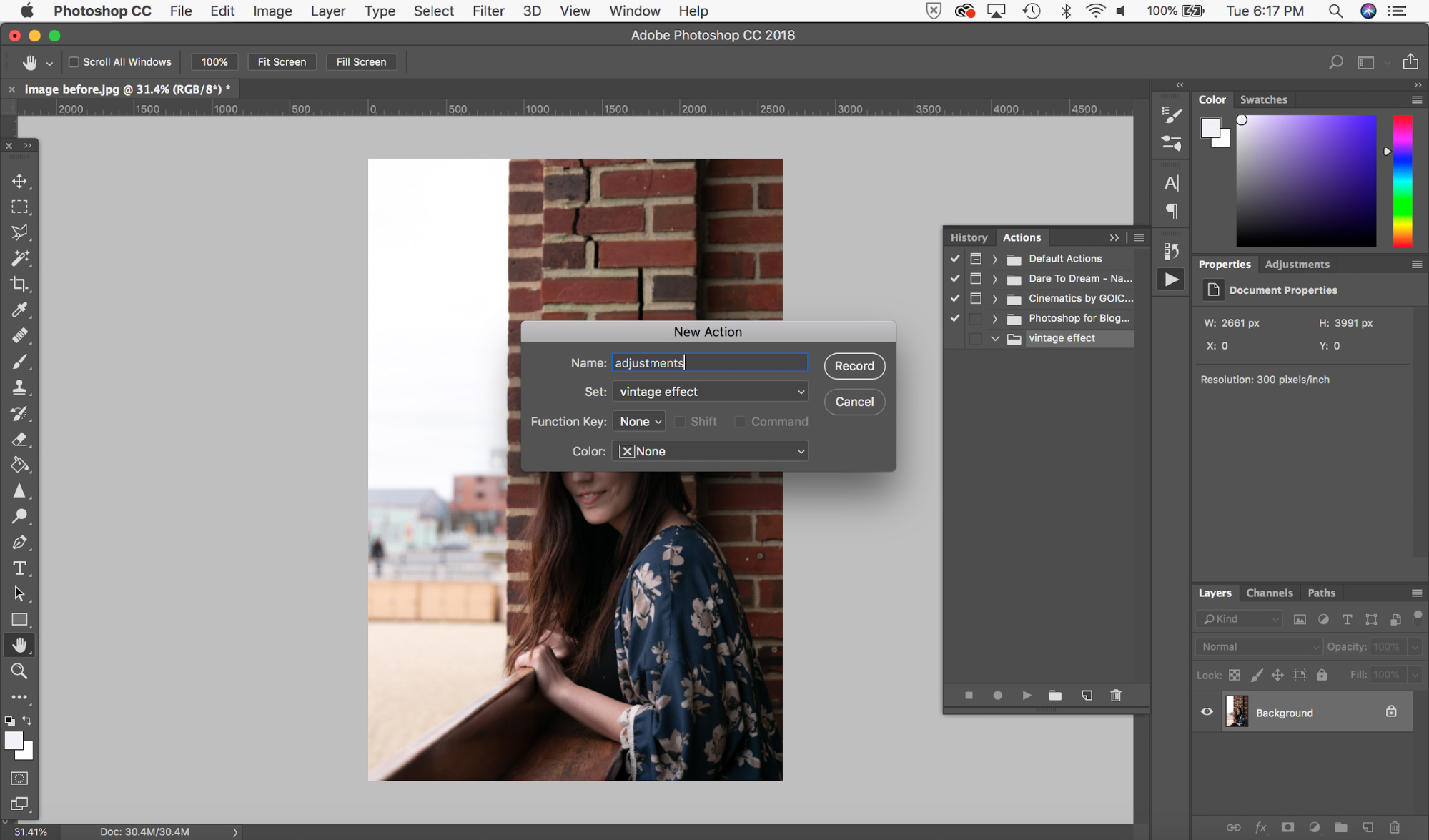 From here, we are going to start editing our photo. With our record button still on, go to filter, noise, add noise. Set it to 13% with uniform distribution selected. This adds a subtle grainy film look.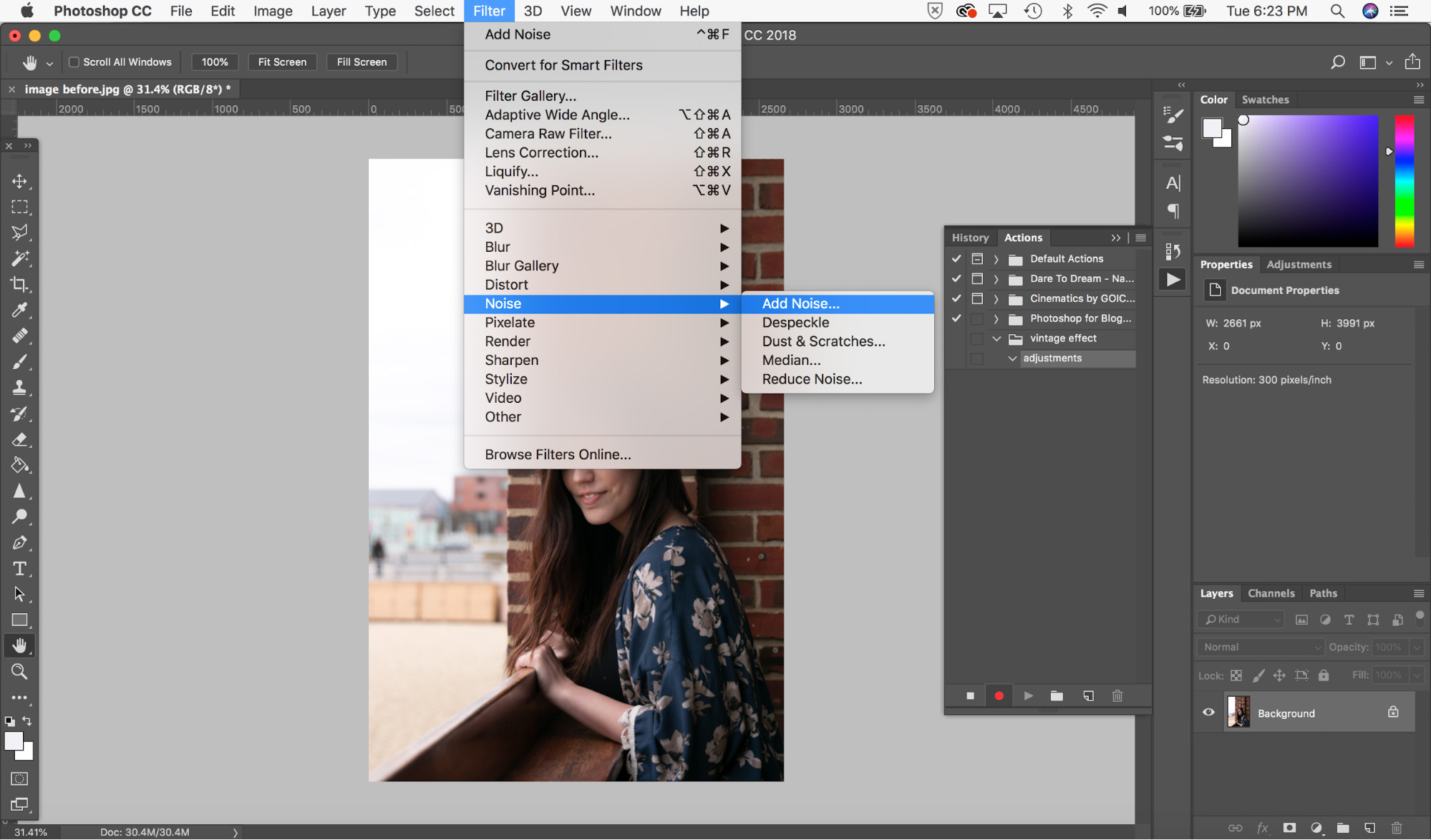 Now let's add our first adjustment layer: curves. Move the bottom curve up slightly, and make an "S" curve like I've done below. This will start making the edits necessary to create our vintage-inspired feel.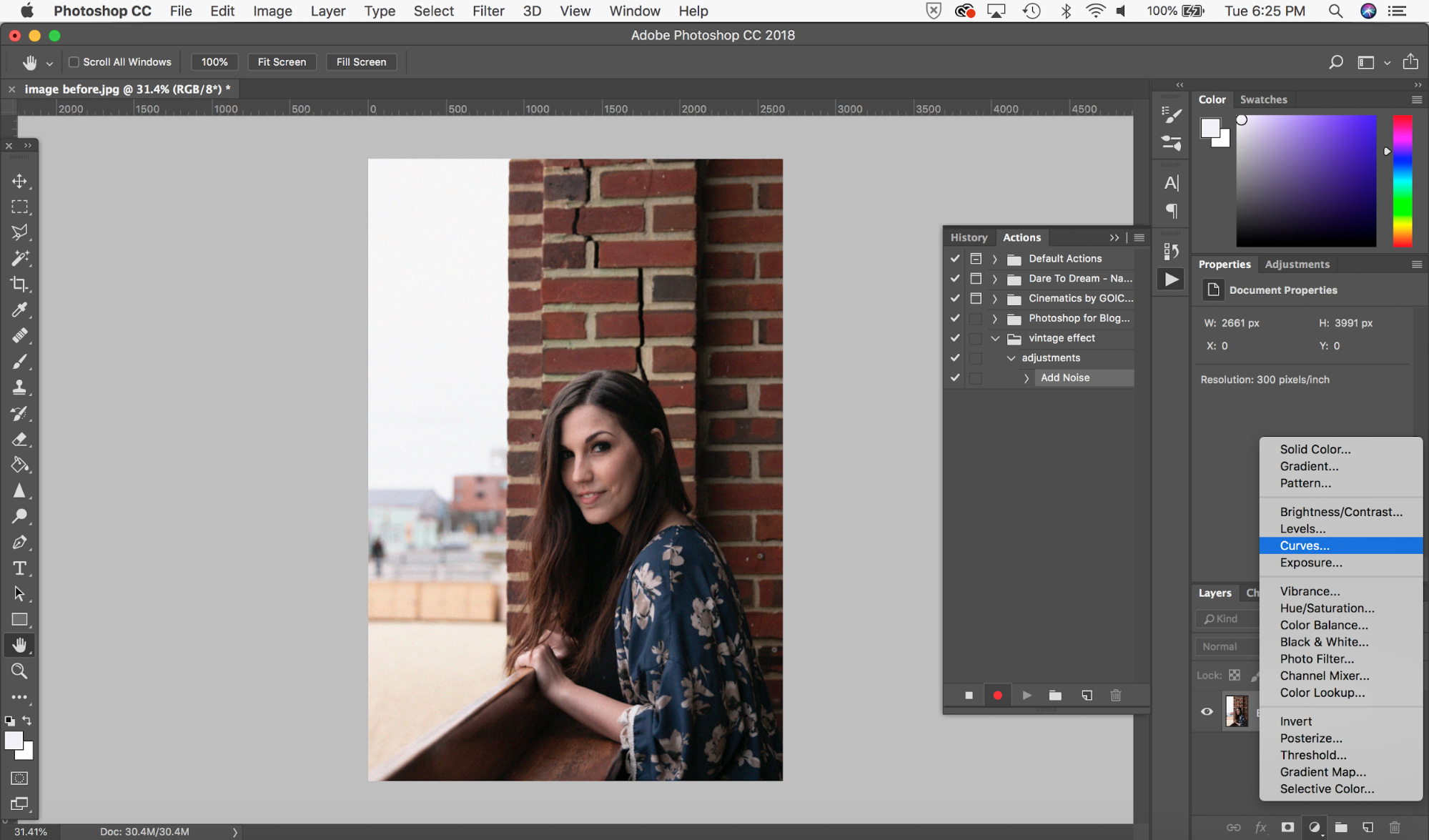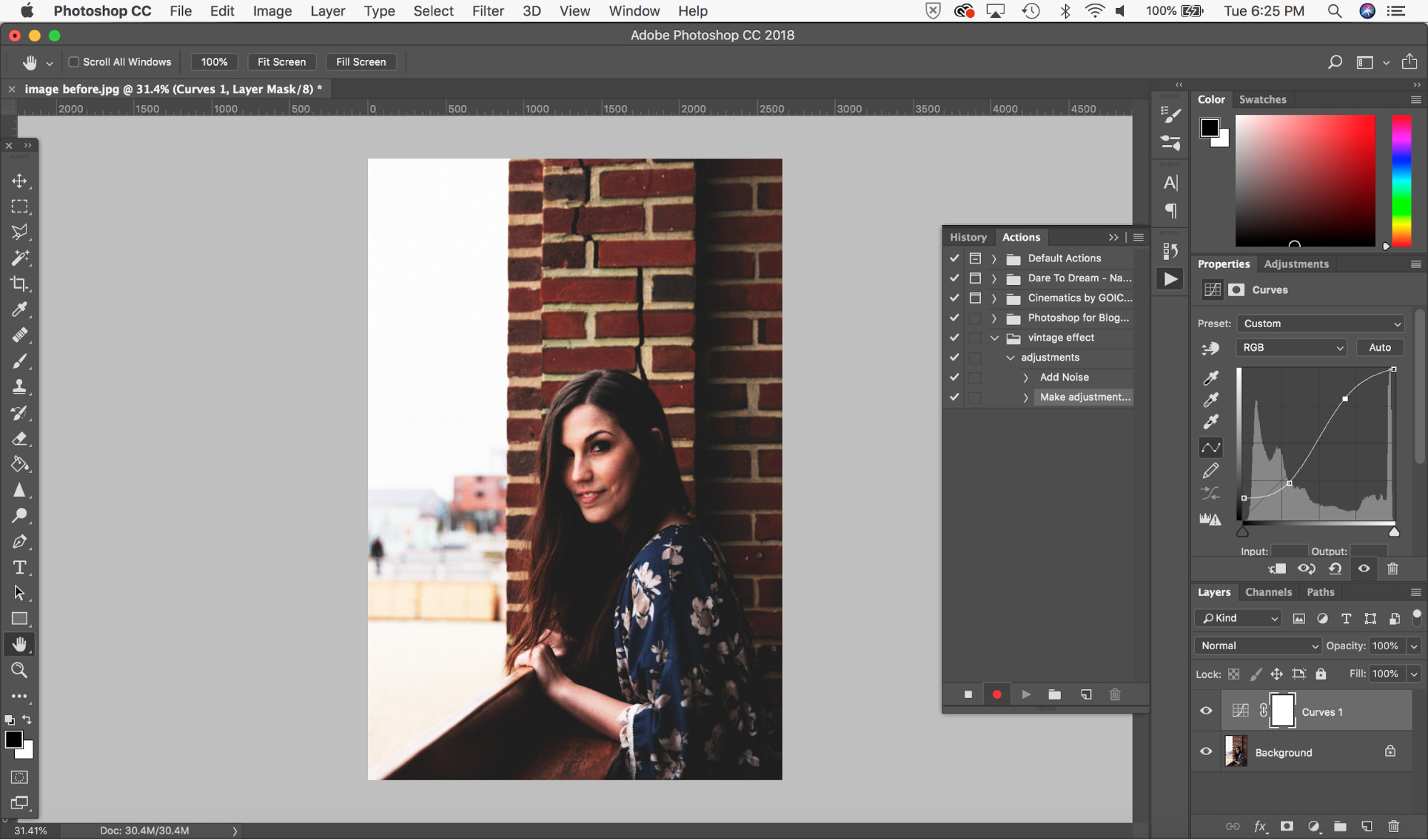 Next adjustment layer we'll add is saturation. Set the saturation to -45. Doing this will give a distressed look by making the colors less vibrant.
Our final adjustment layer will be color balance. Set it to have your midtones be cyan/red at +10, magenta/green at +4, and yellow/blue at -17.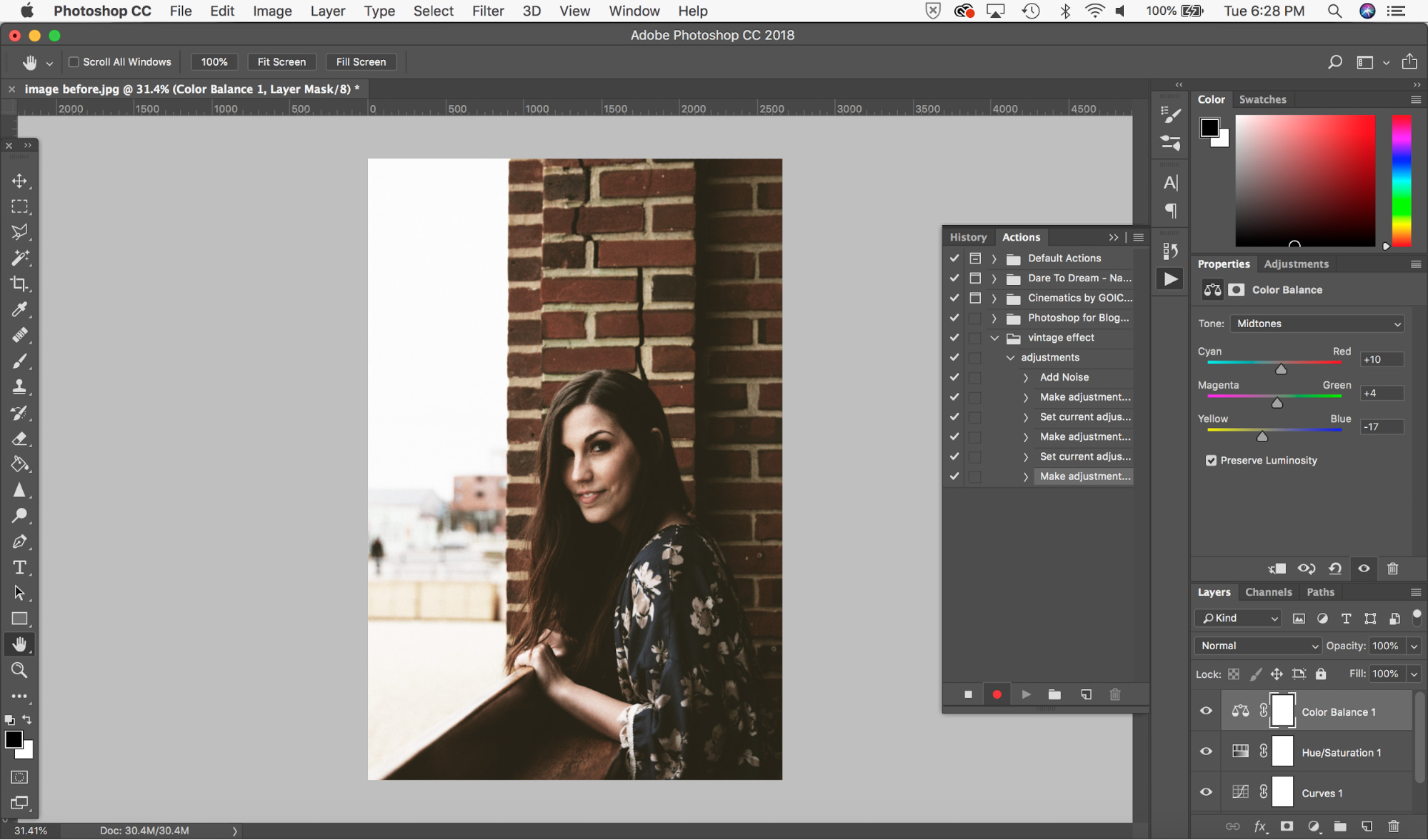 And now we are done with editing. Here's what the finished edit looks like.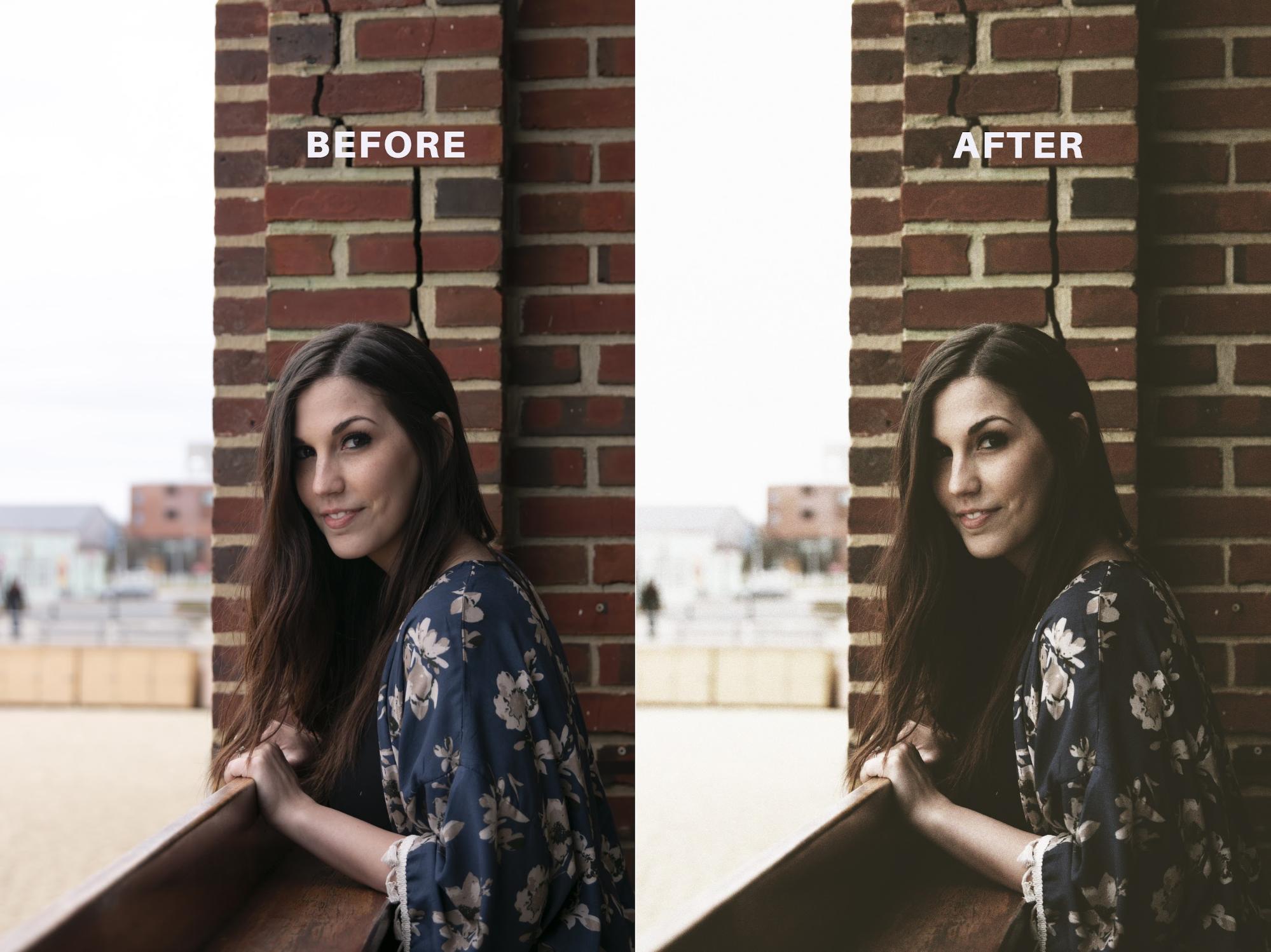 These are simply suggestions I am showing you, you can play around with each adjustment layer to reach your own unique vintage look you want for your own photos.
When you are done with your photo edits (with the record button still on), save your photo in your desired photo format if you want photoshop to save your photos when it's finished with these actions. This is useful if you want to batch edit your photos later on.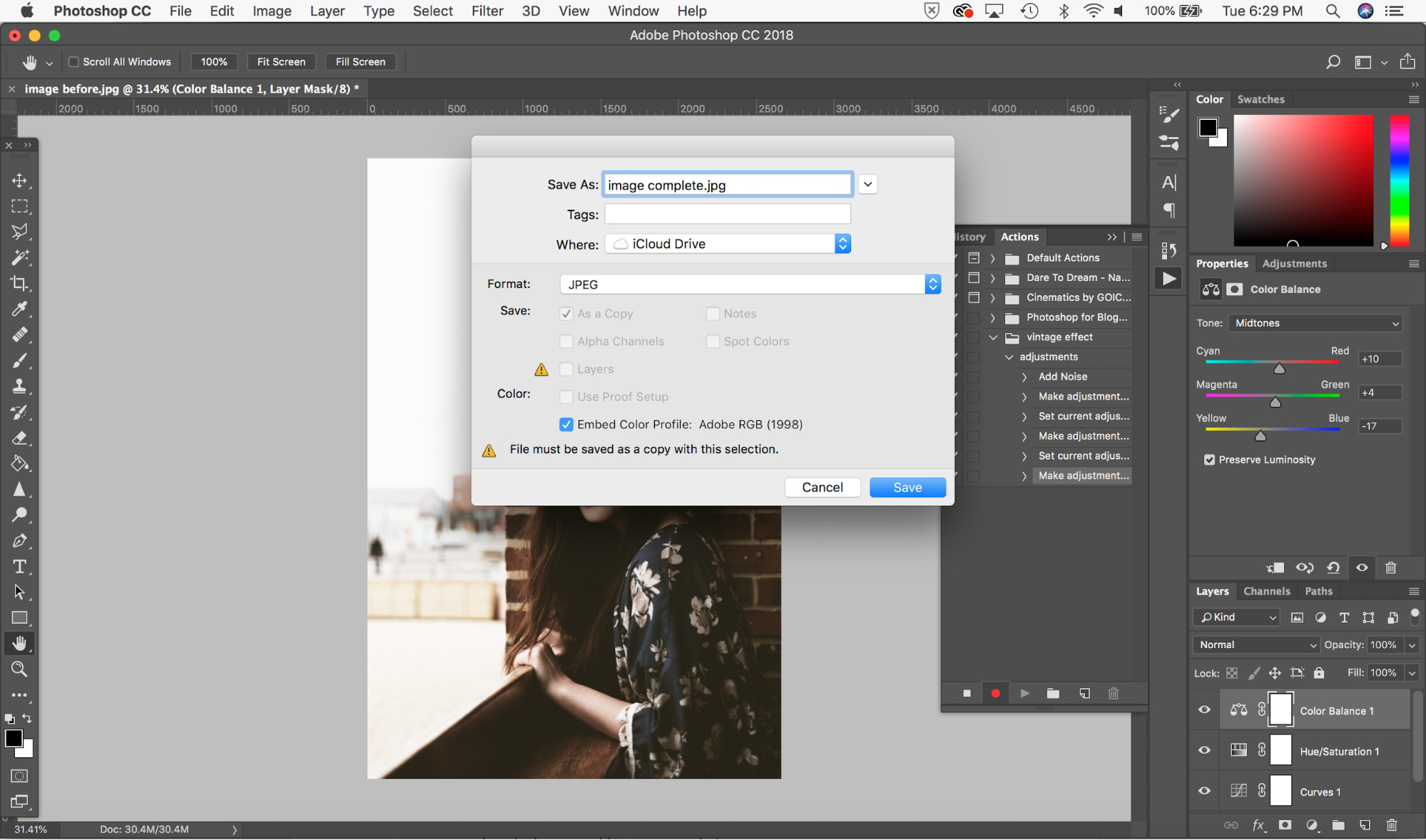 When you are finished with each step, be sure to press the stop button. If you need to add more steps, you can always go back, delete the step where you saved the file and press the record button again.
Here is what your steps should look like before you click stop.
Using Your Photoshop Actions
Now you are ready to use your photoshop actions! You can either batch edit or use these actions to edit one photo at a time. In order to use these actions on photo you will need select all action steps you want repeated on your new photo, then simply press play and it's done.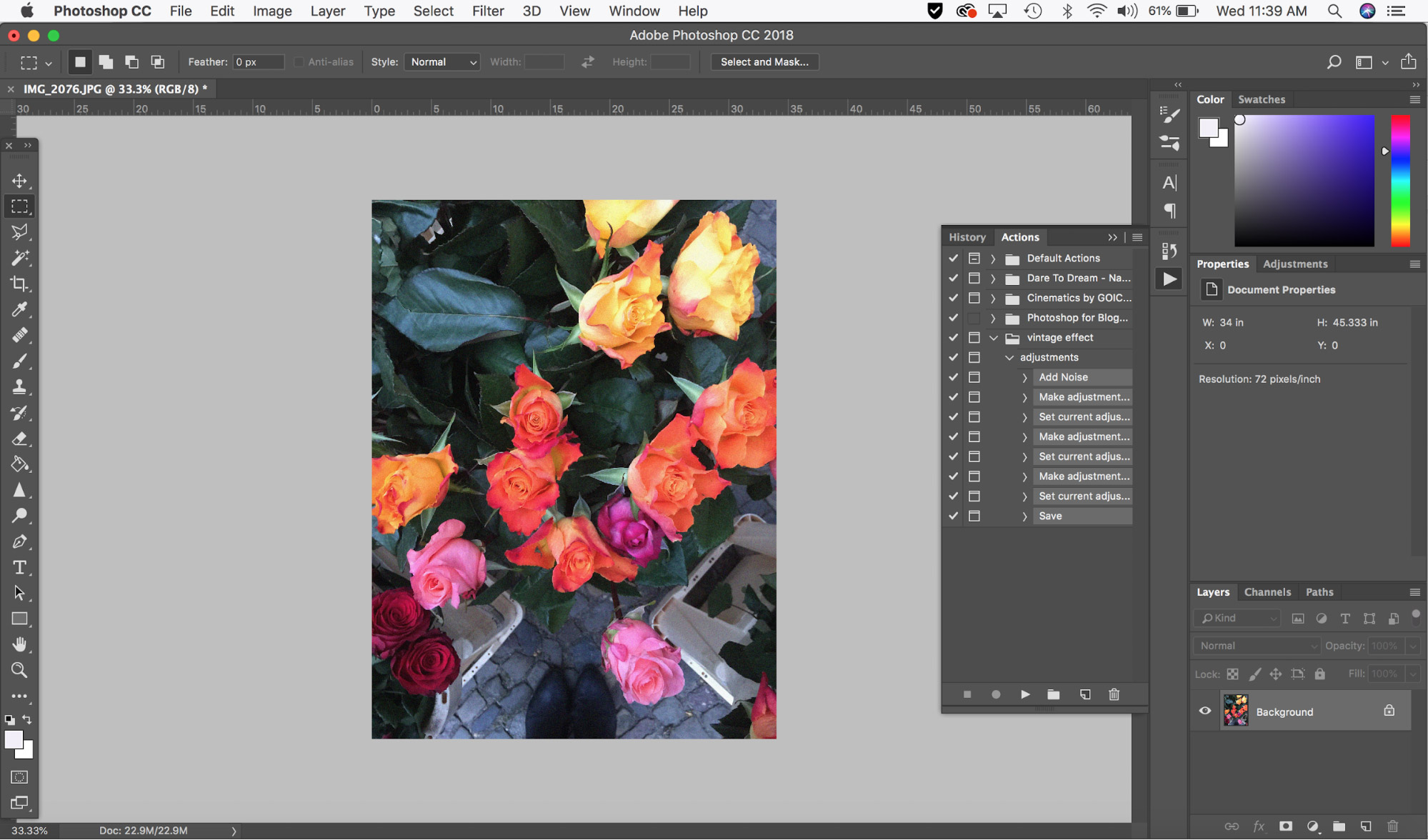 If you want to use your vintage photoshop actions to batch edit, go to file, automate, batch. Be sure to create a folder on your computer of the photo files you want edited along with a separate folder with the finished photos. Select the folder of photos you want edited as the source and the folder you want the finished photos to go in destination.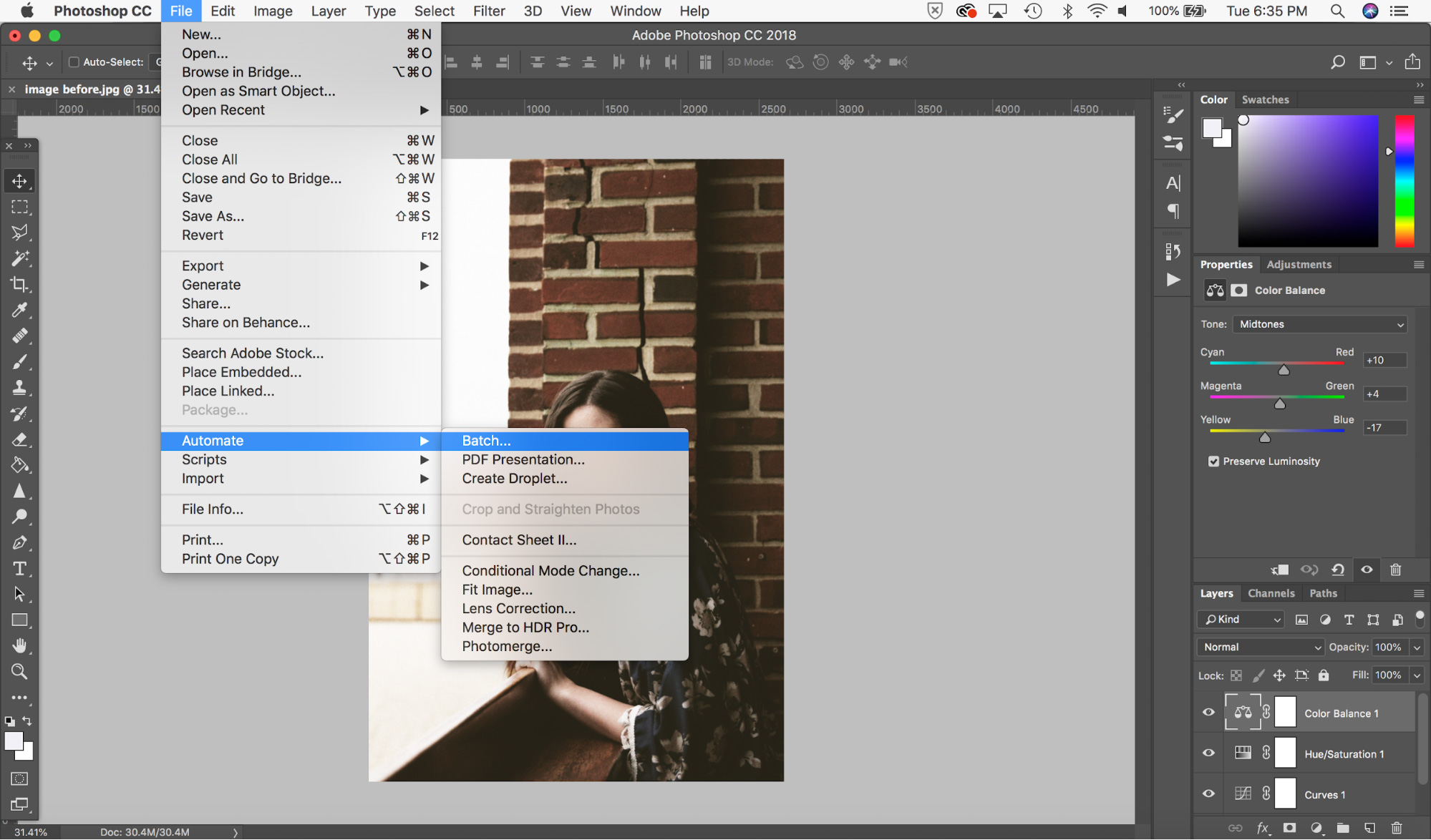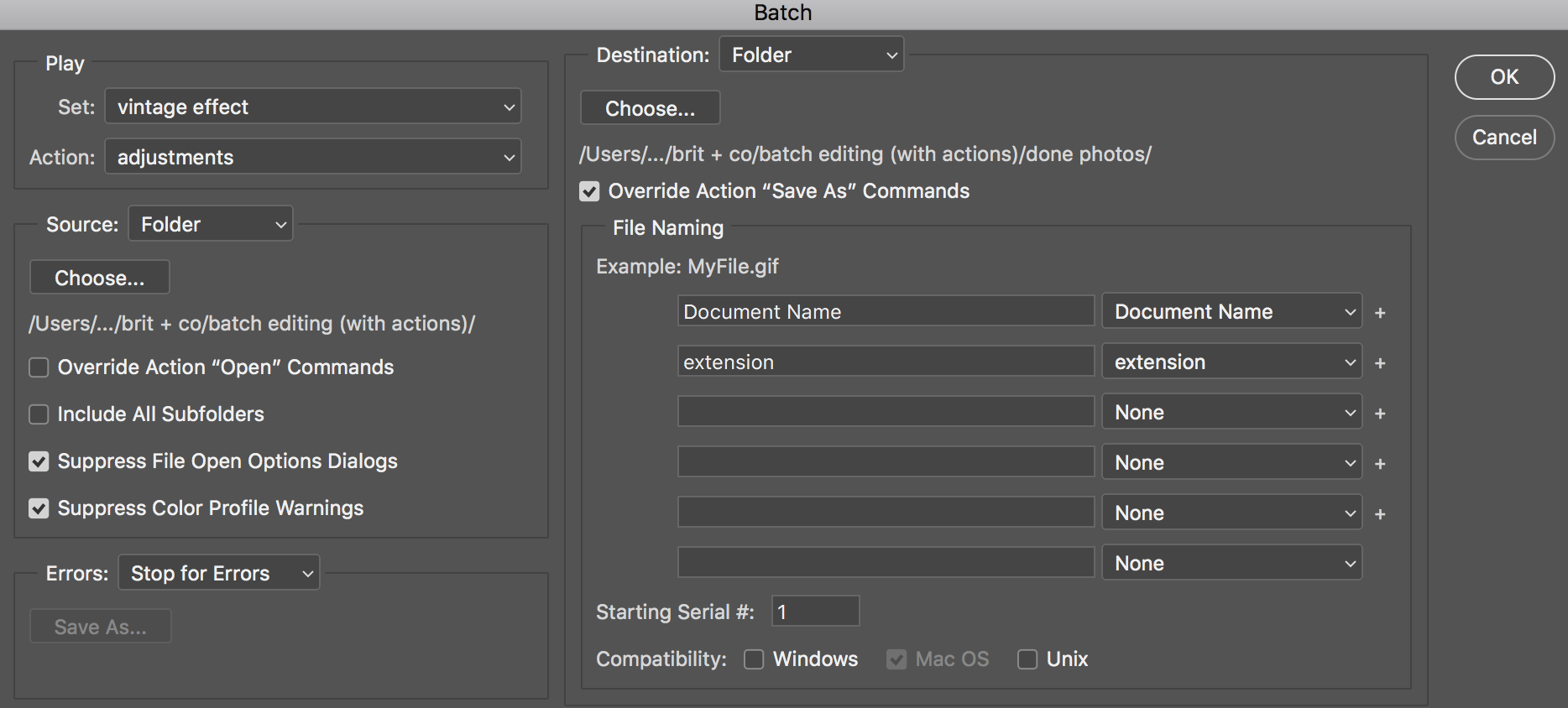 Congrats! You did it! You are on your way to creating your own vintage photoshop actions you can use over and over again. You can also use Photoshop actions to resize your images, add a watermark, or anything else you can dream up. Have fun and get creative!
7 Vintage Photoshop Effects
If you'd like to use pre-made vintage Photoshop actions, here are some great ones that are already created for you. By using these, you can be on your way transforming your photography into vintage art in seconds. Here are some of my favorite vintage actions: 1. Vintage Effect Set Created by Creative Supplies Co., this Photoshop effect set adds beautiful sepia and faded color tones to your photos. It includes several filters along with vintage and gradient overlays. This set can turn your photos into cool vintage art in just a few clicks.
2. Soda Shopped Retro Photoshop Actions Created by Forefathers, was inspired by the 1950's soda shops and pharmacies. This Photoshop action set includes 6 different action flavors to take your photos back in time. This set includes 6 action sets, 7 hi-res halftone pattern files, 7 hi-res texture files, 2 ink bleed actions, 1 halftone color action, and a PDF guide.
3. Pop Art Creator PRO Created by CANofART, this action set is inspired by Andy Warhol's pop art screen printings of Marilyn Monroe. With this Pop Art Creator, you can choose between 15 different colors to transform your photos into vibrant and playful 1960's pop art.
4. FilmTone Natural Photoshop Actions Created by FilterGrade, this set includes 25 natural film Photoshop actions, 10 faded pastel tones, and realistic grain & noise filters that will make your photos shine with natural vintage tones. These actions are ideal for you if you want to create that summer-like retro look to your photography.
5. Rochelle Photoshop Action Created by MustaART, this Photoshop action adds a vintage effect along with a beautiful light leak that brings you back to the old analog days. It adds a warm vintage glow and is perfect for adding a unique touch to your photography in seconds.
6. Vintage Old Photo Effect Overlays Created by PhotoSpirit, these photo effect overlays are ideal for turning your photos into antique artwork. It comes with 21 dust and scratch textures, 23 old paper textures, overlay actions, and a user guide to learn how to implement it all.
7. Colorized Old Photo Effect Photoshop Created by PhotoSpirit this photo effect was inspired by the 1920's and 1930's. These Photoshop actions create a vintage effect with muted color accents. These colorized effects mimic a vintage hand-retoucher. This effect pack comes with many different actions to make the photo black and white along with adding different colored tones on top of it.
---
Products Seen In This Post: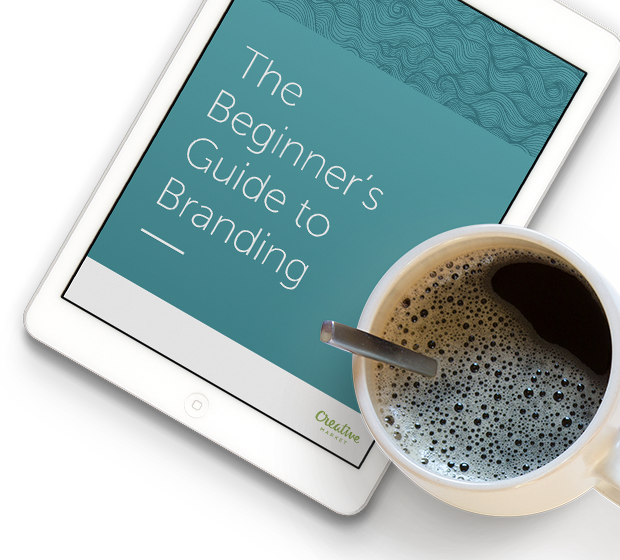 Free Beginner's Guide to Branding
Designing your own brand?
A fun, friendly, FREE guide to build a stellar brand identity.
Download now!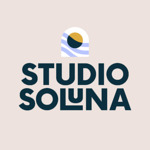 Jessica Safko
We design templates to empower entrepreneurs to create something beautiful. Reach out if you have any questions - We're happy to hear from you! Get a FREE Canva template at yoursundaystudio.com
View More Posts