What Every Designer Can Learn from Donuts
The best creativity inspiration comes from unlikely sources. The other day I was drinking my hot tea while reading Inc. Magazine, and they had a piece describing the creative work environment of a startup. Their conference room resembled a gigantic white donut. This got my wheels turning.…
Unlikely Inspiration
Then, a couple weeks later I was on vacation in Florida (Cape San Blas or bust!). Across the street from my inn, a few hundred yards away from the beach, is the trading post of town. And out front they have Weber's Little Donut Shop. If you're familiar with the banana stand of Arrested Development, they are about the same size.
Delightful and Easy to Consume
Mr. and Mrs. Weber, who I had the pleasure of meeting, sell lots of donuts and croissants to the beach-bound. He opens at 6am and closes around 2pm, depending on the demand any given day. In that time, there is almost always a line for his hot-n-fresh donuts. It dawned on me while I was munching on one of Weber's own. Donuts are products of great design, and as such, there is a lot we can learn from them. Sometimes, all it takes is a hint of sweet glaze on top of an already easy design to make a product appealing on so many levels. If you can make designs as delightful and simple as donuts, then you have something people will love.
Design something that delights people.
Your design should be easy to consume.
Design based on how it makes people feel.
Engineer the supply and demand.
Don't reinvent what's already working.
Less is more.
And talk about a viable product… the donut is the minimalist's treat. There are more sophisticated pastries to be had, but the donut has outdone them with its handy shape and almost unbeatable taste. Make donut-like designs, and you'll have customers eating out of your hand.
Quality and Freshness
Oh, and never underestimate the quality of fresh donuts. By design, newer is better. Do these characteristics sound familiar to your principled design sensibilities? They should. Take a few of your favorite things (sugar, butter, flour, milk…) and find just the right combo with them. Good graphics are also achievable with just a few ingredients: the essence of your brand at work with style, and a call to action. The donut has no shame, as it appeals to our natural desires. And it doesn't change with the latest trends, like "Bigger is better!" because it's not. The donut represents products that don't need to be re-designed because they are timeless and simply work for the market. No cutlery or dishes are necessary to enjoy them a well-designed product. Your designs, like a mouth-watering loaf of sweetness, should have a rather high perceived value in spite of how simple they may appear. Designers often feel the invisible peer pressure to make better and better products over time—to outdo themselves. So ask yourself: Are you vainly attempting to make better designs to 'change the world'? Or would you be satisfied knowing you could make the world a better place even in the plain-vanilla designs?
Make People Smile
If you ask me, the world is a better place with the delight in the simple pleasures of life. If you can make your designs match the pleasure of a donut, as to put a smile on people's faces while enjoying a trip to the beach, then you have done a good job.
---
Header image created using Donuts and Hipsteria + Bonus.
---
Getting started with hand lettering?
Free lettering worksheets
Download these worksheets and start practicing with simple instructions and tracing exercises.
Download now!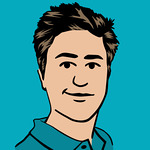 Joe Darnell
Joe is a UI and graphic designer with prior experience as the creative director for three media-based businesses. He has a passion for both web design and graphic design with about 15 years of experience in the media industry. Joe likes delighting people and making ideas and things simpler for them.
View More Posts