What Is Knolling? The Overhead Photography Trend Explained
It may sound like something you're supposed to do in a shady glen or a far-away forest, but in reality, knolling is an important and popular design term that has recently helped create a very important aesthetic. Also known as "flat lay" photography, knolling has been used to shape brands and sell products for nearly three decades.
So What Is Knolling?
Knolling is the process of arranging different objects so that they are at 90 degree angles from each other, then photographing them from above. Knolling creates a look that is very symmetrical and pleasing to the eye, and it also allows people to see many objects at once in a single photograph. Most photographs that feature knolling set the objects against a solid background. This makes it easy to see each individual object and allows them to be the most dynamic part of the image.
How Did It Start?
The first person to knoll was Andrew Kromelow, a janitor at Frank Gehry's furniture store. At the time, Gehry was designing for a popular furniture brand called Knoll, a company that was legendary for creating very angular furniture. At the end of his work days, Kromelow would go through the store and find any tools that had been left out. He would then rearrange the tools on a flat surface so they were at right angles to one another. He called this knolling, because it reminded him of the angles in Florence Knoll's furniture pieces.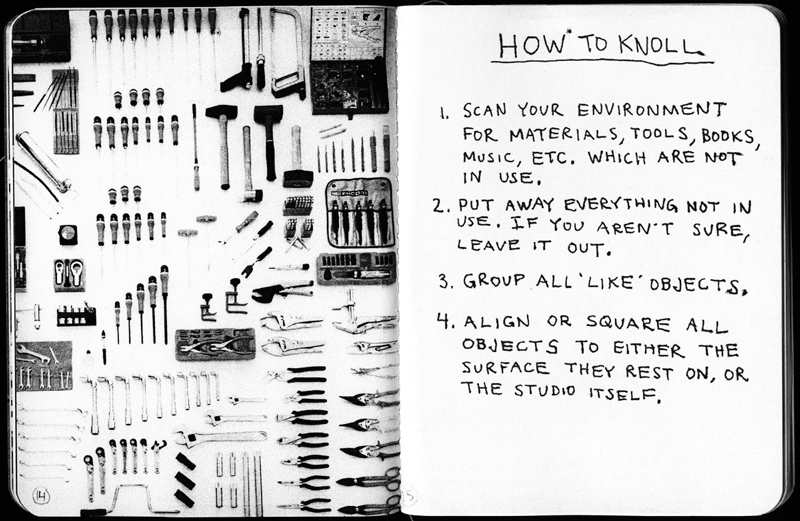 Tom Sachs' 2009 zine "Ten Bullets" (source)
Knolling eventually became popular through the work of Tom Sachs, an artist and sculptor who also worked with Gehry. Sachs saw the photographs that Kromelow was taking, and decided to create a piece about knolling. Sachs adopted the phrase "Always be knolling" (or ABK for short) as a motto for his work. By 1987, knolling had officially become a trend.
Knolling On Instagram
Many people are knolling these days. Individual artists and photographers are using knolling in their own work, and even companies are using photographs with knolling for promotional purposes. Below you can find some great examples of knolling from independent photographers on Instagram and from some great designers on Creative Market.
1. The Flat Lays
The Flat Lays is a popular Instagram account that is completely dedicated to knolling and flat lay photography. This image from Flat Lays shows accessories and knick-knacks that might be used by cultured travelers, such as journals, a wristwatch, a passport, a camera and more, all laid against whitewashed wooden floorboards.
2. luisamaria.ac
Another simple but great knolling photo on Instagram comes from luisamaria.ac. Rather than group items by category or type, she created a photograph that was themed by color. This knolling photograph is predominantly orange and features a toy moose, a notebook, flowers and more.
More Knolling
From laying out recipes to cataloguing nature, knolling has taken the web by storm. Here are some of our favorite shots.
Knolling On Creative Market
Looking for an easy way to incorporate some knolling into your next project? We've got you covered.
Knoll On
Hopefully, you've been inspired to do some knolling on your own. Give it a shot, take some photos, and share them with us in the comments below.
---
Products Seen In This Post:
Getting started with hand lettering?
Free lettering worksheets
Download these worksheets and start practicing with simple instructions and tracing exercises.
Download now!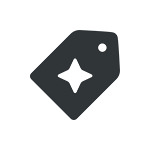 Creative Market