What's the Difference Between Letterpress, Offset and Screen Printing?
Printing is recreating visual texts and images with the use of a master template or layout. Printing suppliers are identified according to the type of consumers they serve, the kinds of projects they print and produce, and the printing tools they use.
The printing niche is divided into four sections:
Commercial: This printer commonly prints an array of merchandise – from stationery to magazines. Some commercial vendors concentrate on specific markets like form printers, wide-format printers, and direct mail printers.
Packaging: This printer focuses on producing all sorts of packaging like containers, boxes, bags, and labels.
Publication: Used for newspapers, books, and other types of publications. It can also be used for directory printing.
In-plant: This is a printing service exclusively owned by a business or an organization and is only used to print for the company.
All aforementioned printing market sections use one or more types of printing processes determined by their target audience and marketing goals.
There are nine primary types of printing techniques, namely:
Offset lithography: commonly used for books, newspapers, and stationery
Engraving: commonly used for fine stationery
Thermography: used for raised printing
Reprographics: used for copying and duplicating
Digital printing: still limited in use, but the technology is fast-rising
Letterpress: the classic Guttenberg process
Screen: commonly used for shirts and billboards
Flexography: commonly used in packaging like labels on cans and boxes
Gravure: commonly used for huge orders of magazines and catalogs
Out of these printing techniques, the most popular and well-used are Letterpress, Offset and Screen printing. Read on as we discuss the differences between these techniques and figure out why they are the most popular in the industry.
Letterpress Printing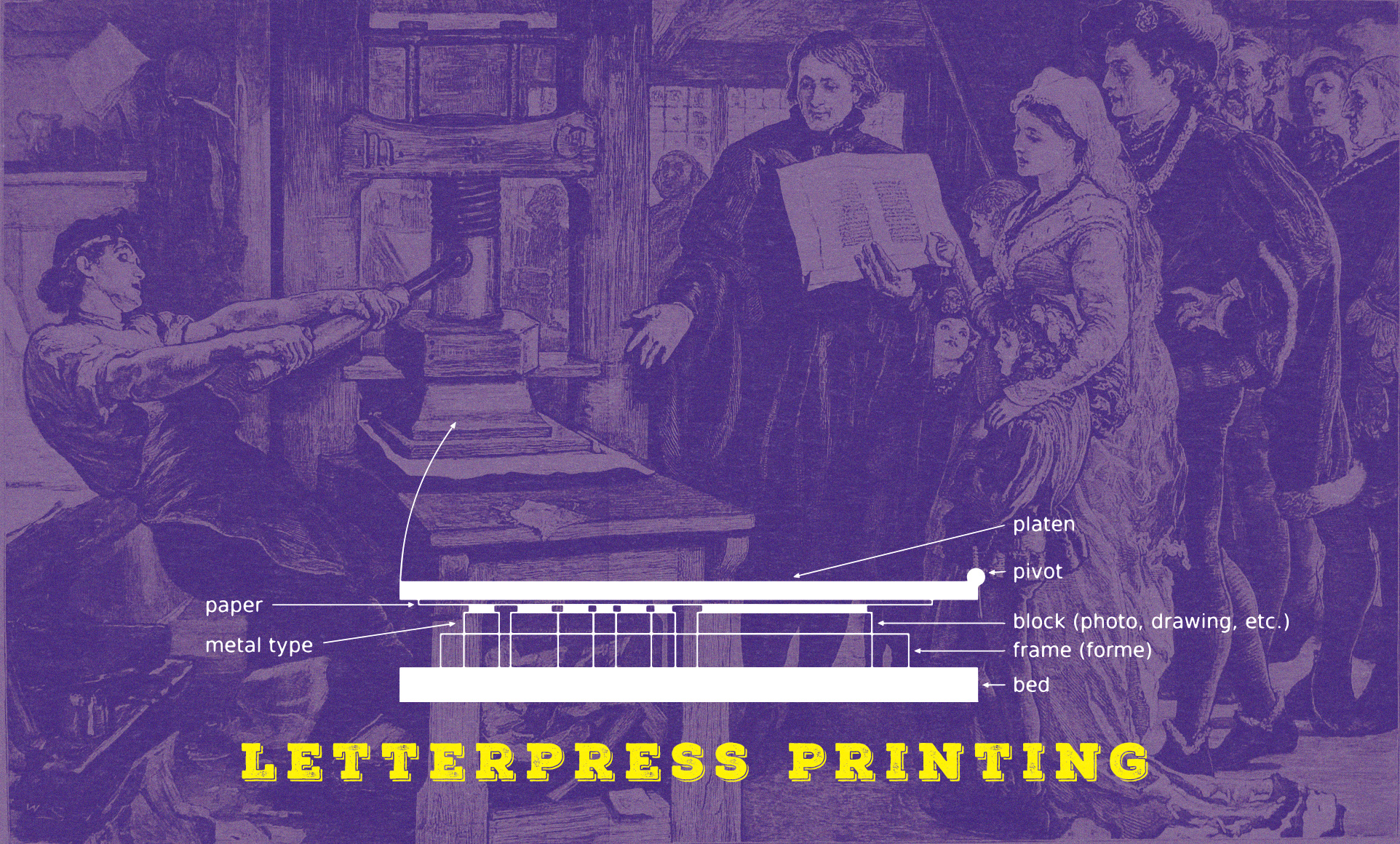 Letterpress is the "godfather" of printing. It is the oldest printing technique. Right after the Gutenberg Press popularized movable type back in the 15th century, letterpress had been the predominant printing technique for five centuries.
In this method, a surface area with elevated letters is inked and hard-pressed to the top of the printing substrate to recreate a text or an image in reverse. To produce an impression, letterpress printers had to construct individual letters and characters into a "forme", secure them into a printing chase, and ink the type using a roller. A sheet of paper is placed over the inked type and slid beneath the press. A subtle pressure or force is then exerted by manually securing the screw. The ink will soon be migrated from the type (metal or wood) to the paper.
Letterpress can also use other kinds of relief printing working with stamping presses like wood engravings, image cuts, and linoleum blocks. All of these may be used adjacent to wood or metal type, within a single operation. With specific letterpress models, it's also feasible to use the movable type with slugs cast with the aid of a hot metal typesetting.
The entire process of letterpress printing involves four phases:
Composition
Imposition
Lock-up
Printing
In a small printing shop, all of these stages can happen in one room. However, in larger printing shops, such as those in metropolitan publications, each phase is likely to have a specific department with its own space or even a whole floor.
Letterpress can produce work of top quality at high speed. However, it demands a lot of time to regulate the press for fluctuating thicknesses, engravings, and cuts.
The operation requires superior workmanship as this type of printing technique can also pass as fine typography. It is chosen by many small printing companies that market delicate, handcrafted, limited-edition publications, artists' literature, stationery and paper memorabilia.
Because of the time and effort required to finish a letterpress project, it is more expensive than any other printing technique. Each shade is printed separately and each plate is likewise placed in the chase, inked and cleaned up individually.
Letterpress printing is undoubtedly an artisan's craft.
Letterpress Printing Examples
UF Graduation by Austin Petito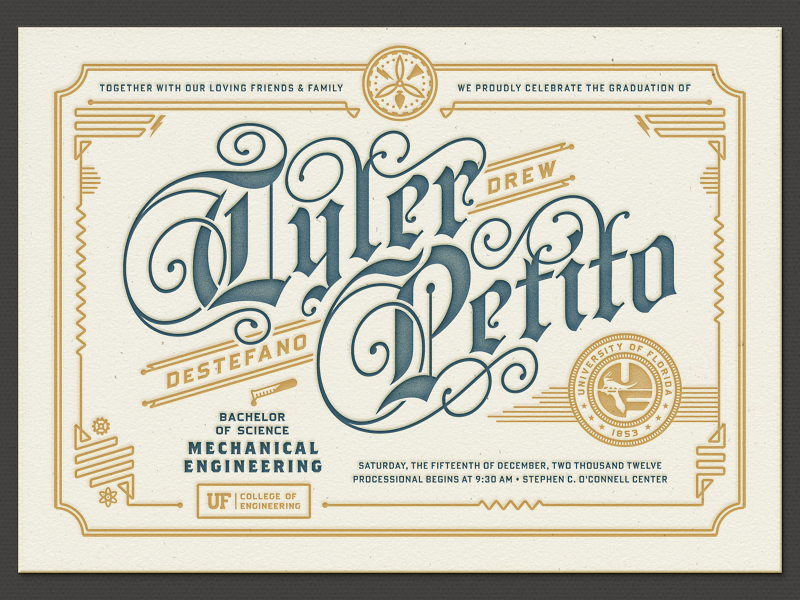 Defenders of Space by Justin Pervorse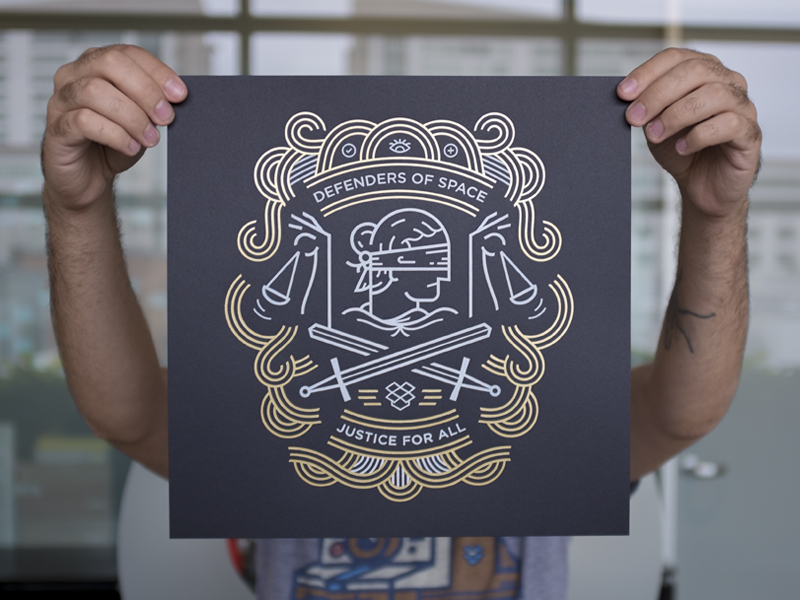 Brian Steely's Business Cards

Offset Printing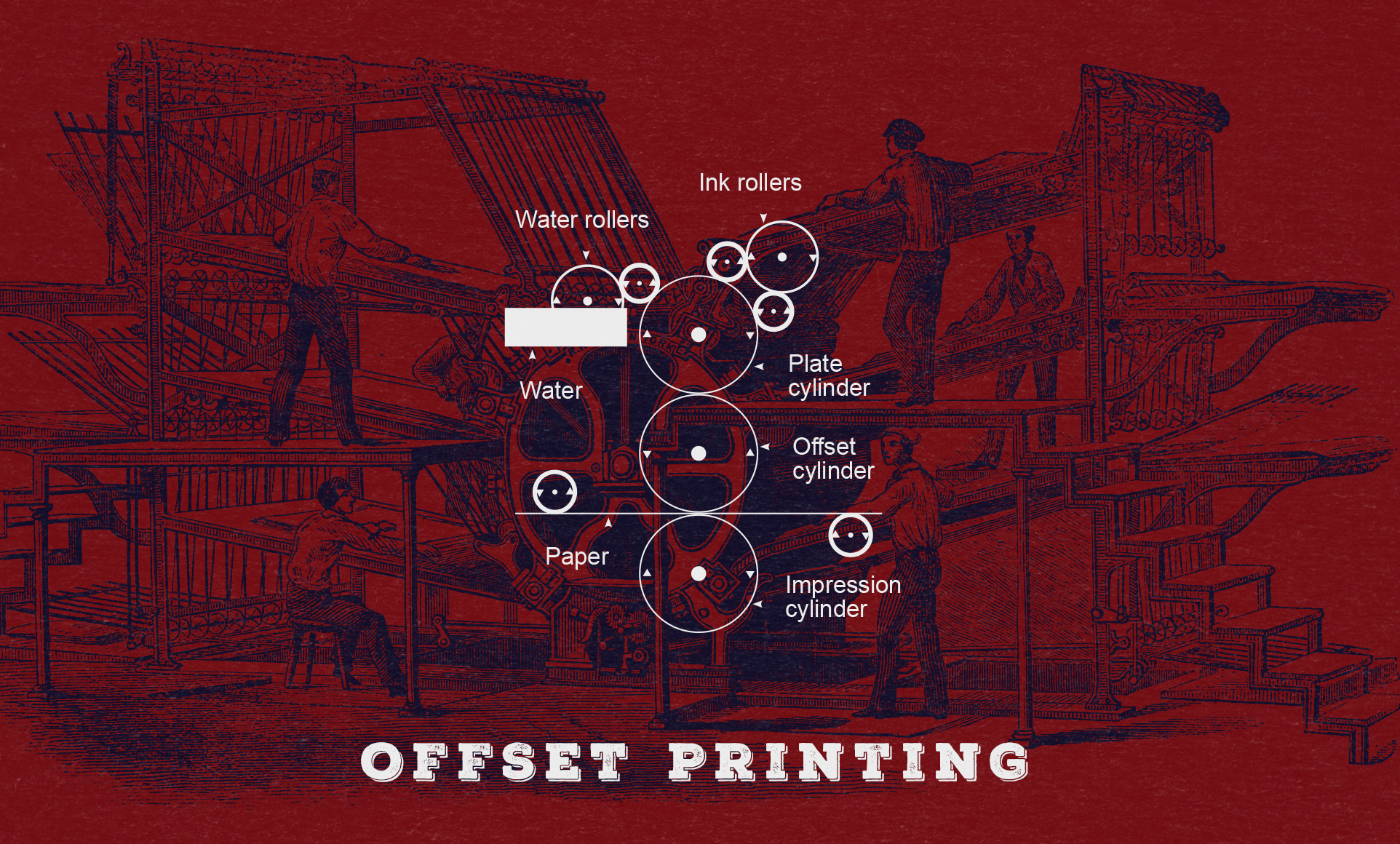 Dating back to the late 1800s, offset printing technique is a by-product of a much earlier practice known as lithography. Evolution of the offset press started in two variations. The first was in England in 1875 by Robert Barclay. He used the technique to print on a tin. The second one was pioneered in the US by Ira Washington Rubel back in 1904. He developed a technique to print on paper.
Lithography generally used a big, flat stone treated with a water-retaining (hydrophilic) compound that withstood ink. The ink then stuck to the surface, and a text or image print could be drawn from hard pressing a paper to the stone.
Contemporary offset printing makes use of similar key points, but the image is produced on a plate mounted on a cylinder. Print rollers apply ink to the cylinders, which transfer the ink to "blankets" or rubber rollers, which will then set the image on a paper.
Unlike traditional lithography, where the ink goes straight from the stone or plate to paper, modern offset printing literally "offsets" the ink from the plate to the blanket to paper.
These days offset printing is considered the most commonly used method for a variety of print products like books, magazines, stationery, corrugated board, and posters.
Some of the main benefits of offset printing include:
• Dependable superior image quality. This printing technique generates distinct and clean images and type with less effort than letterpress. This is due to the rubber blanket that contours to the texture and consistency of the printing surface.
• Fast and simple creation of printing plates.
• Longer plate-life compared to direct lithography presses since there is no immediate contact involving the plate and the printing surface.
• Value for money. Offset printing is the least expensive technique for creating top quality prints in industrial volumes.
• The option to alter the quantity of ink on the fountain roller with just the screw keys. In older equipment, one sets the screws by hand. In modern equipment the screw keys are controlled digitally by the machine, which enables an infinitely more precise outcome.
The weak points of the offset printing technique include:
• Marginally sub-standard image quality when compared to gravure printing.
• The tendency for anodized metal printing plates to become sensitive because of chemical oxidation and, as a result, print unnecessary background areas that can damage the overall look of the project.
• The time and expense associated with creating plates and printing press installation.
Offset Printing Examples
Fast Co. Magazine : Pro Sports by Michael Spitz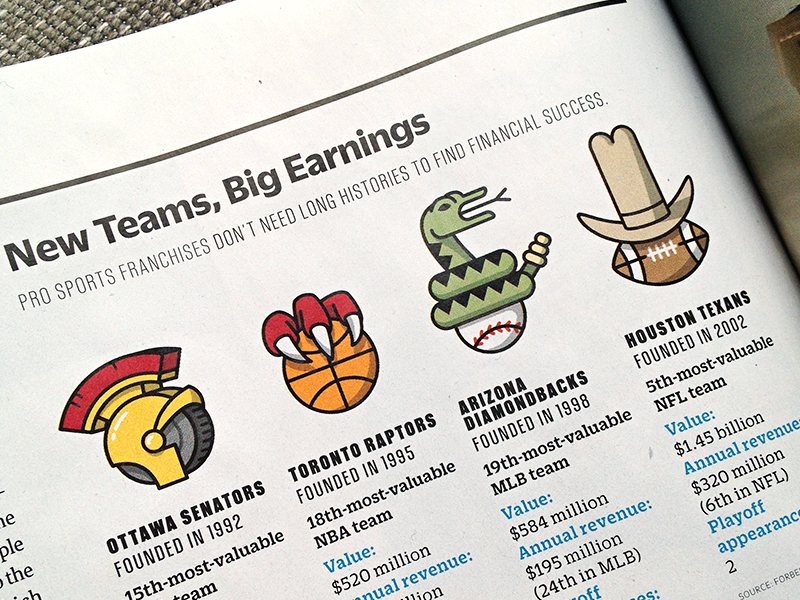 Coffee Roaster packaging by Doe Eyed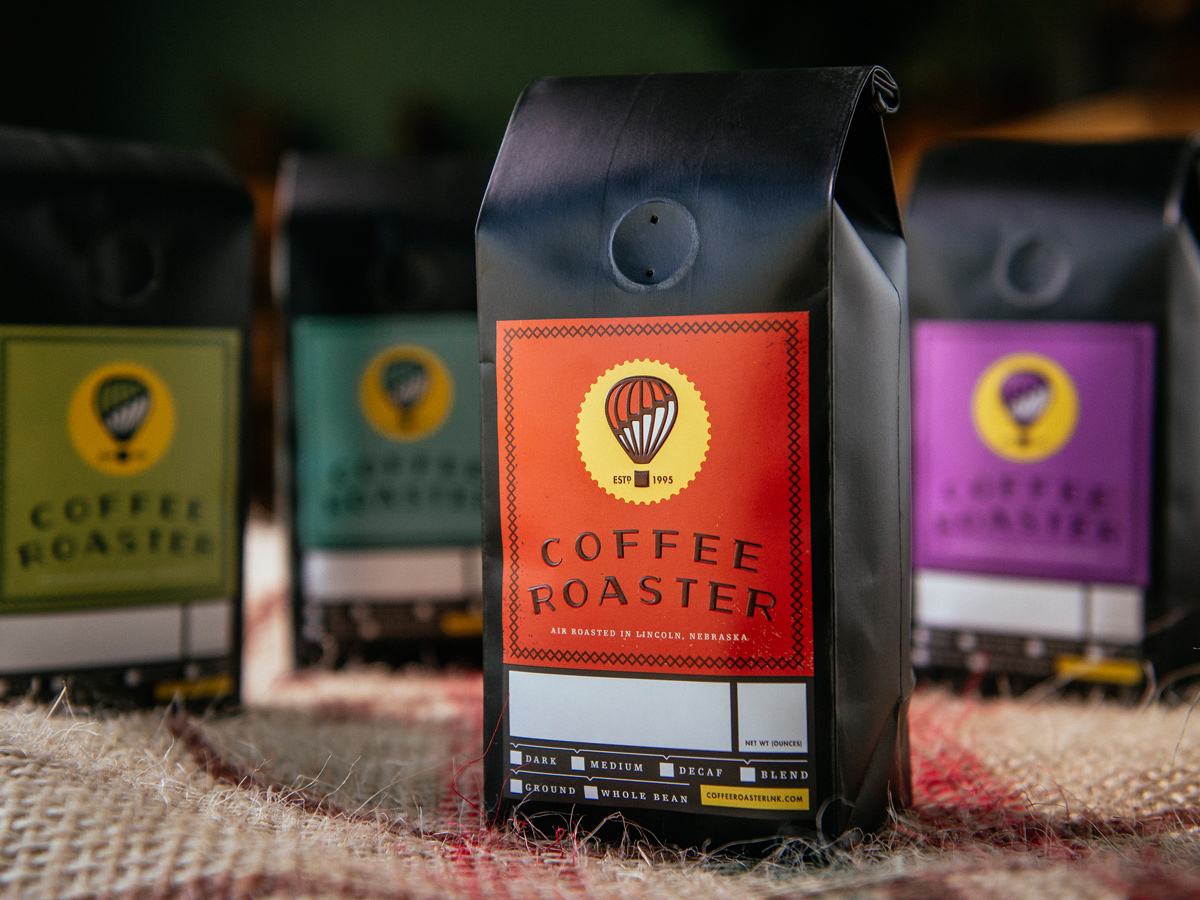 Water Label Close Up by Salih Kucukaga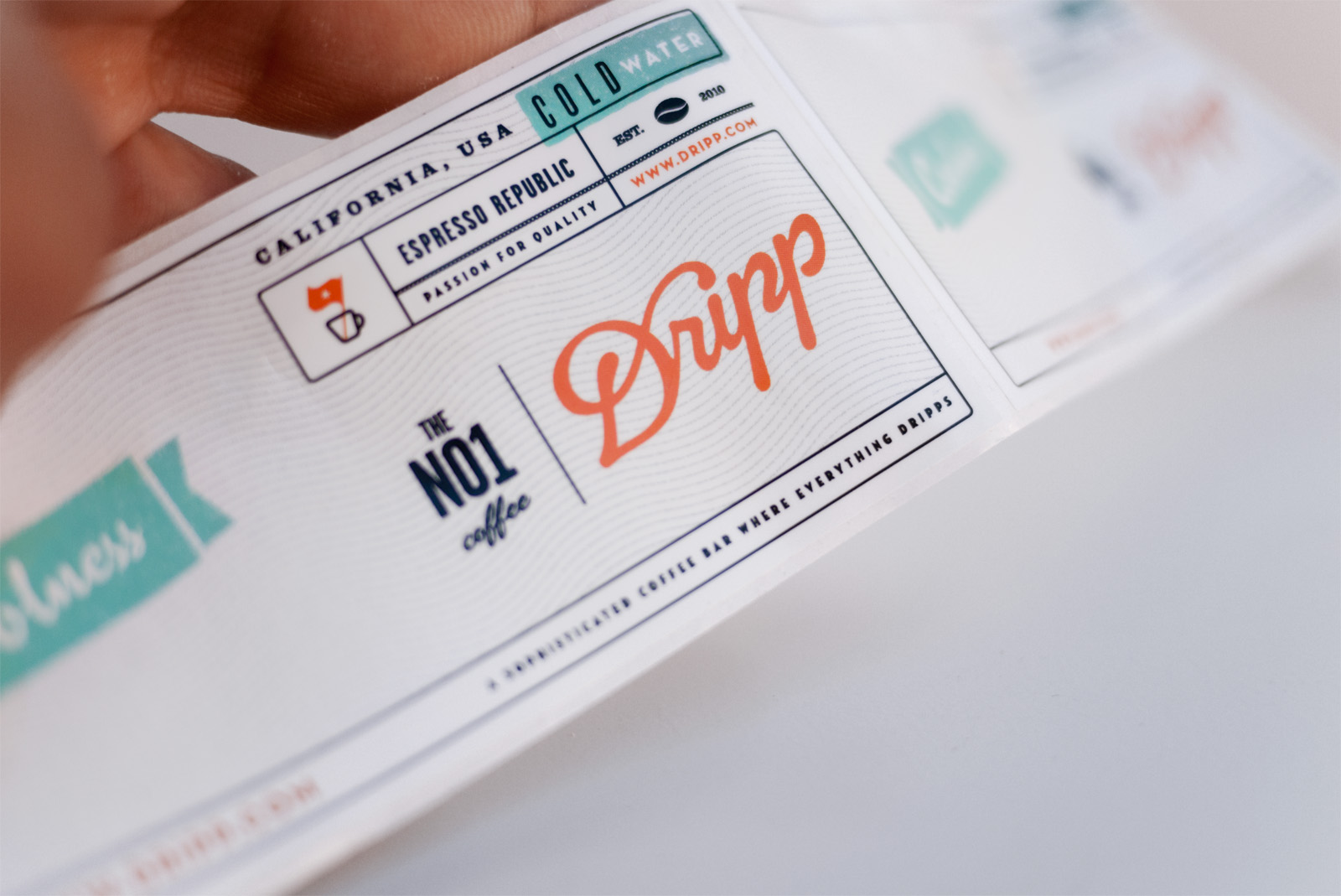 Screen Printing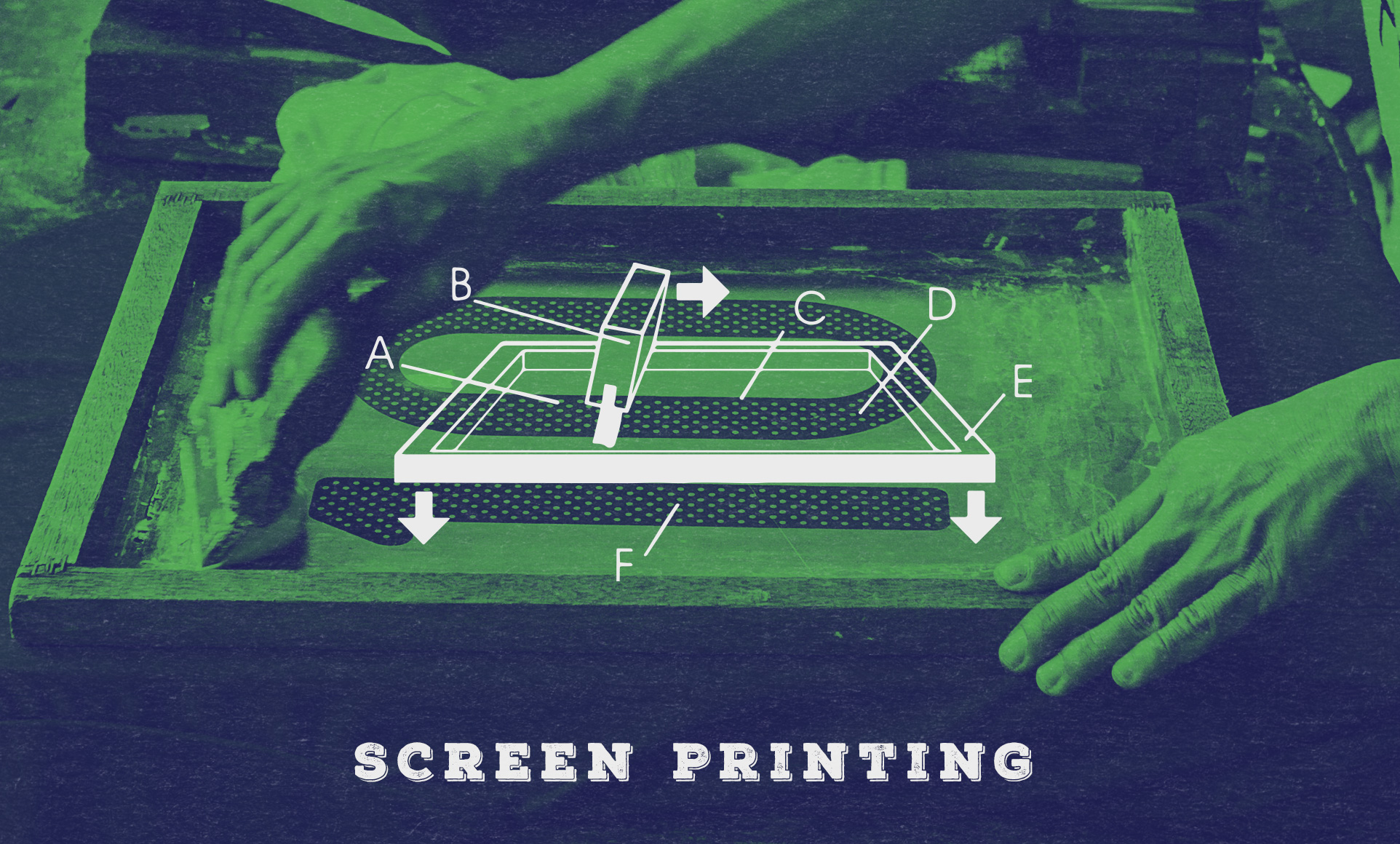 Screen printing is a form of stenciling that initially gained popularity in China during the Song Dynasty (960-1279 AD). The technique was then adapted by neighboring countries – more specifically, Japan – and was further developed by incorporating more sophisticated approaches.
This printing technique was predominantly unveiled in Western Europe from Asia in the late 18th century. However, it failed to gain significant approval or use in many European countries right until silk mesh was more accessible for trade coming from the east and a lucrative outlet for the technique was noticed.
Screen printing is a technique wherein a mesh is used to transfer printer ink on top of a substrate, except in areas designed impermeable to the ink by an obstructing stencil.
A squeegee (or a thin blade) is moved throughout the screen to stuff the unobstructed mesh with ink. An invert stroke then triggers the screen to have a brief contact with the substrate. This makes the ink moisten the substrate and be removed out of the apertures as the screen coils back after the squeegee has passed.
Screen printing is also referred to as serigraphy, silkscreen or serigraph printing. One shade is imprinted at a time. Several screens are used to create a multicolored graphic or design.
Screen printing is much more flexible than conventional printing techniques. The top surface does not need hard pressure, which is distinctive from etching or lithography. Also, the technique can do well without planar.
To print multiple duplicates of the design on fabrics in a productive manner, printers work with a screen printing press. The majority of presses are done manually. However, a number of industrial-grade automatic machines call for minimal hard physical work while increasing production substantially.
The main advantage of screen printing is the fact that the top of the print recipient doesn't need to be leveled or flat. Also, the ink can stick to several materials like paper, fabrics, glass, wood, metal and even ceramics. As a result, screen printing is typically used various industries, which include:
Party supplies (balloons, latex decors)
Clothing
Healthcare tools
Decals
Product labels
Signage
Billboard displays
Film and TV technology
Sports graphics
Printed electronics
Fabric and textile
Screen Printing Examples
You Don't Look a Day by 55 Hi's


Wagepoint Shirt by Kirk Wallace


Bandana by Nicholas Moegly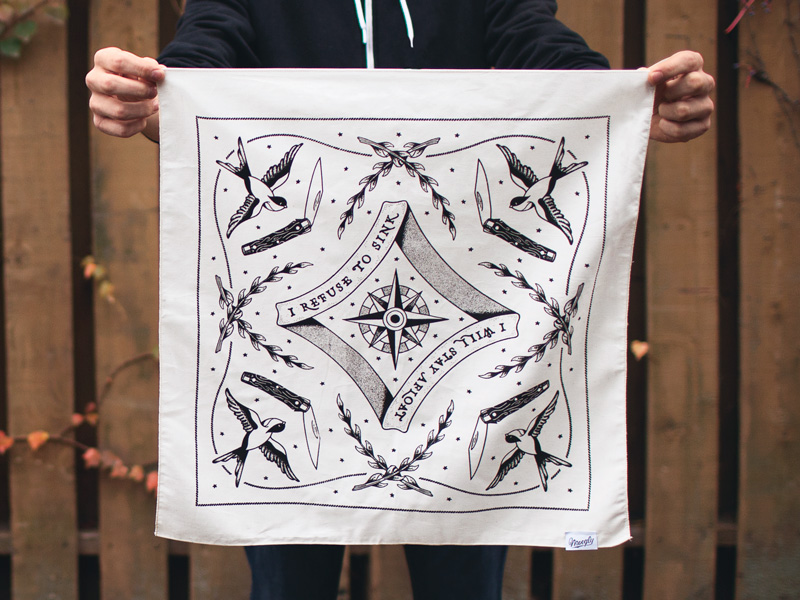 Choosing the Right Printing Technique
With letterpress, offset, and screen dominating printing press techniques, it's important that both the printing supplier and consumer know the answer to these questions to pinpoint which method is the best suitable for a given project:
Length of printing time: How many print copies are needed?
Deadline: When is the cutoff date?
Size: How small or large is the text or image that must be printed?
Subject: Why must the project be printed?
Design: What must be printed?
After-print requirements: What additional tasks related to the project must be completed after the actual printing?
Availability: Which printing tools are available?
Budget: Which technique can cover the project's expense?
Once these questions are answered, it will be easier to figure out which printing technique works best for a specific project.
Getting started with hand lettering?
Free lettering worksheets
Download these worksheets and start practicing with simple instructions and tracing exercises.
Download now!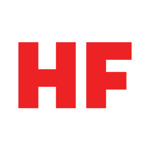 Igor Ovsyannykov
We create fonts, graphics, and produce aesthetically pleasing photos.
View More Posts