Work From Home: The 10 Best Sites for Landing a Remote Job
A long commute, terrible traffic, constant distractions, and impromptu meetings; there are a ton of reasons that you might find your office gig to be more hassle than it's worth. If you're ready to trade in your cubicle for a home office, then it's time to start your remote job hunt. These days, there are tons of companies that actively recruit remote designers, developers, and other tech-focused roles. The trick is simply finding what's out there. Hopefully, this list of ten awesome remote job sites will be your first step towards your exciting new career, sans the drive to work!

Dribbble offers both a full-time job board and a section of freelance gigs for designers in every field. Companies post job or project descriptions and receive submissions from interested creative professionals.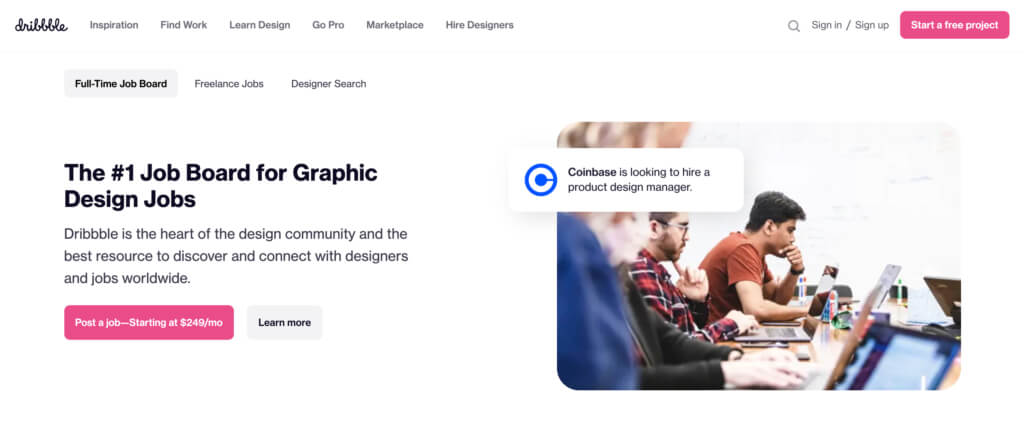 The benefit of RemoteOK is that you can specifically filter results by "Worldwide" and work from anywhere. In addition, you receive the option to choose how frequently you want to receive notifications. It's a hassle-free way to see what's available out there, no matter what stage your career is in, so you can keep your options open.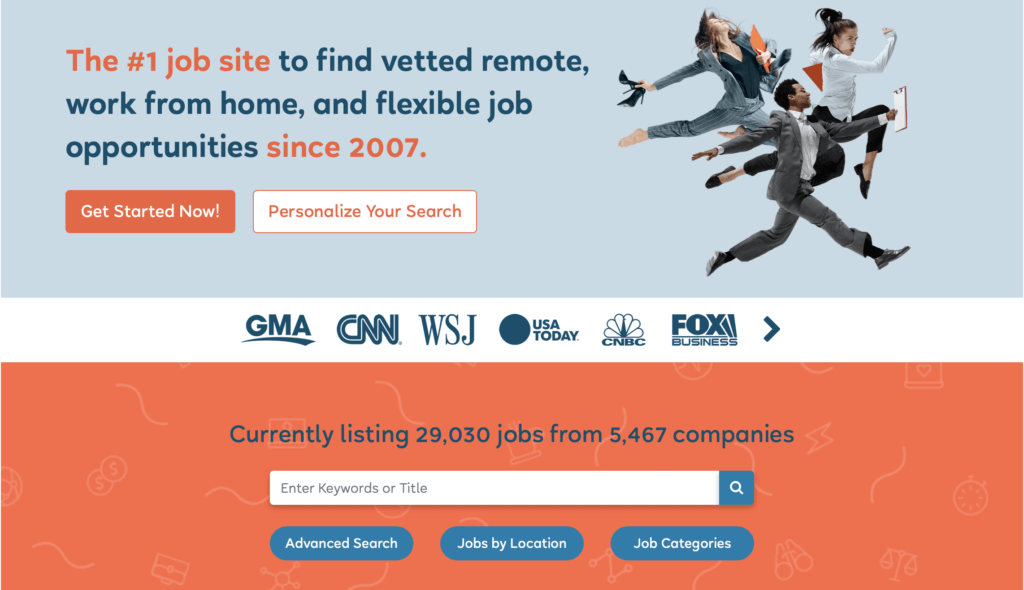 As an A+ business by the Better Business Bureau, FlexJobs has been reported on CNN, USA Today, NBC and other notable news sources. The site is fee-based, but reasonable. If you only want to pay for one month, the fee is $14.95 but if you choose three months for $29.95, you're only paying $10 per month. A year long subscription is $69.95, which is a 61% savings. It all depends on what your objectives are, as in part-time, short-term, full-time, or long-term.
As a visitor to the site, you are able to check out what jobs are available. This is a great tool to see what they have to offer, and if it looks promising, then you can decide to join for whatever length of time you feel you may need. Since FlexJobs also provides jobs at specific locations, should you only want to see remote jobs, be sure to click on the 'job type' bar and select 'remote only' or you'll get frustrated sifting through the wide variety they have to offer.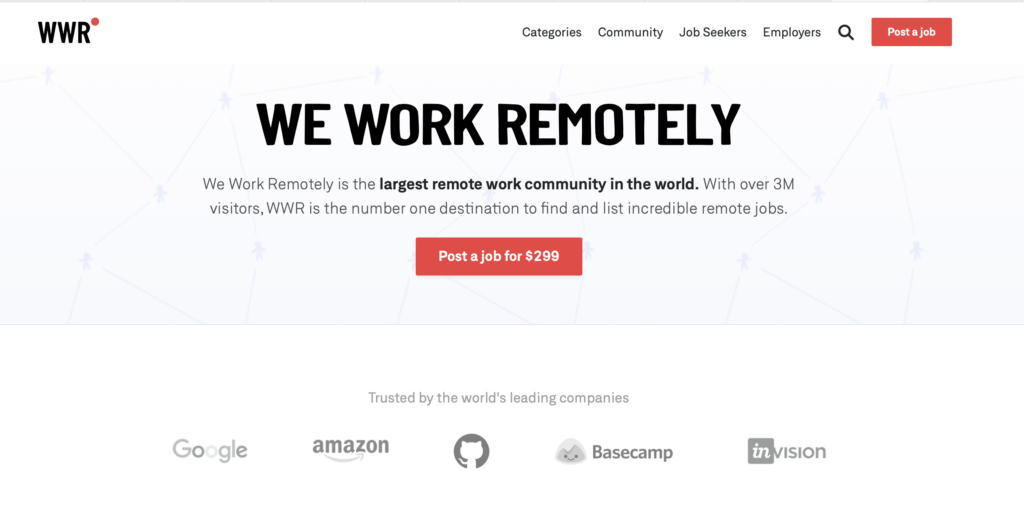 We Work Remotely is a 'no-nonsense' site for finding remote design and development work that has no fees associated with job seekers. The only thing that is a bit of a drawback is that the listings aren't as plentiful as other sites, but the companies they work with are solid.


When visiting Remote.co, just click on 'Find Remote Jobs' and the opportunities available will be listed by date and filterable by category. You can sign up for a weekly recap of available opportunities in either tech or general categories.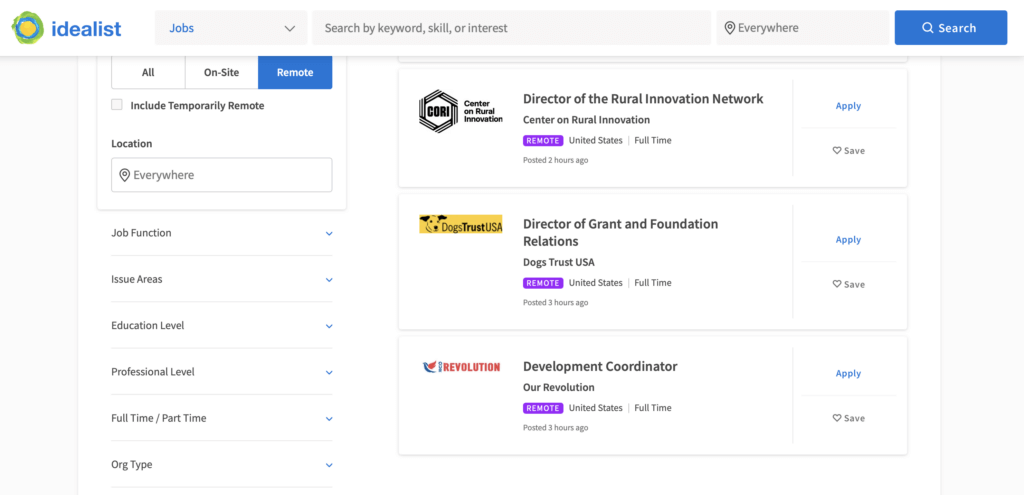 This site offers solid remote positions with great social-impact organizations. It's worth viewing if you're looking for a role tied to a specific cause.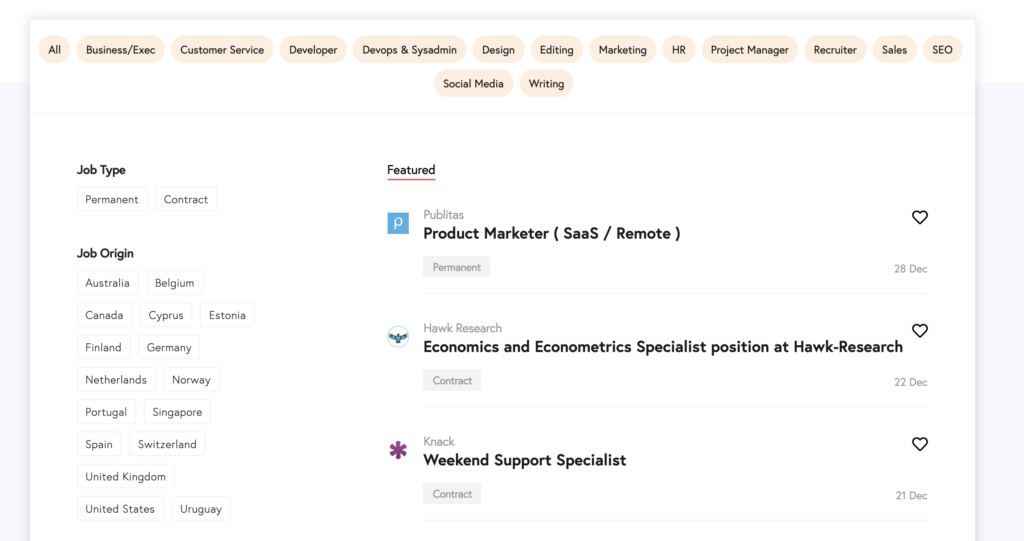 Just Remote is fairly easy to navigate through and there is no fee for job searchers. The site allows you to apply Permanent and Contract filters, making it easy to identify opportunities that adjust to your career goals no matter where you are.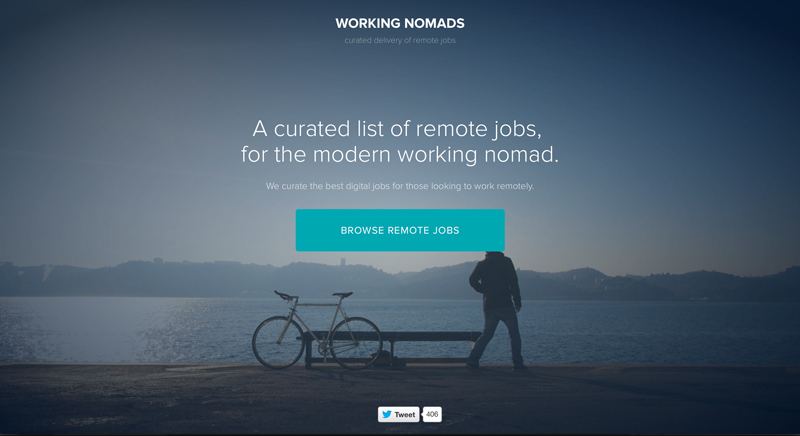 Another site dedicated to remote work, Working Nomads is heavy on design and development positions. Out of 6 job categories listed, development is at the top and design has the second most opportunities. At the time of writing, they have 310 jobs listed for development work and 44 in the design category. Not bad! There is no fee attached and it also provides the option to subscribe for free to receive emails regarding new jobs you may be interested in. Definitely worth having a look.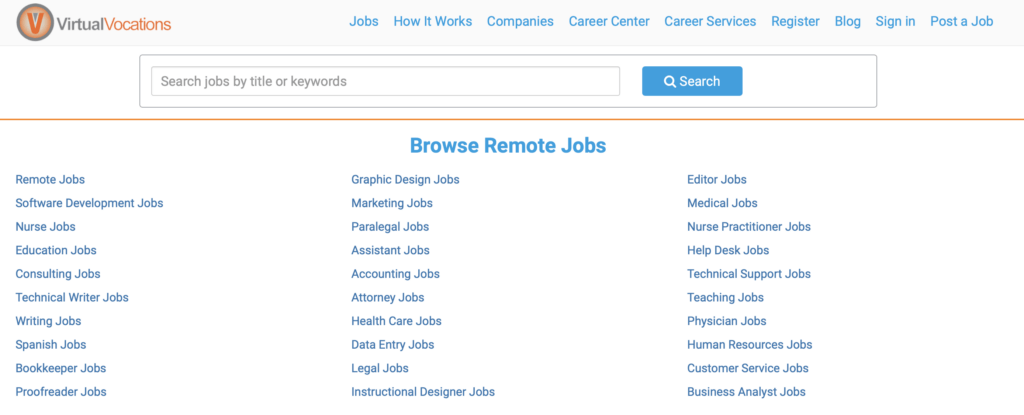 Virtual Vocations is another very comprehensive site. Although currently holding a B+ rating with the Better Business Bureau, they have consistently sought to improve customer satisfaction to up their rating and are close to an A rating. They offer both free and paid memberships. Pricing for paid memberships are listed as $6.99 for weekly, $15.99 for monthly, $39.99 for 3 months, and $59.99 for 6 months. In the worst-case scenario, you're looking at $10 per month long-term to access the site.

With a free membership, you can access jobs, list your resume, access a record of jobs you've applied to, and create personal notes on jobs applied to. The benefits of being a paid member provide access to a database of telecommuting companies, create a personalized portfolio of work samples, and a confidential upload and storage of resume and cover letters to quickly apply to new jobs. They claim to be the largest, screened telecommute jobs database and might be.

Remote Internships is a great site to help a designer get their foot into the door of a tech startup. If you want to make your mark on a startup, this is the place to go. Their intern focus is on Programming, Design, Business, Marketing, Copywriting, Customer Support, and Miscellaneous. Definitely a good spot for a cutting-edge talent.
What'd We Miss?
We searched far and wide for the best remote job sites, but we've no doubt missed a few gems. Leave a comment and let us know about any that you've seen lately. Also, let us know if you've tried any of the sites above and whether or not you found them to be valuable.
Getting started with hand lettering?
Free lettering worksheets
Download these worksheets and start practicing with simple instructions and tracing exercises.
Download now!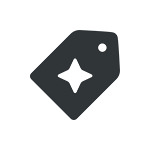 Creative Market