10 Unmissable Design Deals Ending Soon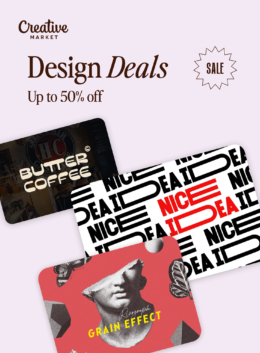 Our Design Deals offer the perfect opportunity to save big on over 200,000 designer favorites across all marketplace categories including photos, fonts, graphics, templates, and themes.
This sale expires after Friday and these are 10 deals you don't want to miss! Read on to learn more about these must-have creative resources and how they can benefit your work.
PS: Members save even more on these limited-time deals!
1. Vintage Collage Creator Vol. 2
Vintage Collage Creator Vol. 2 is a fantastic addition to any digital collage maker's toolkit. With over 1200 highly detailed elements sourced from old photos, illustrations, art, ephemera, and textures, the possibilities for creativity are endless. The 25 premade collage artworks are a bonus, providing inspiration and a jumping-off point for your designs.
All assets are perfectly isolated with transparent PNG files and a few JPGs, making it easy to drag and drop elements to create outstanding colleges in minutes. The 529 old photograph cutouts, 323 vintage illustrations, and art assets, and 357 textures and ephemera all have image dimensions varying from 1500px to 7500px on the long edge and a 300 DPI resolution.
2. The Milkstore Font Collection
The Milkstore Font Collection is a versatile set of 5 textured handcrafted fonts, perfect for giving your designs an authentic, vintage vibe. With additional alternates and swashes, logo templates, and over 30 hand-drawn icons, creating logos and badges has never been easier.
The fonts come in three styles: textured, rough, and clean, providing flexibility to match any project's mood. The product also includes 12 textured backgrounds to showcase your designs perfectly. This product is ideal for graphic designers and creative professionals looking to add a unique touch to their branding, packaging, and title designs.
3. Mockup Kit
The Mockup Kit Bundle is a game-changer for graphic designers! This product includes eight high-resolution scenes Mockup Kits, totaling 163 premade scenes. You can easily customize each scene using Adobe Photoshop to add, remove or mix elements, creating authentic and unique designs.
The Mockup Kit Bundle is perfect for showcasing your work realistically and professionally. With adjustable shadow and lighting options, background textures, and easy image placement via Smart Objects, this bundle is a must-have for creatives looking to elevate their designs. Plus, the helpful guide ensures you can get started quickly and easily.
4. Branch – Modern Ligature Serif
"Branch – Elegant Ligature Font by Sans and Sons" is the perfect addition to your font collection. This font is elegant and versatile, making it suitable for various design projects like branding, logos, invitations, and even headers.
The font features an alphabet cut file, SVG/DXF/EPS files for Cricut and Silhouette, multilingual (.otf .ttf file), alternates, PUA encoded, and ligatures. It is effortless to use in any software, and instructions are included. The package has several file types, including Branch. otf, Branch.ttf, and Branch.svg, Branch.dxf, Branch.woff, Branch.eps, and instructions.
5. Watercolor Bundle
The watercolor paper illustrations by Grace Noboa are a collection of beautiful floral designs. Each collection can be downloaded individually, saving space on your device. The PNG files are compatible with most graphic programs. However, it is important to note that fonts, text, and mockups are not included.
This collection is perfect for creating wedding and birthday invitations, gifts, and more. It is a great choice for anyone who wants to add a touch of elegance and beauty to their designs. Overall, the Grace Noboa Watercolor Paper Illustrations are an excellent choice for high-quality floral designs.
6. Kindred Hand Lettered Typeface
Kindred Hand Lettered Typeface is a versatile, organic font perfect for branding, social media, and marketing. This typeface is inspired by hand lettering art and has an organic feel, thanks to the slightly rounded corners. With 281 glyphs, 34 standard ligatures, and over 90 alternatives, this font can be customized to suit the needs of any project.
The six styles available include Light, Regular, Bold, Rounded Light, Rounded Regular, and Rounded Bold, which can be mixed and matched to create a unique look. Language support is available for Danish, English, French, German, Irish, Italian, Portuguese, Spanish, Swedish, and Swiss German.
7. Wild Mango | Modern Serif Font
If you're looking for a versatile font that can elevate your designs, Wild Mango is worth considering. This chic and modern serif font is perfect for branding, logos, social media, prints, stickers, shirts, and SVG files.
Its ability to fit various design styles makes it unique, from free-spirited boho looks to more classy and editorial designs.
You can easily customize this font with fun stylistic alternates to suit your needs. It's available in TTF and OTF files and can be accessed in programs like Photoshop and Illustrator. Give Wild Mango a try and see how it can enhance your designs!
8. Regards – Modern Retro Serif
If you're searching for a versatile and playful font that gives a vintage vibe to your designs, Regards is a must-have. This retro-modern serif font comes with 100+ alternates, giving you endless possibilities to create beautiful shapes and curves in seconds.
Its moderate contrast and high legibility make it perfect for branding, logo, social media posts, product packaging, and more. The font comes in OTF/TTF/WOFF formats, works on both PC and Mac, and can be used with Adobe Illustrator or Adobe Photoshop. With its huge stylistic alternates and ligatures, Regards will make your designs stand out.
9. Hello Paris – Variable Duo
Hello Paris is an elegant and modern variable paired duo font perfect for design projects such as branding, logos, invitations, and headers.
With its new variable feature, alphabet cut file, and SVG/DXF/EPS files for Cricut and Silhouette, this font is easy to use and can be used with any software. It also has multilingual support, alternates, PUA encoding, and ligatures. The instructions included in the package make it easy for anyone to use. Hello Paris is an excellent addition to any designer's toolkit, providing versatility and style.
10. Think Sans – A Varied-Width Font
Think is a sans-serif font that stands out from the crowd. It's not your typical all-caps font; it combines wide and narrow characters to create an eye-catching look. With over 800 glyphs and 4 stylistic sets, Think offers many options regarding the width of each letter. It's perfect for headlines, branding, logos, and poster design.
The font also includes character variants, stylistic sets, and multilingual support, making it versatile for various projects. Accessing these features is easy with OpenType-savvy programs like Adobe Illustrator and InDesign.
---
These 10 must-have graphic design products will enhance your creative work and inspire your next project. Whether you're looking for fonts, graphics, templates, or other design elements, these products are carefully crafted by talented creators and optimized for use with popular design software. With these products at your disposal, you'll be well on your way to creating stunning designs that stand out.
Getting started with hand lettering?
Free lettering worksheets
Download these worksheets and start practicing with simple instructions and tracing exercises.
Download now!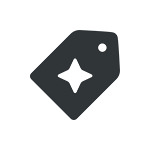 Creative Market