3 Simple DIY Easter Egg Hunt Flyers
'Easter is the only time when it is a good idea to put all of your eggs in one basket.'
On Easter morning everywhere you look will be covered with Easter eggs filled with decadent sweet treats that will leave your mouth watering. Since I was a child, I always wanted to collect the most eggs out of all of my friends and family. I could never wait to see what was inside my egg- would it be chocolate, candy, or money…
Holding an Easter Egg hunt isn't just a lot of fun, it can also be a great reason to bring people together. Maybe you haven't seen your family in a while, or you want to hold a charity event to raise money for your organization. In fact, these days even adults are getting into the spirit of Easter and having "adult" themed Easter egg hunts where they put gift cards, money, or lotto tickets inside jumbo Easter eggs.
These simple Easter Egg Hunt invitations can be created quickly and distributed as flyers or greeting cards after printing them out (or simply email the file to your friends and family).
Design Concept #1
What's great about this design concept is that it features products from Creative Market that have multiple elements…so you can fully customize and change the entire design. The set Chic & Shabby Digital Backgrounds comes with 16 different spring time backgrounds that you can use behind the text and images on your Easter egg hunt invitation or flyer. All of the patterns are so simple and sweet, and are delicate enough to go behind most images. You can even use these backgrounds for other springtime projects to add your own DIY touch. In addition, the Easter Photoshop Brush Set has a variety of elements including rabbits, chicks, and Easter eggs that change be added to different areas of the greeting card.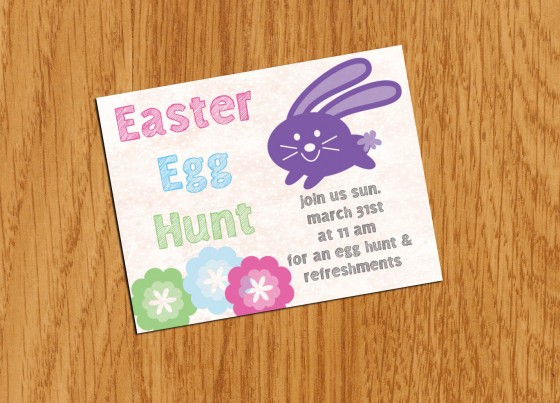 Featured Products
The template for this flyer is all ready to go,  all you have to do is add text in with the date and time of your event. What's great about this flyer is that you only have to add text, and you can use it for an Easter Egg Hunt, Easter Party, or Easter Lunch. I used the font Retro Town Serif because it is easy to read, but isn't boring at the same time.
Featured Products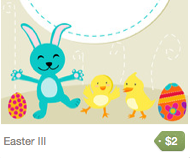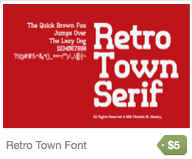 Design Concept #3
The design for this flyer is relatively simple and easy to change around. The collection of Easter egg clip art has a variety of decorated Easter eggs that you can move around to decorate your card just the way you like. What's great about these egg vectors is that you can use them later after you have taken all of your Easter photos and add them as accents in your scrapbook.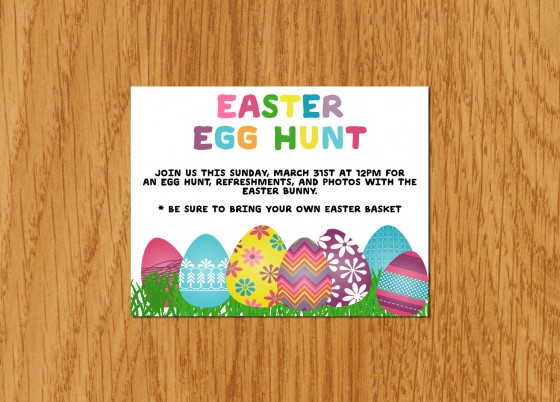 Featured Products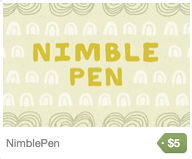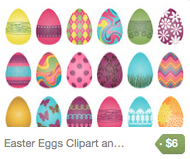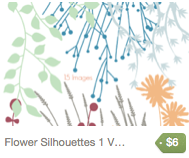 Remember, each of these designs are completely customizable and you can add different accents to make them your own. Be sure to add some Easter sayings to the top of your cards like "Hop on over for an egg hunt," or join us for an "Easter eggstravaganza." This will help you add an extra "something" to each one of your cards. Every item in this post is $10 and under, and you can use all of the elements for other projects making all of the items a great investment.
According to a survey conducted by the National Retail Association, each year people spend $17.20 on Easter cards alone…By designing and creating Easter cards at home and printing them out, you can save money and send something special to your friends and family.
Have a Happy Easter.
May happy thoughts and springtime flowers brighten all your Easter hours
Getting started with hand lettering?
Free lettering worksheets
Download these worksheets and start practicing with simple instructions and tracing exercises.
Download now!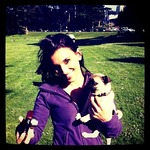 Maryam Taheri
I'm a recent graduate of the University of San Francisco with a degree in Biology and a passion for the creative arts. I love building websites, trying new things, and I have a passion for social media.
View More Posts