39 Must-Have Creative Assets in this Month's Drop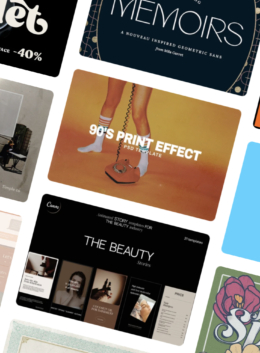 Welcome to our latest roundup of must-have creative assets! Below you'll discover 39 high-quality fonts, illustrations, templates, and more, hand-picked from our latest Drop. From elegant serifs to playful hand-drawn illustrations, these assets will help you elevate your designs and stand out from the crowd. Whether you're a professional designer or a hobbyist, these resources are perfect for any project, big or small.
Become a Member to unlock our monthly Drop of hand-picked design assets and save 20% on the entire Creative Market catalog. Join now to unlock the assets below for free now through February 7, 2023!
Fromage
Fromage is a font created by Adam Ladd that pays homage to modern architecture. A dynamic rhythm and an elegant air are evoked by Fromage, designed with Adam Ladd's signature personality.
Use this font for fashion, beauty, or luxury branding, typography, headlines, signage, and more. The perfect balance of visual attraction and subtlety is achieved here. 
Canva Social Media Templates
It's not easy being green, but it is easy to get your Instagram in line with 30 square post templates by GLDN Studio. This women-led creative studio based in London aims to inspire through these bold and creative Canva templates.
Made entirely customizable and no premium Canva account required, these templates are super accessible and sophisticated. 
Ellsy Illustration Collections
Perfect for business, finance, marketing, education, and almost any other creative application, Welovegraphics commercial illustration templates are the perfect mix of professionalism, adaptability, and whimsy.
The Ellsy collection includes 180 unique illustrations in 9 groups of 20 pieces. They are fully scalable and editable, with AI, Figma, SVG, and high-res PNG formats.
You're about to make your next presentation super eye-catching!
Neue Power Font Family
Out with the old and in with the Neue! Power Type™ Foundry is truly a powerhouse when it comes to modern fonts for desktop, print, web, apps, and more. And the Neue Power font family is a prime example.
Neue Power comes in six weights, from Light to Ultra, plus 12 obliques. As well as looking good in 75+ languages, this sans serif display font is also perfect for various design needs, such as branding, logotypes, printing digital reading, posters, captions, headlines, body text, or captions.
Promotion Social Pack
As a team of graphic designers, developers, and photographers, Sparrow&Snow creates functional, innovative, and striking WP themes and graphic resources, like these 64 PSD Social Media Templates.
These templates are compatible with Adobe Photoshop, are fully customizable, and are ideal for businesses of all types. Promote your flash sales, webinars, workshops, announcements, engagement boosters, and more. 
Skillet Serif Typeface
Emil (the designer behind Fenotype) has created over 200 font families since 2002, and Skillet Serif Typeface is a doozy! In addition to Fenotype's many crisp, vintage-style fonts, the Skillet family is a bold, serif font perfect for applications in food, drink, or sexy menus.
It comes in Regular and Condensed with a wide range of OpenType features. Use Discretionary Ligatures, Swash, Stylistic or Titling Alternates for headlines or logos. Put Skillet to work for you in your next project. 
Animated Grainy Gradient Blobs
With kuro's high-quality mockups and assets, you can make cool stuff quicforFrom fonts to textures to graphic bundles, kuro has everything you need for your next project.
This collection of 30 animated gradient blobs is available in video, png, vector, and PSD formats for your customizing pleasure, perfect for an eye-catching retro style on your upcoming website, social media, or poster project. Use them for remarkable and modern designs with a retro feel.
Mood Board Paris / Mockup
Simple có's Rita Bolshova makes high-quality digital templates for you and your business. With Canva packs and city-themed mood board mockups, inspiration is just a click away.
This Paris Mood Board creates realistic layouts with natural light, shadows, and textures. With smart layers, you can easily change your own images in these PSD files. Adding a natural feel to your online store, social media accounts, or portfolio is easy with this mockup.
+130 Rainbow Collection in Canva
Kristina&Co really gives you a bang for your buck with their latest Rainbow collection. All of these items are in cheerful and playful colors that'll make you want to smile, from Instagram templates to fonts to abstract brushes.
The +130 Rainbow Collection is the gift that keeps on giving. With enough templates to keep you going for several months of daily posting, this collection is perfect for graphic designers, bloggers, design studios, marketing promotions, eCommerce, and many other creative businesses. 
Kitchen Cooking Icon Set
Soup's on! NatalieArtShop is a freelance graphic designer with an affinity for icons like this adorable kitchen cooking set.
The Kitchen & Cooking Icon set features 100 hand-drawn illustrations perfect for logos, Instagram highlights, business cards, prints, stationery, recipe cards, and anything food-related. Conveniently served to your highest standards.
Speak-Education & LMS Figma Template
With Pixency's website themes, HTML templates, Bootstrap landing pages, and one-page responsive sites, you can create your own digital product, website, or custom application.
Using the Speak-Education template, you can easily customize groups and layers. This bootstrap template comes with 10 different home page variations and 35+ inner pages, including layers and a well-organized Figma file. Easily convert to any responsive CMS.  
Quadrum | Lookbook
Studio Bons is an independent creative studio specializing in creating and selling fully editable editorial and premium lifestyle Adobe and Serif templates. Their specialty is portfolios, lookbooks, and brand guidelines, and by gosh, are they good at it?
Designed in a unique, minimal, and modern layout, Quadrum Portfolio | Lookbook is available in two sizes, A4 and US Letter, for Adobe InDesign and Affinity Publisher. A perfect portfolio for individual or agency/studio artists, designers, architects, fashion, videographers, cinematographers, stylists, photographers, and other professionals. 
Animated Creative Studio Template
Angela Santos creates presentation templates and illustration packs just for you! It's time to make designing your presentations easier, do you think?
Whether you're a start-up or a seasoned pro, you'll love this colorful and trendy presentation template for your creative studio. It is easy to use and includes a fully animated and editable PPTX file. 
Circlo- Animated Presentation Bundle
Presentation blues, begone! MNML Agency has you covered with their high-quality templates for PowerPoint, Keynote, Canva, Figma, and even Google Slides.
Enjoy 200+ creative slides, vector icons, and light/dark modes in the Circlo presentation template. It is a simple, contemporary design with tons of great features to help showcase your next presentation. 
Memoirs Sans Modern Logo Font
This next font is from Mila Garret, a one-person creative shop that packs a punch. Specializing in fonts and procreate brushes, you'll find everything you need for an airy and delicate vibe.
A modern display sans typeface with clean, minimalist lines and Art Nouveau alternates, Memories Sans Modern is suitable for branding, websites, quotes, wedding stationery, and social media graphics, featuring alternate capitals for a unique, minimalist vibe. 
90s Print Effect
Goodies.Buro creates high-quality mockups and digital products for your best designs, like this 90s Print Effect PSD Template. Who doesn't love retro?
It comes in four different orientations, can be edited to match your preferences, and has lots of room to get creative. Get back to the 90s in a matter of clicks with this simple-to-use template! 
Animated Instagram Story Templates
It has been challenging for many creators to keep up with the shift towards video on social media. But thankfully, designers like Oksana Zhurbei Design are here to help.
A moody set of 21 Instagram story & reel templates are perfect for professionals in the beauty industry who want to elevate their online presence. These Canva templates are perfect for skincare, makeup, salons, or even spas.
Suhanto Handdrawn Typeface
Remember the good-ole-days when all fonts were hand-written fonts? Megflags Brand studio is here to help embrace your love for vintage fonts, templates, and illustrations that lend a personal touch to any project.
A vintage-inspired typeface with regular and stamp styles, Suhanto Handdrawn Typeface, is perfect for creating labels, logos, t-shirt designs, posters, greeting cards, letterheads, or anything else that looks vintage hand-drawn. You'll also get some random illustrations and editable badges!
Stanwood Font
At digital type foundry, Spencer & Sons Co., you can expect all sorts of vintage fonts, aesthetic scripts and signage, and American/vintage label-inspired designs.
Another elegant, vintage font, Stanwood, is inspired by a beautiful typeface used in an illustrated compendium about French perfume from the 1800s. A perfect touch for floral-themed projects with light and airy vibes. 
Heliuk | Modern Condensed Font
Find something different at Fateh.Lab. Their innovative display fonts aim to inspire you to produce your next creative project!
Heliuk, in particular, is a condensed type of font with a fresh, cheerful feel. There are four font styles to choose from; Heliuk is perfect for you if you're designing something cool. Its weight makes it ideal for posters, social media, headlines, magazine titles, clothing, large print formats, and everywhere else. Use Heliuk to unleash your imagination.
KT Projekt – Grotesk Type
Mini foundry Kulturë Type releases fonts of a lighthearted and whimsical nature for all your novelty and "guilty pleasure" project needs.
KT Projekt Grotesk is simply a "nice typeface for nice people." It's an old release by the team that's been heavily retouched. The new feel provides some subtle but interesting detail. Available in three weights.
Scan This – PNG + Brush
Providing UI kits, doodles, elements, and fonts for everyday use; Creative Artillery is a shop for the people. It's real, and it's functional.
The project includes 150 PNG QR Codes and JPG Ready Files (300 files total) plus 150 Photoshop Brush Stamps, which can be easily imported and rendered. Ready, set, scan!  
North Pole Font
Misha Sova is the graphic designer behind these airy and elegant logotypes and fonts.
The North Pole font was designed to create a vintage feel and uniqueness by emulating classical sans serif fonts and adding unique alternative letters. It is excellent for posters, logos, shirts, stamps, packaging, and anything else you can dream up. 
Boho Print Cards Collection
Etone Studio, by designer Evgeniya Tsareva, helps brands with storytelling through the visual art of design with a focus on simplicity. You'll find minimalist print cards, social media packs, and illustrations that meet your every need.
There are ten PSD/AI editable templates in the Boho Print Cards Collection, which are perfect for packaging products or creating digital layouts. These linear graphics will leave a lasting impression on your customers with their warm color palette, minimalistic typography, and tropical floral illustrations.
Bit machine Halftone Action
FLYERWRK is a studio of artists and designers dedicated to making your projects more manageable by providing unique shapes, mockups, and textures for you to use.
The BIT machine Photoshop action gives your images a retro 8-bit halftone dither effect in one click. The inspiration for this action is old Nokia phones, vintage handheld games, and 90's computer screens. Make your upcoming designs stand out and look retro-futuristic.
Reels Covers for Instagram
With Roger Cole's Canva Templates, online businesses can save time and look like pros. Designed to gather likes, saves, and shares, what more could you ask for?
Easily create stunning covers for your Reels with these 16 unique templates with well-organized Canva layers. Change colors and photos in minutes to customize your stories and engage your audience! 
Retro Spring Flowers Bundle
If you're looking for nostalgia and dreamy retro illustrations, look no further than Phosphorus Design Co's beautiful collection.
Here are 40 fun retro spring graphic elements that will brighten your next project. The mid-century color palette ties together 25 beautiful illustrations of flowers, birds, and bees and five repeating patterns for AI, and ten pre-made 8.5″ x 11″ compositions for invitations, cards, and posters.
Animated Groovy Gradient Collection
Brand & Palms is dedicated to helping and inspiring creatives in their endeavors as the go-to place for dreamy templates.
With programs such as Canva, you can easily apply Animated Groovy Gradient Collection to your designs for stickers, digital products, mood boards, social media, wall art, and more. This collection includes over 70 components, including animations and a 3D gradient alphabet. 
Strong Concrete – Display Font
Looking for graphic design elements with a whimsical twist? Check freeject.net's extensive catalog of icons, fonts, and design elements, and you won't be disappointed.
Specifically, Strong Concrete is a bold, futuristic font suitable for posters, cover art, print, and logos. It is available in four weights, from light to extra bold. Use it for your next trendy/hypebeast style project!  
Taco and Tequila, 2 Fonts + Extras!
Design Surplus is a script and hand-drawn font master. With a prevailing outdoorsy/chalk writing theme, you'll be sure to find what you need for your next project.
There are hand-drawn icons in the Taco and Tequila font pack to capture the true essence of Mexican food. AI/PSD icons include cacti, mustaches, a tequila glass, and piñatas. 
iPhone 13 Mockup
On Momogi's shop, you'll find premium high-resolution product mock-ups to show your next brand or design project.
5 PSD mockups are included in the download, each of which can be fully edited. The scene creator uses smart layers, so you can easily insert your designs and customize the scenes/colors. 
Spring Mood | Patterns + Elements
Iveta, the mastermind behind Studio Février, is a graphic designer, abstract artist, and illustrator creating handcrafted graphic resources for creatives. You'll find perfect color palettes and fun geometric shapes.
This Spring Mood Pattern and Elements set includes ten seamless patterns, five premade designs, and 20 individual elements. Green, mint, teal, and peach pink are the perfect spring colors to create fabrics, packaging, stationery, and wallpaper.
Gold Foil Glitter Paper Vol.2
NassyArt (Anastasiia) is a graphic designer from Kyiv, Ukraine. Work includes aesthetic textures, images, shapes, and anything else you need for the perfect touch on your creative projects.
Use these 25 elegant Gold Foil, glitter, and metallic glam textures for your projects. Create foiled text, posters, business cards, blog buttons, and many more with these gold and glam backgrounds! Designed for holiday, product, web, online store, illustrations, logos, graphics, invitations, stationary, and printables.
Tokyo Illustrations 3.0
For freelancers and web agencies, kapustin.co creates elegant and ready-to-use illustrations. Tokyo Illustrations 3.0 includes 16 illustrations that are suitable for websites, applications, presentations, and other projects. You can use them in multiple formats and color schemes, making them so easy!
Viva Vintage Lightroom Presets
At Applesaw.co, designer Talitha provides Lightroom & ACR Presets designed for Fine Art Photography. Editing your photos just became a breeze!
A set of ten presets for Adobe Lightroom desktop and mobile is included in the Viva Vintage Lightroom Presets package. Featuring pastel yellow highlights and matte muted pink shadows, this preset has a grainy texture that gives it a vintage look. Increase productivity and consistency by speeding up your workflow across multiple images.
Magnet – Minimal Portfolio Template
Straight from khai tawng's studio are time-saving HTML templates for sites and portfolios, landing pages, and CV templates.
Creating your next portfolio site became much easier with this minimalist portfolio HTML template. It was designed specifically for agencies and includes Pages for Project Details and Blog Details. 
3d Business Card Mockups for Figma
Check the themelaunch store for wacky textures, gradients, and mockups that will help you stand out from the crowd.
A super unique Figma business card mockup set allows you to replace only components of the card design, and the mockups will appear as you change them. Get it today! 
Pencil Lovers Megapack for Procreate
Procreate artists unite! Wink Brushes has covered you when you need a new digital stamp, brush, marker, or crayon for your next illustration project.
The Pencil Lovers Megapack for Procreate is a massive collection of 33 pencil and pen brushes to doodle and do rough sketches. With this pencil pack, use an Apple Pencil to see your sketches come to life.
Vintage Valentine Pattern Swatches 
7th Avenue Designs is your one-stop shop for branding templates, beautiful digital papers, seamless patterns, photo card templates, and illustrations. With themes ranging from holidays to food, you'll find something for your next project here.
This gorgeous floral design is perfect for Valentine's projects, logo and branding, packaging, accessories, hand-drawn roses, birds, and more. It includes seamless patterns and floral elements that you can use to design packaging, accessories, and anything that needs some glamour!
TEXTURIZER Grainy Photoshop Effect
Looking to add some texture to your photos? Velvetmade.designs provide photoshop effects that save you tons of time while making your images look fantastic.
With the TEXTURIZER Photoshop effect, your pictures will look grainy, slightly grunge, flattened, retro, and noise-textured. You can use it on portraits, landscapes, architectural photography, or any other image to create a vintage, grainy look. This texture mimics the appearance of a retro, printed magazine or a newspaper. Both trendy and modern looks can be achieved with it.
The Drop contains hundreds of free assets worth thousands of dollars. It has helped our members skill up, refine their businesses, create stunning projects, and even start their own markets. Become a Creative Market member today to unlock these fantastic assets for free!
Every month, Create Market provides a handpicked drop with dozens of assets worth up to $1000, free for members. It's just one of the many benefits a Creative Market membership provides. Don't let this month's extraordinary creative opportunities slip away! Become a member today to gain instant access to this month's free assets.
Getting started with hand lettering?
Free lettering worksheets
Download these worksheets and start practicing with simple instructions and tracing exercises.
Download now!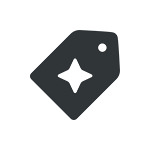 Creative Market