39 Must-Have Creative Assets in this Month's Drop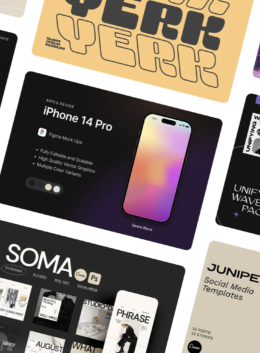 With the holiday season in full swing, it's the perfect time to stock up on design goods for your holiday projects with our monthly Drop. For this month's Drop, we're giving members unique creative assets from 39 amazing shops featuring exquisitely crafted typefaces, well-rounded design templates, and design resources and assets for nearly any kind of creative. 
If you're already a member, get your Drop for free before it's too late! For those who aren't yet members, unlock this month's drops by joining today. Keep scrolling to explore the Shops behind this month's Drop, and the stunning assets that are up for grabs.
Una Matison
Una Matison has a beautiful collection of photos and videos for use in social network projects, especially for Instagram designers and marketers. Of particular note are her cinematography packages, featuring still images with eye-catching animated aspects. Her creations stand out for their soft pastel color palettes and classy typography.
1871 Project
Prioritizing simplicity and artisanal production, the 1871 Project studio offers high-quality assets for every kind of design project. There are numerous creative typeface options, each hand-crafted with striking curves, that are perfect for logos, packaging, t-shirts, and print projects.
Aurelie Maron
Aurelie Maron, a designer based in Queensland, Australia, offers 3D lettering, lettering artwork, templates, and other resources that will add a touch of originality to your design projects. Her pieces are especially well-suited to print projects, such as wedding invitations, folios, and greeting cards.
BlancheStudio
Specializing in social media assets, BlancheStudio has an assortment of top-notch templates ranging from classic to modern in style. These assets are perfect for those looking to make their social campaigns stand out in a big way, and they're ideal for bloggers, influencers, and e-commerce stores.
Bonumo
If you want to elevate your brand's social media strategy, look no further than Bonumo. This European design studio features an array of framed mockups for displaying your design work, including interior frames, digital products, and wall prints. They're the perfect way for interior designers, traditional artists, and digital product designers to showcase their work.
KAZER STUDIO
Based in Australia, KAZER STUDIO specializes in typeface design and brand identity. Featuring font packages that skillfully blend various styles, you'll undoubtedly find one that matches your brand perfectly. Regardless of whether you're looking for retro and futuristic, elegant and minimal, or classic and vintage, this studio has what you need to make the typography pop in your next project.
Brent Galloway
Designer Brent Galloway opened his store to share the high-quality apparel mockups and assets he uses for his own business with other designers. If you're a designer who works with apparel, especially sportswear, t-shirts, or sweats, you won't want to miss out on these mockups and assets.

Circular
If you want to wow your design clients with an amazing presentation for their Instagram campaign, brand guidelines, or web design, consider snagging a few of the Adobe templates from Circular. This studio specializes in making presentation-ready templates for a variety of uses, each presenting beautiful typography and clean design in classic, minimalist, and modern styles.
Ian Barnard
Ian Barnard offers stunning typography, hand-lettering, and calligraphy sets for Procreate. His design assets feature everything from chalk lettering on blackboards to pencil sketches on paper. Ian also produces effect brushes and typefaces for desktops and the web.
Creative Artillery
Creative Artillery has an extensive collection of templates, fonts, and other resources for all types of design projects. This studio's creations draw attention for their strong colors and bold typography, perfect for design projects in need of an eye-catching and impactful style.
Dirtytemp Studio
The versatility of visual styles is a great asset to the template collections produced by Dirtytemp Studio. It offers countless complete kits for social media and brand portfolios, and each one is fully customizable. If you're looking for a sure way to stand out on digital platforms, Dirtytemp is worth a look.
EnvolAgency
EnvolAgency is a digital store and branding design agency for modern creatives. Its templates, which are mocked up with light pastel colors that convey elegance, are a perfect match for designers going for a modern and clean look. They're also excellent tools for jump-starting any design, since every piece is fully customizable in Canva.
TYPEHEIST
Evident in the studio's logo, TYPEHEIST is a font foundry that pushes boundaries with realistic fonts that break traditional rules. You can find fonts, logo templates, and vector assets filled with originality, perfect for projects that need to make a statement.
Flatface
For a typographical approach that reaches back to the vibrant counterculture of the 60s and 70s, be sure to check out Flatface. Of particular note is the Flatface Sours typeface, which is inspired by concert and music posters with psychedelic flair.
Guerillacraft
Guerillacraft provides designers and illustrators with high-quality, original brushes, textures, photo actions, and layer styles. Many of the studio's assets have a retro, vintage feel, and it offers an assortment of colorful brush packages and composition filters — perfect for any illustrator or designer who works with a lot of images.
David is Creative
David is Creative has a showcase full of fonts, photos, add-ons, and assets perfect for nearly any design project, whether digital or print. His creations have diverse inspirations, such as heavy metal music, Disney movies, specific neighborhoods, and Japanese culture. David's store is pure creativity and fun.
Jan-Christian Bruun
If you need quality typography, Jan-Christian Bruun has a studio you'll want to bookmark. The fonts are perfect for package design, branding, logos, children's books, and posters. Old English pub signs and retro museum posters from the 1930s are some of this designer's inspirations.
KetteCreate
Based in Ukraine, KetteCreate is a UI designer and illustrator who loves creating graphics and templates that help other designers do their work. The assets in this store are filled with personality, and the colors range from pastels to vibrant neon. Each package is fully editable and customizable in Adobe Photoshop.
Wonder & Wild Gear
Wonder & Wild Gear was created by a hand-lettering artist and illustrator. The add-ons and fonts have strong color combinations, and the typography guarantees a unique personality for any design project. Procreate brushes, fonts, and add-ons are among the many resources available.
Mirazz 
Mirazz creates gorgeous starter templates for InDesign, Photoshop, and Canva. The products are easy to use and edit, and the color combinations for each template stand out for their elegance and modern appearance.
Wilde River Studio
Betting on soft colors and a clean look, Wilde River Studio has beautifully crafted and easy-to-use templates for companies and entrepreneurs who want more visibility on social media. All options are editable in Canva and Adobe Illustrator.
NataKa
Magical worlds with cute characters are waiting for you at NataKa, which offers a variety of children's illustrations. Posters, patterns, wall prints, and many other graphic elements, distributed in themed collections, are available for all types of projects involving children.
nicholasasmita
Based in Jakarta, Indonesia, nicholasasmita, a graphic designer and visual-pattern artist, brings together a great collection of handmade textures, patterns, mockups, and illustrations. These resources and assets stand out for their earthy hues and creative detail.
Ruslana Lubenets
Ruslana Lubenets loves creating cute illustrations about everyday life and the world around us. Her shop is filled with top-tier templates, lettering kits, craft decorations, illustrations, typography, and other resources divided by outdoor themes, such as seasons and nature.
SDCOfilm
SDCOfilm offers classic film filters for Lightroom and Photoshop. All templates are simple to download and use, and each one is crafted with attention to detail and accuracy. One of the highlights of this shop is the Kodak Portra Film filter, inspired by the company that led the traditional film production and processing industry throughout the 20th century.
Misc. Loot Co.
Quality vector products are what you'll find at Misc. Loot Co. The Vector Line Patterns kit, which can be easily mixed and matched and made into seamless patterns, is one asset you'll want in your creative toolkit. All textures are 100% vector and carefully crafted in Adobe Illustrator.
Paperly Studio
Paperly Studio emerged from the hands of a graphic designer and artist from South Korea. This virtual showcase has many fonts, illustrations, textures, frames, patterns, vectors, and other resources ranging from creative and playful to contemporary and elegant. The one constant in all this studio's work is exceptional quality.
solmariart
Founded by Marina Solodka, solmariart is a print design and illustration studio that offers a slew of creative, colorful assets for projects that need a whimsical tone. You'll fall in love with the tastefully playful side of design through this studio's numerous kits, vector clip art collections, seamless patterns, and other design offerings.
Steph Fizer Coleman
Steph Fizer Coleman has a nice collection of texture stamp brushes for Procreate and Photoshop. Each brush is high resolution, measuring approximately 5.000 pixels wide, so you'll have plenty of flexibility when it comes to bringing your illustrations to life. 
Studio Aurora
Studio Aurora creates high-quality digital products to help other designers with their own creative work. This shop provides an extensive collection of fonts, templates, and graphic design tools that stand out for their elegance, use of colors, and typography.
26th
If you're looking for a feature-rich branding guideline template or a starting point for your own design system, the Ängelholm package, created by 26th studio, has it all. It includes logotype, typography, color palettes, stationery, grid systems, image guidelines, iconography, and everything else you need to lay the groundwork for a brand's design guide. The template is available for Sketch, Figma, and Adobe InDesign.
Studio Innate
Made for designers by designers, Studio Innate offers mockups, graphic packs, fonts, and other graphic elements to give your brand an impactful look. All creations are easy to use and customize for print and digital work.
Studio Sun
Based in Indonesia, Studio Sun is an independent digital type and illustration studio. If you're looking for font families with striking presentations, this is one shop you'll want to visit. Studio Sun's other creations run the gamut from impactful to whimsical, with inspiration drawn from both cultural movements and cartoons spanning the decades.
That That Creative
Based out of New York, That That Creative was founded by an independent font designer. This shop has fonts in various styles for use in all manner of design projects, including branding, posters, logos, editorial, and social networks, such as Instagram. 
FigClips
FigClips is the best place for anyone who needs Figma resources that are both exceedingly attractive and easy to customize. One of the stand-outs is the high-quality mockup pack of Apple devices. Perfect for marketers, product designers, and landing pages, it's one asset every designer needs in their toolbox. 
Eviory
The Eviory studio team is composed of graphic designers, illustrators, and content writers. It offers a range of high-quality visual options, fonts, and templates for social media for various market niches, such as beauty, fashion, and decoration.
Unio Creative Solutions
Based in Italy, Unio is a team whose name — Latin for union — reflects their collective passion for design. This skilled team provides a variety of options, including fonts, templates, patterns, mockups, and other add-ons to help streamline or jump-start your own design work.
Mad Supply 
Mad Supply offers quality design assets directly to your desktop. Modern display fonts, mockups, and abstract shape packs are some of the resources you can download and use across your various design projects, whether printed or digital. 
Vintage Type Company
Creating fonts for over 7 years, the Vintage Type Company has a great collection of fonts infused with vintage and retro styles. While vintage can mean a lot of different things, this shop shows just how varied the definition is. Imagine any style that existed decades ago, and Vintage Type Company probably has a typeface to match.
Every month, Create Market provides a handpicked drop with dozens of assets worth up to $1000, free for members. It's just one of the many benefits a Creative Market membership provides. Don't let this month's extraordinary creative opportunities slip away! Become a member today to gain instant access to this month's free assets.
Getting started with hand lettering?
Free lettering worksheets
Download these worksheets and start practicing with simple instructions and tracing exercises.
Download now!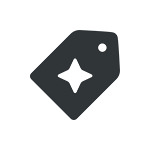 Creative Market