4 Typography Trends for 2014
Web design trends change from year to year – and thus, so do the trends in the components that make them up. One of the most important components of web design is typography, and 2014 is going to bring some new, exciting and interesting trends in the way we see fonts across the web. Want to know more about typography trends in the upcoming year? Then check out the list below.
Handwritten fonts
Today is an age of social media – and people are communicating more rapidly, more frequently, and more publicly than ever before. With that comes the frequent need to personalize the font you are using, to make it feel as if whatever it's saying is coming directly from a person. With this new emphasis on written communication via the web is handwritten fonts – ones without clean lines, and that often have irregularly sized letters and weights. Some great examples of handwritten fonts on Creative Market:
Brush Up
Ondise
Goodfy
Barber Shop
Flat Design Typography
2013 was a year that saw a huge rise in sites designed with flat design. That trend is going to continue into 2014, and many designers are going to favor sites that promote function over form, and place a clear emphasis on simplicity, minimalism, and intelligibility. With that continued emphasis on flat design comes the trend of choosing fonts that are easy to read, use clean lines, and even strokes. The fonts that will become popular due to flat design are ones that are sharp and crisp – but still visually interesting. Some great fonts for flat design:
Metros
Marianina
Burne Alt
Mix & Match Typography
In 2014, some web experts are predicting that designers will begin to mix and match fonts on their sites more than ever before. While the idea might sound muddled, busy, or confusing, it can work and be really successful (especially if you avoid these comment mistakes) – like the beautiful new websites of the Brooklyn Soap Company. Combining a bunch of different fonts that go well together can create an artistic, handcrafted but still polished and purposeful look on a site. Some other good examples are Jacquico.com and Cirq.com. Some fun typefaces to combine:
Native
Hoverage
Pacific Northwest Letters
Large Type
So this isn't a specific typeface trend – but, rather, a stylistic one. In 2014, web designers will use bigger fonts than ever before. Falling in line with the emphasis on content over aesthetic, upping the font size on webpages ensures that the text is clear, readable and comprehensible. Because of increased screen resolutions, the standard 12 point font is no longer as readable as it was before. Designers will implement the change particularly in page headings – where large fonts can help quickly and effectively communicate the purpose of the site they are visiting. Viewers tend to make very quick, snap judgments about whether a site is worth browsing or not, and large titles can help draw them in and encourage them to explore further.

+++++

Sources:
Getting started with hand lettering?
Free lettering worksheets
Download these worksheets and start practicing with simple instructions and tracing exercises.
Download now!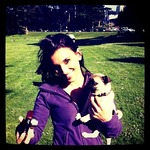 Maryam Taheri
I'm a recent graduate of the University of San Francisco with a degree in Biology and a passion for the creative arts. I love building websites, trying new things, and I have a passion for social media.
View More Posts