5 New Trends in Flat Design
Keeping up with design trends is a full-time job these days. The culture we have of being constantly connected to flows of new information means that we are in an ever-shifting space of evaluating and creating content and making sure it's adapting to the world and technology around us. In the last few years, design has shifted from a robust 3-D aesthetic to a flat and minimalist approach. At the same time, the way we view our content has changed from large computer screens to tiny devices with small screens, creating even more need for clutter reduction and simplification.
Within the trend of flat design are sub-trends that keep the concept of flat design relevant and moving forward. So what have the 2013 trends been in flat design?
Clutter Reduction
As our screens keep getting smaller and smaller, it's important for us to see less and less information packed into the tiny viewing frames. Trying to deal with the endless flow of sometimes-useful, sometimes-useless information that streams through our devices at all times is difficult enough as it is, not to mention when it's hard to look at or access. Systematically decluttering pages has been a significant trend this year that continues to shape flat design.
Elegant Simplicity
Forget all the complicated and overwhelming options and buttons and pop-ups and drop-downs. Flat design has pared apps and services down to their skivvies. Users want tools that are extremely simple to use and offer just a few features, otherwise it's too time-consuming and complicated to learn how to use them all. The trend has shifted away from supplying users with gobs of cool features and ad-ons and swung backward toward keeping things elegant and simple.
Smarter Phones, Smarter Users
The omnipresence of smartphones and tablets these days means that even 10-month old babies know how to swipe a phone and use a touchscreen. This has shaped flat design because users don't need bells and whistles to guide them through how to use an app. On the contrary, they will respond to very subtle messages and less obvious commands. This trend has enabled flat design to take new directions and leave a lot of the behind the scenes stuff where it belongs – behind the scenes.
Responsive Design
This isn't a new trend, per se, but it certainly has progressed to new levels. Flat design has become progressively flatter because this enables design to be infinitely more responsive. It requires less time for loading on small devices and less data usage to view on phones and tablets.
Keeping Up With Technology
Flat design is constantly changing to keep up with, or stay ahead of, changing technology. As devices, including phones and tablets, continue to get more sophisticated, design can get more sophisticated and detailed aw well. This doesn't mean getting more cluttered, but it does mean a designer has a lot more room to work with within the limitations of a small screen. As the screens get slightly bigger and pixel density increases, typography and typographic-focused designs can get more intricate and visually appealing.
These trends are continuing to shape flat design and ensure that User Interfaces only get more and more clean and simplistic over time. We can't wait to see what 2014 will have in store.
Getting started with hand lettering?
Free lettering worksheets
Download these worksheets and start practicing with simple instructions and tracing exercises.
Download now!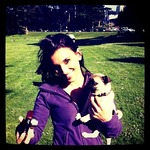 Maryam Taheri
I'm a recent graduate of the University of San Francisco with a degree in Biology and a passion for the creative arts. I love building websites, trying new things, and I have a passion for social media.
View More Posts