4 Website Design Trends to Look Forward to in 2014
It's finally Christmastime, and New Year's is just around the corner. We're looking forward to 2014 not only for exciting things like the Winter Olympics and the new Teenage Mutant Ninja Turtles movie (remake), but also for some new and exciting developments in web design that are primed to become the year's biggest trends. If you want to know more about what is going to be popular in web design, check out the list below; it contains 4 cool trends that are going to change the way we design webpages in the upcoming year.
Fixed Header Bars
Good UX is of utmost importance these days, especially with the abundance of sites on the web – if your site isn't easy and pleasant to use, users are going to find somewhere else to visit. So, in order to aid in easy navigation, sites will turn to fixed header bars in 2014. This design choice grew in popularity in 2014, and web experts expect to see it on more and more sites in the next year.  Having a fixed header bar will keep the navigation at the top of the page no matter where you scroll – making it easy to browse and quickly access the menu when needed. A fixed header bar is also a good motivator for users to explore more of what the site has to offer.
Check out these examples:
Interactive Infographics
Infographics have been one of the most popular ways to disseminate information and statistics. But, in the coming year, expect more infographics to take on a new dimension – interactivity. Interactive Infographics (like non-interactive infographics) will continue to allow for the visualization for a huge range of subjects. However, they will be manipulable by users, allowing them to choose what they see in the infographic, and delve deeper (or less deep) depending on how interested they are. Interactive infographics will help maximize the time and energy spent looking at an infographic, and in turn, might increase the possibility that users walk away have learned something.
Look at these creative interactive infographics:
Single Page Sites
In the past, most websites have consisted of multiple pages reached from one main page. However, in 2014, the trend is turning to single page sites – or websites that consist of one main, long page. Single page sites require users to scroll more – which they are getting used to due to the prevalence of mobile phones, as well as long social media feeds like Facebook and Twitter. Single page sites allow users to intake and digest information without having to interrupt browsing by switch pages.
Here are some great examples of single-page websites:
Flat Design
It's already one of the biggest trends on the web, but the popularity of flat design will continue to grow in 2014. While most popular websites used to feature 3-d, popping (skeuomoprhic) design, today, most of the sleekest and most up-to-date sites feature flat, simple graphics that appear modern and minimalistic. As the internet's best and most popular companies have dropped shadows and heavy textures and turned to flat design (Microsoft, Twitter, Creative Market), more and more companies will be inspired seem to be inspired to use the more simplistic design technique as well. There are tons of flat design options and resources on Creative Market – including awesome templates, graphics, fonts and more.
Learn more about flat design:
 +++++
Sources:
Getting started with hand lettering?
Free lettering worksheets
Download these worksheets and start practicing with simple instructions and tracing exercises.
Download now!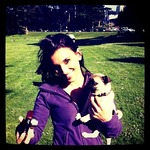 Maryam Taheri
I'm a recent graduate of the University of San Francisco with a degree in Biology and a passion for the creative arts. I love building websites, trying new things, and I have a passion for social media.
View More Posts