40 Little Secrets to Brainstorm Tons of Ideas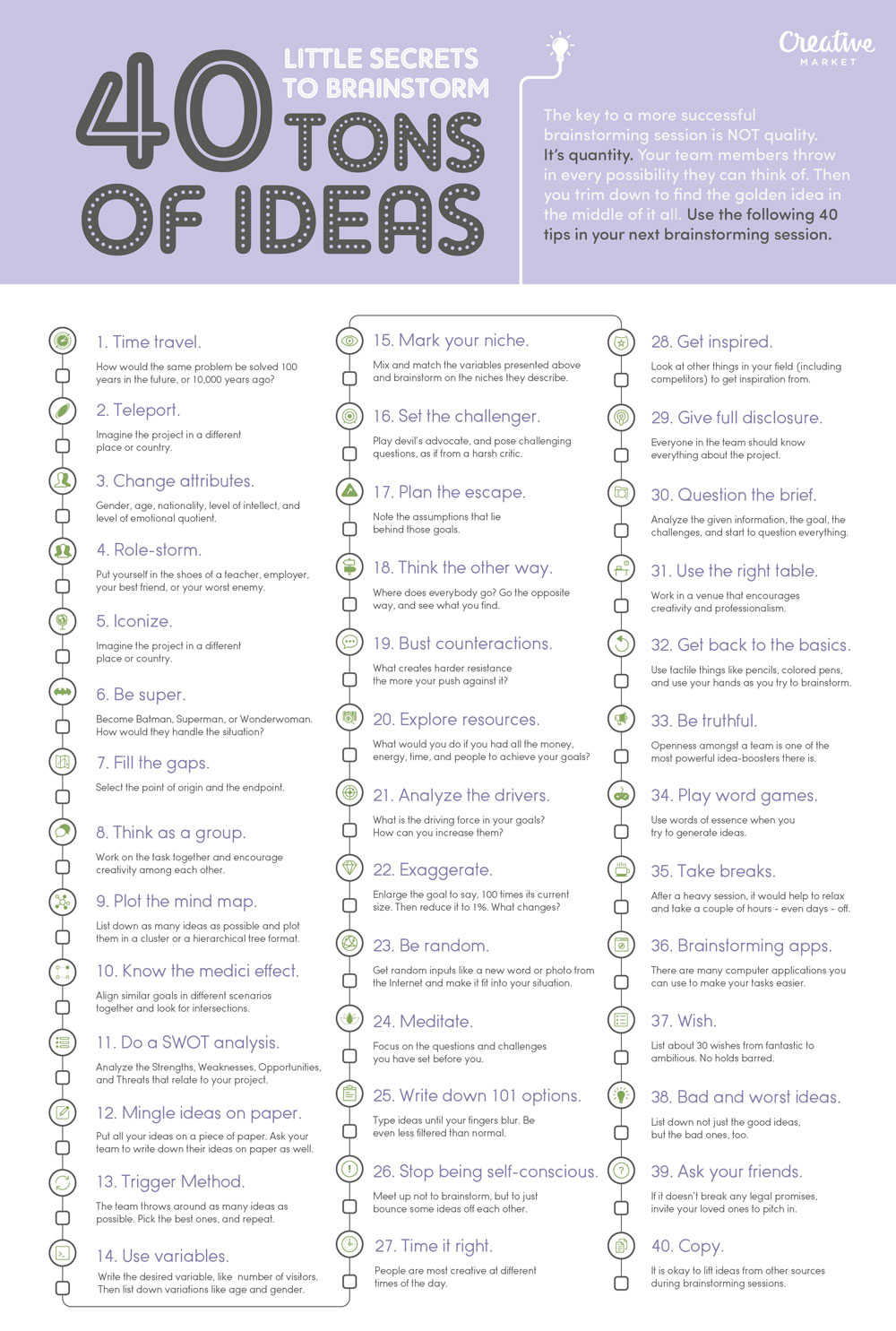 Some people think that brainstorming is just a waste of precious time. On the other hand, others find it useful and effective because they actually know what it's for. They get it: they know how to do it right to obtain amazing results.
Contrary to what others believe, the key to a more successful brainstorming session is NOT quality. It's actually all about quantity. New projects involve a lot of brainstorming sessions, which provide a venue for as many ideas and options as possible. You and your team throw in as many possible scenarios and ideas as you can. From the massive list of topics, you trim down to concepts that you can potentially use.
Brainstorming is the initial step in exploring the potential of a certain project. And since brainstorming involves generating many different ideas, you're better off avoiding filtering out ideas – good versus mediocre. Often, filtering possible topics happens due to fear of rejection from peers or from the boss.
Another thing with brainstorming that people commit is doing it the usual way: open discussion with the key people in the boardroom or meeting room. This is not wrong per se, but major social drawbacks could lead to a blank wall.
To help you use the power of brainstorming to its full advantage, here are 40 tips you can use the next time you meet with your team for a brainstorming session.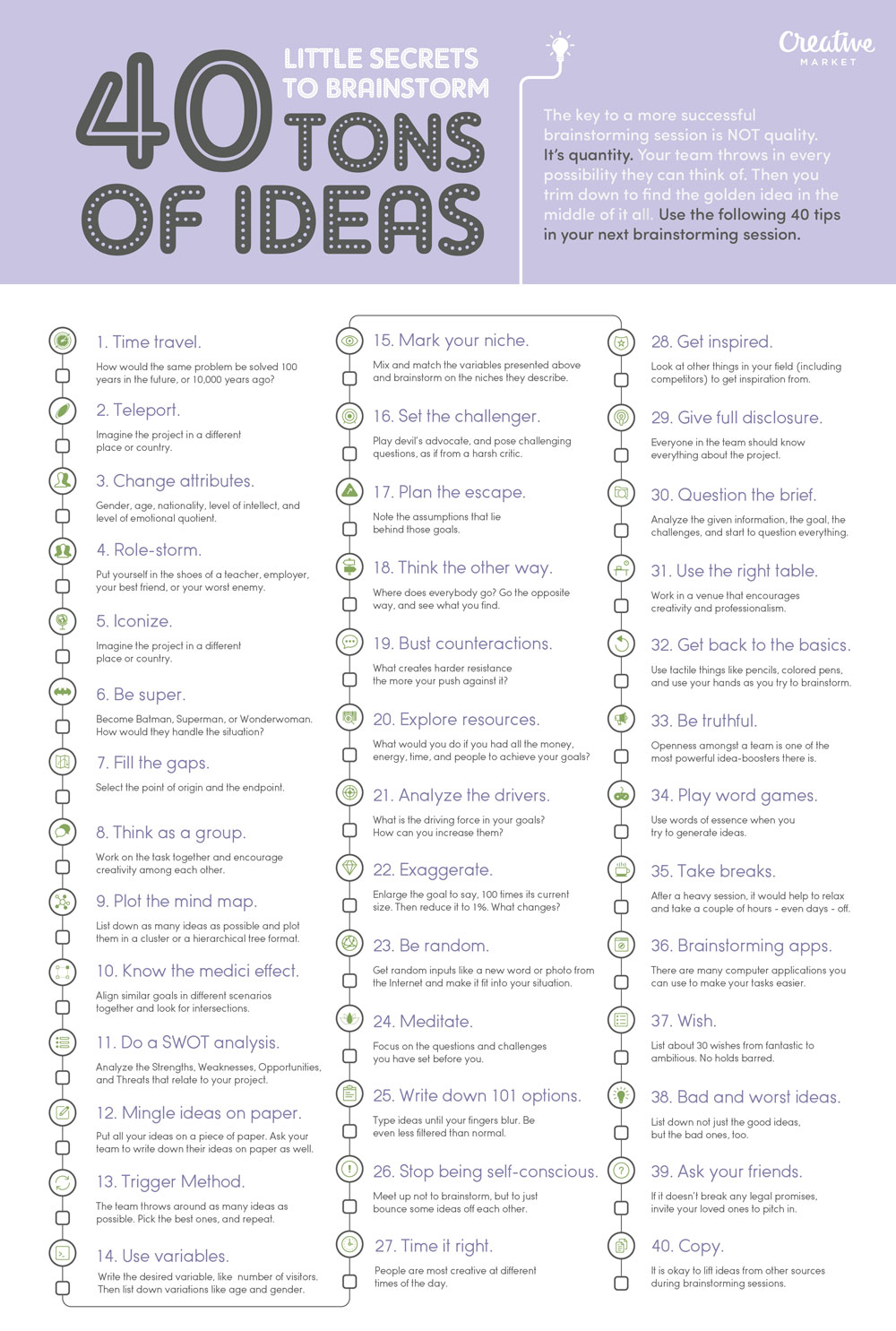 Travel to yesterday and tomorrow.
Given the scenario and the objectives set, simulate how an idea would be different if the team was working in a totally different period of time. This could be a decade or a century ago. See how you would deal with things if today was 10,000 years ago or 100 years later.
Teleport.
Now, instead of setting the project at a different point in time in the past or in the future, set it up in a different place or country. Alter the geographic aspect and see how the ideas are affected; how the team is affected. How would you handle the project/topic differently if you changed your location?
Change attributes.
Have a look at similar ideas and shift your gears to changing attributes like gender, age, built, nationality, level of intellect, and level of emotional quotient. Every single adjustment you do brings you closer to the jackpot and leads you to new ideas and opportunities, which you possibly ignored before.
Rolestorm.
Put yourself in the shoes of others. Mentally simulate different scenarios where you are playing a different role like being a teacher, employer, your best friend, or your worst enemy.
Iconize.
Pick an icon like Jesus or presidents like Obama, inventors like Einstein or saintly people like Mother Teresa, popular royalty like Princess Diana or historical figures like Adolf Hitler. Associate an icon to the current ideas you are working on. How would these people react to the ideas? For instance, how would you assess the situation if you're Steve Jobs or Bill Gates?
Be Super.
Be Superman. Be Batman. Be the popular superheroes and be any of the Marvel or DC comic superstars. What would they do? How would they handle the situation? Whose power would you prefer to have and how would the project gain from it?
Fill the gaps.
Pinpoint a specific spot as your point of origin and mark the endpoint too. Now, check the gap between the two points and compute for how big or small it is. What should you do to fill these gaps? List the options and work on how you could lessen the gaps.
Think as a group.
Two or more heads are better than one. Brainstorming involves many people making up a group. Work on the task together and encourage creativity among each other.
Plot the Mind Map.
List down as many ideas as possible and plot them in a cluster or a hierarchical tree format. Put the main goal at the center and work on the branches and sub-branches. Plot as many as needed. Use open-source software applications like the Source Forge to help you map your minds.
Know the Medici Effect.
Ideas can be unrelated or intersecting. Align similar goals in different scenarios together and attempt to identify solutions for them. A good example is if you are an artist and you want to win an award someday. You could check out successful musicians, teachers, computer programmers, entrepreneurs and see if there is a common denominator among all these people. What are the things that worked effectively for them? Will these work for you as well?
Do the SWOT.
Analyze the Strengths, Weaknesses, Opportunities, and Threats that relate to your project. Knowing what these are will help you become more aware of the tasks you need to fulfill and help you come up with useful ideas.
Write ideas down.
Put all your ideas on a piece of paper. Ask your team to write down their ideas on paper as well. After a few minutes, ask them to pass their paper to another person in the team. Let them work on the ideas written down and add their own. Continue with this exercise until everyone in the group has scribbled on all the sheets.
Apply the Trigger Method.
Throw as many ideas as you can and encourage the others to do the same. Pick the best ones and then brainstorm again on those ideas for some more ideas. This is done until the group has identified the best solution.
Use variables.
Identify the variable in the desired outcome. For instance, if you want to have x number of visitors on your website, the variable is the number of visitors. Then list down variations like gender, race, age, profession, hobbies, and interests. List down the key questions like how do you bring your target audience to your website? How can you bring in more potential clients?
Mark your niche.
Mix and match the variable presented above and brainstorm on the niches. Specify gender, age, and nationality in the equation.
Set the challenger.
If you have set your mind on a certain goal like getting your romance novel published, you could challenge your ideas by asking yourself, "Why romance? Why not fiction?" If it's a novel, why should it be that long? Why not make it a short story instead? If it's a book, weigh in on why not an eBook?
Plan the escape.
Look at the goals you have set and then analyze the assumptions you've made behind these goals. Flip these assumptions so you can see a different angle to your goals. Example, if you want to get more sales from your published books, and you have assumed that your buyers are those who buy books for themselves, you could flip the assumption to "people who buy books for gifts and for their collection." Escape from current assumptions so you could see a different angle and achieve your goal that way.
Think the other way.
Where does everybody go? Go the opposite way. Take that road less traveled and make the most of what you learn from that path.
Bust counteractions.
What are the counteraction forces that affect your goals? For instance, if you want more traffic on your website, you could place more ads. However, if you do, many of your visitors get annoyed and leave. To address this, you could only allow ads that are related to your website theme.
Explore possible resources.
What would you do if you had all the money, energy, time, and people to achieve your goals?
Analyze the drivers.
What is the driving force in your goals? What are the forces that are against you? Identify these and study how you can increase the former and decrease the latter.
Exaggerate.
Enlarge the goal to say, 100 times its current size. Minimize and reduce the same goals to 1/1000. And then check the possibilities.
Be random.
Get random inputs like a new word or photo from the Internet or a magazine or a TV show and make it fit into your situation.
Meditate.
Focus on the questions and challenges you have set before you. How to achieve a number, for example. Go to a quiet place and write ideas down for as short as 30 minutes or longer.
Write down 101 options.
Type away whatever you can think of that is related to your project. Regardless of how brilliant or crazy-sounding the ideas are, just type them. No restrictions. Do this until you have reached 101 items. Somewhere in the list is your ace platform.
Stop being self-conscious.
Meet up not to brainstorm, but to just throw ideas around. Never make the process intimidate you.
Time it right.
When are you feeling most creative? In the morning? Other people are more active after lunch. Timing should be right for everyone in the brainstorming session.
Get inspired.
If you are looking for ideas for a book cover, inspire yourself by not looking at other book covers. Look at other objects to get inspiration from.
Give full disclosure.
Everyone in the team should know everything there is to know about the project. This helps build trust and transparency among the members, which could help in solidifying the teamwork. Regardless of how significant or trivial something is, everyone should be informed about it.
Question the brief.
Analyze the given information, and then ask questions. This would help get solutions and achieve objectivity.
Use the right table.
Work in a venue where creativity and professionalism are encouraged. Be in the proper meeting room using the proper table. This keeps the team intact and not scattered around.
Get back to the basics.
Use physical items like pencils, colored pens, paints, brushes, drawing boards, scalpels, and use your hands as you try to brainstorm for ideas.
Be truthful.
Practice honesty when discussing ideas around on the brainstorming table. This is important when suggestions are being thrown here and there. Those who believe in their ideas do all they can to convince the rest of the group that their idea is the best.
Play word games.
Use words of essence when you try to generate ideas. These capture the spirit, character, and personality of the message you want to throw out there. It doesn't matter how crazy it sounds.
Take a break.
After a heavy session, it helps to relax briefly from the torment and take a couple of hours – even days – off. This will help the ideas sink in. The next full session will be much more productive with members displaying clearer perspectives and more open minds.
Use brainstorming apps.
There are many computer applications you can use to make your tasks easier. Use pinboard apps for inspiration. Get organized with apps like MoodBoard, OmniGraffle, myPANTONE, iDesign, or MindNode.
Wish.
If the goal being set is really big, allow all members of the group to think big. Make the wishes huge – list about 30 dreams from fantastic to ambitious. No holds barred. These giant dreams can create the stimuli to generate the most realistic ideas that can help the project gain momentum.
Generate the bad and worst ideas
List down not just the good ideas, but the bad ones, too. Not just bad, but the terrible ones. The challenge is to turn these bad ideas to brilliant ones. Work on ways to force these bad ones to become legal ones you can use in your project.
Ask your family and friends to pitch in.
If it's allowed and no legal promises can be crossed, you can invite as many of your trusted loved ones as possible to pitch in.
Copy.
It is okay to copy or lift ideas from other sources during brainstorming sessions. You can use the situations of other successful businesses in another industry and think of ways to make it work in your situation with a few twists and flips. The idea is to use another idea to come up with something that relates to your own.
Brainstorming shouldn't make you more stressed about your project deadline and the like. Instead, it should be the gateway to many strategies and plans that fit your topic to a T.
Getting started with hand lettering?
Free lettering worksheets
Download these worksheets and start practicing with simple instructions and tracing exercises.
Download now!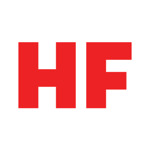 Igor Ovsyannykov
We create fonts, graphics, and produce aesthetically pleasing photos.
View More Posts