5 Reasons a 50mm Prime Should Be Your First Camera Lens
The biggest equipment decision that a photographer must make, second to choosing a camera, is which lens to buy. You want a lens that takes quality shots, and you also want the best bang for the buck. You can stop fretting over that first lens choice because we have the answer: a 50mm prime lens. This too-often-overlooked fixed focal length lens is affordable and versatile enough for starters and pros alike. It's a lens that will become a long-term piece of equipment that you will use throughout your career. Need a little more convincing? Take a look at these top five reasons why the 50mm prime should be your first camera lens.
1. Price
The 50mm prime is a super-affordable lens, and let's face it, photography isn't cheap so an inexpensive lens is definitely a good thing. You can buy a 50mm f/1.8 lens that will enable you to get professional quality photos for less than $150. If you have the budget, you can splurge on the f/1.4 or f/1.2 versions.
2. Low Light
One of the best qualities of a 50mm prime is its ability to shoot in lowlight conditions. For example, a 50mm prime f/1.8 lens gives you three stops more aperture (eight times more light) than the average fixed lens f5.6 max aperture. The wide aperture on these lenses means you can shoot using higher shutter speeds in low light conditions, meaning no more shaky pictures. You also won't have to increase the camera ISO, meaning you will get clearer, higher-quality pictures with less noise.
3. Bokeh
Bokeh refers to the quality of the blur in the out-of-focus portion in a photograph. Blurry backgrounds can help give your photos that professional feel that set your photos apart from something taken with a cell phone. 50mm lenses are fast, allowing you to easily get shallow depth of field shots with great looking bokeh. Sure, you can get these shots with zoom lenses, but it's going to be a lot harder and the results may not be as good. The 50mm prime is your best bet.
4. Super Sharp Focus
The 50mm prime almost always takes sharper shots than a zoom lens. There are a couple of reasons why. First, a prime lens contains less optical elements than a zoom lens, which provides a clearer view between the camera sensor (or film frame) and the image. Second, a prime lens has a more dynamic focus ring than a telephoto lens has, meaning that it's more sensitive, allowing you to fine tune the focus to get a super-sharp shot.
5. Easy Composition
A 50mm prime lens has roughly the same point of view as the human eye. This means the image will look the same way as you see it with your eyes. This is convenient when to come to composing a good shot. Since there's no zooming in and out with a prime lens, there's no guesswork. If the shot doesn't look right to your eyes, you need to move the camera. If you need a closer view, for example, move the camera closer to the subject. When it looks right to your eyes, it will look right on the camera. It's as simple as that.
Always Consider Your Purpose
For most new photographers that ask about a good first lens, I recommend a 50mm prime without hesitating. That being said, I always make it a point to ask what the person hopes to shoot with the lens, because this is critical. A 50mm prime is a great, general purpose lens that's good for lots of different types of shooting: portraits, night shots, etc. That being said, if you have a very specific goal in mind, it might not always be your best bet. Wide angle landscapes, macro photography, sports photography from the bleachers, all of these are poor uses of a 50mm prime and could be better performed with a lens specifically designed for them. Tip: All of the photos above were taken with a 50mm lens!
Do You Love Your Nifty Fifty?
Many people call the 50mm prime lens the "nifty fifty." Looking at the five reasons in this list, it's easy to see how the 50mm got its nickname. Shoot with it for a while and you may just find that the nifty fifty is your favorite lens. If you've tried a 50mm prime, tell us your thoughts about it in the comments. Do you agree that it's a good starter lens or do you have a different recommendation? We'd love to hear it!
---
Header image created using 50mm Canon Lens
---
Getting started with hand lettering?
Free lettering worksheets
Download these worksheets and start practicing with simple instructions and tracing exercises.
Download now!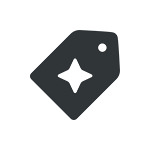 Creative Market