6 Tips For Being Super Productive When Working From Home
I work from home. And every time I sit down to work on a project, no less than forty-seven distractions call out to me, begging me to drop what I'm doing and do anything but. My phone lights up with alerts from Facebook and Instagram, I have eighteen open tabs in my browser (because I'm a serial Internet surfer), there's always that pile of laundry, and let's not forget the fridge. If you work from home and find it challenging to plow through your workload, allow me to share some tips on how to reach super-productivity.
Find Your Routine
While some people are night-creatures that love to work to the sound of crickets, the majority of people will find that they are most productive early in the day. As I mentioned in my last post, I recommend starting the day by getting dressed. And not into sweats. This simple tip can be easy to overlook, but it will help ensure you sit up straight and get busy, instead of ending up eating cookie dough ice cream while shopping on eBay. Plus, you never know when you might get an impromptu Skype video call from one of your clients.
Try Starting With a Chore or Two
Being your own boss allows you to find the routine that works best for you. Some of you may prefer to get to work right away, but if you're like me, you may opt to get some personal chores out of the way first. If those five dishes in the sink will daunt you and prevent you from getting any work done, or if walking the dog before sitting down at your desk is what will give you that boost of energy, then do that. While working from home has many obvious perks, it can lack a clear beginning, middle, and end to your day (more on that in just a moment). Since there's no commute, consider establishing a small ritual which will signal to you that your work day has begun: it can be as simple as a cup of coffee before you sit down in front of your computer. At the end of the day, you may wish to do something as small as clearing your desk. These are the little things you can do to give your day some structure.
Clock In and Clock Out

These days, it's hard to block out the constant buzz of all the social media around us. If you're constantly bombarded with unimportant notifications on your phone, or if you're tempted to start an online chat with a friend, you are losing precious time re-channeling your concentration each time. Resolve to be present and live by the mantra "work hard, play hard". That means the time you've blocked out to work should be spent working. If it helps you, put your phone outside of the room you're working in, silence all other things that beep and ping, and allow your brain to be in full work mode. Being strict with yourself will pay off, and brings us to the second half of our mantra, "play hard". Just because your home is also your office, doesn't mean you've got to work round the clock. (If you must, go back and re-read that, or even tattoo it on the back of your hand.) While you may find yourself breaking this rule from time to time, define your work hours and do your best to stick to them (resist the urge to reply to work-related emails while out for drinks with your friends). Respect your off-time, because failing to do so will ensure burn-out.
Set Goals
Be it on your phone using an app like Evernote, or that yellow notepad you have sitting on your desk, create a list of the tasks that you need to accomplish that week, and plan further by dividing the list into manageable daily to-do checklists. This is a step you shouldn't overlook- a little time spent planning can save a lot of time in the execution phase. (You can read much more on this in the book "Eat That Frog" by Brian Tracy.) Tip: For extra motivation, set specific by-the-hour deadlines for yourself, trying to tackle the hardest tasks first, when you're at your highest levels of energy and concentration. Also, include several pre-planned breaks every hour or so, so that you have something to look forward to among all your hard work. Stretch your legs and grab a little snack. Without coworkers inviting us to the proverbial water cooler, it can be easy to forget to peel ourselves from our chairs!
Create a Workspace

Working from home is definitely comfortable, but in order to get some work done, you don't want to be too comfortable. Find a space in your home that will be a work-only zone. Ideally this should an area that other family members know not to touch. Bonus points if this space has lots of natural light, and a window to crack open to let in that inspiration-inducing fresh air.
Organization is Key
It goes without saying that being organized is a sure way to being more efficient.
Keep your inbox tidy. Use folders to help you keep track of client correspondence, invoices, and projects.
Gather your thoughts and collect inspirational images for your projects on Pinterest or on that bulletin board near your desk.
Manage the files on your computer in a way that makes sense to you, so that you don't waste valuable time looking for what you need.
Recharge your Battery

Working from home is great, but after a while you may find yourself feeling uninspired, or even lonely. Our creativity needs constant re-fuelling, so make the effort to find inspiration outside of your four walls. Go to a museum, see an artsy film, take a long hike among some greenery, or sit in a bustling coffee shop and people-watch. Wherever you get the chance, take along a camera or a sketchbook, and let your imagination take a break from your latest commissioned project.
Share Your Tips for Working From Home
These are just some of the ways that have helped me meet deadlines, but I'd love to know: what tips do you have for reaching super-productivity throughout your day?
---
Shelly Laslo is a graphic designer and illustrator. She is the owner of DrawBabyDraw Designs, where she sells handmade design resources which give your work a unique, one-a-kind charm.
---
Header image created using Home office, Eveleth, and Thirsty Script.
Getting started with hand lettering?
Free lettering worksheets
Download these worksheets and start practicing with simple instructions and tracing exercises.
Download now!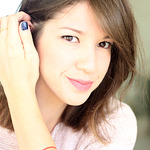 Shelly Laslo
Hi! I'm Shelly, a picture-book illustrator based in sunny Israel. I create thoughtful digital design goods to help your work shine brighter.
View More Posts