60s Graphic Designs Trends and Historical Examples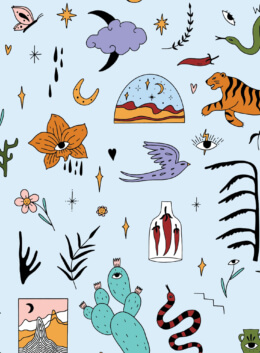 Trends come and go, but historical influences are forever. Art movements have always been defined by the events that shaped a certain period. A new way of thinking often eventually gives way to new ways of expression. The 1960s is one such era, which paved the way for innovations and colorful counterculture that inspired much of the graphic design that we know today.
Let's walk through a quick art history and get to know the design influences that allowed fashion, artwork, and brand design to evolve into the visual feast we enjoy today.
Design in the 1960s: A History
Some eras had one or two primary art movements that defined the work of most of the famous artists at the time. The 1960s, though, was a period of massive development on how art was created and distributed by and for the masses.
This was the time in history when pop art, psychedelic art, op art, minimalism and conceptual art were first recognized as valid art styles used by many iconic artists. These art movements continue to influence pop culture today.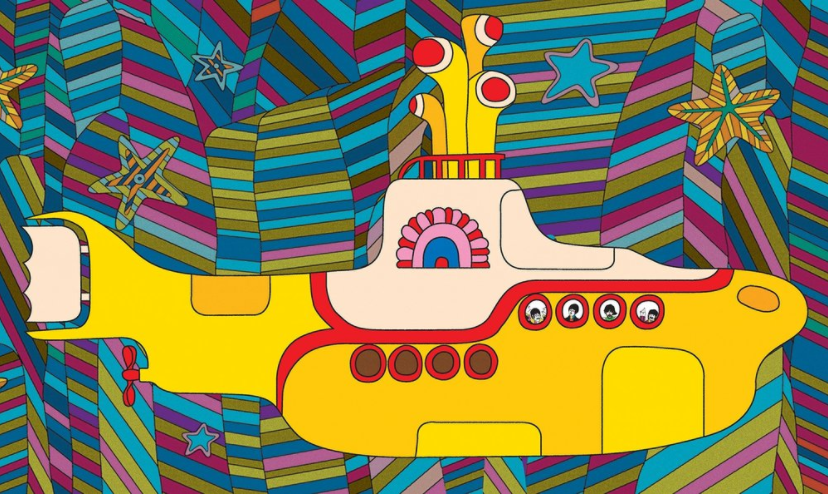 The Beatles: Yellow Submarine from Character Design References
Design Movements in the 1960s
Psychedelic Art borrowed most of its design identity from art nouveau, using hand-drawn illustrations and typography styles that leaned heavily on curvilinear shapes and vibrant, almost neon, color schemes.
Pop Art evolved from an homage to consumer culture to a now enduring style of mixing different media from different times to evoke a sense of familiarity. It is usually known for its use of everyday items in branding for businesses. The pop art movement is also known for eye-catching deliberate collages of the familiar that artists use to paint society as they saw it.
Optic Art or Op Art was primarily inspired by the repeating abstract patterns of the previous decade. Similar to the modern day optical illusion, Op Art sought to confuse and amuse through vibrant color schemes and dizzying arrangements of shapes and other design elements.
Lesser known styles that were also cultural hallmarks of the 1960s include minimalism and conceptual art. Minimalism as a movement was a response to the consumer culture-driven decade that came before it, finding expression in clean lines and textures that elevated liminal or empty spaces. Conceptual Art, on the other hand, has the least visual identity as a movement that focused more on the idea or concept behind the art piece rather than the art itself, resulting in pieces that appear unfinished or even absurd.
Famous Graphic Designers of the '60s
Behind every art movement is at least one notable graphic designer who has been associated with the design style due to their use of the patterns, ideas and innovations of the movement. Here's a couple of iconic names of designers from the '60s.
Wes Wilson might not be a familiar name to many, but his mark on this iconic '60s design style is not to be missed. He is most known for the "psychedelia" print of letters that made words look like these were moving along waves or even melting off the paper. The psychedelic typeface that Wes Wilson used was a mainstay in the music scene, appearing on posters, magazines and editorial designs that are now synonymous with a "trippy look."
Wes Wilson's The Red Hat from Wes Wilson
Borrowing the psychedelia typefaces, Victor Moscoso elevated Wes Wilson's style by popularizing the use of neon color schemes on poster images. Moscoso was known to be the first to explore the possibility of combining the loudest shades of colors on opposite sides of the color wheel to create intense imagery.
Victor Moscoso's Quicksilver Messenger Service from the Museum of Modern Art
Roy Lichtenstein is best known for his comic book style that influenced commercial designs as well as today's design spheres. Rather than using Victor Moscosco's neon colors, Lichtenstein's posters sported chromatic color schemes, strong outlines, and repeating dot stencils and speech bubbles — all familiar elements of comic prints.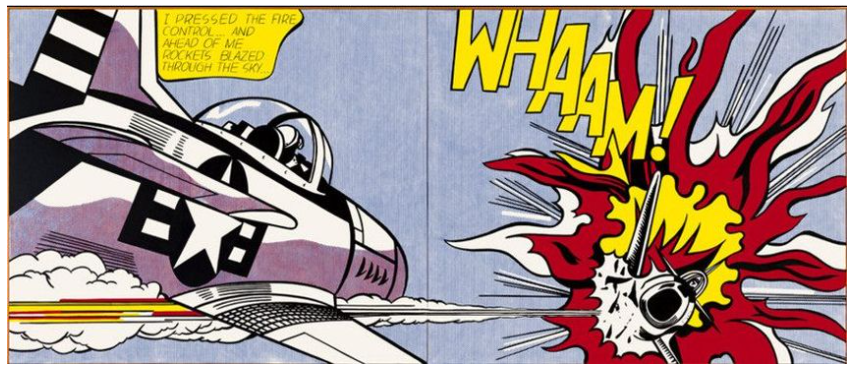 Roy Lichtenstein's Whaam! from Widewalls
The most recognizable artist of this era, Andy Warhol, was a graphic designer who aimed to bridge the gap between "high" art and "low" art by using recognizable household brands and items like Coca-Cola and Campbell's soup cans as a design expression that is still being used today.
Andy Warhol's Campbell's Soup Cans from Widewalls
1960s Graphic Design Styles Summarized
Given the quick overview of what graphic design in the '60s looked like, a few patterns and recurring themes start to appear as key features of the popular art movements of this decade. Here's a quick rundown of what to look out for in your search for a design inspiration.
The Psychedelic Art of the '60s
The psychedelic art style is probably the one most associated with the '60s graphic design style. This is known for its neon shades, groovy lines and vivid typography that give the impression of an image that is always moving.
The Op Art Movement
The Op Art style feels like the middle ground between the '50s and '60s. The clean repeating shapes in vivid colors changed at the turn of the decade and these straightforward design choices gave way to a trend that featured optical illusion-inspired imagery.
Designing Pop Art
This editorial design feels like an innovative take on the previous two styles, taking mixed media elements to collage these into one expressive image. Newsprints, magazines and other vintage prints are combined into a single poster design that evokes a sense of nostalgia.
'60s Graphic Design Today
Graphic design today still borrows heavily from the original 1960s art and typography with its clean and geometric layouts using illustration techniques of abstract repetitions and asymmetrical experimentations. Combine these art movements or use the following samples below as a jumping-off point for your '60s-inspired posters and other creative projects.
1960s Art-Inspired Graphics
Starting off with colorful liquids of different colors are excellent first experiments into creating your first 60s inspired creative project. Use them as your background or as an interesting visual element on an otherwise simple design.
These graphics-based fonts are great nostalgia baits for a creative lighthearted project that communicates fun, and reminds you of Saturday morning cartoons and carefree weekends.
Retro really began in the 1960s, and patterns and textures are an excellent but more subtle elements that can avoid making your design look more dated.
Understated but never boring, these rainbow elements are muted but are colorful additions to more transitional projects, especially since rainbows are more closely associated with the 1970s design trends and culture.
Illustrations like this one from the Boho Soul Bundle carries the more whimsical elements of the '60s design trends. Such designs are inspired by more traditional prints but are creative enough to be excellent attention-grabbers.
Artsy '60s Style Fonts
The 1960s imagery remains to be a recognizable international typographic style that you can use to create your own interesting images, helping your brand or design project convey a funky message to your intended audience.
'60s Logo Design Ideas
Create your own '60s inspired logo by reinterpreting cultural patterns, images, and typography styles of that decade and check out the images below for your inspiration.
The art and graphic design world is ever changing as the industry lapses into the future, but returning to vintage trends is a foolproof way of sprucing up your creative projects and business.
For more design inspirations like this, tips and tricks, and other helpful resources, sign up here and never miss out!
Getting started with hand lettering?
Free lettering worksheets
Download these worksheets and start practicing with simple instructions and tracing exercises.
Download now!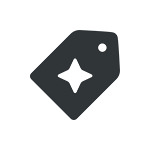 Creative Market