70 Beautiful Watercolor Graphics, Effects, Brushes, and More
One of the hottest recent design trends is watercolor graphics. Some days it seems like watercolor brushes, patterns, backgrounds, and effects are taking over Creative Market! We finally took the time to sit down and put together this huge collection of our favorite watercolor resources. Enjoy!
Ultimate Watercolor Packs
To start this collection out, here are some all-in-one watercolor packs that are overflowing with all kinds of different resources. A special shout out to both Nicky Laatz and Make Media Co. for setting the bar so high in this area and breaking a few sales records while they were at it.
Brushes
If you're just dipping your toe into the world of watercolor-themed design, the first thing you'll want is a good watercolor brush back. These are incredibly versatile tools that allow you to apply watercolor effects to any artwork that you create.
Vector
Most great watercolor resources you'll find are for Photoshop, but vectors lovers need not dismay, there are still plenty of great, infinitely scalable watercolor resources too.
Graphics
Watercolor graphics tend to share a floral theme, which you'll see repeated in nearly all the items below. If you're looking to bring a little bit of nature into your designs, start here.
Type & Fonts
Once you've got your watercolor graphics figured out, it's time to think about type. You can't just choose any old font either. In order to really hit that watercolor feel for your type, you need something with a thick, brushed feel. Here are some fonts and lettering packs that nail this aesthetic.
Patterns
The next two sections have you covered in the watercolor background department. We've got patterns and textures aplenty.
Backgrounds and Textures
Effects
These watercolor effects will allow you to take existing artwork/photographs and apply a watercolor feel. These are really useful for bringing all your best resources into watercolor realm.
Mockups & Templates
To finish out our huge roundup, here are some great scene mockups and file templates with a watercolor aesthetic. These will help you show off all your watercolor artwork in a usable format.
---
Write for Creative Market We're always looking for talented, paid contributors to help out with the blog. If you're interested, fill out our contributor form.
---
Getting started with hand lettering?
Free lettering worksheets
Download these worksheets and start practicing with simple instructions and tracing exercises.
Download now!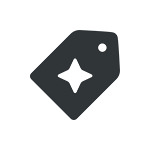 Creative Market