Handpicked 80s Fonts That Feel Fresh & Modern
Ah, the 80s. The era that gave us Ghostbusters, Back to the Future, Dirty Dancing, Miami Vice, punk, new wave, cassette tapes, shoulder pads, and teased hair.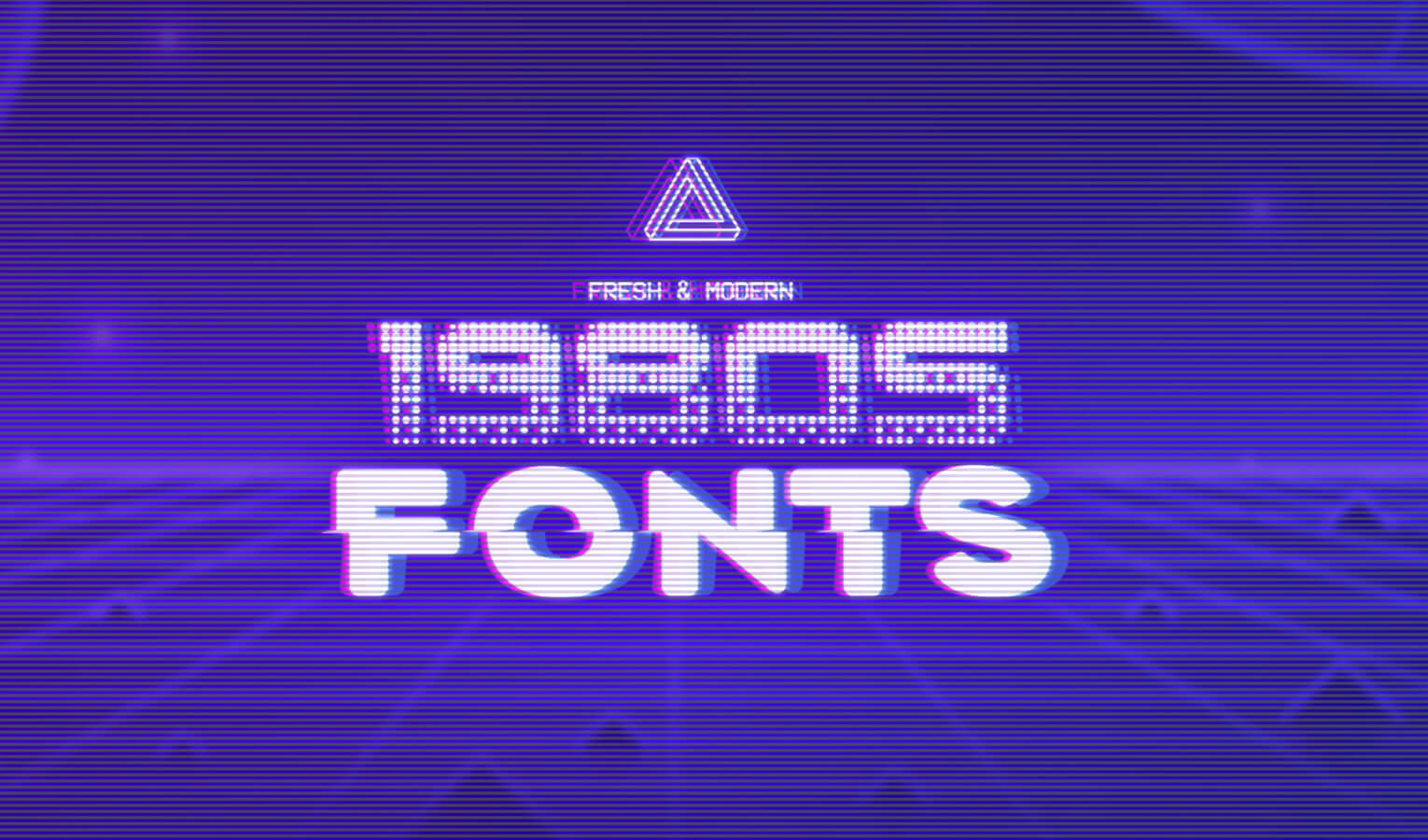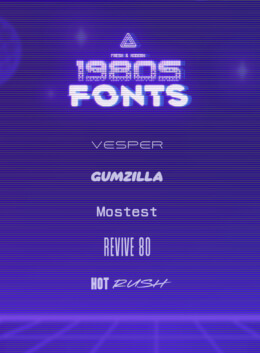 It was a decade not known for its subtlety, and maybe that's why the over-the-top aesthetic of the 80s is a favorite among artists and designers. The neon lights, the tropical color palettes, the geometric patterns, and the other hallmarks of the decade somehow manage to feel fresh and modern no matter how many years go by.
These 1980s fonts capture the best of the era: inspired, vibrant, energetic designs that manage to be retro, modern, and futuristic all at the same time.
Vesper By Unio
Our first example of eye-popping 1980s typography comes from Unio, a design team based in Italy. Vesper is an all-caps geometric font that comes in two weights with bonus matching obliques. The clean, stylized lines are understated (by 80s standards, that is) and elegant, which makes this font extremely versatile and a sleek addition to any creative work.
The font package includes an extended character set that has over 200 glyphs, so it works for a range of Latin-alphabet-based languages.
Coubra Font By Indieground Design Inc.
Indieground Design are what you might call 80s typography specialists. Their online design shop has so many cool neon palettes, geometric grids, and gnarly fonts you can practically hear the pulsing of a synthesizer when you look at them.
Coubra is a jewel of their 80s font collection, perfect for designs that need a little extra oomph. The Chrome Effect is particularly cool and calls to mind the iconic Top Gun movie poster. 
The commercial version comes with 87 characters and an EPS file with Chrome Effect. 
No Signal Font By Darumo Shop
Anyone who's ever watched a movie on VHS will get a nostalgic kick out of Darumo's No Signal. This display font features a glitch effect that recalls the pre-digital glory days, when analog tapes got scratched and caused video images and text to wobble all over the screen. 
This blocky, buzzy font is awesome for big headers and large blocks of text. The package comes with graphic styles for Illustrator and Photoshop. 
Gumzilla Font Plus Graphic Pack By Darumo Shop
Another rad find from Darumo is Gumzilla, a rounded font with three tubular styles: regular, shiny, and slimy. The shiny version has a three-dimensional effect that makes each letterform look like an inflated helium balloon. The slimy version is just that—slimy—and is the perfect way to add a touch of Halloween-y horror to your design. 
The Gumzilla font pack comes with a few cool bonus items to elevate and enhance your design process, including more than 40 doodles and 12 seamless patterns in EPS and PNG formats.  
Jack's Maggot By Simon Walker
Simon Walker has some 80s cred behind his brand, with his Jack's Maggot font taking its name from his father's hairband. 
The stately and serifed Jack's Maggot is reminiscent of 80s murder mystery shows, with a dash of Monty Python thrown in for good measure. 
Outrunner Retro Script By TSV Creative
Some of the most iconic 80s fonts were script fonts—just look at the movie poster for Footloose or the title card for Perfect Strangers.
Outrunner channels that curvy, loopy vibe to create a retro script font that will look equally cool on logos, merch, blog headlines, and whatever else you want to infuse with a classic 80s feel. 
The Outrunner pack features lowercase, uppercase, numerals, alternates, punctuation, and diacritic marks, available in OTF and TTF. 
Heatwave – Brush Font By Tugcu Design Co.
The bold strokes and jagged edges of Heatwave can look like skid marks, blood spatter, or the frenzied jottings of a scorned lover. So basically, it looks like all the excess of a wild, sweltering night in Miami in 1985.  
Heatwave is part of Tugcu's Brush Font Bundle, which includes 12 awesome brush fonts all in one pack.
Zombie Punks – The Retro Horror Font By Wingsart Studio
It's not hard to see where Wingsart got its inspiration for the 80s font Zombie Punks. It's got classic horror film written all over it. 
This hand-drawn brush font has a grungy, gritty feel that can be pushed to the extreme by using it with the additional underlines and paint spills that come included in the font pack. Another cool feature is the alternative set of characters that allow you to create a natural, handmade look without having to repeat e's and t's.
Use it to dial up the chills and thrills on your posters, album art, book covers, and more. 
The Sonnyfive Typeface By The Sonnyfive
Another nod to the slasher genre, The Sonnyfive is an 80s typeface that its creator, also named The Sonnyfive, designed specifically for horror movie posters. This bold brush font has an aesthetic appeal that also makes it useful for a wider variety of applications and would look just as spook-tacular on apparel, retro-style ads, event posters, and more. 
That That Font Bundle Vol.1 By That That Creative
That That Font Bundle is a grab bag of fonts that spans every 80s mood you could dream of, from the video-game-inspired Tickerbit to the futuristic Mostest Mono.
That That Creative really wanted to provide an all-in-one font package that would work for literally any kind of project, from wedding invitations to fashion editorials. That's what they deliver and more, with bonus files that include five retro-future logos, five art nouveau logos, color palettes, layouts, and over 30 vector graphics. 
Saturday Night Font Family By Aiyari
The sunniest and most wholesome 80s fonts on this list are definitely the Saturday Night Font Family from Aiyari. This Indonesia-based graphic and digital type foundry has created a super retro collection of fonts that was inspired by disco music and Saturday evening variety shows. Donnie and Marie Osmond would approve. 
The font family has seven "members" as well as special features that include stylistic alternates, swashes, and ligatures. 
Revive 80 – Retro 1980s Font Pack By Tom Chalky
Tom Chalky has created an ode to 80s typography with this pack of eight typefaces that bring the decade to life in vivid detail. 
Each of the fonts was designed to be super versatile and to play well with all the others, allowing you to add a powerful punch of 80s flair to virtually any design project. The three sans serif fonts are made specifically to fit various widths and heights, with the script font (available in both rough and smooth styles) acting as the signature finishing touch. 
Thunderstorm + Extras By Aiyari
If you were ever a fan of Full House, The Babysitters' Club, or Saved by the Bell, the Thunderstorm font will hit you right in the nostalgia bone. This handmade brush typeface is both peppy and preppy and looks incredible in the trademark pastels and neons of the 80s. 
A bonus Extra Pack includes images of boom boxes, cassette tapes, animal prints, and more to add even more 80s flavor to your designs. 
Brice Font Family By Studio Sun
The Indonesia-based Studio Sun has put together Brice, a bodacious 80s font that comes in five widths and six weights, to pay tribute to the art, music, fashion, film, and overall culture of the decade. 
Brice is an energetic, bright, and youthful serifed font that is all about contrast, making it perfect for eye-catching captions and headers. 
Hot Rush Font Duo By Sam Parrett
Sam Parrett describes his Hot Rush Font Duo as an 80s typography that will "hit you harder than a Delorean at 88 miles per hour." We couldn't agree more. The combination of the clean, striking sans font and the speedy, textured script font are a match made in 80s heaven. 
The Hot Rush sans font also comes in a striped version, with vertical lines stamped horizontally across each uppercase letterform, for extra sass and sizzle.
This font pack comes with a ton of versatile extras that let you tweak your design work for maximum retro appeal, including end forms for the script font (in letters A, C, E, F, G, H, K, L, R, and T), four swashes for underlining text, and language support for 18 languages. 
Fresh and Fabulous 80s Fonts for All Your Projects
Are your creative juices flowing? Browse the complete hand-picked collection of 80s fonts and inject some classic retro vibes that also feel fresh and modern into your designs.
Remember key typography concepts
Typography terms made simple.
Grab this handy cheatsheet summarizing some of the most important typography terms.
Download the PDF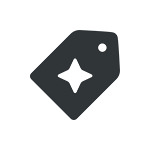 Creative Market