18 Brochure Design Ideas To Increase Your Sales Effectively
Brochures are an excellent tool that you can use to engage and educate potential customers and promote your business. Not only do they contain comprehensive information about your products and services, but people also have easy access to them since they are distributed in strategic locations.
In order to come up with an effective brochure design, you need to consider a few things to make a lasting impression (Such as best fonts for brochures) on your target audience and produce the results you're looking for. Here are some guidelines in creating brochures, as well as brochure ideas to inspire your design.
How To Design a Brochure
Before you start designing your brochure, you first need to do the following:
Know your brand. Make sure you know your brand inside and out. You need to have an established brand identity and brand personality to create a cohesive design for all your branding and marketing materials, which include your brochure.
Identify your target customer. Different audiences respond to different designs, so you have to make it clear whom you're designing for so you don't make wrong design choices. You also need to know what kind of information, messaging and imagery will grab your target audience's attention.
Define your message. You need to know what you want to tell customers and create a strong, clear message that speaks to them using language and images that they can relate to.
Set a goal. Last but not the least, determine what you want to achieve with your brochure so you can formulate the right strategy. If your goal is to increase brand awareness, then be sure to put testimonials in your brochure. If you want to boost sales, then include coupons or vouchers to attract customers.
Now on to designing your brochure. Here are some pointers to guide your design process and help you create an effective brochure:
1. Create visual interest.
Brochures are content-heavy, which means they rely on the creative use of design elements to get the reader's attention. How to design brochures though can become meticulous. You'll need to choose shapes, lines, textures, color schemes, and other visual elements that help you present information in an interesting way while making sure that they are also consistent with your overall branding. Here is a collection of geometric shapes that can give your brochure a professional and unique look:
2. Use relevant images and graphics.
When you're designing your brochure, consider using visuals that people will actually care about. Instead of displaying plain old product shots, why not showcase the benefits that customers can experience through professional and high-quality images of people engaging with your products or services, or use graphics and icons to present impressive numbers and statistics from your business?
3. Optimize content.
Your content is just as important as the design, for it is where you can find the two most crucial parts of your brochure: the headline and call to action. Your headline acts as bait that draws your target audience in, and your call to action is where you lead them to conversions.
Make sure your headline focuses on customer benefits and is in a display font for maximum readability. Be direct and state your call to action in a big way by using bold fonts as well. As for your body text, use bullet points to highlight key features instead of using long sentences and keep in mind about SEO!
4. Focus on readability.
The number 1 rule in any type of design is not to make it difficult for people to read content. Whether you're using bold colors or contrasting colors, your copy should be readable against any background.
Keep each fold or page of your brochure from being overcrowded by breaking up text blocks using headings, subheadings, and white space. Avoid using small types, and limit your font styles and colors to a maximum of three. Sans serif fonts are a popular and widely used typeface for brochures:
5. Choose the right brochure layout.
As many as there are brochure designs to choose from, there are equally plenty of brochure layouts and folds available for you to utilize in your design. Read on below to learn more about the different types of brochure layouts.
Different Brochure Layouts To Help With Your Design
So far, there are 15 different ways to fold a brochure, but not all of them will be right for your brochure. These three types of folds offer a simple and classic layout that can accommodate any kind of content and elevate your brochure design.
6. Tri Fold Brochure Design
Letter fold or tri fold brochures are one of the most versatile and commonly used brochure folds. In a tri fold brochure, the paper is folded neatly in two places and divided into three, even rectangular sections.
This type of layout is perfect for creating restaurant menus, travel guides, product catalogs or corporate brochures. Here are some tri fold brochure templates that you can use:
7. Gate Fold Brochure Design
Also called an open gate fold, this type of brochure has a middle panel concealed by two shorter panels that meet at the center to imitate a double door opening. If you want an eye-catching brochure that leads up to a big reveal, this is the way to go.
Image Source: Pinterest
8. Bi-Fold Brochure Design
Lastly, bi-fold or half-fold brochures, are the most basic type of brochure. They have wider panels and look more professional because they imitate the appearance of booklets. These brochure templates are an excellent example of how this type of brochure can have an inspired design:
Brochure Ideas for Designing Your Own Brochure
Get inspiration from these brochure design ideas!
9. Creative Brochure Designs
For a creative brochure design, try to experiment with folds, cuts and sizes and go for graphically rich designs as they will look stunning on print. Here are some templates and mock-ups for inspiration:
10. Modern Brochure Designs
A modern design for your brochure creates a clean and elegant look. These mock-ups and templates can help you design an attractive modern brochure:
11. Cool Brochure Designs
Make bold color choices, fill pages with vivid images or incorporate a theme into your design if you want to create cool brochures like these:
12. Simple Brochure Designs
Check out these brochure mock-ups and templates that prove simplicity is the ultimate sophistication:
Brochure Design Templates You can Use
Here are some more brochure templates to make your life easier!
13. Product Brochure Design Templates
These brochures create a stunning display of products by incorporating shapes, maximizing negative space and using high-quality images.
14. Corporate Brochure Design Templates
Here are other examples of well-designed and professional-looking corporate brochures:
15. Interior Design Brochure Templates
Minimalist designs work really well on interior design brochures, as how these templates have shown:
16. Travel Brochure Design Templates
Like these travel brochure template designs, using enticing colors and images will surely make audiences engage with your travel agency:
17. Food Brochure Design Templates
Take inspiration from these food menu template designs and make sure your brochure is as mouthwatering as the food you serve in your restaurant:
18. Real Estate Brochure Design Templates
Finally, make customers want to purchase their dream home right away by using these templates with a luxurious feel to create your real estate brochures:
Hope you liked these design ideas and tips! Do sign up here if you're looking for similar content.
Getting started with hand lettering?
Free lettering worksheets
Download these worksheets and start practicing with simple instructions and tracing exercises.
Download now!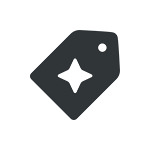 Creative Market