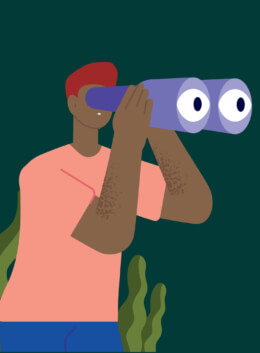 Even if your business is just online, having a business card would still provide you with plenty of opportunities to improve branding and promote your products or services.
When you meet a potential client who asks about your business and you tell them to just look you up online, they will probably forget to do it or they might lose interest. But if you give them a card, you will be giving them a way to remember you and contact you when necessary.
Moreover, a well-designed business card can make a lasting impression on potential customers and set you apart from your competitors. Below are some quick tips and design inspiration to help you create the perfect business card, whichever industry you may be in.
What Makes an Effective Business Card Design?
From lead generation to brand recognition, effective business cards can be a powerful advertising and marketing tool. But how do you know if your card is effective? These are the things that an effective business card should contain.
1. A Large Logo
Your logo should be the largest design element in your business card. If possible, it must be printed on both sides of the card to promote brand recall.
2. Essential Information
A good business card will contain contact details and other necessary information about your business. These include your:
Name – Or the name of the owner of the business card;
Job Title – To indicate your position in the company and briefly explain what you do;
Company Name or Brand Name
Tagline – Or a brief description of what products or services your company provides;
Mobile or Telephone Number
Email – To allow customers or potential clients to send you a detailed inquiry or request;
Website URL – To invite people to learn more about your business and increase your website traffic;
Social Media – To provide alternative means of communication since people nowadays prefer to message businesses on social media; and
Address – If you have a physical office or store.
Having complete information on your business card will provide people more ways to reach out to you.
3. A Legible Copy
Choosing typography for a business card is tricky because you only have a small space to work with. The most important thing is for people to be able to read the information, so stick with not more than two font styles that are professional, simple and easily readable. They also have to be consistent with your brand identity. As for font size, the smallest you can go is 8 points to ensure readability. Important details like your name and company name should be bigger.
4. A Bold Design
Communicate your brand personality through your design and go for one that will make your card stand out. You can try vertical layouts and nontraditional shapes, work with unique colors and design ideas, experiment with embossed lettering, or use textures and patterns that make the card more eye-catching, like this one.
5. A Lot of Negative Space
Lastly, make sure that there's plenty of breathing room around each element in your business card. There should also be enough available space to allow you to add supporting graphics or any related imagery, but keep these elements minimal so as not to clutter your design.
Business Card Ideas To Inspire Your Design
Did you know that for every 2,000 business cards that get passed out, there is a 2.5% increase in a company's sales? No matter your profession, having a business card will not only build brand awareness but can also be profitable for your business. Here are the best business card templates that can inspire you to create your own.
Unique Business Card Ideas
This unique business card exhibits how white space can actually be part of a great design. With a gradient background and unique text layout, a business card like this will surely make a memorable impression.
Meanwhile, with a one-of-a-kind design like this, people would totally want to keep your card.
Creative Business Card Ideas
Using water color illustrations, this creative business card achieves a beautiful, artistic design.
You can also apply different motifs like modern, art deco, vintage or retro, and make your business card stand out.
Cool Business Card Ideas
This sleek, badass business card is a perfect example of how you can use textures to level up your design.
Playing around with your business card layout will also let you come up with amazing designs like this:
Simple Business Card Ideas
Now this simple business card template perfectly demonstrates how you can include your logo on both sides of your card and try a different layout to make the design stand out.
This minimalist business card features a unique monogram design that elevates the overall look.
Cute Business Card Ideas
Here's a business card with a cute pattern and elaborate design.
This business card goes in a completely opposite direction and flaunts a minimalist design:
Business Card Design Ideas for Every Type of Business
Here are some examples of professional business cards you can use as inspiration for your own design.
Personal Business Card Ideas
This is an example of a clean, yet eye-catching personal business card. As you can see, it doesn't contain any logo or company information but it displays complete contact information including social media and website URL. It also made the extensive white space a part of its design.
Small Business Business Card Designs
This template for a small lifestyle store features a marble print and stunning minimalist design.
Make your creative agency look like it plays in the big league with an elegant card like this.
Real Estate Business Card Ideas
These real estate business card templates show how you can seamlessly incorporate vital graphics and images into your design without making it look cluttered or complicated.
Cleaning Services Business Card Ideas
Here are neatly and creatively designed business cards that are perfect for your cleaning business.
Landscaping Business Card Ideas
For your landscaping business, give life to your business card using designs like these.
Construction Business Card Ideas
Here's another business card with creative uses of textures.
Meanwhile, this is another professional-looking business card template from BrandPacks:
Boutique Business Card Ideas
This stylish business card is perfect for a high-end fashion boutique:
You can also use different types of paper to add a personal touch. This one utilizes kraft paper to create a sort of rustic design.
Artist and Photographer Business Card Ideas
Here's a breathtaking artist business card design.
Take a page out of Blank Studio's book and showcase your photography skills to create a breathtaking business card design like this.
Catering, Restaurant and Bakery Business Card Ideas
Instantly grab attention with a well-designed business card like this for your catering service.
This features an effective vertical layout and minimalist illustrations that result in a remarkable design for a restaurant.
Here's a bakery business card that looks super fun.
Nail, Hair and Beauty Business Card Ideas
A creative business card design like this can fit the perky vibe of your nail salon.
This modern business card design is perfect for a high-end barbershop.
You can also use bright colors and trendy patterns for your beauty salon business card to create a lasting impression.
Sign up to check out our other business card designs here!
Getting started with hand lettering?
Free lettering worksheets
Download these worksheets and start practicing with simple instructions and tracing exercises.
Download now!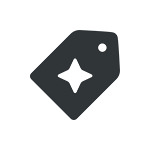 Creative Market