How to Design Brilliant Brochures Using Templates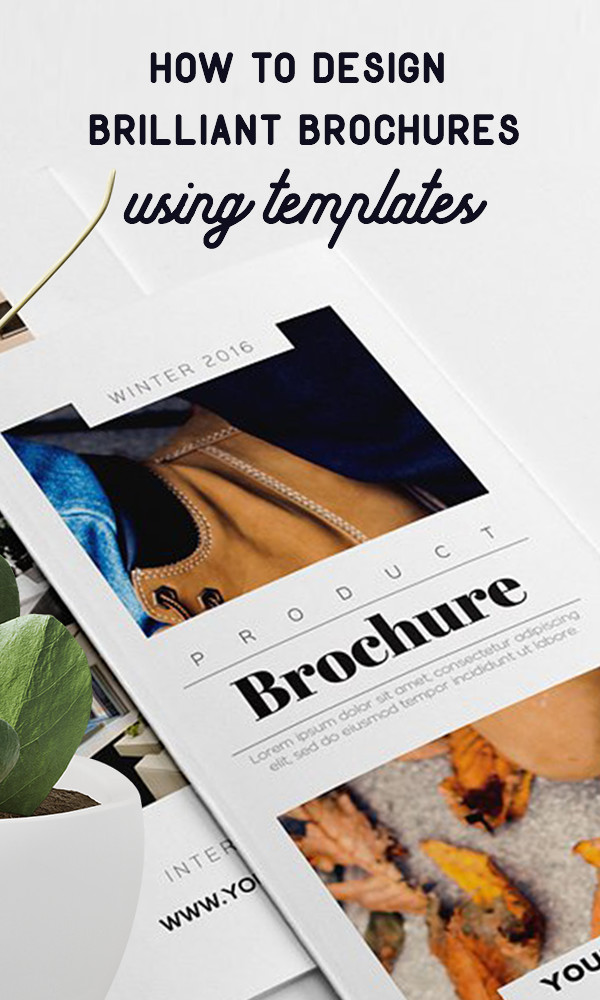 Brochures are a marketing mainstay that have been around since before the days of the web. Even now, when digital marketing is slowly but surely surpassing traditional marketing as the go-to choice in the 21st century, brochure templates are still in demand. Small businesses, entrepreneurs, and creatives realize that palpable marketing materials can still get the job done. Underestimating brochures in this day of social media, email and blogging is a mistake! Your leads and customers still seek that safe and trustworthy feeling of having something palpable in their hands to look through and save for future references. Unlike a tweet, an email newsletter or a blog post, brochures and brochure templates don't disappear into the cyberworld of the web after you finish looking at them. We're going to take a deeper look at how you can design your own brochure templates and use them to successfully market your creative products and services. First, we'll start off with some surprising stats about the power of brochures even in today's world.
Brochure Marketing Stats
Still think that digital marketing is the big be-all and end-all of marketing today? You may want to think again when you read some of these stats surrounding using brochures in advertising.
According to Professor Ian Cross, from Bentley University in Massachusetts, brochures still pack quite the punch. While his research relates to how useful tourists and visitors find brochures, it powerfully confirms that people still rely on brochures in 2016. His research, published as Brochure Distribution Research from Summer 2016, reveals the following, key stats:
95% of visitors who look at a brochure become aware of a business through the brochure
Another 83% plan to follow that up by actually visiting a business they saw in the brochure
65% of people who pick up a brochure plan to buy merchandise or tickets thereafter
Brochures influence people of all ages
If that doesn't yet convince you of all the customers that you're losing by not using brochures, then try these other stats on for size: The point is, when you have these impressive stats being reported about how brochures can get the attention of people and persuade them to take action after looking through them, it's clear that this form of engagement is still potent.
Benefits of Brochure Marketing
There are many benefits of using brochure templates in marketing that go beyond the stats we just looked at. For one thing, having a handy brochure within arm's reach for convenient reference sure beats having to remember that website's URL that you were looking at just a few days ago or that email newsletter or announcement…that you filed away into a folder…that you now can't remember the name of!
That just scratches the surface.
Adaptability
Brochures are very adaptable to various marketing opportunities. You can take brochure templates that you've designed and then take them with you to events wherever you go. If you're going to a trade show for your industry, taking brochures along with you to distribute is easy and doesn't break the bank. If you're doing a presentation, you can conveniently hand out brochures during or after said presentation to help complement your talk.
Marketing Kits
Brochures are tailor-made for inclusion in a media kit. Media kits are bundles of company info that you make available to the news media for use in creating features stories or reviews of your business. A brochure is an efficient way a member of the media can get the quick 411 on your business.
Affordability
Brochures are affordable, as you can see when you check out our brochure templates in our marketplace. Compared to other forms of marketing, they're cheap and are reusable, too. Depending on the templates you purchase, you can have one to customize to your brand's desire for as little as just a few dollars. Talk about making your ad dollars stretch!
Designing the Perfect Brochure
The way you design your brochure will have a massive impact on you getting new leads, repeat business, and a better reputation in your industry. Think of brochures as a reflection of your brand and who you are, so their design has to be clear-cut and persuasive.
Here are some winning brochure-design tips for getting more clients:
Use Typography Sparingly – Less is so much more in designing brochure templates. Resist the urge to use fancy and obscure fonts. Instead, focus on fonts that are easy to read and usable. Also you won't need many fonts: Just those for your brochure heading, subheading(s) and body copy.
Chunk Your Content – Content chunking is when you divide your sections and copy into easily scannable and digestible parts in your brochure. This helps readers more easily absorb and process the info in your brochure.
High-Quality Photography – Images are inordinately important in marketing, whether it's digital or print. HubSpot reports that relevant images get almost 100% more views than content without them! So the same principle applies to your brochure: Use sharp pictures that are relevant to your product or service.
Think Geometrically – Use shapes like triangles and circles for your callouts or calls to action, such as an interesting stat or your phone number or email address. Using geometric shapes provides a neat and unique effect to your brochure design, helping it to stand out and be memorable.
Design and marketing go hand-in-hand, so after settling on a great design, you need to flow into successfully marketing your brochure.
Brochure Marketing 101
The message that you promote in your brochure is a direct link to how many leads and new customers you drive to your creative business. Depending on how you tailor your brochure copy, you can create messaging that gets people's attention, persuades them, and nets you sales.
Here are some surefire ways to persuade your audience to choose you: Address Your Market's Pain Points – Approach your brochure copy from the standpoint of the problem your target market is facing. Demonstrate that you intimately understand their concerns, whether that's a bad website design or business cards that aren't delivering them leads like they expect. When you tailor your copy to their pain points, you get attention, and that gets sales. Use Plain Language – Again, this is the simpler, the better. Some brochures turn off their audience on the cover by using overly technical jargon, which is ruinous. Use plain words that everyone can understand. When you communicate clearly, your message will get through. Organize Your Content – Utilize a good, old list of contents to ensure your readers understand your brand and its offerings. Your brochure should have a contents page early on, which should be bolded and separate from the rest of your copy. Choose your strongest sales points as the heading of your content list! Personalize Your Brochure – Don't be afraid to use "you" repeatedly in your brochure's copy. Your leads love it when you directly address them because it adds a personal touch that's more relatable and tells them you empathize with them. Understand your customer profile, and talk to him based on what's relevant.
Where to Find the Best Brochure Templates
By now, we've hopefully persuaded you that you need brochures in your business marketing. If you're a creative with a business—graphic designer, freelancer, photographer, etc.—brochures can help you grow your business effectively. To accomplish that, you need the perfect brochure templates.
We've done the heavy lifting for you:
Where to Find Brochure Vectors
When you search for brochure vectors, you'll also invariably stumble upon brochure vectors, which you can also customize to create your own brochure. What are vectors and how do they differ from brochure templates? They're the same in principle—you can edit their design and messaging to market your brand in print format—but they're a bit different on the development side of things. It's important to know that a vector is a class of template that allows you to incorporate a dynamic array of objects, which can be any size. Think of it as a graphical file format that's based on mathematical expressions and made up of lines, shapes and nodes. A template isn't necessarily a vector, though.
All this means, though, is that you can just as easily use both templates and vectors when you're searching for the right choice of brochure to represent your product or service. So here are some of the best brochure-vector marketplaces we found on the web: Freepik – Freepik is a huge marketplace that offers thousands of high-quality brochure vectors. The vectors are available for free, or you'll have to buy a subscription to download some of them. Vecteezy – Another huge brochure-vector marketplace, Vecteezy features thousands of vectors that you can download for free. Shutterstock – Shutterstock's marketplace is chock-full of brochure vectors, which are available for free, but you have to first sign up to download them.
Inspiration from CM Brochure Templates
When you're designing both the layout and messaging of your template, inspiration will go a long way. You get a better sense of what works with brochures when you browse through top designs. Now, to help point you in the right direction of how to design your templates, here's a choice selection of the most aesthetically attractive brochure templates from our Creative Market marketplace:
Brochure Templates for Better Marketing Success
As a creative, you work hard for your clients and strive to ever-expand your business. Brochure templates can go a long way toward helping you achieve this noble goal. They're durable, palpable and are an extension of your branding. Use them as direct-mail pieces, distribute them to fellow businesses in your neighborhood, or just have them handy when leads are visiting your small business. It's extremely easy to get seduced by digital marketing as the only type of marketing that matters anymore, but sometimes, traditional advertising that's cheap and effective, like brochures, can still pack a marketing punch. Brochures can be saved to be looked at later while a tweet or marketing email can easily get lost in the digital morass of the web. In short, brochures can be easily pulled out and referenced to give people quick info about your product or service! With our huge and splendid selection of brochure templates, you're bound to find just the perfect one to help your business get new leads, solidify returning customers, and advertise your brand. Choose from our high-quality and professional brochure templates today.
---
Products Seen In This Post: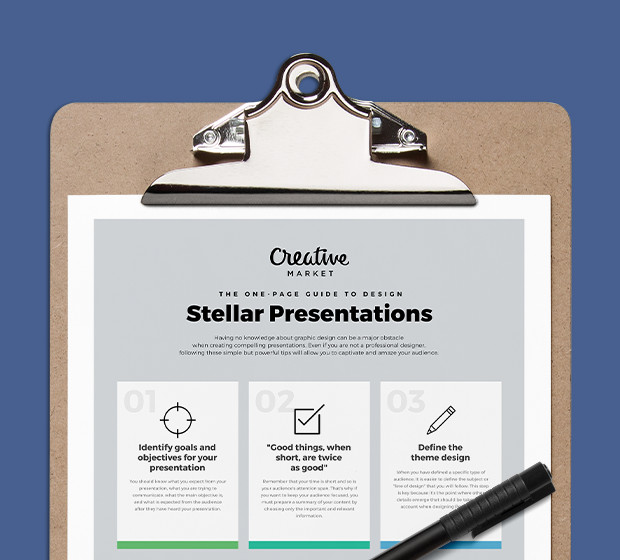 Here's the free guide you need
Make your next presentation your best presentation.
Grab this one pager with a summary of key tips to create a powerful presentation from scratch.
Download now!
Marc Schenker
Marc is a copywriter and marketer who runs The Glorious Company, a marketing agency. An expert in business and marketing, he helps businesses and companies of all sizes get the most bang for their ad bucks.
View More Posts