A Freelancer's Guide to Staying Motivated
Staying motivated is one of the biggest challenges faced by freelancers.
From television to the kitchen cupboard, the home is full of distractions, with the potential to lead even the most dedicated freelancers astray. Some people find it impossible to work from home at all, opting to join a co-working scheme or renting space in a shared office instead.
Despite the difficulties of working from home, with practice it is possible to stay motivated. Here are some tried and tested methods for staying focused on your work, and making the most of your day.
Pomodoro Technique
The Pomodoro Technique is one of the most popular productivity methods available. Developed in the 1980s, it revolutionised the working day for many freelancers. It involves working in 25 minute bursts – or 'pomodoros' – interspersed with short breaks.
The technique works as follows:
Choose a specific task to complete.
Set a timer for 25 minutes, and work solidly on the task until the timer rings.
Record this 'pomodoro' with an X.
Take a 3-5 minute break.
Repeat 3 more times, and then take a 15-30 minute break.
The success of the Pomodoro Technique lies in time management. The idea is to prevent distractions from interrupting your work flow – ultimately eliminating procrastination, increasing productivity, and reducing the chance of burn-out.
To minimise distractions completely, download a pomodoro app such as Focus Booster. These apps automatically time your pomodoro units and breaks, allowing you to focus entirely on your work.
Have a Separate Office Space
Many freelancers complain that they find it difficult to separate work from leisure. This can eventually have a negative impact on motivation and productivity. To avoid this, it's essential for freelancers to have a dedicated work space in their home – rather than working in bed or at the kitchen table.
Being able to walk away from your home office at the end of the day is vital. The physical distance between the desk and the rest of your home can have a welcome psychological effect, helping you to properly relax and distance yourself from work in the evenings and on weekends.
Having a separate office space can also help you to stay focused on your work during the day. Being in a different room to the distractions of the rest of your home will mean you spend less time procrastinating – in many cases, out of sight really is out of mind.
 Setting Up a Productive Workspace
Having a dedicated workspace is undoubtedly important. However, it's also essential to make sure that this workspace is properly laid out correctly to aid productivity and motivation.
Many freelancers are advocates of clean, tidy desks. However, there are others who believe that clutter can improve creativity. Choosing between the two states is a matter of personal preference.
Craig Newmark, the founder of Craigslist, opts for a sparse desk: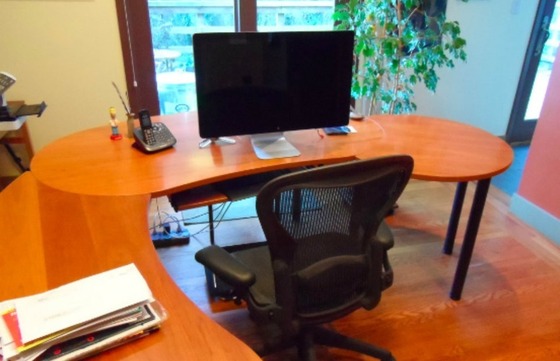 However, Steve Jobs – famous for pioneering Apple's clean, minimalist design – worked in a cluttered office.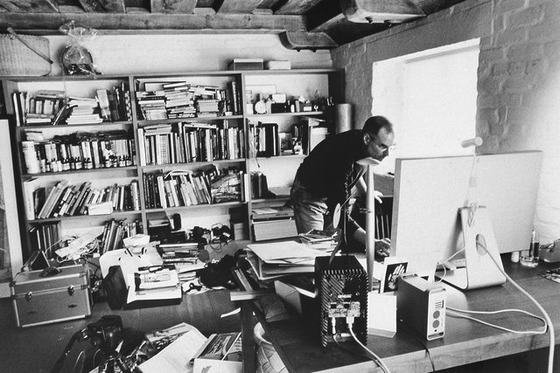 It's important to create a working environment which improves your motivation, rather than hinders it. Do two trial runs – spend a week with your usual level of office clutter, and then spend the next week working in a clean and tidy environment. Evaluate your own levels of motivation – if you find yourself getting distracted by your surroundings, it may be best to keep your desk clear and empty.
Regardless of your choice, it's important to ensure that your work space receives enough fresh air and light. Scientific studies have shown that natural light is essential for office workers, helping to protect the body's circadian rhythms. If necessary, introduce artificial lightings – but ensure that this doesn't reflect onto your computer screen, as this is a common cause of headaches.
Remove Online Temptation
The internet can be a freelancer's best friend, particularly if you need to do research or find inspiration. However, the internet is also the ultimate procrastination tool, with an uncanny ability to sap motivation and destroy productivity.
Fortunately, there are a number of applications available to download, which can temporarily block your access to certain online distractions. Typically, these services are simple to use – you identify a list of contraband sites, set a time period, and the program does the rest.
Some applications are relatively easy to bypass, requiring at most a computer re-start to restore access to the blocked sites. However, others take their duties more seriously, and are almost impossible to disable until the allotted time period has passed.
This article was written exclusively for Creative Market by Mark Porter of Wholesale Clearance, a small family run company.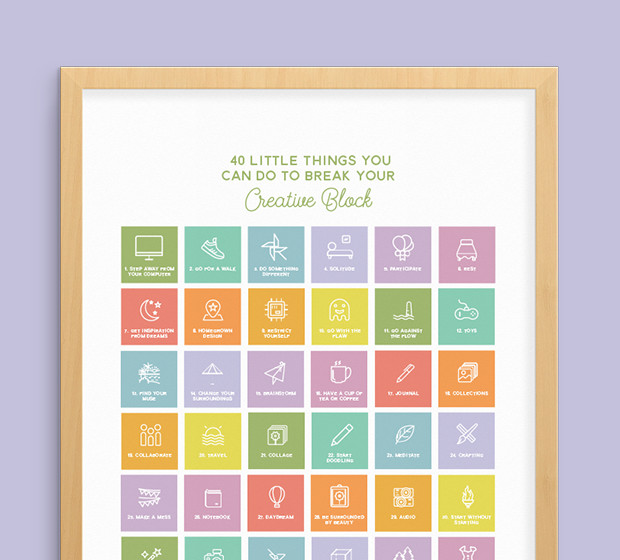 Break your creative block now.
Feeling blocked?
Say goodbye to that awful creative slump. Download this printable with 40 little things you can do to break it.
Download your free print