Announcing the Creative Market Photoshop Extension!
As creatives ourselves, we understand how frustrating the design process can be. You spend your days designing in Photoshop, often interrupting your workflow to scour the web for design resources that are supposed to help you work faster, but ultimately waste your time and end up scattered across dozens of browser tabs, random folders and zip files on your computer. And if you ever have to reinstall Photoshop or move to a new computer, you end up feeling like Superman in Superman II when he loses all of his powers: frustrated and helpless.
We always wished there was a better way…so we built it!
Today we're really proud to announce the Creative Market Photoshop Extension. It's a free panel that installs right into Photoshop, giving you instant access to all of the amazing content from Creative Market without ever leaving the app.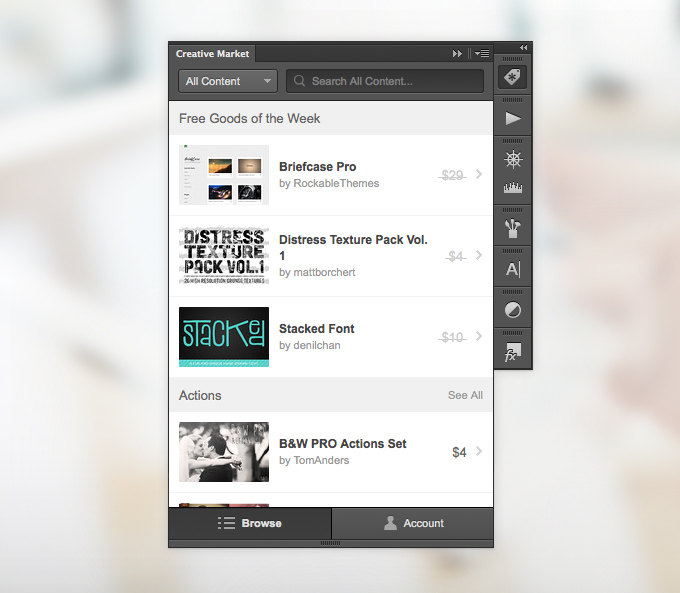 Get the Creative Market Photoshop Extension →
Even better, all content purchased through the extension is automatically installed right in Photoshop and ready to use. It's like the App Store for your creative content — no more unzipping downloaded files, manually installing content, or restarting Photoshop.



That means when you buy a font, it's automatically installed and ready to use in the type tool (without needing to restart Photoshop!). Purchase a PSD template through the extension, and the PSD opens automatically in Photoshop without having to click another button. Download a set of texture brushes and BAM!, they instantly install into your Brush panel, ready for you to start creating.



And here are some more ways we think the Creative Market Photoshop Extension will change the way you work:
Browse, Search and Buy Inside Photoshop
You'll have access to thousands of design assets right from Photoshop, including actions, brushes, fonts, gradients, graphics, layer styles, patterns, shapes, templates, textures and more.
Instantly Install Assets with a Single Click
Once you find the perfect assets for your project, they're automatically installed in Photoshop with a single click. So you don't have to waste time downloading random files through your browser, unzipping them on your computer, manually installing content, or restarting Photoshop.
Access Purchases and Saved Collections in Photoshop
All of your Creative Market purchases and saved collections are available inside of Photoshop. So no matter where you buy or bookmark your favorite assets, you'll be able to access and one-click install right in the extension.
Download New Free Goods Each Week
Pop open the extension each week to grab new free graphics, templates, fonts, brushes, add-ons and more to kickstart your projects, while saving time and money.
Reinstall Purchased Assets in a Snap
With all of your purchases synced to your Creative Market account, you'll be able to quickly reinstall all of your crucial content and tools every time you upgrade Photoshop or move to a new computer.
True Creative Cloud
Anytime you purchase content through the Creative Market website or through the extension, your creative assets will be available immediately, across multiple devices.
---
Building our Photoshop extension has been a labor of love for our whole team and we're really excited to finally share it with you today – but we're also just getting started. We hope it takes your design workflow to another level, and we'd love to hear your thoughts and feedback in the comments. As always, thanks for your support and happy creating!
Getting started with hand lettering?
Free lettering worksheets
Download these worksheets and start practicing with simple instructions and tracing exercises.
Download now!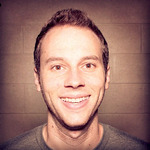 Aaron Epstein
Creative Market cofounder. Jack of all trades, master of none. Designer/developer hybrid in a previous life. Powered by Cheerios and avocados.
View More Posts