21 Best Fonts For Menu Boards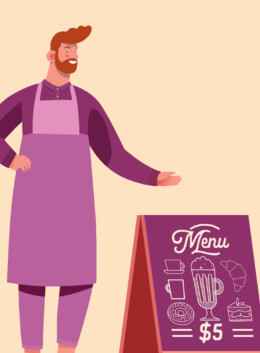 Whether you're a restaurateur or a designer with a café design project, you're definitely aware that well-designed graphics and appetizing visuals are as crucial as the food you're going to serve.
Elevate the dining experience for your potential customers by crafting an excellent restaurant menu. To do that, take your time in choosing the perfect menu font. Menu fonts are an essential element to your potential customers' dining experience.
Why the Font for Menu Design Matters
Your restaurant menu is an introduction to your customers. Think of it as a peek into the kitchen, giving potential customers an idea of what to expect from the moment they enter the restaurant.
Similar to the restaurant logo, the typeface you choose for the menu design also reflects your restaurant's personality, style, and cuisine. It's important to pay attention to the menu fonts you use because this can affect how your customers perceive your menu and will ultimately affect their decision to order.
That being said, choosing the perfect font for the menu is crucial to helping customers decide on the dishes they want to try in your restaurant. A psychological study on menu fonts reveals that the typeface can influence how a customer perceives the complexity and value of dishes on your menu.
Some Considerations in Choosing the Best Font for Menu Boards in Your Restaurant
Your menu design also showcases your restaurant brand identity, communicating what makes your restaurant unique and worth trying. Here are some factors to consider when choosing the perfect menu font:
Ambiance
What is the general vibe of your restaurant? Take the dining experience into account when selecting a font for your menu boards. If your restaurant is dimly-lit, you'll want to select a typeface that has clear legibility.
Target Customers
Who do you want to visit your restaurant? It's important to select a font that matches your target demographic. For example, if you want your restaurant to cater to children, you'll want to use a bold yet curved font to give them the impression that your restaurant is friendly and approachable.
Type of Cuisine
If you're serving a specific type of cuisine, it would be good to use a font that is influenced by the culture it is from. For example, using a zen-inspired brush font like Akira is a great choice for a Japanese restaurant.
Best Restaurant Menu Fonts
Now that you know what to look out for, we've rounded up some of the best fonts from Creative Market for you to choose from when designing your restaurant's menu:
Café Menu Board Fonts
1. Café Brasil Family
Café Brasil is a great font choice if you're looking to design menu boards for a coffee shop. Based on the shape of a coffee bean, Café Brasil uses delicate details and ligatures that represent the liquid, foam, and steam of a great cup of joe.
2. Saveur Sans
Saveur Sans is a set of sans serif fonts influenced by art deco and French cafés. Taking inspiration from French food and design, this display typeface is a perfect menu font for cafés that marry casual dining with sophistication.
3. Road Race
The Road Race font family is a great choice if your specialty is craft coffee. This elegantly-designed serif typeface is the right font for cafés with a vintage vibe, encouraging you to slow down and take a seat to enjoy a well-crafted brew.
Fast Food Menu Board Fonts
4. French Fries
French Fries is a great font for kids who frequent your fast food joint! This chunky, doodley typeface is a perfect choice if you want your menu to give off a fun and quirky vibe!
5. Boldline
Boldline is a display typeface with strong and bold lettering. This font style lends a unique personality to restaurants that serve soul food (or comfort food!) like hip burger joints or casual diners. To create the perfect mix of fonts in your restaurant menu, use the heavier weights of this typeface as headings and pair it with a thin (yet still legible!) sans serif font.
6. Benji
Benji is a thick handcrafted font that makes a great font choice for menu headings of your fast food restaurant! You can take advantage of the letters being based on the square shape, making it easy to stack them like hamburgers!
Here's a bonus: If you want a font with food icons, use linear dingbat typeface Nibbles by Typogama. Inspired by food and food trucks, the Nibbles typeface contains symbols ranging from burgers to food trucks, covering all your food-related design needs!
Fine Dining Restaurant Fonts
7. Larosa Sans
Larosa Sans is a set of elegant sans serif fonts with stylistic alternates that you can choose from. With three weights to choose from, the clean and minimalistic look of this typeface makes it a great font style for fine dining restaurant menus because the smooth curves can lend an aura of sophistication.
8. NOIR et BLANC
NOIR et BLANC is a stylish serif with beautifully-designed ligatures and alternates. A classic font choice that reflects the elegance of fine dining experience, this serif typeface is a great choice for a fancy new bistro. The bold and voluptuous uppercase of the regular serif balances well with its sleek and sultry italics, making it a perfect choice if you want your menu to make a good first impression in style.
9. Analogue
Analogue is a stylish modern typeface that is a mix of serif and sans serif fonts. With a contrasting light italic, this typeface can exude sophistication as a menu font, making it a great choice for fine dining restaurants!
Italian Restaurant Fonts
10. Tagliatelle
Tagliatelle is the perfect font for Italian restaurants because it takes inspiration from Italian bistros. Pair this with a sans serif font like Open Sans to give off a fun, friendly, and playful vibe in your menu design!
11. Pecorino
Give a modern twist to your Italian restaurant by using a luxury font style like Pecorino. This elegant modular font is based on Italian street signs and offers multilingual support. Give your Italian menu a premium feel by using this font style in white or gold with a rich, dark-colored backdrop like navy blue or emerald.
12. Mascarpone
Mascarpone is a high-contrast sans serif inspired by the spirit of Italian art deco. This font style is available in regular and oblique styles, and also features multilingual support! If you're running a gelateria, this is a great menu font choice for you!
Here's a pro tip: If you're looking to get both Pecorino and Mascarpone typefaces for your Italian-themed design project, get your money's worth and opt for the Trattoria font collection. The collection includes a high-contrast sans serif, an elegant stencil, and a modular serif- all inspired by Italian signage!
Chinese Restaurant Fonts
13. Lucking Dumpling
Inspired by Chinese block printing press, this simple all-caps font is great to use for headings in the menu of your casual yet modern Chinese restaurant!
14. La Oriental
La Oriental is a strong bold font, designed specifically for oriental-themed food businesses. This display font with clean edges makes it a perfect choice for a Chinese restaurant menu, with 342 glyphs including numbers and punctuation.
15. ANGPAO
ANGPAO is an Asian-inspired typeface that takes inspiration from oriental elements. This font style in particular will translate well on paper, making it an excellent choice for the menu board of your family's go-to Chinese restaurant!
Here's a bonus! If you're looking for more oriental design elements check out Oriental Ornaments by GG Design. The typeface was inspired by ancient Asian design motifs with an assortment of 85 ornaments under the character set and shift + character set keys.
Mexican Restaurant Fonts
16. Luchador
Luchador is a serif display typeface in two styles with layered ornaments that will pack your menu design with weight, character, and charisma. This font style literally means "fighter" and takes inspiration from Mexican professional wrestlers. The font pack comes in regular, oblique, and linear styles with over 300+ glyphs.
As a bonus, Great Scott even decided to throw in the Gunnar Regular font from the popular Gunnar font family!
17. Cucciolo
Cucciolo is a typeface inspired by Mexican culture despite its name coming from the Italian words meaning "baby animal." When used with bright and warm colors, you're sure to come up with a menu that will leave your customers wanting to order everything on the menu. Using this fun yet strong font is one way to get your customers to try your many food offerings!
18. Cuppakabra
Inspired by the Chupacabra, a cartoon character with its name based on the legendary Latin American creature, this strong and bold typeface will give your Mexican restaurant a vintage feel. With handmade extras inspired by the retro cartoon style, you can mix and match different elements to make your menu look more fun and approachable.
Mediterranean Restaurant Fonts
19. Diocletian
The Diocletian typeface is inspired by Uncial script, the calligraphy style of Greek and Latin scribes from 300-700 AD. The wide, rounded letters enriched with ligatures and special characters make it a great choice for Mediterranean-style restaurants.
20. Corsica
Corsica is an elegant font style that marries both the modern and the nostalgic. Inspired by the beaches of Corsica, this typeface features a contrast between upright and laid back making it a great choice for menu boards of Mediterranean restaurants with a more pronounced island vibe.
21. Turquoise
Turquoise is a set of handwritten fonts based on fundamental strokes that are commonly studied when practicing calligraphy with Roman Capitals, created using a flexible broad-edged brush and gouache.
Inspired by the Sicily island in the Mediterranean, Turquoise contains small caps, many discretionary ligatures, ornaments, swashes as well as several brushy nature-inspired ornaments, accessible via Opentype. The elegance of this font makes it an excellent choice for menu designs of Mediterranean restaurants serving fresh yet filling meals.
When choosing the perfect menu font, always remember that it has to communicate what your restaurant is all about so go with what feels like a perfect side to your main dish!
Didn't find exactly what you're looking for? Sign up for a Creative Market account today and browse the wide range of fonts that you can choose from for all your restaurant design needs. We hope you churn out designs as delicious as your dishes!
Getting started with hand lettering?
Free lettering worksheets
Download these worksheets and start practicing with simple instructions and tracing exercises.
Download now!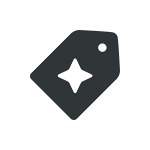 Creative Market