The Best Photoshop Hacks on the Internet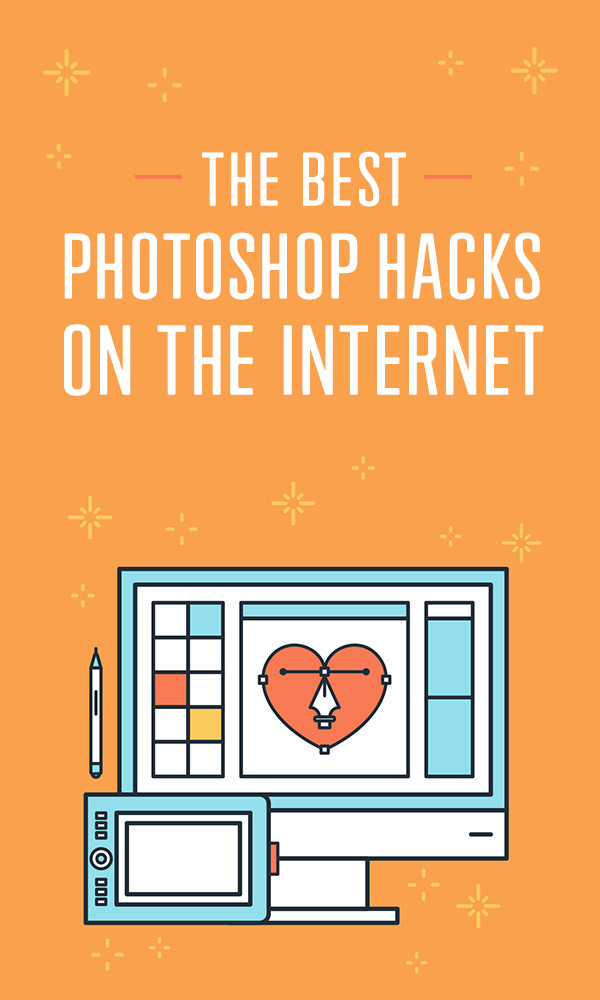 In this Photoshop hack guide, we've selected only smart and useful tips to help you work faster and create high-quality creative projects. All the hacks included here combine simplicity with effectiveness—if you have just ten minutes you will learn a lot.
Go Black & White Fast
Want to convert your image to black and white really fast? Just select Ctrl-Shift+U.
Draw Straight Lines
A simple way to get a straight line in Photoshop is to hold down the Shift key while using the Paintbrush tool.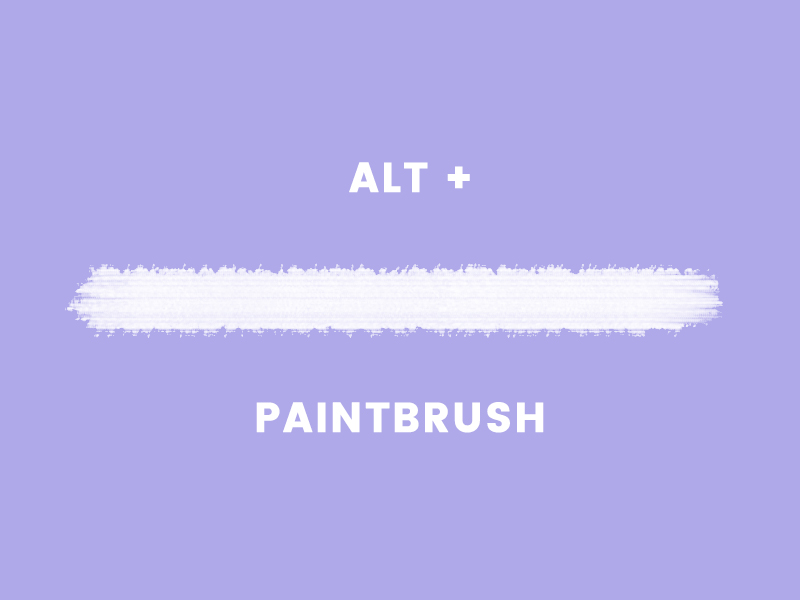 Make a Perfect Square
An easy way to make a perfect square every time is to hold down Shift when using the Marquee tool. Once you have the square you want, add a fill or stroke to the marquee.
Free Transform with Whole Numbers
If you are resizing a photo on a layer using Free Transform, resize it to about the size you want, and when you are finished set the width and height of the image to the nearest whole number. The image will appear subtly crisper and clearer if it's not resized using fractions of a pixel.
Match Color using Artwork
If you have a photo with a dull or unpleasant color palette you can improve the color of the image by swapping the palette out with one from artwork. Just open the photo and the artwork image and select the photo and choose Image > Adjustments > Match Color. You'll have the option to select a source so choose the artwork image and watch your photo transform into a virtual work of art. To further refine the output, adjust the Color Intensity, Luminance, and Fade from within the dialog box.

Make Eyes Pop
A quick and simple way to make eyes stand out is to use the Dodge and Burn tools. Select the Dodge tool and apply these settings: Brush Size: Small Brush Hardness: 10% Range: Midtones Exposure: 20% Once you have these settings, brush within the iris area avoiding the edge of the iris and the pupil. Next step, choose the Burn tool and apply these settings: Brush Size: Small Brush Hardness: 10% Brush Range: Shadows Exposure: No greater than 15% Brush carefully along the edge of the iris and the pupil to darken them. Voilà! The eyes appear lighter and have more contrast.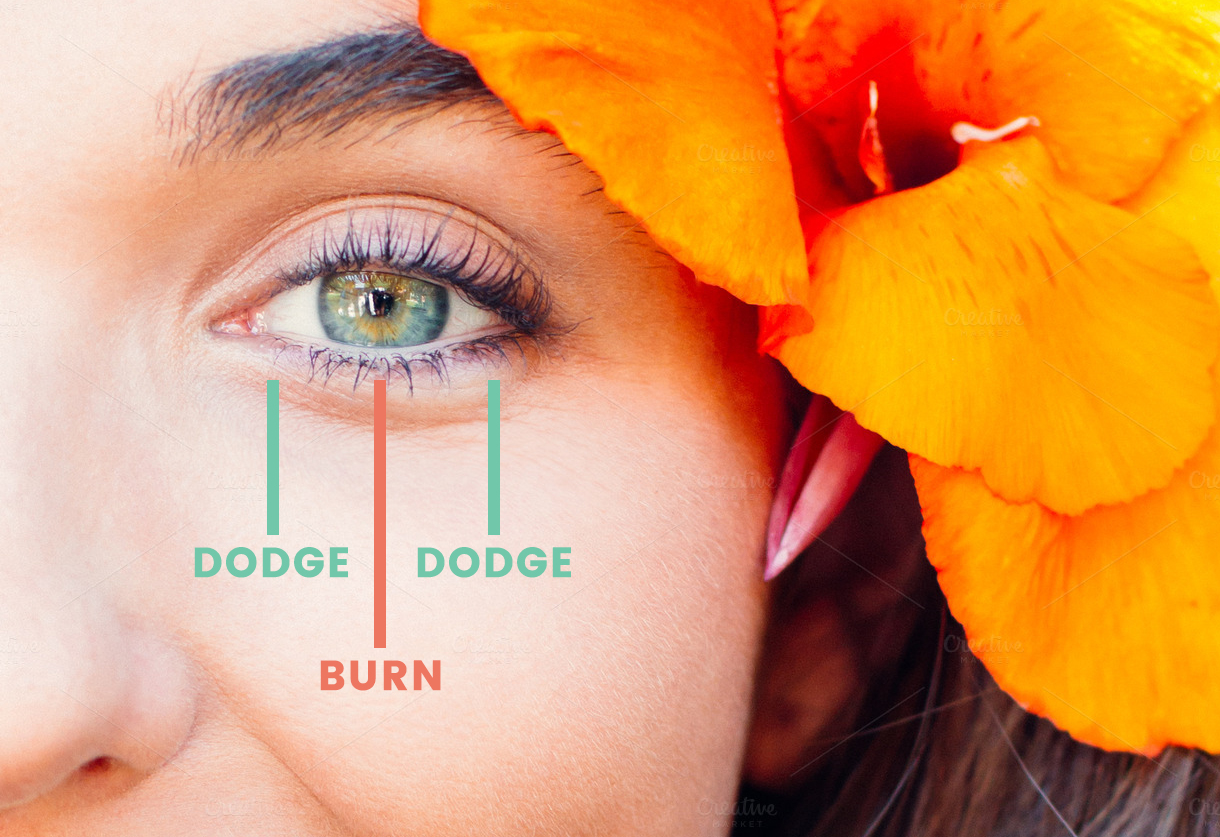 Get Rid of Skin Imperfections
Hack #1 If you're working on a photo where the skin has only small blemishes then the Spot Healing Brush works quite well. Just choose the Spot Healing Brush tool, adjust the size so it's the same as the blemish, and click to make it disappear. Hack #2 If you have a larger area where there is an imperfection, you may want to use the Clone Stamp tool instead. Select Clone Stamp and adjust the brush to be slightly larger than the imperfection, then select an area of clear skin and choose Alt. The clear skin area is now stored. Next, select the blemished area and click, the saved clear skin area covers the blemish. You can adjust Opacity on the Clone Stamp tool as well to further refine the cover up.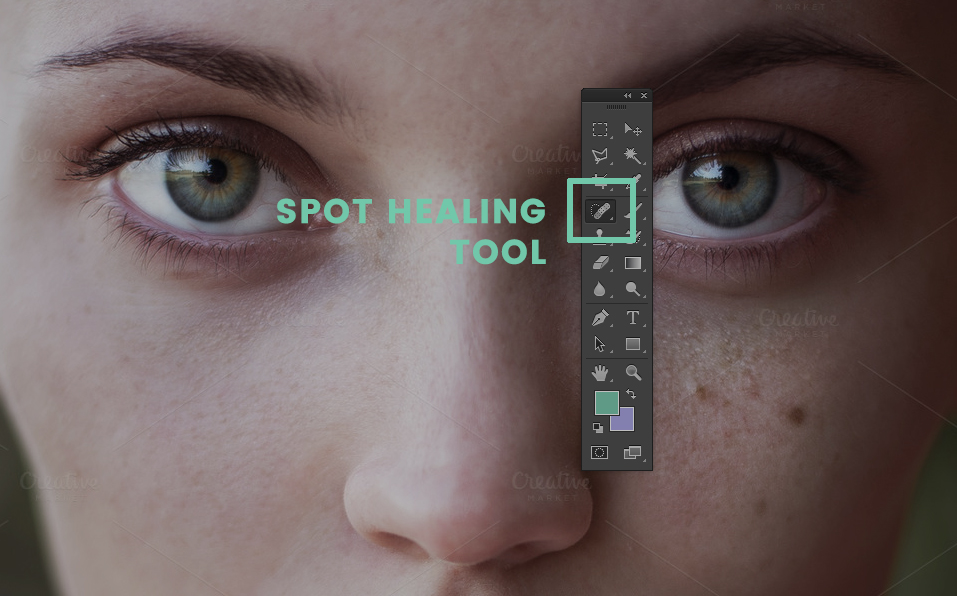 Merge All Layers to a New Layer
If you are working on a project with a lot of adjustment layers, this hack is a super useful one. You can merge all the layers of what you are working on while still preserving the layers as well. To do this just select the layers you want to merge and use this hotkey combo: Cmd/Ctrl + Shift + Alt/Opt + E.
Change Ruler Measurement
The fastest way to change the measurement of your project is to make sure Rulers are turned on via View > Rulers then right-click the ruler bar and choose a unit of measurement.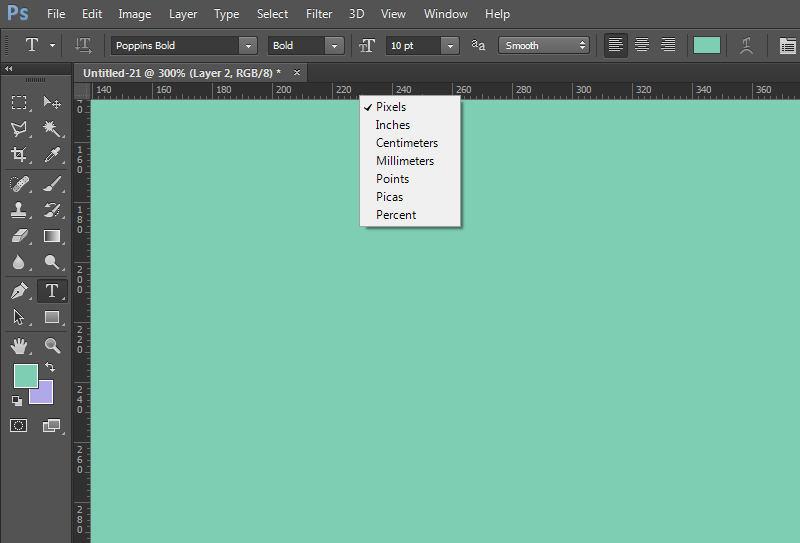 Duplicate Everything and Anything
To quickly duplicate anything in Photoshop just click an object, while having the Alt/Opt key selected—this is an incredible time saver.
Select Any Layer
To select any layer object in Photoshop just choose Ctrl + Alt and click it with your mouse. You can use this to drag elements around and change your compositions on the fly.
Use the Navigator to Zoom
A key element of professional-level design work is pixel-perfect precision. To get work with this level of refinement requires a lot of zooming in and out, telescoping of your image. A wonderful and underused tool is the Navigator which allows you to do just that even when you are in the middle of a process like Free Transform.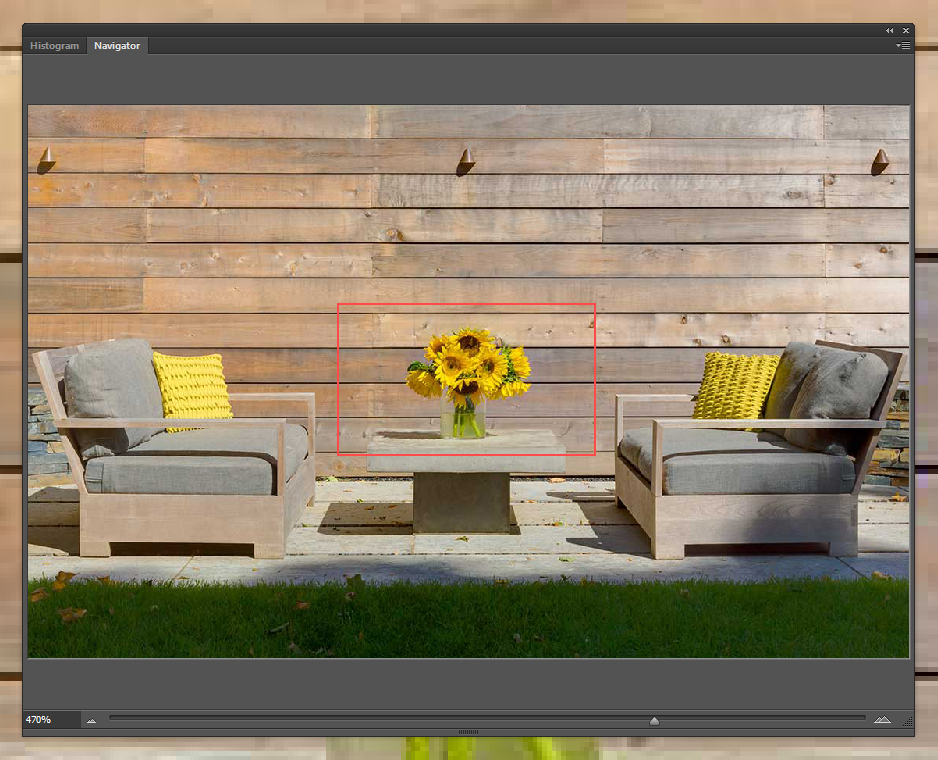 Fix Kerning With Optical Metrics
If you use a lot of free fonts you'll find that their kerning can be pretty bad. A quick way to fix the kerning on a poorly spaced font is to select the text you want to kern, then in the Character window under Metrics choose Optical—this will automatically change the kerning to what looks best visually.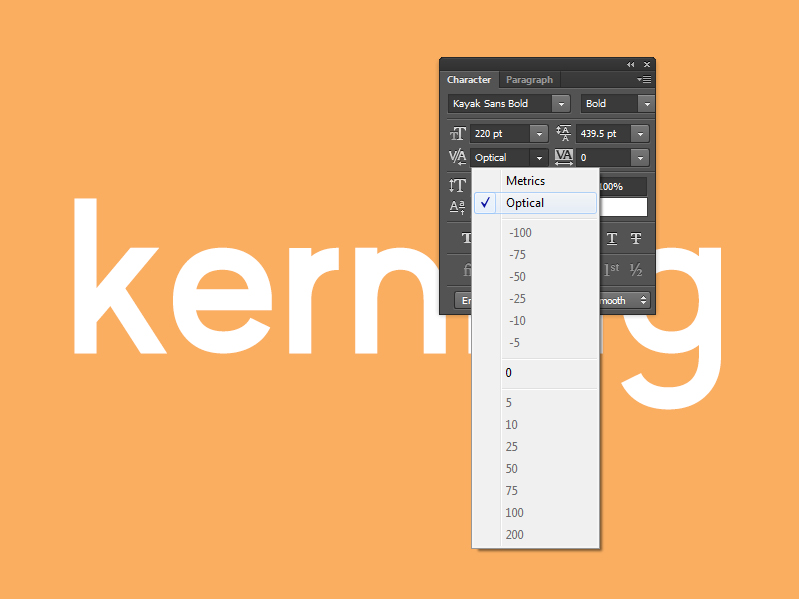 Use More History
If you're working on a project with a lot of steps you may run through your allotted number of Undos. By default, Photoshop is set to have fifty undos in its History. You can increase this number by going to Preferences (Ctrl/Cmd+K) and Performance and increasing the number of undos up to a thousand. Keep in mind though that the more undos you add, the more memory Photoshop will need to run properly. I would recommend increasing the number of undos a bit, but not going overboard using this feature.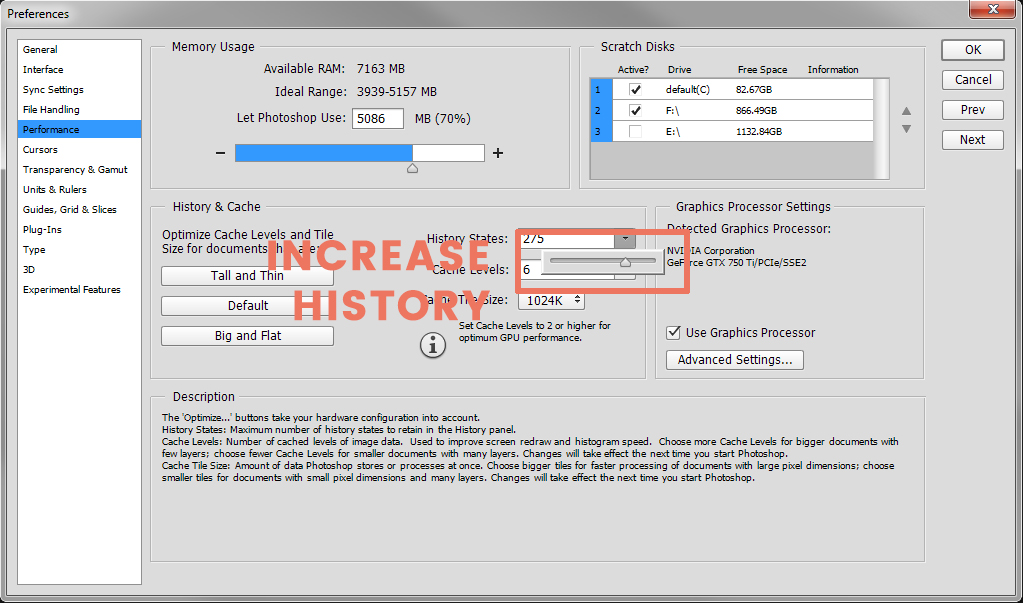 Customize Your Workspace
If you want to arrange windows in your own way you can save a custom workspace easily. Just set them up how you would like then select Window > Workspace > New Workspace and give it a name. You can even create your own custom variations that you use for specific kinds of projects.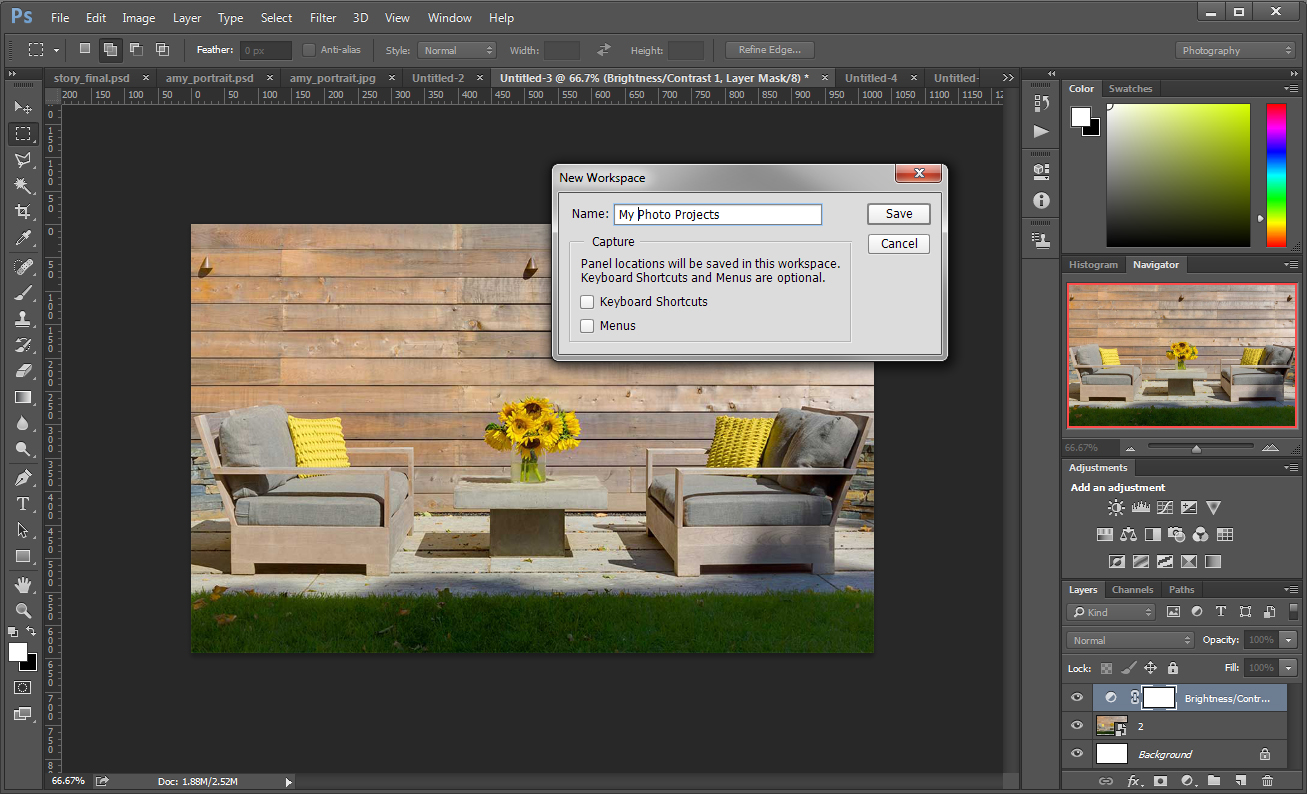 Create a Color Palette from a Photo or Artwork
A creative way to develop a color palette is to simply open a source image, a photograph or image of an artwork, and choose Save for Web. Choose GIF as the image format and then choose to export the image with only eight colors. Scan down to the Color Table and you will see the eight edited colors. On the right-hand side select the menu and choose Save Color Table. You can now load this set of colors from within the Swatches window by choosing Replace Swatches and loading the exported color file. Make sure you select Color Table as the file format you are looking for when you go to retrieve the new color palette, though.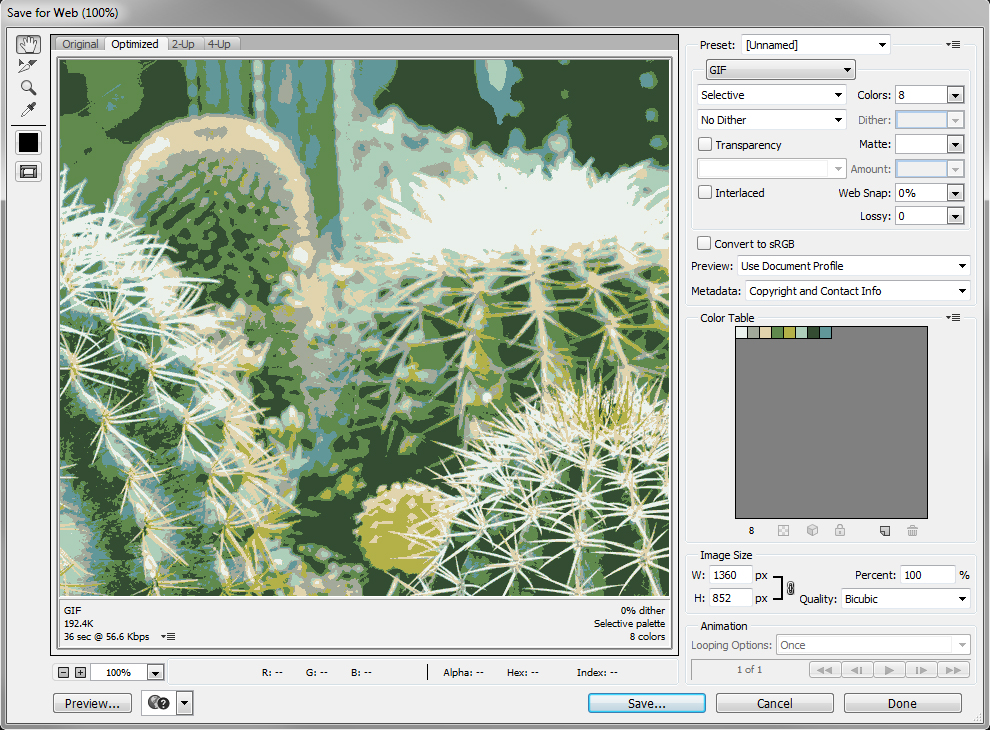 Shift Blend Modes
If you want to try a whole bunch of different blend modes quickly you can choose Shift + or – to toggle through all the blend modes quickly.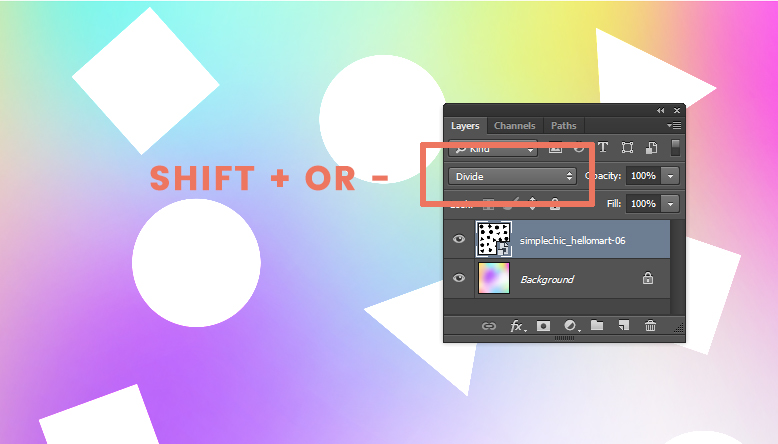 Combine Text with an Image
To quickly mask text with an image place an image above a text layer then select and hold Alt while clicking the line between the two layers in the Layers Panel.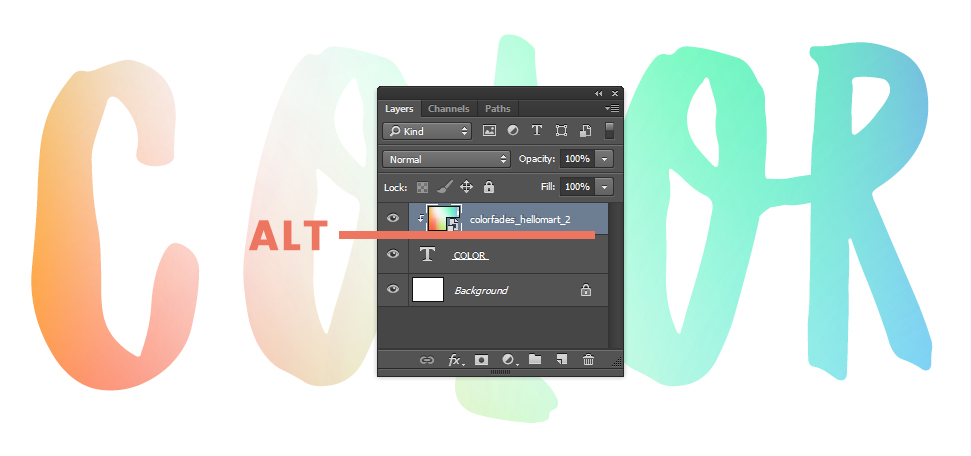 When in Doubt, Right-Click
If you don't like using shortcuts you may prefer using the many right-click contextual menus in Photoshop. You'll find many useful options related to what you are working on if you right-click a window, tool or object.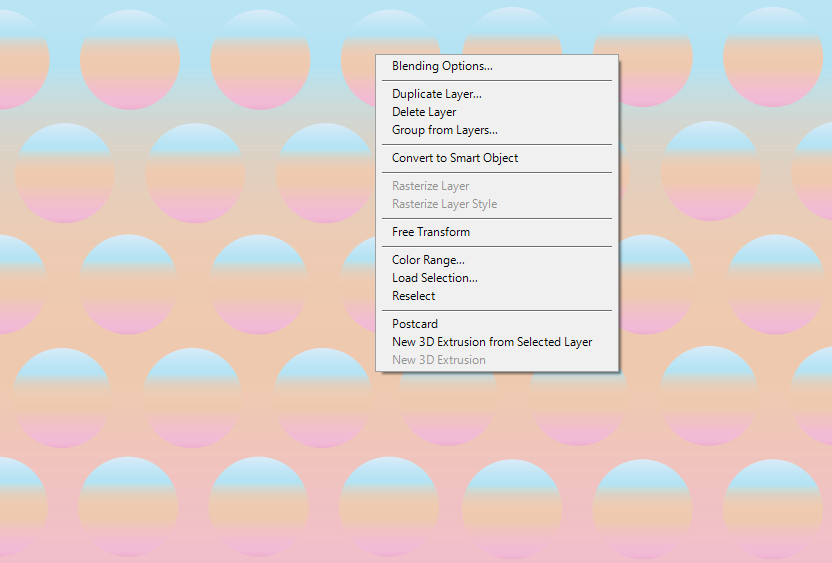 Use Actions
Photoshop Actions are essentially the ultimate hack in and of themselves. You can use them for repetitive tasks like resizing images or improving the look of your photography. Free action sets, like the Wedding Enhancers Kit, are available on the web or you can buy many high-quality action sets on Creative Market, like these Instafood Food Photography PS Actions.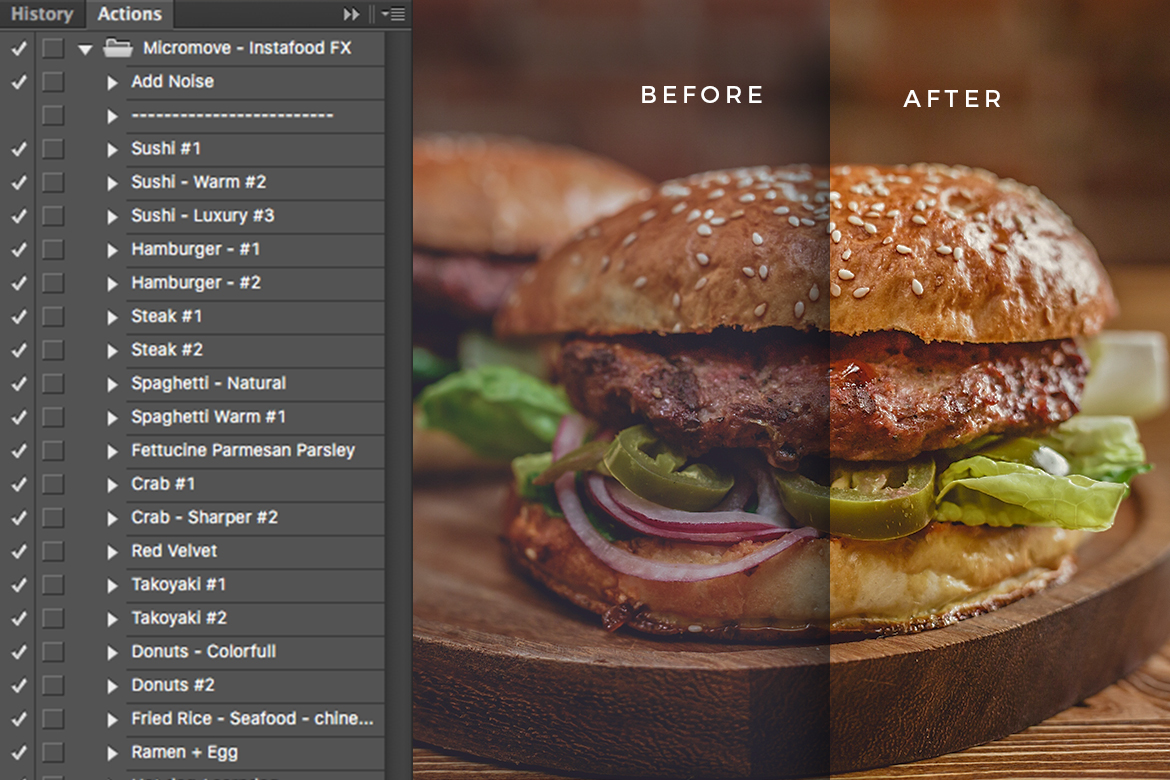 Use Plugins
Plugins greatly extend the capabilities of Photoshop. A wonderful new plugin from Shutterstock has recently been released that integrates the Shutterstock library of over 100,000,000 images right within Photoshop. Creative Market also has a great selection like the Photo Controller Panel for Photoshop.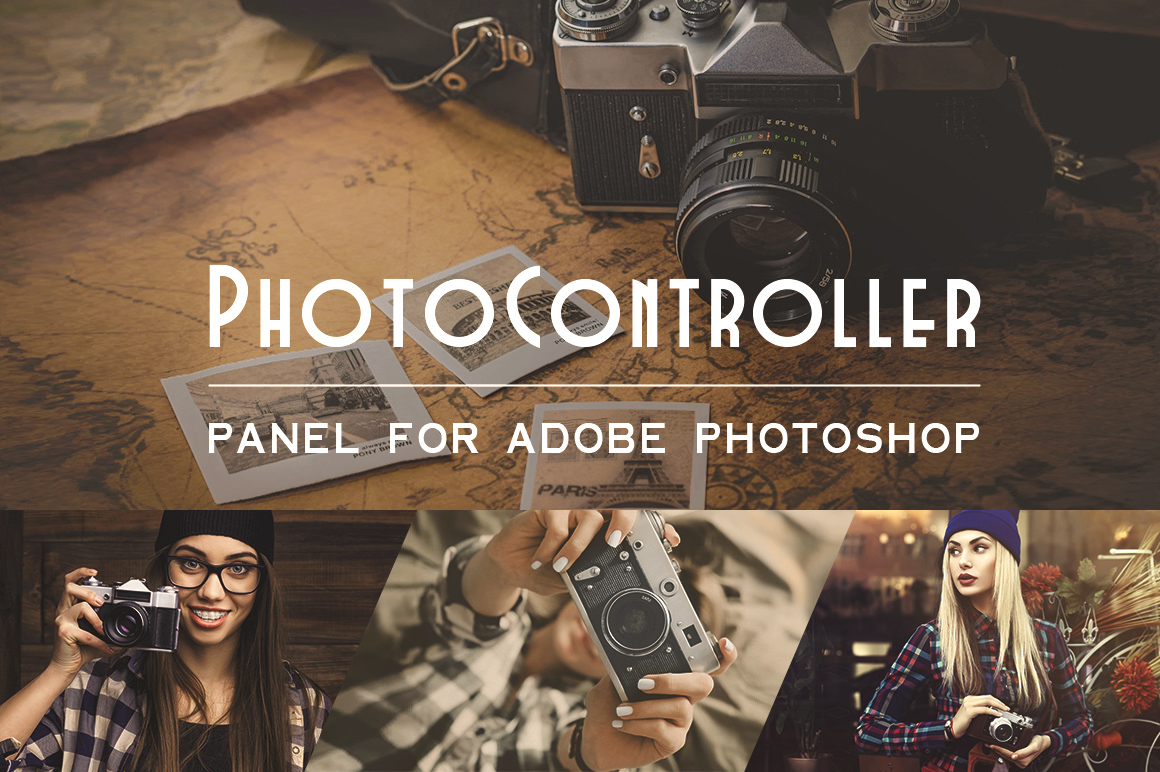 Use Shortcuts
Shortcuts are designed to enable productivity so use them to increase your design speed. Here is a handy visual guide that you can download and print out for reference.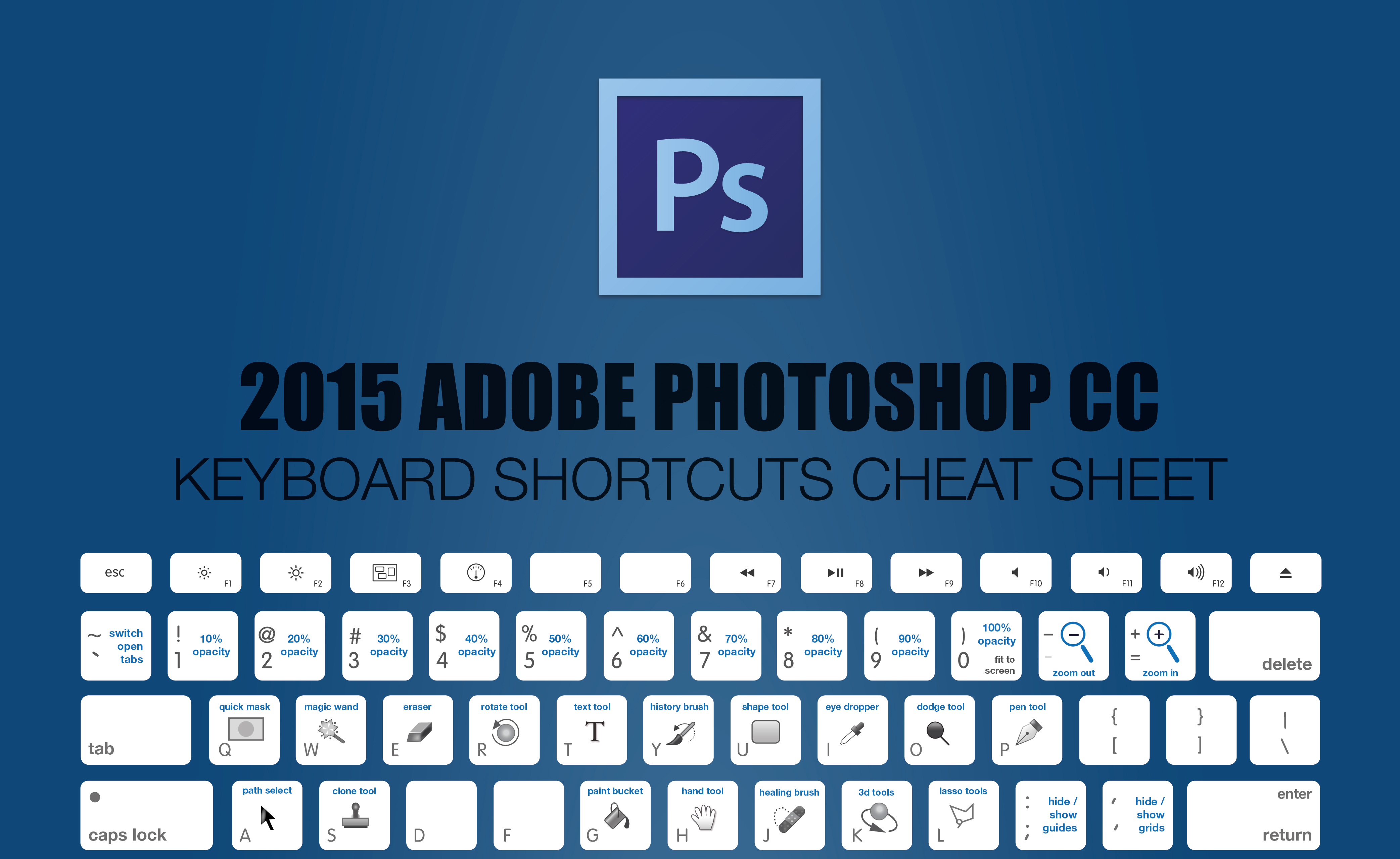 Everyone uses Photoshop a little differently, it's an incredibly versatile application that people can customize and make their own. Whether you are a photographer, graphic, or web designer there is plenty to hack with Photoshop. If you take the time to fold a few of these methods into your workflow, you'll find that soon enough you're working much faster and smarter with this amazing application.
---
Products Seen In This Post:
Getting started with hand lettering?
Free lettering worksheets
Download these worksheets and start practicing with simple instructions and tracing exercises.
Download now!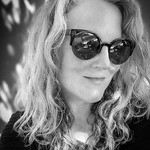 Greta Harding
Creative source. Find Topo Map, Terrazzo, Neo Geo, Gradient, Minimal and Wabi-Sabi design items here. Check out our website for exclusive offers and discounts.
View More Posts