20 Rustic Chalkboard Fonts to Add to Your Collection

With their distinctive hand-drawn look, chalkboard fonts bring to mind the simple lines of children's printing, vintage store signs, or the informal menu boards of sidewalk cafes. In styles ranging from rough, angular caps to rounded, childlike script, these fonts all share the textures of white chalk on a black board. They are perfect for adding a casual, retro touch to design projects, everything from actual menu boards to restaurant signage to laid-back wedding invitations. Here are 20 rustic chalkboard fonts to add to your collection of unique typography for eye-catching font designs.
Pin them for later

Gizac is a rough, hand-drawn chalkboard font with casual, irregular letterforms for use on posters, signs and illustrations. Gizac includes a full character set with numbers, along with accented and special characters for multilingual support.
A cursive script that suggests vintage seaport signs, La Fa Salt includes alternate endings, glyphs and ligatures, as well as a full set of capital and lowercase letters. The font set includes instructions for use and a bonus font.
BiteChalk is a sans serif chalk style font that suggests the informal menu boards of sidewalk cafes. The 4-font set is ideal for posters, T-shirts and other design projects, and it includes a bonus vector set of ornaments.
Rough and rustic, The Chalker is a one-stroke, textured chalk font with script styling that can be used for signs, posters, cards and more. Designed to create an "auto-chalk" feel, The Chalker comes with a bonus set of AI brush strokes.
A casual chalk typeface with a vintage feel, Weinston Typeface features authentic handmade letters and an irregular baseline. Weinston can be used for projects such as posters, packaging and logos, and it comes with multilingual characters, glyphs and a bonus vector pack.
The Silverfields font trio of textured chalkboard fonts features flowing, casual letter forms in regular, script and all caps. The Silverfields font set also includes bonus image sets of autumn-themed watercolor designs and crayon-textured illustrations.
Inspired by café menu board lettering, LaChalk is a hand-drawn textured chalk font that can be used for café and restaurant logos, menus and signs, or any design project that needs a rustic, informal touch. LaChalk includes two fonts and a bonus set of vector illustrations.
A casual, hand-drawn chalk font, Nameless includes a full set of upper and lowercase letters with numerals and punctuation, along with an array of alternate letters. The Nameless font set also comes with 20 grunge swashes and 9 hand-drawn vector splatters for adding depth and interest.
Made with real chalk and a natural slate chalkboard, Tuck Shop is a schoolroom-style font that comes in regular, outline and decoration styles. Suitable for projects ranging from children's books to cards and posters, Tuck Shop also includes a set of 77 vector ornaments for all occasions.
A casual, all-caps chalk font, Frye Caps adds a light, informal look to posters, cards and signs. The Frye Caps font set includes both regular and black styles, and it features a bonus set of banners, ornaments and swashes.
Blending italic Roman and cursive elements, Gessetto Script is a chalk script font for posters, cards, invitations and signs. Gessetto Script includes a full character set with swashy alternates for all the capitals and some ascendant/descendant lower case letters.
KG Tangled Up In You is a highly textured all-caps font that also includes a second solid version for layering. Each letterform has a different distressed pattern, which creates an organic look when mixed in designs such as posters, signs and logos.
A hand-drawn font with casual, irregular letterforms, Chalkboard Typeface adds a friendly, childlike look to posters, signs and more. The Chalkboard Typeface font set includes a full set of upper and lower case letterforms with stylistic alternates and glyphs, as well as a bonus set of vector images.
A textured, handwritten chalk font, Rough Beauty can be used on photographs or to add contrast to flat backgrounds. The Rough Beauty set includes alternate letterforms, ligatures and swashes, and it supports a variety of Eastern and Western European languages.
A professional looking chalk style font, Galahad is hand-drawn using ink and brush. Suitable for projects such as chalkboard menus, signs, labels and menus, Galahad includes the full font set along with instructions and a bonus graphic pack.
Aysheea Inline Script is a hand-lettered chalk typeface for book covers, logos, posters and more. Available in regular and italic, Aysheea Inline Script also includes swashes, ligatures and symbol sets, with multiple language support.
Vanderchalk is a handmade, all-caps display font with textured chalk styling for a rough, hand-lettered look. Suitable for menu boards, signs, posters and labels, Vanderchalk also includes a set of vector ornaments and swashes.
A chalk font with a realistic, handwritten look, DJB Chalk It Up can also suggest the look of crayons for a childlike, casual feel. The DJB Chalk It Up font set includes a full character set plus international glyphs, as well as a web font.
A bold, hand-lettered font, Aliva reflects the look of vintage signs for projects ranging from clothing brands to wedding invitations. Aliva features nearly 100 contextual and stylistic alternates and ligatures, and it comes with an instruction manual.
Bakersville is a set of hand-drawn sketch fonts available in both line and full forms. This chalk-style, lightly textured font set also includes special characters and alternative caps with swashes for signs, menus, posters and other display projects.
---
Products Seen In This Post:
Getting started with hand lettering?
Free lettering worksheets
Download these worksheets and start practicing with simple instructions and tracing exercises.
Download now!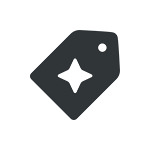 Creative Market