Tyler Finck on Type Design: How to Make a Font
In 2004, I obtained my first version of Fontlab. I had never studied typography or even had much experience with vectors. I didn't even have a proper mouse. But I poked my way through that app with a lot of head scratching, fist pounding, and coffee. Keep in mind YouTube wasn't even invented, and Google was not the giant that it is today. What I'm saying is that resources were limited. In the end, I had a barely legible handwriting font. It was incredibly satisfying, and I was immediately addicted.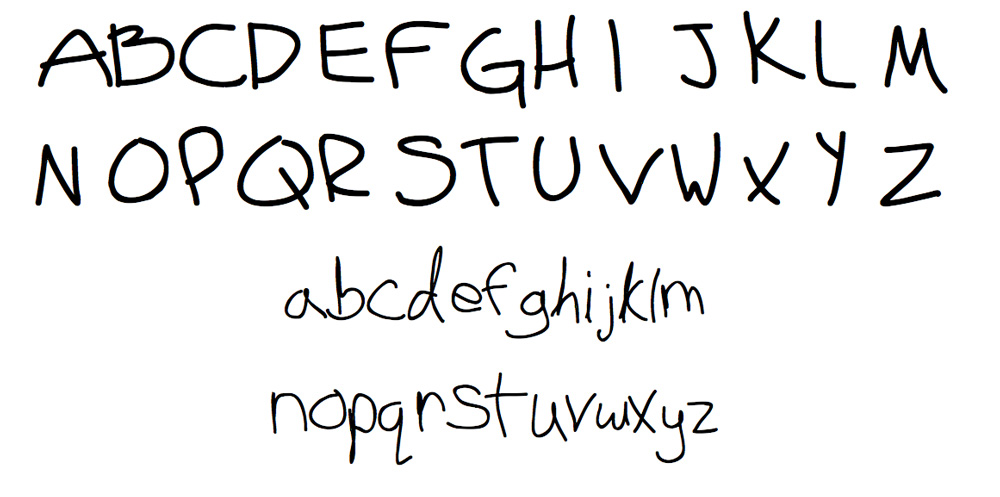 Video Tutorial
Now, 10 years later, we have tons of resources, including lots of communication. This site alone can provide you with necessary resources to round out your work, but more importantly, to learn from the work of others. Yet to this day, I still get asked the same basic question all the time: "How do you make a font?" A lot of people seem to hold type design on a pedestal that, in some circumstances might be deserved, but is ultimately attainable with a bit of effort, just like anything else worth doing. I created a video on just the technical basics for people with no experience. The only downside is that this method is Mac specific (sorry, other platforms!) and not entirely free. I do mention a free option, but not too favorably. In under 20 minutes we'll install the app, learn two different methods for creating glyphs, and quickly mention my favorite way of incorporating hand-made type into the font-making process via Illustrator. Check it out:
Warning: Patience and Dedication Required
In my opinion, making a font is pretty easy. Making a good and usable font will take practice and lots of hours. It isn't "hard" if you love doing it, and chances are, you'll know right away if it is something you love to do. You will probably make revisions, potentially incorporate feedback from other users, test in a variety of circumstances (different apps/print/web), and more. You'll find that creating a few glyphs happens pretty fast, but as the font begins to take shape you'll want to readjust things to make letters/punctuation/numbers/everything work well with one another. Creating a quality font becomes hard work. Hard, but rewarding "work." That is in quotes because I love it so much it doesn't feel like work.
Some of Tyler's many popular fonts on Creative Market.
More to Come!
This is just one method of creating your own type for under $50 (provided you are on a Mac, sorry about that, still looking for a PC alternative). If you can make something you think other people will use, you only have to sell ten copies at $5 a piece (dirt cheep in the font world) to break even. Not that money should be on your mind when you set out to make your first typeface, but it can come with experience. In fact, the first three fonts I was proud enough to share with the world were all free. And you know what? I'm still benefiting from the fact that I'm giving those resources away. I'd love to hear what you think about this tutorial, as I plan on creating more in the future. This really only scratches the surface of the wonderful type design world, and doesn't even begin to dive into terminology, best practices, or multiple weights. Those are important things, but will come (and make more sense) with time. This is the moment to explore, make mistakes (learn from them), and try something new. Enjoy it, and good luck.
---
About the author: Tyler Finck began designing professionally in 2005 and has created typefaces that are used all over the world
---
Header image created using Dust Bokeh, Lickety Split, and Blackout Noon
Getting started with hand lettering?
Free lettering worksheets
Download these worksheets and start practicing with simple instructions and tracing exercises.
Download now!