Choosing the Right Colors for Your Website
The color palette of your website should never be an afterthought. More than simply a last-minute decision about paint, the colors on your blog or business speak volumes about the tone of your project. The combination of shades creates a specific impression. Food blogs should make you feel hunger and ambition (after all, you want your readers to attempt your recipes); commercial sites should inspire desire for the product so you make the greatest number of sales. Whatever the purpose of your site, the colors contribute immeasurably to the web design, mood and personality. A professional appearance is essential to success, so here are some examples of excellent color design and how you can have the same.
Three-Color Websites
The following examples are of three-color websites. The three colors can be any combination, primary, secondary, tertiary and they can be complementary or analogous. It's important for the colors to work well with each other, but it's also essential that they don't overlap too much. If your colors are too similar, your site may not pop and users may go elsewhere for a more stimulating experience. If you like a three-color scheme, check out some of these next examples.
1. In addition to an adorable icon that saunters as you scroll down the page, the Fat-Man Collective website clearly has its web design in order. The three-color scheme includes a neutral warm gray, a professional and powerful black, and a warm and invigorating yellow. These colors work together to suggest professionalism, creativity and intelligence. The yellow helps elevate the feeling to one of optimism.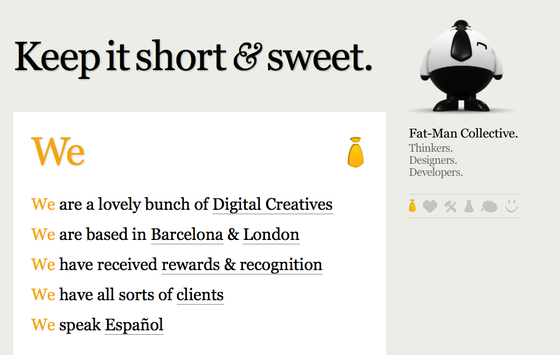 2. Blue evokes feelings of calm, stability and peace, and that's what the French design website Pentagon wanted to express with its front page. Using multiple shades of blue and leaving the background white for clarity and cleanliness, the business has created a soothing yet respectable appearance that appeals to a wide variety of customers.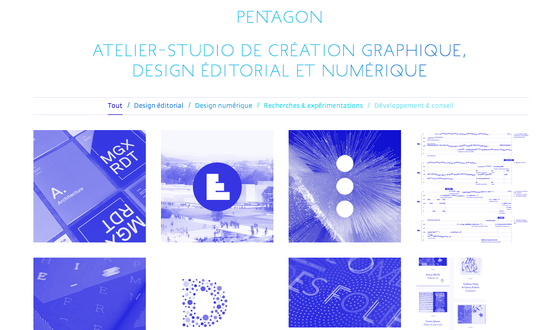 Five-Color Websites
Expanding on the three-color theme, five colors allow for a greater variety of accent tones and interest. With five colors, you can stimulate a full sensory experience based on the way a color makes a person feel. The extra shades refine the image to one that perfectly suits your web design. Check out the following examples for good uses of five-color themes, and check out some available themes to streamline your design process, rather than starting from scratch.
1. The perfect case of a website utilizing three strong main colors and two accent colors can be seen in Mint. Using white for clarity, green for money and growth, and black for professionalism, the website also uses orange and red as accent tones that add optimism, cheer and energy to the site's overall sensation.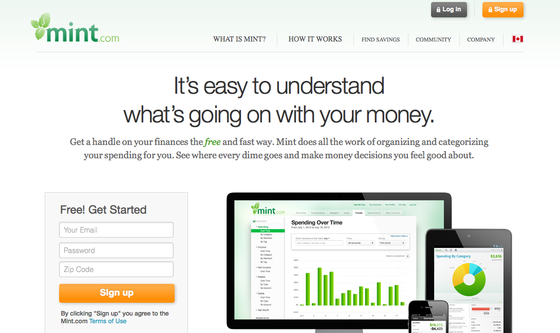 2. Some companies use all colors with equal weight, more or less. Your blog or business doesn't have to use two or three dedicated accent shades; the colors can swap places depending on the page layout, and each color can take a turn as the main option, like in the example of Carbonite, which uses purple, green, blue, white and gray. The result is accessible, trustworthy and clean, exactly what you want from a file saving company.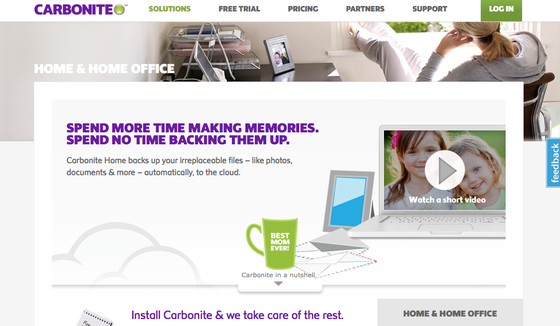 +++++
There is more to choosing the perfect color palette than feelings, but colors do help create an experience within the user. Whether using a simple WordPress theme or an independently designed template, the end result should feel clean, professional and inviting. After that, it's up to your business philosophy to dictate the appropriate combination to evince the ideal reaction. Study up color theory and check out these WordPress examples to help lead your way.
Getting started with hand lettering?
Free lettering worksheets
Download these worksheets and start practicing with simple instructions and tracing exercises.
Download now!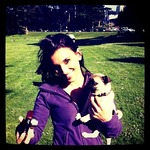 Maryam Taheri
I'm a recent graduate of the University of San Francisco with a degree in Biology and a passion for the creative arts. I love building websites, trying new things, and I have a passion for social media.
View More Posts