Creative Market Community Update for Mar. 10 – 16
Each week, we'll be collecting and sharing a selection of new products and shop owners coming onto Creative Market, interesting activity that's happening in our community, and various design and technology links from around the web.
Here's our recap for the week of March 10th through 16th, 2014.
Activity from Our Community
Explore a variety of news, product process, community initiatives, peer education and more from members of the Creative Market Community.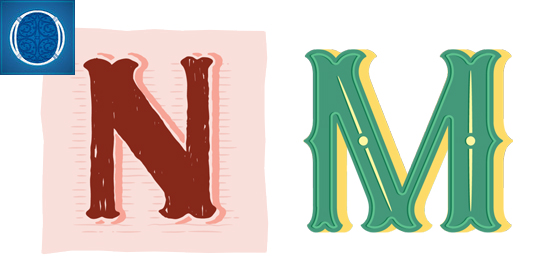 Beth Refuner (Creatifolio aka Ornaments of Grace) has been designing a series of monthly drop caps using her new font, Sunday Best; she posts them on her blog, creatifolio.wordpress.com.


Kyle T. Webster gave a sped-up screen-cast demo video on Youtube of his latest touch-sensitive watercolor brush set (Kyle's REAL watercolor for Photoshop) by digital painting a portrait while describing the types of various brush tips being used from the set.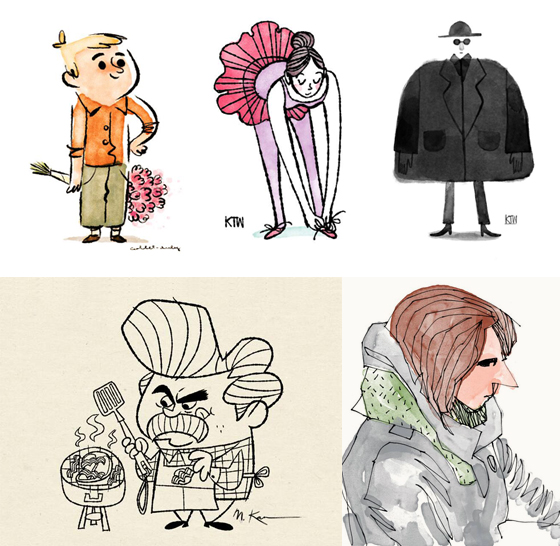 He's also been publishing personal samples of his own usage of his brushes (One, Two, Three), and samples created by other designers (One, Two, Three) on Twitter.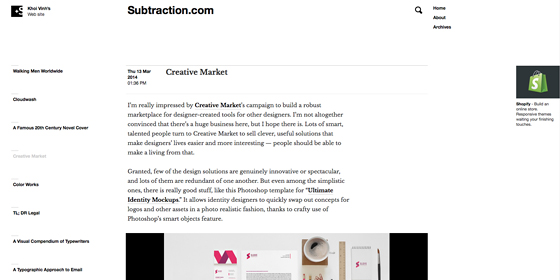 Khoi Vinh (Design Dept.) posted some nice thoughts Creative Market on his blog, Subtraction. We appreciate his support of our creative community!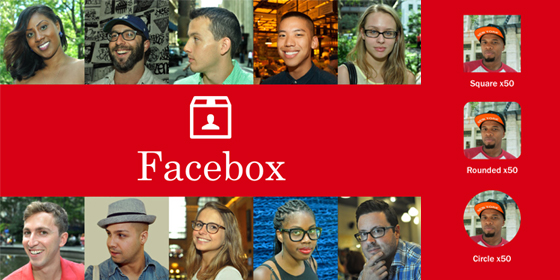 Don't forget to check out Khoi's fantastic photo bundle of 50 faces, Facebox.


Sean Wes is currently in the process of building out a full video-based, educational program called Learn Lettering, in which he'll teach in-depth skills about typography and lettering. He said it's launching on March 24th, and has been spending countless hours putting the curriculum together. We're looking forward to this, Sean!
Looking for more community activity? Head over to Discussions to start a new conversation with other Creative Market members or join in existing threads.
New & Noteworthy Shop Owners
Help us welcome a few new and noteworthy Shop Owners who've recently joined Creative Market.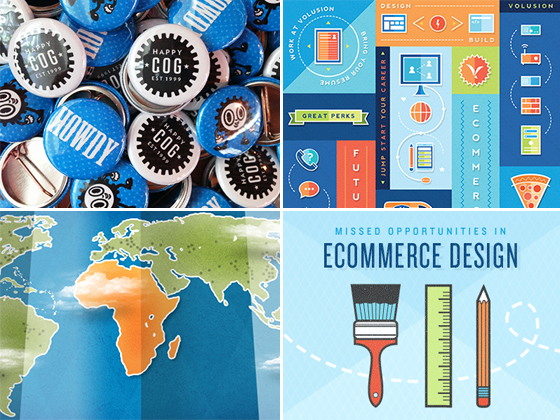 Suzie Jurado
Based in Austin, Texas, Suzie is a talented designer who currently works at Happy Cog. She has a penchant for beautiful illustration work, which you can browse on her Dribbble and Dunked portfolio. Make sure to follow her on Twitter too! We expect great things for her Creative Market shop in the future.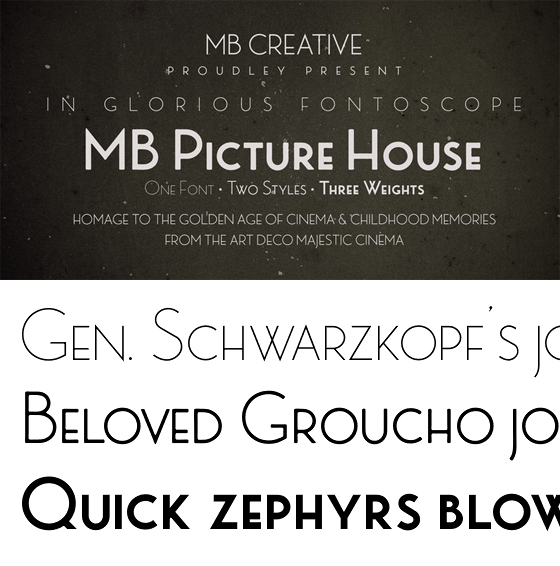 Ben Mecke-Burford
Ben is talented, up-and-coming type designer based in the UK. We expect good things for his mid-century modern, sans serif font family, MB Picture — when he launches it on his Creative Market shop in the future. But in the meantime, check out MB Deco — his first font on Creative Market. Follow his shop to stay tuned for more!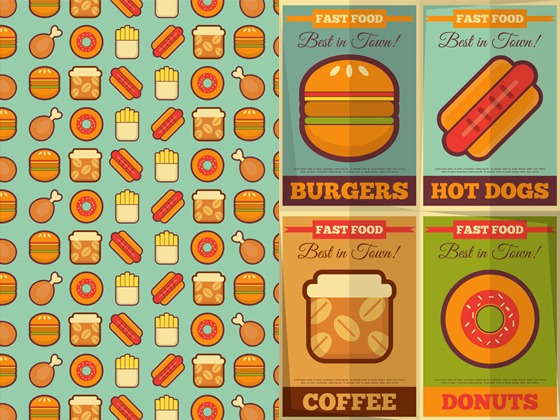 Tatyana Scherbanova (elfivetrov)
Tatyana has a lot of experience creating flat, vintage illustrations — especially of food. We're excited to welcome her and her delicious illustrative work to the marketplace! Follow her Creative Market shop, elfivetrov.
Fresh Goods from Last Week
Each week, we see tons of new design resources being added to the marketplace. Here's a selection of our favorites from last week.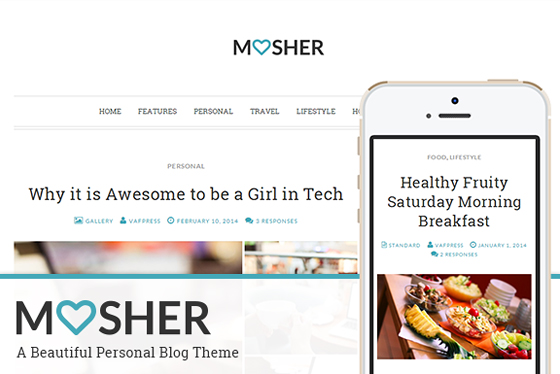 Mosher — A Beautiful Personal Blog by Vafpress
Mosher is a clean, retina-ready, responsive WordPress blog that's ready for all kinds of wonderful professional uses.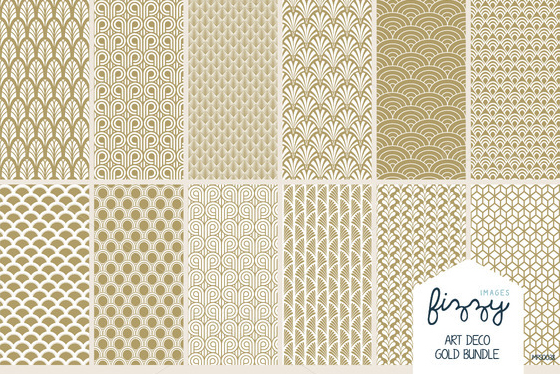 75 x Art Deco Gold Bundle by Fizzy Images
This beautiful pack of art deco inspired patterns and illustrations will make your next project pure gold. The pack comes with flexible vector files containing seamless patterns, seals, and shapes.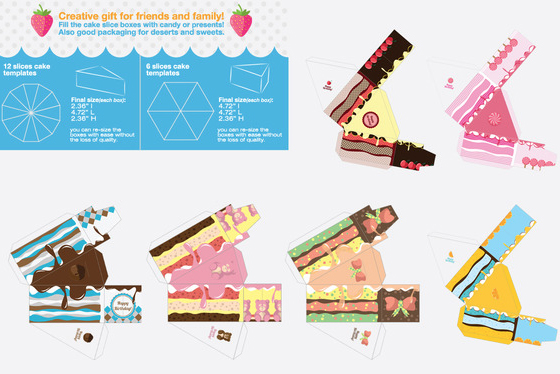 Gift Box Packaging Cake Template by Zeppelin_Graphics
This sweet packaging template makes for a creative way to give a slice of cake, baked goods and other fun gifts to friends, family, and clients.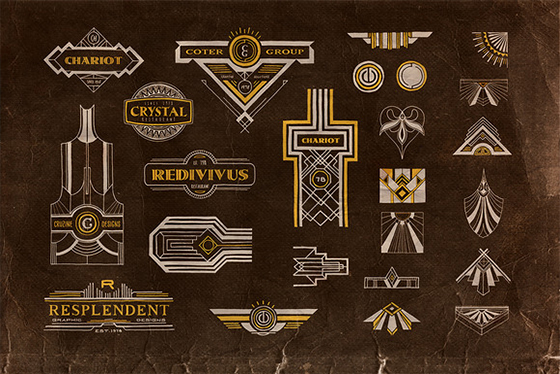 Handwritten Art Deco Elements v1 by Cruzine
This classy set of illustrated elements was carefully hand-drawn with lots of control and style. The mix of colors and line work make for a very rich, flexible resource pack for anyone looking to apply a crafted art deco look to a project.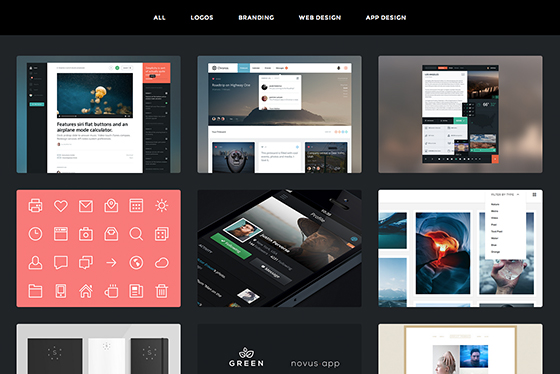 Pluto — A Portfolio Tumblr Theme by JenYuan
Jen produced a very modern and minimal Tumblr theme that would make for a very simple portfolio approach for any creative professional.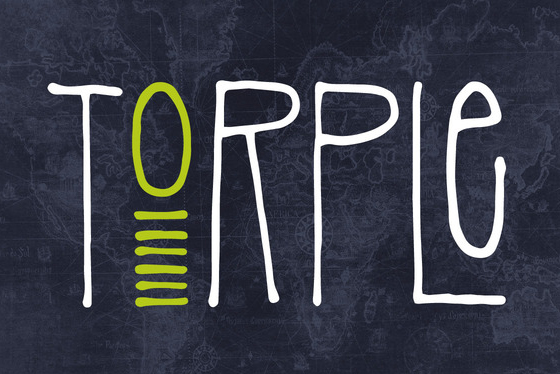 Torple Mini Font by Denise's Shop
Denise does fantastic hand-crafted font work, and Torple is her latest creation. It's a simple, display font that is imbued with art deco and condensed sans serif sensibilities.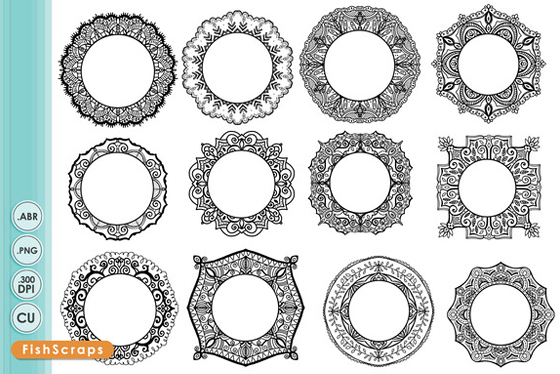 Lace Medallion Frames by FishScaps
These intricate, line-based illustrations are offered as both a Photoshop .ABR brush and 12″ x 12″ 300 dpi PNGs. They'd be great for packaging design, pattern making and seal creation.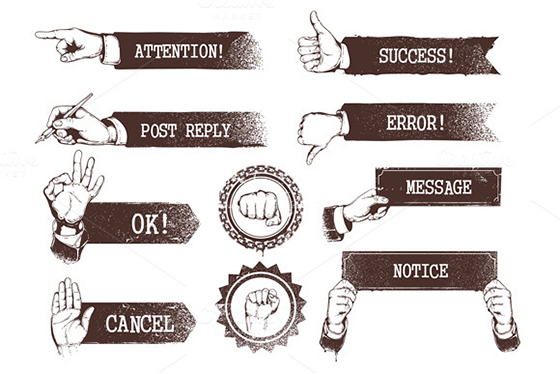 Retro Banners with Hands by Sergey Kandakov
Looking to interject a retro, human element into your project? Try throwing in one of these hand-holding old signage elements. Sergey did a great job offering them as both vector EPS and raster JPEG files.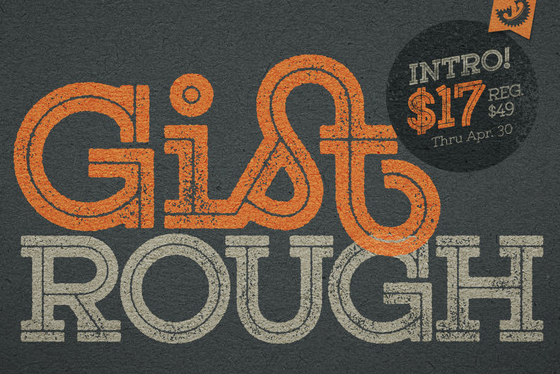 Gist Rough Font Family by Yellow Design Studio
The latest creation by the talented Ryan Martinson, Gist Rough is a distressed evolution of his previous Gist Inline Slab font family. The roughened texture is very realistic, and aligns very well with Ryan's other premium distressed font offerings. Starting at only $17.
Design Links from Around the Web
Check out what's being shipped and talked about in the design, start-up, creativity and tech industries.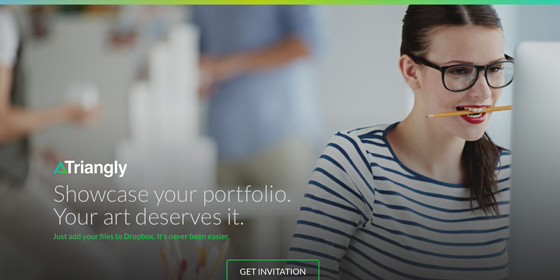 Triangly
Using Dropbox seamlessly, designers now have a new ay to build their design portfolios. As they sync their files to Dropbox, this new platform builds project pages and more directly on the web.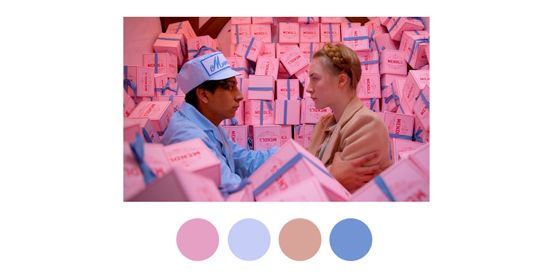 Wes Anderson Color Palettes
Using various photographs from his highly stylized films, this Tumblr blog captures color palettes from the worlds of Wes Anderson.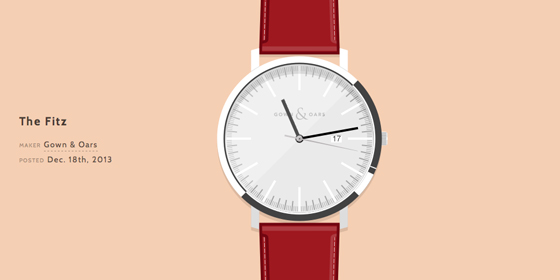 Wrist.im
Wrist is a bi-weekly illustration exercise by Matt Johnston, in which he captures a new or old watch each week in vector, and makes it come to life in the browser.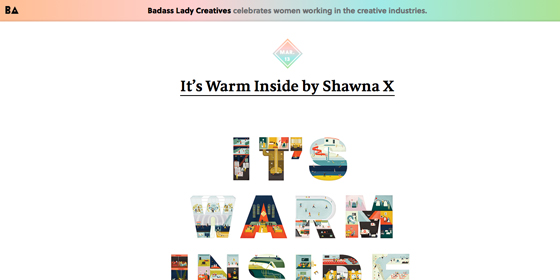 Badass Lady Creatives
Badass Lady Creatives celebrates and showcases women working in the creative industries.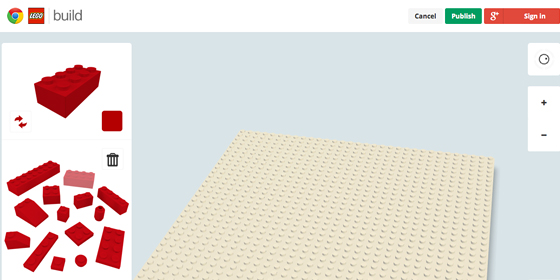 Interactive Legos in Chrome (h/t Ken)
A partnership between Lego and Google produced this cool, interactive browser tool that lets the inner child of users build lego creations in Chrome.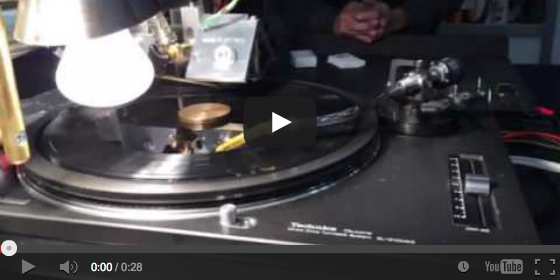 Vinyl Record Printer
Looking to live print a vinyl record and play it at the same time? PSFK reports on Souri Automaten's new turntable device that was launched at SXSW for an estimated purchase price of $4,000 each.
Firewatch
A beautifully designed, thriller adventure game in which users play an isolated fire marshall based in the Wyoming forest.
Glowing Trees
Scientist Daan Roosegaarde genetically modified plant specimens to emit a faint glow. In theory, we may see glow-in-the-dark trees lining the highways for optimal night time driving.

MakeHuman
This free and open source software allows designers to quickly create realistic 3D humans for illustrations, animations, games and more. The virtual human is ready to export to external 3D software such as Blender, XSI, Max, among others, or can be rendered by the software's internal engine.
Iconion
A new icon creation tool, Iconion allows users to convert any icon font into png icons by enhancing it with a few dynamic, visual elements.
Glyphter
Glyphter is a drag-and-drop web tool that allows easy conversion of SVGs into a working font file.
Workshop
Workshop is a daily newsletter (and community) that promises to deliver the best freelance opportunities to your inbox. Designers can post project leads for free for a limited time, too.
iOS Icon Template
Everything you need to start designing an app icon for iOS7, including templates, example comps, backgrounds and more.
Thanks for reading, friends!
Getting started with hand lettering?
Free lettering worksheets
Download these worksheets and start practicing with simple instructions and tracing exercises.
Download now!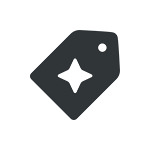 Creative Market