Creative Market Community Update for May 5 - May 11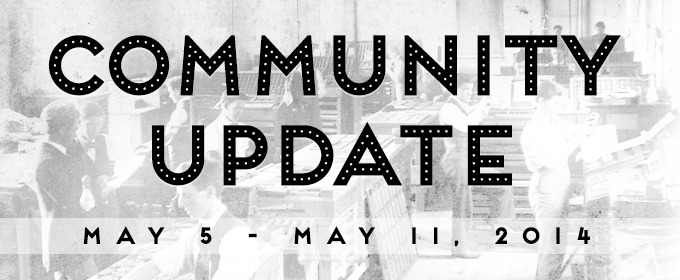 Each week, we'll be collecting and sharing a selection of new products and shop owners coming onto Creative Market, interesting activity that's happening in our community, and various design and technology links from around the web.
Here's our recap for the week of May 5th through May 11th, 2014.
Activity from Our Community
Ranging from news, product process, community initiatives, peer education and more, have a peak at what's happening in the Creative Market Community.
Dustin Lee (aka RetroSupply Co.) wrote on article (last month) on his blog about 12 Things to Start Doing in Your Design Business. It has a lot of great insights from the perspective of a very successful Creative Market shop owner.
Twicolabs Design shared in a Discussion how they used the Aesthetique Typeface by Decade Type Foundry to design shirts and print collateral. Check out the work he created in this Behance project.
Zack (our Head of Marketing & Growth) posted 3 blog posts last week, welcoming the newest members to the Creative Market team — Joshua Johnson (Inbound Content Marketing Manager), Kelley Johnson (Community Specialist), and Chuck Haycox (Lead Customer Support Specialist). Say hello to them in the comments of their respective blog posts! And, don't forget to follow their Creative Market accounts: Josh Johnson (SecondFret), Kelley Johnson, and Chuck Haycox (NuValues).
Ken (our Director of Support) announced in a Discussion that we've hired another Support role for Creative Market, namely Chuck Haycox. Pop over to the conversation, say hello, and expect to be seeing him a lot more in Discussions!
Matt Borchert asked Creative Market members what their 'must see' movie would be! Jump in and share you favorite flick with the community in his Discussion.
New & Noteworthy Shop Owners
Help us welcome some of the new, talented Shop Owners who've recently joined the marketplace.
Molly Van Roekel (aka Digital Press Creations)
Based out of Memphis, Tennessee, Molly has a knack for producing wonderfully vibrant watercolor illustrations. Of the first few high-resolution watercolor products that she's uploaded to her Creative Market shop, we really love the Whales, Feathers and Tiger Lilies — all of which are listed below. Follow her shop to see what watercolor goodness she'll post next!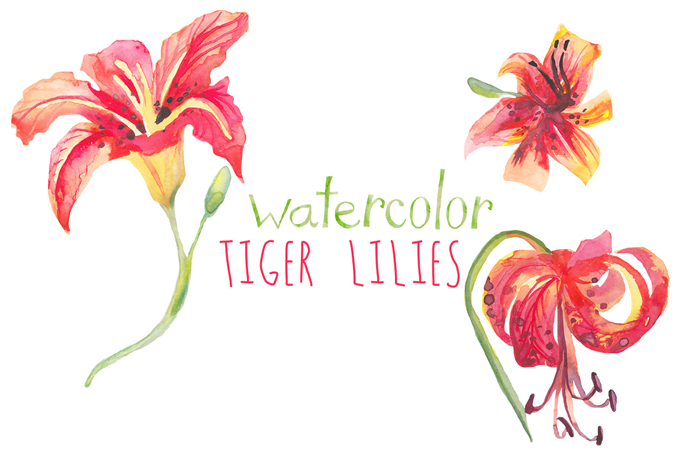 Pin It
Watercolor Tiger Lilies
Jessica McCarty (aka Magpie Paper Works)
A self-proclaimed calligrapher, font designer and 'hoarder of old barns', Jessica has recently opened her new Creative Market shop and packed it full of delightful fonts for sale. She produces hand-crafted scripts (we're really loving Saissant and Ondise), and other sans serif hand-drawn fonts (we're really fond of Campland and Mignonette). Make sure to follow her on Twitter and Pinterest, and give her Creative Market shop a follow to keep an eye out for when she releases more lovely fonts!
Ross Collier (aka Neo Ink Design)
Hailing from the U.K., Ross has worked as a professional designer for over 10 years. He's got an eye for print design, digital design, illustration and photography, and he's hit the ground running by dropping tons of great photo products in his Creative Market shop. We're really enjoying his Hedgehog, Rooster, and Digital Runner products so far (shown below). Make sure to follow Ross on Twitter, Pinterest, Dribbble and Behance, and keep an eye on his Creative Market shop for new products coming soon!
Dmitry Ezepov
Dmitry has been producing vintage graphics and illustrative line work for years, and will be bringing many great products to his brand new Creative Market shop soon. Have a look at some of his past work on his website.
Fresh Goods from Last Week
Each week, we see tons of new, amazing design resources being added to the marketplace. Here's a selection of a few of our favorites from last week.
Inkblock — Illustrator Action by Sivioco
Inkblock is a set of 10 Actions for Adobe Illustrator that enables you to apply grunge, stamp-like effects to your designs with ease. Each action takes you through the process step by step, enabling you to customize each of the settings and to create your own unique results. Run them on type, logos, badges, emblems, icons, and more.
7 Hip iPhone 5S mock-ups Bundle by Madebyvadim
Get 7 excellent mock-up photos of the iPhone 5S (black). The pack comes with different settings on wooden and leather backgrounds. Don't miss Vadim's 8 Hip iPad mock-ups and 6 Hip MacBook mock-ups too!
Hand Drawn Floral Set by Natural Treasures
All of these flowers were lovingly hand-drawn by Olga. The set comes with 40 raster and vector versions of flowers and leaves, and also includes 6 patterns and frames too — making it flexible for many uses. Don't miss her complimentary Part II set too!
Verdia - Wordpress Theme by BeopenThemes
Verdia is a multi-purpose Wordpress theme (3.8+ compatible) which aims at providing a flexible base for many business and personal uses. The theme contains fully responsive HTML5 and CSS3 (based on Foundation 3 grid framework), retina-ready image capabilities, tons of other features and amazing support.
Coffee Stains Photoshop Brushes by Robyn Gough Designs
Spill a little coffee on your design project for that extra special, caffeinated effect! Robyn has created a useful pack of 8 coffee stains that come as both PNGs and PS brushes.
Vector Hand Pack by Tomjohn Design
Tom has created a handy vector set of 13 vector illustrated hands that are totally organized, editable, sizeable, and pointable. In Tom's own words — you can make gestures to your heart's content.
Kansas Casual by Kayle Wayne Benson
Kansas Casual offers a more upright, gothic, and modern alternative to the conventional sign painter's one stroke. Currently, it's 50% off until June 26th too!
Flatirons, Boulder, CO by Crux Creative
One of the most beautiful parts of Boulder, Darren captured the Flatirons in some beautiful morning light.
Strawberry Patch Clip Art & Vectors by The Pen & Brush
Beautifully executed, this set of strawberry inspired illustrations by Amy comes as clip art, vectors, and brushes too!
Colorful Stripes Business Cards by Brandi Lea Designs
Using two pretty color palettes (named Peach and Sea Breeze) and Open Sans fonts, this pack of 2 business card templates could help you look professional and sophisticated.
Chronos - timeline oriented blog by Tienvooracht
A minimal and easy-to-use Wordpress theme, Chronos was designed to be a vertical timeline of blog posts. It comes with tons of features and support, and was built on the WordPress Theme Customizer.
Jackham (Plus Bonus) by Ian Irwanwismoyo
Jackham is a handmade typeface inspired by old school tattoo hand lettering. The font comes with 2 styles — clean and rough, which has a handmade, imperfect look.
Avocado on transparent background by Fruits+Veggies
Who doesn't love avocados (and guacamole, at that)! This beautifully shot avocado photo comes as a handy transparent PNG. And, you really should dig around Photomaru's shop — it's stocked full of all types of amazing fruit and vegetable photos isolated on white.
Ballicons 2 — modern flat icon set by PixelBuddha
Ballicons 2 is a vector-based icon pack that comes as Adobe Photoshop vector shapes and Adobe Illustrator SVG formats. The multi-color illustrated icons make great visuals for web projects, and the set includes the following: 4 Photoshop PSD files with 100x100 pixel and 200x200 pixel sizes, 100 Illustrator SVG files at 100x100 pixel size and PNG files of both the 100x100 and 200x200 pixel sizes.
Stacked™ Eight Layer Stacking Type by Baseline Fonts
If you're looking for a rich, layered display font that's condensed with 80s tech sensibilities, then look no further! Stacked makes headlines look great at large scale, and offers a variety of executions within its 8 font system. And, it's currently 50% off!
Design Links from Around the Web
Check out what's being shipped and talked about in the design, start-up, creativity and tech industries.
Drawscri.pt
Created by Tom Krcha, this brilliant Illustrator tool turns vector shapes into directly into code.
Graph Commons
A collaborative network mapping platform and knowledge base of relationships.
Not Available on the App Store
Three students from Hyper Island came up with a neat sticker campaign that sends a crystal clear message to our overly digitized society.
WorldUnderWater
Powered by CarbonStory, this platform shows what landmarks across the world will look like after they've been submerged by water due to rising sea levels from climate change. You can also type in any address to see the location underwater — including your own!
Behomm
Want to trade places with another creative on the other side of the world for a week? Check out this private home exchange platform for designers and visual artists worldwide.
Tens
New sunglasses that have various instagram-like photo filters permanently applied to their lenses — allowing hip iphotographers to never leave the sun-kissed version of the world that they love.
PaintCode App
Turn vector drawings into Objective-C or C# code with this new app. You can also pack your new code-based drawings into a special Objective C class called a StyleKit, as well.
Plasso
A new payment system designed by Drew Wilson that makes accepting and making payments quick & easy. Pay for things. Get paid for things. Buy things. Sell things.
Routeshare
Let people know when and where you'll arrive. It's easy, safe and free.
Onsite.io
Quality, curated freelancers. Hire talent for free.
Exposure Updates
Our friends at Exposure recently announced two new features for their photo-based platform — Community Guidelines and Categories. Users can now casually explore theme-based collections of photographic stories with great ease.
RecordIt
Create screencasts easily with this handy tool with Mac (compatible with OS X 10.8 and up). It comes with animated gif support too!
GifWit
Organize and search your favorite animated gifs on the interwebs.
Ok Google
Check out this post by Elliott Chenger about why wearables need deeper voice actions.
Litely
An iOS photo app that started out as photo presets for Lightroom, Aperture, Photoshop, and Camera Raw. Now, you can enjoy enhancing photos with these smart, non-destructive filter presets — right on your smart phone.
SlowyApp
A real-world connection simulator and bandwidth limiter — which allows developers to see how websites load on lesser network connections.
Cotton Bureau Site Refresh
Read this blog post in which Jay and team share the changes that they've made over the past few weeks to their platform — complete with notes about their design decisions.
Letters From Abroad
Explore this gigantic list of lettering, signage and typography sites put together by photographers from around the globe. Curated by Tobias Frere-Jones.
Agency Survival Kit
A stylish site that contains box kits of physical goods made for designers. Crafted by Phoenix the Creative Studio.
Free lettering worksheets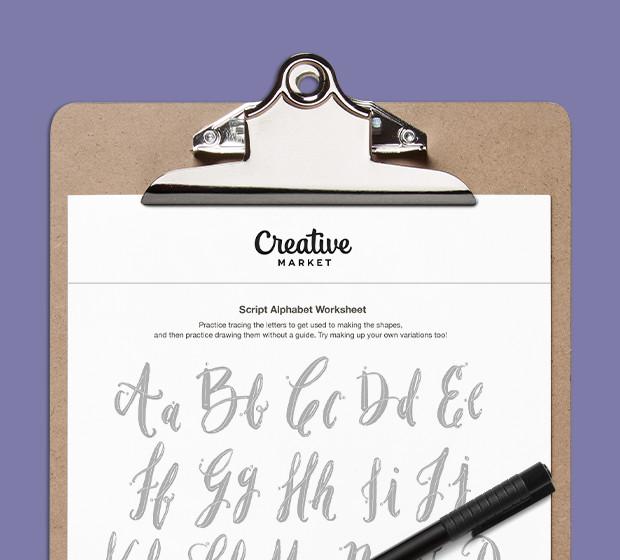 Download now!

Getting started with hand lettering?

Download these worksheets and start practicing with simple instructions and tracing exercises.
I'm a designer and illustrator who has a tendency to start experimental side projects that lead to designer resources for creative projects.
---