20 Creative Resume Design Tips To Help You Stand Out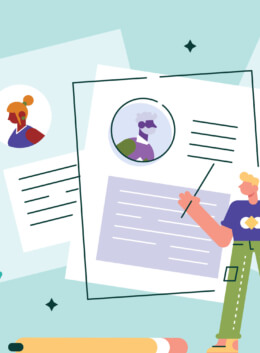 When you're applying for a job, the company's very first impression of you will depend entirely on how effective your resume is. A good, creative resume will grab the attention of potential employers and leave them wanting more.
A unique resume design will also make you stand out from the crowd of other applicants, giving you an edge in your job search.
That said, putting effort into crafting a resume with great content and design is not only good practice but will also help increase your chances of landing your dream job. Here are some helpful tips and professional resume template designs to aid your job hunting:
What Makes a Visually Appealing Resume?
Back then, a simple typewritten or text-based resume will suffice, and depending on your line of work, it is still pretty much accepted by some companies and recruiters. However, most companies nowadays are more interested in seeing a creative resume design.
To create a graphic resume, you can experiment with different resume templates, layouts, and styles to make your resume stand out visually. But first, you need to keep in mind a few things in order to achieve the best presentation for your resume:
1. Limit Content to a Single Page
For graphic resumes, a one-page resume is an absolute must. Your resume should be separate from your cover letter and portfolio. If your resume has more than one page, it may start to look like a brochure instead and you risk having a lot of your information skipped as hiring managers won't probably read up to the second page. Your resume doesn't need to contain everything you've done; but rather, it should show that you have the skills and background to prove you're right for the job.
2. Use a Logical Structure
A standard resume contains your objective, work experience, education, skills, and contact information and usually details your career journey in chronological order. Sticking to this structure is recommended for it is the best way to show how much progress you've made in your career.
3. Apply Good Formatting
There are 5 ways you can apply good formatting in your resume:
Use columns. Columns make content more skimmable and allow you to fit a ton of information without making the design look overcrowded, giving your resume a better chance of being read.
Use headings and subheadings. Separate and improve the flow of information using headings and subheadings to achieve a more organized look.
Use bullet points. Lengthier descriptions are easier to read when they're in bullet points.
Keep descriptions brief. Shorten sentences as much as possible and implement proper line breaks.
Leave enough white space. Keep content from looking cramped by maintaining paragraph and line spacing and save plenty of white or negative space to create balance and improve readability.
4. Ensure Readability
Make sure to use fonts that are readable and legible both on screen and in print. Serif and sans serif fonts are widely used typefaces in resumes. If you're on the analytical or logical side and want to go for a more formal resume design, then a serif font is the right choice. If you're more on the artistic or creative side, then a sans serif font is perfect for you as it comes in a variety of different styles and has a clean and modern look.
Font sizes should be between 11 and 13 points and should be consistent throughout your entire résumé, meaning all headers should have the same size, as should all the body text.
5. Use Visually Appealing Elements
You can include icons, graphics, and symbols to make your resume even more visually interesting. Icons can add visual emphasis to important details such as your contact information and help you display information in a creative way. An example is using icons to highlight your achievements and technical skills or to indicate your social media accounts. Here are some icons and graphics that can make your resume pop:
Resume Templates for Creatives Like You
If you're working or applying in creative industries, then your resume should showcase your skills and eye for design as a creative. Here are some resume templates that can match your creativity and ingenuity:
Artistic Resume Templates for Artists
Whether you're a painter or illustrator, you can show off your artistry by adding a personal touch to your resume using your own illustrations, doodles, calligraphy, and other works of art. You can integrate them into your resume in a way that complements the design and sets you apart as an artist.
Here is a resume template with an artistic vibe:
If you're an actor, photographer, or director, placing huge self-portraits in your resume will give the impression that you're someone distinguished in your line of work. Here are some examples:
At the same time, you can apply your artistic knowledge and skills in your design by creating inspired color palettes for your resume, like these ones:
Creative Resume Templates for Graphic Designers
As a graphic designer, you might choose an infographic resume instead to show your skill levels in different disciplines, and your expertise in turning lines, shapes, and colors into seamless graphics can help you create a well-designed resume. These infographic resume templates can give you an idea of how you can design yours:
A resume design containing a graphic illustration is also a great way to demonstrate your versatility as an artist. Check out this sample resume template with sketch art:
Graphic designers also know the power of a clean, simple design; and how most of the time, it is the superior option. Take these neat resume designs, for instance:
Creative Resume Templates for Fashion Designers
As for fashion designers, stylists, and other creatives in the fashion industry, a classic and stylish resume design that looks like it's straight out of a magazine would be the perfect representation of your craft:
Since you work closely with different patterns and motifs, you can also incorporate them into your design to come up with a beautiful resume. Here are some resume templates for reference:
How to Choose Creative Resume Layouts
With so many formats and styles that can be used, choosing a resume layout can be tough. Luckily, here are some more resume templates that you can use as a guide in choosing the right layout for your resume:
Cool Resume Designs
If you want cool and unique résumé designs, look for those with layouts that don't follow a standard format, yet still form a cohesive design. These are some examples:
Modern Resume Designs
Modern resume designs have a sleek, minimalist look and a smooth linear layout. Here are great examples:
Creative and Modern Resume Designs
Lastly, a mix between creative and modern resume designs will look something like this:
Now that you're fully equipped to design an effective resume, you are ready to take on a new job! To get more content related to art and design, just sign up here.
Getting started with hand lettering?
Free lettering worksheets
Download these worksheets and start practicing with simple instructions and tracing exercises.
Download now!