14 Cute Sticker Ideas That Everyone Loves
We often think of stickers as trivial things meant for kids. I mean, which parent has not had to deal with peeling off those pesky Disney princesses or Marvel superheroes off walls or under tables.
In advertising, stickers remain useful for advertisers targeting adults. Just look around you and count how many design elements, posters, labels, use the sticker medium. Pretty sure you will come up with quite a handful.
Without exaggerating, stickers are practically everywhere. Tumblers, laptops, car bumpers, are just a few examples of things and spots that just look better with stickers. Not only that, social media applications and communication software use stickers to relay messages.
It's fun, cute, and is a great way to attract attention.
Oh, and it's a cheap and easy way for your brand to gain some exposure too. If you are successful in creating a sticker people will enjoy, think about all that free publicity when they start slapping those in their notebooks, bags, laptops, mugs, and even cars! Stickers won't cost you as much as a billboard or Tv commercial, but they can be just as effective.
Now that is just smart advertising wouldn't you say?
Why do I need to have a cute sticker design?
It's all about personalization.
Do you remember when we were in high school and trying to figure out who we were, what music we loved, what sports we wanted to play, and whether or not we considered ourselves cool people or geeks? A person's sticker collection provided a glimpse about their characters, like the boy who preferred airplanes over vehicles or the girl who liked robots more than Barbie.
In some ways, stickers can be some sort of time capsule to what our likes and personalities at a particular junction of our lives were. One minute your wall is plastered with My Little Pony stuff, the next it is filled with Goth Rock symbols.
Cute and fun stickers are also a great way to communicate with each other.
On social media, stickers can also be a fun way of saying hello to your friends. It can also be a less intimidating way to reconnect with someone you haven't spoken to in years. Stickers are also used by big companies to establish a more personal and intimate way of communicating with their audience.
Just imagine having a really bad day, wouldn't getting a digital sticker of a Shiba Inu with a cartoon bubble saying "Cheer Up" just make it a bit easier?
Cute Designs For Stickers For Any Object
Stickers are a versatile way to gain brand awareness and make your message stick. You can make your own by customizing available templates and finding the best design that works well for your branding, personality or organization. Give your creativity a boost and get right into designing your own for your product packaging, walls, labels, or anything that will get jazzed up via stickers.
We have the cutest and most inspiring sticker ideas and examples below. Just keep scrolling!
Cute Water Bottle Stickers
Sustainability and eco-awareness are popular right now and many people are concerned about the environmental impact of plastics. That water bottle you bought in the supermarket? Yep, that is one of the main culprits for our eco-issues. This is why it's becoming more and more popular to use reusable water bottles when going in the gym, office, or to remain hydrated throughout the sweltering summer months.
Decorating water bottles with personalized stickers is a popular trend because it's something you'll always have with you, like your phone. Might as well represent right? For this project, using vinyl stickers is a popular choice.
A good tip? Smaller bottles provide for a better view of the entire image without needing to flip the bottle around.
When it comes to cute water bottle sticker designs, there are no rules. Just make sure that the design is something you'll love! What about a design of grateful planet earth? That is because you are definitely doing your part in saving it!
Hydration has an energizing effect on the body, and a sticker template like the one shown above is an excellent way to convey this.
Here's another set of custom stickers that you can stick on your hydro flasks.
It is common for tumblers to be embellished with adorable stickers that are lively and youthful, and provide a dash of color to an otherwise dreary flask. For example, a pink flamingo, ice cream, pineapple, and more may be found in this custom sticker collection on Creative Market.
Cute Laptop Stickers
A kiss cut sticker (which is cut to its exact shape instead of background), instead of a die-cut sticker, is the best option for laptops and other electronic devices. Kiss cut stickers have a little lighter touch and are easier to peel off, making them ideal for laptops and phone covers.
Stickers are an excellent way for people to personalize their essentials and equipment in a fun and unique way. Pop culture, adorable emojis, and brand logos are common creative influences for this sort of sticker packs.
On the other hand, laptop skins and decals, like this one below for ladies who love to travel, allow people to express their creativity to an even greater extent. Of course, a high-resolution image is required for such a massive sticker, and we have those on our website!
Here's one for inspiration.
Cute Car Stickers
Since they've been around for so long, car and bumper stickers haven't lost their luster. Many of them are emblazoned with political or activist slogans, humorous one-liners, or even a baby-on-board sign.
You may make yours a bit more distinctive and charming by using a custom font and some fun icons. It's best to stick to solid colors if you want to convey a certain message, as even subtle shading may be lost in direct sunlight.
Here are sticker design ideas for automobiles and motorcycle helmets.
Car decals can easily change a dull vehicle into a distinctive one. However, like with other outdoor decals, you should select the waterproof and fade-resistant kind. The examples above and below are the best type of material that won't leave marks on your mirrors, in case you decide to remove them.
Whether you're going for a classic biker aesthetic or something very frilly and feminine to complement your new Vespa, tough vinyl attractive stickers with strong adherence are ideal for motorcycles and helmets. Alternatively, moms would not approve of anything like this example below, such as being bold and hilarious.
Cute Wall Decals
Thanks to social media and influencers, many are now using custom stickers for their room makeovers. In addition to their aesthetic appeal, wall stickers provide a cost-effective and straightforward method to spruce up any space. It is also a great way to make sure that you can have a one-of-a-kind room that just screams you!
So, if you're trying to spruce up a space in your house in an inexpensive way, use our wall decals templates! It's also an alternative for tenants who aren't permitted to paint their apartments but want a bit of personalization. You can decorate decals, remove them and reapply them without damaging the paint.
Of course, we did not forget about our cute crawling babes! We also have cute sticker illustrations for babies' and kids' rooms.
Where to Find Good Sticker Designs
Consider all of the variables while looking for cute sticker design ideas. Not only should the style and size be appropriate for the medium or surface intended for usage, but the design should also appeal to you, the people around you, and your targeted niche.
You no longer need to purchase designs from stock images or cute sticker illustrations from other websites. On top of that, you don't need to pay a lot of money to designers to create bold and fun decals. You can just design your own. Use Creative Market is your source for designing creative and fun sticker ideas for your water bottles and whatnots.
Getting started with hand lettering?
Free lettering worksheets
Download these worksheets and start practicing with simple instructions and tracing exercises.
Download now!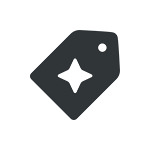 Creative Market