What Do Design Clients Mean When They Say "Make It Pop"?
Sometimes it can be hard to decipher what the client actually means by "make it pop". In this article, four professional graphic designers share their thoughts on what to do when you're at the mercy of this all too common request.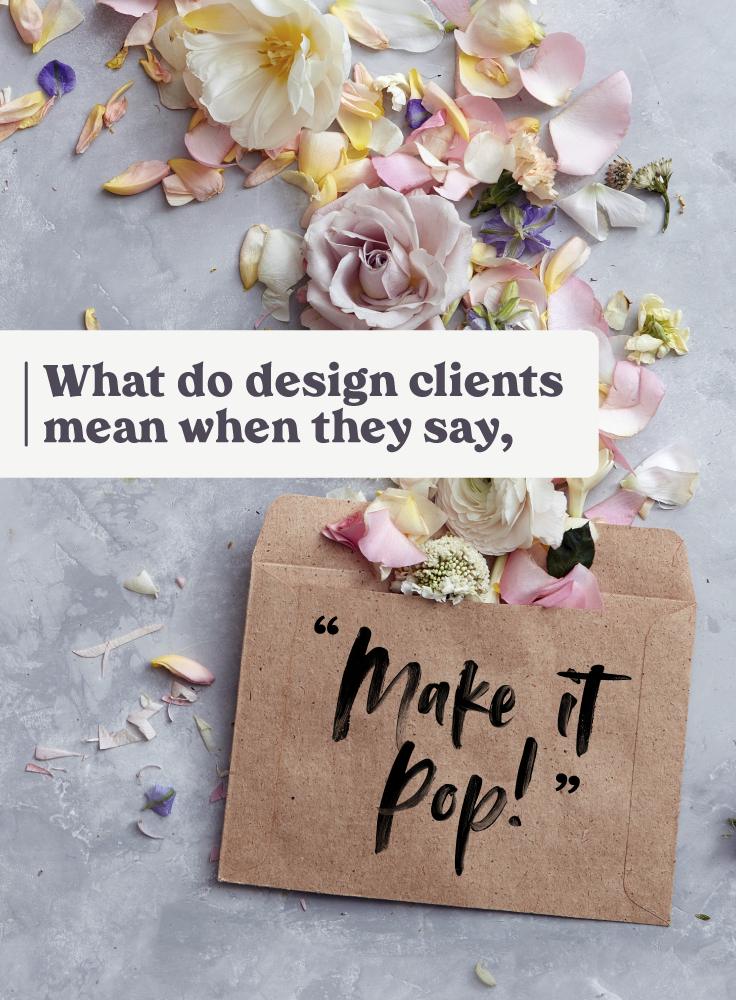 "It looks great, but can you make it 'pop'?" Sounds familiar? If you're a designer, you've probably heard this overused, cliche phrase crafted into a request or an ambiguous line of feedback. The phrase seems to be a favorite of design clients since it's the easiest way to ask a designer to make something stand out. But sometimes it can be hard to decipher what the client actually means by this. In this article, four professional graphic designers share their thoughts on what a client means when they say "Make it pop", and what to do when you're at the mercy of this all too common request.
Design vs. Client Jargon
First, let's address the obvious: clients are not good at speaking design. Clients are smart, hardworking people who have a deep understanding of their business and its brand identity. However, sometimes they lack the vocabulary to effectively describe the design that they believe will suit their brand. Maybe they have a vision in their head and just don't know how to say it. Or, perhaps the client doesn't have a clue what they want their design to look like. Either way, it's ultimately the job of the designer to decipher their request and take actionable steps. All design clients have one thing in common – in simplest terms, they are looking for "good design". But if you dig deeper into what they are really looking for, they want their brand's design to stand out amongst the rest, hence the jargon "make it pop". To a designer, this could mean a list of things. But the problem is they often don't know which one. Does it mean bold colors? Exotic fonts? Tons of graphics? If you envision what all of those things tied into in one design might look like, you'll cringe.
So…What Does "Make it Pop" Mean?
Many seasoned graphic designers have heard this phrase so many times that they know how to take it and run with it. At a high level, they know that the design client is looking for an overall impactful design. Tanita Pukis from amber&ink shares her thoughts on breaking down the client jargon:"In my design career, I've come to understand that when a client asks you to "make it pop", in most cases they want to make sure that the given design element has enough visual weight to stand out and draw the viewers eye to it. In my experience, clients who use the word "Pop!" are not looking for delicate, intricate design pieces (these clients would rather use the word "Fancy"). More often than not, the "Make it pop!" clients are looking for something that is bold, strong, and attention-grabbing!"
Impact – the major theme when clients say "can you make it pop". But how about we go a little more depth? Eddy Biel from Layerform Design Co. explains the different perspectives of the cliché phrase. "From a manager's perspective, "make it pop" typically means something needs to be one of the following things: brighter, bigger, and more graphics. Now from a designer's perspective, if you can delicately discuss the issue with your client or manager, I feel like it means something slightly different. Maybe a call to action needs to be slightly more detailed/separated from the background so it stands out more, or maybe adding some subtle texture/patterns to varying elements will add that "pop" they are seeking!" While the client may actually want you to enhance the visual elements themselves, they might also respond well to seeing the finished product in a different format. Ric from Studio Standard takes on a unique perspective on how to make it pop: "Often, making the design pop is less about the actual work and more about how it's presented. As designers, we might create the most beautiful logo, but even the most beautiful logo sent as a black and white pdf via email can look a little dry. It's our job to help the client envisage how the logo will look in the real world, its multiple uses and applications." You can follow Ric's advice by using the suggested applications below to present the finished product:
Mockups
Mockups give the client insight into how their branding will look in the real world. It can also make design decisions more manageable. For example, decisions on choosing finishes, colors, and textures are all far more straightforward when the client can see what they're choosing.
Photography
Photography is a huge part of a brand's visual identity. In the past, it was challenging to elevate a project using stock imagery. That's changed now, and there are some fantastic creators out there producing great royalty-free content to make your projects pop.
Brand Sheets
Brand sheets are a perfect way to encompass all of your visual elements, working together on one page. Brand sheets are also a great way to show your process, from mood-boards to final design. Clients love this because they often provide their mood images and as a result, feel far more connected to the design process and the resulting brand. The other great thing about brand sheets is they don't just work for clients. Designers can use them to present final work, work in progress to stand out on social media.
While the finished design might not stand out on paper, seeing it used across different applications might level up your finished product.
How to Beat the Obscurity
No matter how many times designers might hear this type of request or feedback, there will always be times when the client might not know what they are asking for. The good news is— simply asking the client the right questions can combat any false interpretations.
Lina Chervenkova —who has heard these words frequently— explains "When you hear these three dreaded words, it's your job to put your detective hat on and to find out the hidden meaning behind them. Get creative, have another video chat, ask questions, send in a questionnaire, and just get in your client's head by any means necessary" Lina provides a few questions you can ask your client to lead you out of the "make it pop" trenches:
What do you feel when you see the current design?
What do you want to feel instead?
What elements do you want the design to focus on? (font, graphics, space)
Can you show me any examples of designs that align with your vision?
How Do You Make Your Designs "Pop"?
What's your go-to tactic to elevate a composition? Share your tips and tricks in the comments section below! Products Seen In This Post: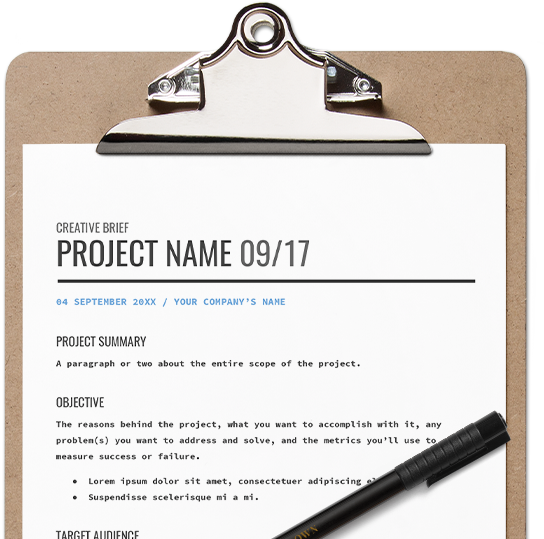 Download your template
Free Creative Brief Template
Get a customizable template to organize and outline your clients' creative projects.
Download it here