Designer Interview with Galen Gidman
Today we are interviewing just one of the designers that have created content for the free goods section, Galen. Check out the Tiny Pixel UI icons that you can download for free.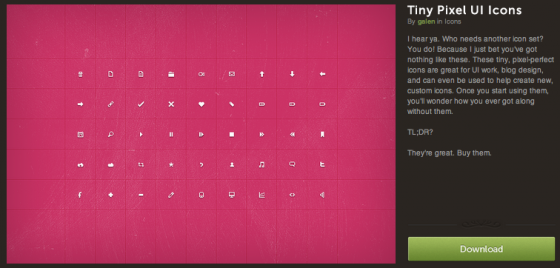 Let's get started!
First of all, why don't you tell everyone a bit about yourself, where you are from and what you do.
Sure! First of my name is Galen Gidman and I'm a 17-year-old designer, developer and podcaster from Missouri. I build websites with everything from plain-old HTML(5) to WordPress to Tumblr. I'm also learning ExpressionEngine. I'm the lead designer at a soon-to-be-launched WordPress theme shop, Templistic, and I freelance at my personal site. I also play guitar and insane amounts of touch football.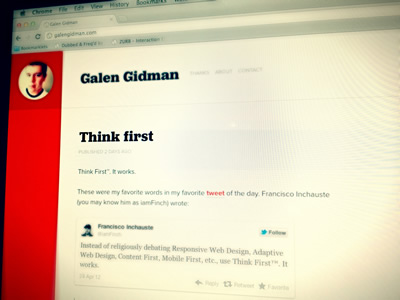 How did you start out in the field of design?
Several years ago I was considering the idea of starting my own business making loft beds. Since I was super excited about the idea but wasn't ready to start manufacturing yet, I decided to have a go at building a website for the company. My dad had an old copy of Dreamweaver MX and Fireworks MX from his freelancing days that I installed on my Acer Aspire, and I guess you could say the rest is history! I began to fall in love with design and development and kept learning more and doing better work.
What are your favorite fonts to use right now?
Oh, that's a tough question! Since I started using Typekit the sky has been the limit. I do have a few favorites though. Proxima Nova, Nimbus Sans, Skolar Web, Adelle Web and FF Tisa Web Pro are some of my favorites for body text, and I've found Anivers, Quatro Slab, Omnes Pro and FF Meta Web Pro work great for headlines. Another new find I've really been enjoying is Jubilat. I actually use it for the headers on the latest redesign of my personal website and I think it's beautiful.
Where do you find cool icons, brushes, etc.?
I'd say most of that comes from either people posting them to Dribbble or tweeting about them on Twitter. And then, of course, there are the golden oldies that we don't need an introduction to (e.g.: Pictos and the Function grunge brushes). Another type of resource I've been really been excited about lately is icon fonts, which seem to be popping up everywhere.
What is your general design process?
I guess that would depend on what I'm designing and why. If I'm working on a client project, I start by assessing their goals, and then begin wireframing on paper. After that I generally move into Fireworks, Photoshop or Sketch (which rocks, by the way), but only for a little while. I try to move into the browser as quickly as possible since with the rise of mobile, a static, 960px-wide mockup is becoming increasingly irrelevant. From that point on I move back and forth between my design program and browser until the design is finished.
Logos and icons, as with my web projects, begin on paper before I move into a graphics program, gennerally Illustrator.
When feeling stumped, where do you turn to for design inspiration?
Sometimes I'll turn to a gallery or roundup post on one of my favorite design blogs, but more often than not, I find myself opening my browser to Dribbble and having a look around. There is so much terrific work there that it's nearly impossible not to be inspired — sometimes more than you even bargained for. Often times when I'm browsing around I'll get so many terrific ideas for things I could build or techniques I could try that it's almost overwhelming.
Another thing I find to be especially helpful when I run into a design (or even development) problem is to step away from the computer. Maybe that's just going outside and getting some fresh air or mowing the yard, but time away from the computer certainly helps clear my mind and re-motivate me.
What are your favorite resources for design?
Haha! I feel like I've done nothing but talk about Dribbble in this interview, but again, Dribbble would have to be my top choice. As I mentioned earlier, the inspiration to be found there and the things you can learn are huge. I've also enjoyed what Phil Coffman has done with the training videos, articles, and interviews on Method & Craft. I guess the other things that really help my designs would be books and podcasts, but especially podcasts. Much of my best work has been done with a podcast running in the background. Creatiplicity, The East Wing and The Boagworld Show are a few of my special favorites. Oh! And while we're talking podcasts, I have to admit that my own podcast, The Young Guns Show, has a pretty special place in my heart as well. 🙂
What advice would you give to a designer who is just starting out?
Honestly, there's so much I would say to them on everything from networking, to tools, to techniques, to portfolios, to working with and attracting clients, but if there is one thing I would say, it would be this: get connected! This industry is all about relationships — virtual and the face-to-face variety. They're so important when it comes to getting work, staying motivated and even just plain enjoying your craft. And most of all, don't be afraid to introduce yourself to people, even if you consider them to be "VIDs" (very important designers). They're people, just like you, sitting at their computers making stuff — they just have a few more friends.
Find Galen on Twitter + Dribbble
Getting started with hand lettering?
Free lettering worksheets
Download these worksheets and start practicing with simple instructions and tracing exercises.
Download now!