Design Your Perfect Wedding Invitations: Art Deco/Gatsby Style
The 1920s were an age filled with elegance, champagne, wild parties, and a roaringly fun lifestyle. Music was constantly in the air, and the world was entirely your canvas to create whatever you wanted. Recently, with the release of the new film The Great Gatsby, the Roaring Twenties and art deco style and fashion have re-emerged as a trend for modern weddings. Everywhere you look, people seem to be getting Gatsby fever — from their engagement rings to wedding invitation suites to the reception, you'll find art deco style dripping from head to toe.
We think it's absolutely fabulous that this trend toward art deco style is coming back and there is no better way to showcase fun Gatsby style than at weddings. Today, we've brought you some of the best images, invitations, and wedding suites from amazing Gatsby and art deco styled weddings for your inspiration. In addition, we've compiled some of the best resources to help you create the perfect art deco wedding invitations. So, whether you're a designer, or just want to do it yourself, you'll find everything you need to create the perfect art deco wedding that is entirely personalized to your style.
Art Deco Wedding Invitations
First things first, the best way to figure out your perfect wedding invitation suite is to get inspired. You'll see a lot of extravagant ornamentation, gold colors, and geometric patterns featured on these invitation suites, all of which are characteristic of the Roaring Twenties. Keep in mind that art deco/Gatsby style isn't limited to geometric shapes, you'll also find a lot of florals and intricate embellishments.  Check out these wedding invitations that showcase art deco and Gatsby style from the 1920s: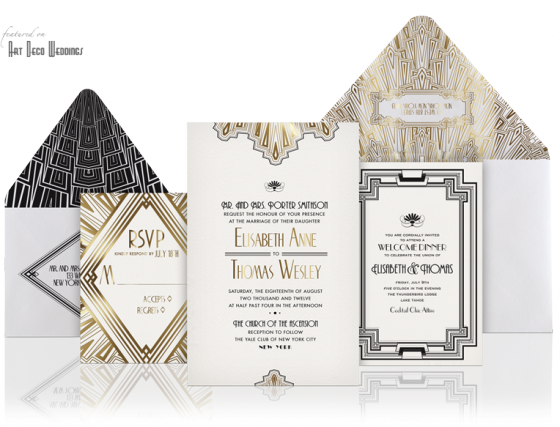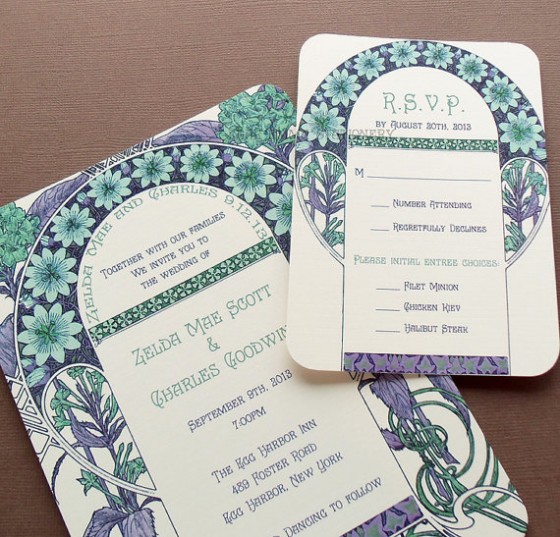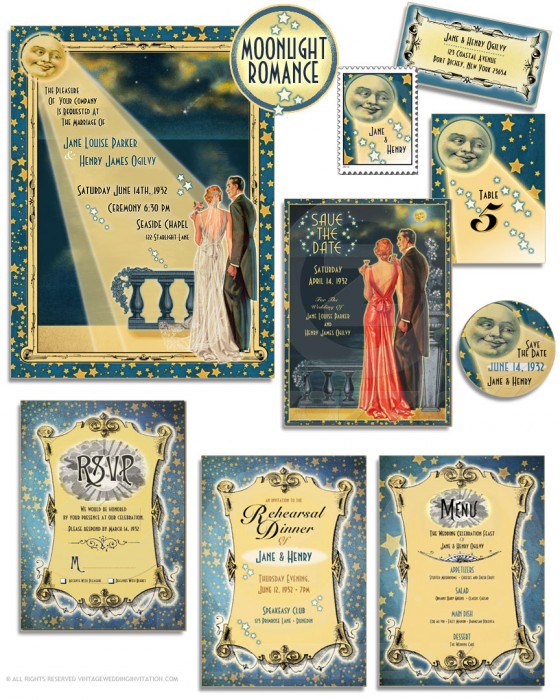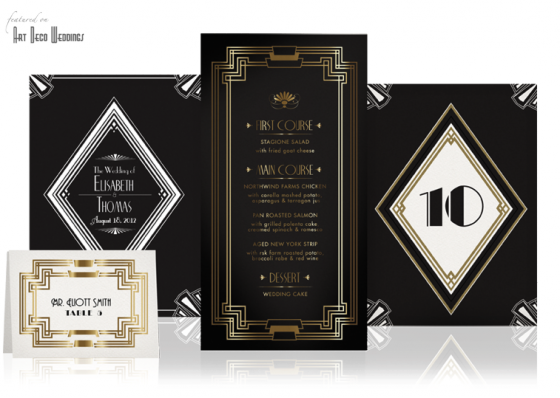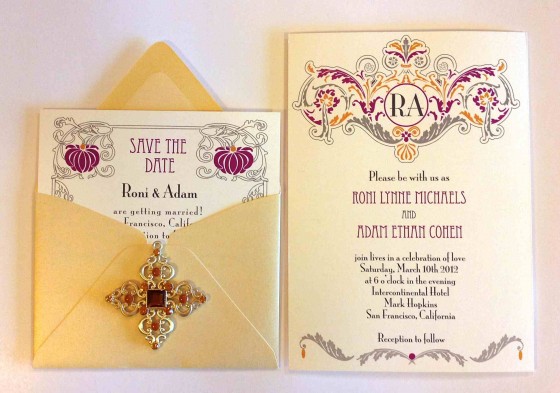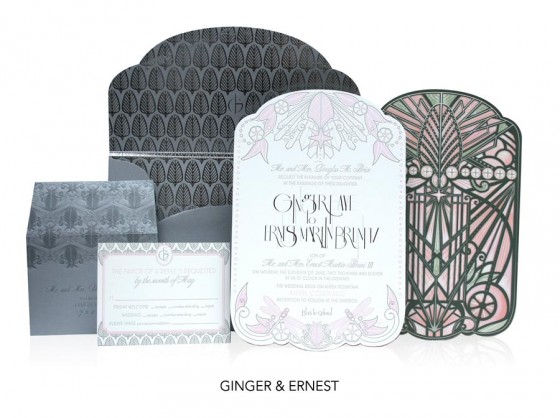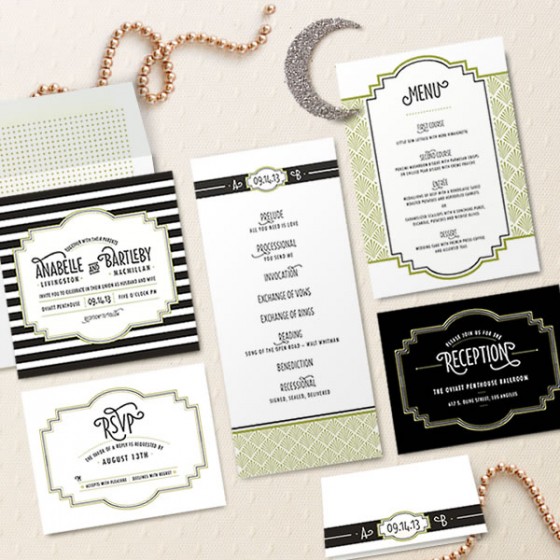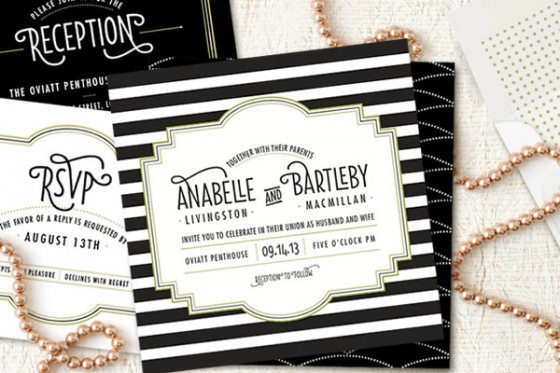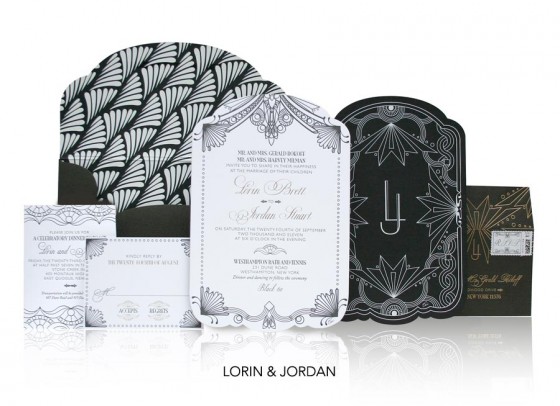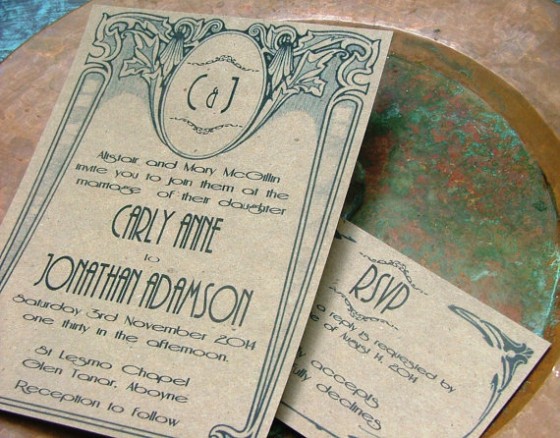 Gatsby Style & Wedding Ideas
What makes a wedding truly unique, besides the incredible couple, are the little, special details. To make your perfect day complete you need those subtle, small, and elegant touches that make everything come together. Your wedding won't be complete without those little extra elements, so we've found some of the most inspirational images from Gatsby themed and art deco style weddings to help you make your perfect day, come together perfectly.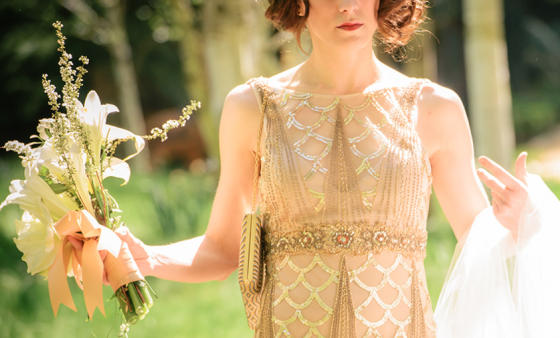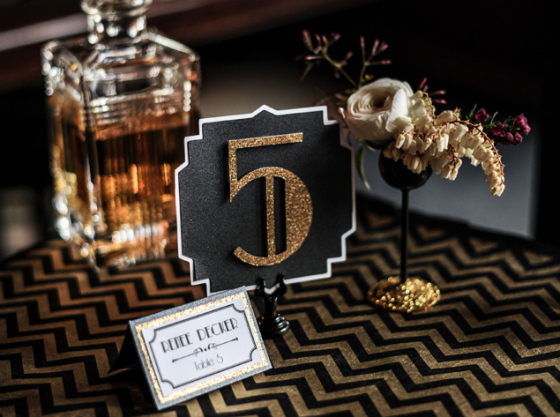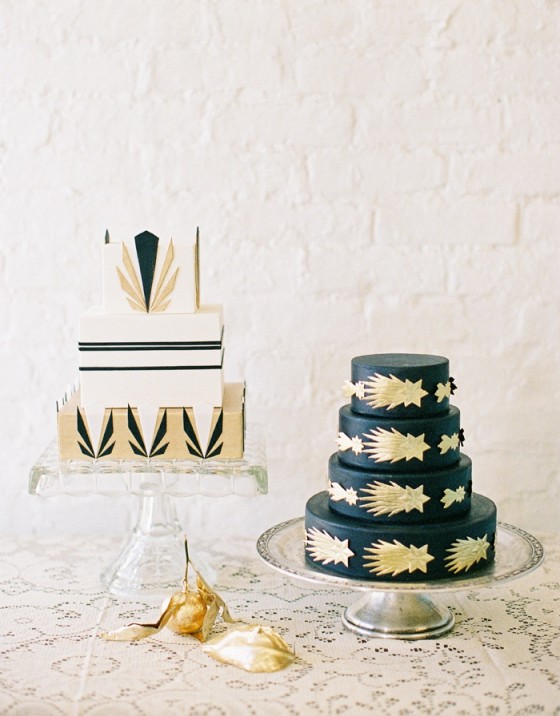 For more inspiration, check out these articles and photo galleries:
What is Art Deco?
Art Deco and Gatsby style is best described as over-the-top extravagance, that features bold colors, geometric shapes, and heavy ornamentation. You'll find sparkles, gold, and bright colors atop dark, muted backgrounds. People are often confused because they will see two differing representations of 'Gatsby-style' the heavily geometric patterns and black/white/gold patterns versus the flourished designs with highly contrasting colors that feature heavy ornamentation and sometimes floral designs. Both 'styles,' are highly representative of the 1920s, and both feature elements of symmetry, glamour, and luxury.
DIY Art Deco Wedding Invitations
Headline Font – Quiet the Thief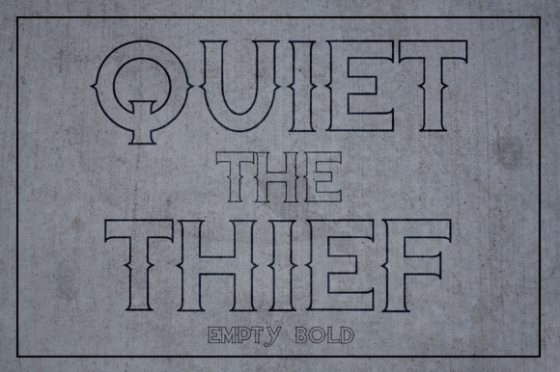 If you're searching for a bold font that will make your invites stand out, Quiet the Thief from Dismantle Destroy has subtle art deco elements and bold style.
Geometric Borders

These chevron geometric borders from Eyes of Style are perfect for your Gatsby or Art Deco inspired wedding. The bold and glitzy style of these borders will really make your invitation suite stand out in true geometric style.
Script Font – Samantha Bold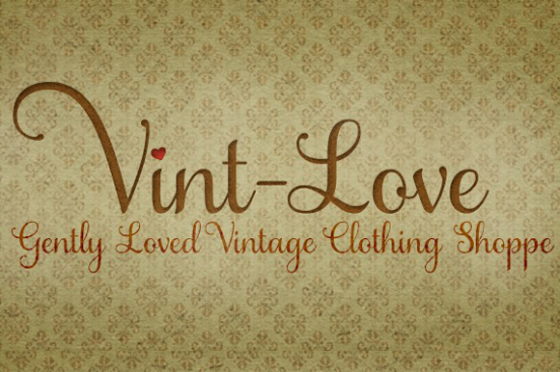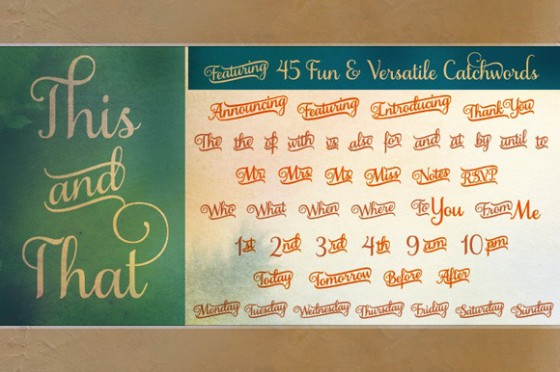 Samantha Bold by L Worthington is an incredibly romantic typeface perfect for your Gatsby inspired wedding invitations if you choose to go the route of more ornamental flourishes than geometric. In addition to the font, this package features a multitude of ornaments and phrases to help you craft the perfect invitation suite.
Ornamental Flourishes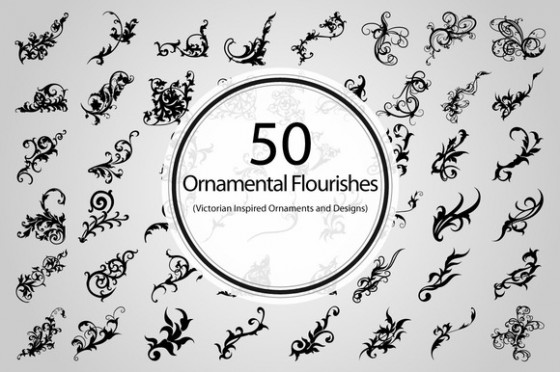 If you want your invitations to feature a more embellished flourish design this set of 50 ornamental flourishes by BioWorkZ is perfect to create the perfect glamorous invitation.
Art Deco Font – Decode

The decode font family from Max Little is based on art deco style from the 1920s and 1930s, that features a slight retro twist for a little bit of extra fun. The typeface features three complementary styles to help you completely tailor your wedding invitation suite to your style.
Art Deco Backgrounds and Frames

These art deco backgrounds and frames from Wing's Art Studio are perfect for setting the scene of your wedding invitation suite. Pick the right background or frame for your invitation, and then use the same or a different image for the rest of your wedding suite.
Art Deco Font – Straits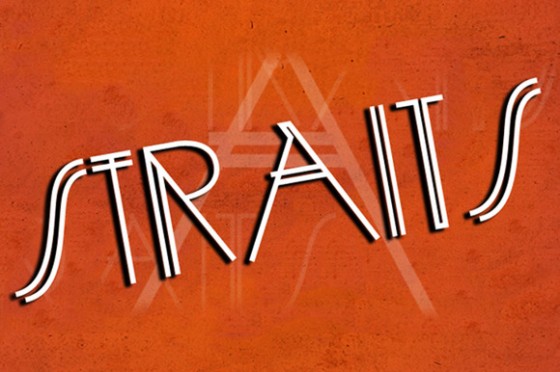 Straits by Adult Human Type is a modern twist on an art-deco inspired font. This all-caps font is perfect to outline special details on your wedding invitations and wedding suite including thank you cards, menu, and name cards.
Geometric Patterns
These geometric patterns from designer Shona Dutta are PSD files that are editable and perfect as backgrounds and ornamental elements for your wedding invitation suite. Geometric patterns and elements are extremely characteristic of art deco and Gatsby style, so use your favorite pattern as you see fit in your invitation suite.
Elegant Font – Port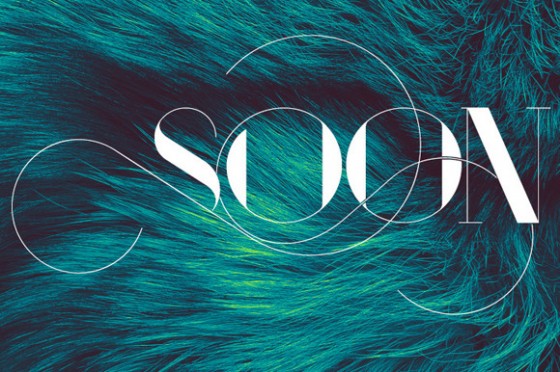 Although at first glance, this font Port Words from Onrepeat Types may not seem to be Gatsby inspired, it reminds me of the more ornamental styled invitations and art nouveau style. Keep in mind the style from this era was not simply geometric, but anything with flourishes as well.
Art Deco Badges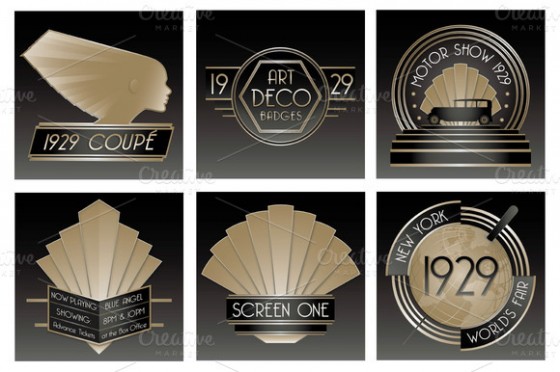 Highlight important information on your wedding invitations with these art deco badges from Wing's Art Studio. Not only are they elegant and chic, but they truly reflect the style of the 1920s and 30s.
Outline Font – Karl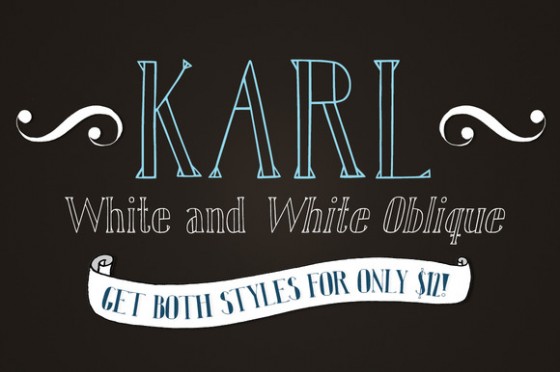 If you're looking for a fun hand-drawn font with elements of geometric art deco style, Karl by Jagjagvi is a great typeface for your wedding invitation suite as it combines delicacy with 1920s style.
Getting started with hand lettering?
Free lettering worksheets
Download these worksheets and start practicing with simple instructions and tracing exercises.
Download now!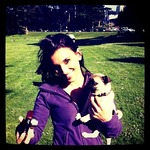 Maryam Taheri
I'm a recent graduate of the University of San Francisco with a degree in Biology and a passion for the creative arts. I love building websites, trying new things, and I have a passion for social media.
View More Posts