The 80/20 Rule for Designing Really, Really, Really Ridiculously Good Looking Presentations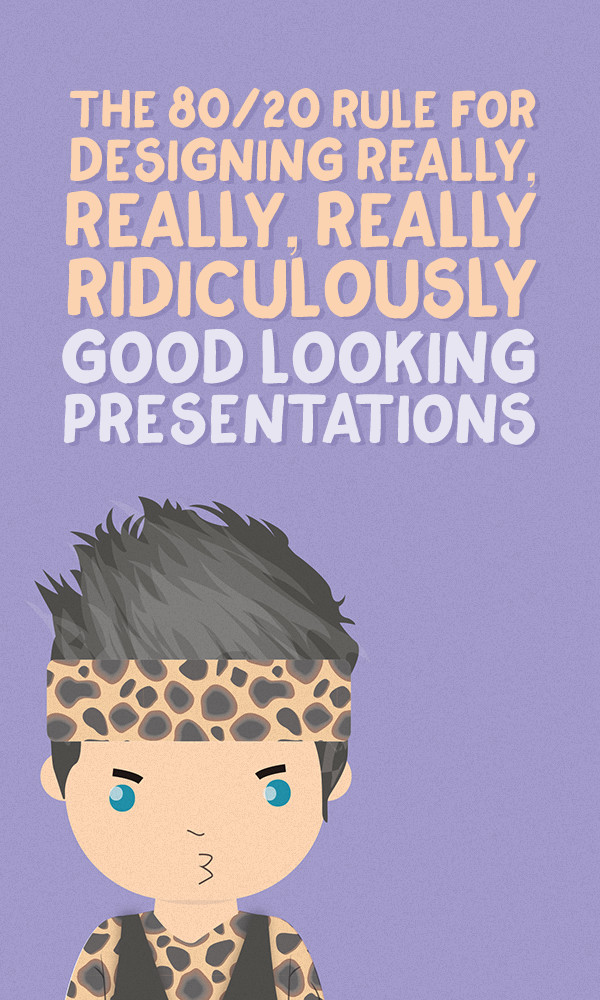 Summary
We recently emailed our 8,000 subscribers to ask them what their primary concern was with presentation design, be it for SlideShare, business meetings or startup pitches. There were two main responses:
Designing presentations takes up too much time, but I can't afford a brand agency
No matter how hard I try, my presentations turn out really ugly
Sounds familiar?
Over the past 3 years, we've published over 24 presentations on SlideShare that have over 3 million combined views, consulted with Fortune 500 companies and helped startups raise millions in venture funding through riveting investor pitch decks. With all these under our belt, we've come up with a pretty rock solid process of designing slides that sell that we teach in our presentation skills courses. The distinction here is that we're able to do it really quickly too. In this post, I'm going to show you the bare minimum it takes to make your presentations really, really, really, ridiculously good-looking. via GIPHY via GIPHY
Picking colors ain't rocket science
You don't need to work at Pantone to figure out colors for your presentation. Less is often more, as rainbow hues can be confusing and distract your audience from your main point. More experienced designers or creatives tend to use plenty of colors in the different mediums they work on; and rightly so, because they're masters at it and other mediums require more attention to detail.
If you're starting out, the magic number of colors you really need is only two: one neutral color like white or dark grey and a second accent color. By focusing only on two main colors, you'll reduce the time spent to think of a color palette, reduce the chances of botching the scheme, and build your presentation much faster. I use this all the time because it's really fast to execute and still looks effortlessly good. The trick here is to use your accent color either as a background or to highlight important points in your presentation. Just make sure that the two colors you pick have adequate contrast with each other, otherwise, nobody will be able to make out your text. Simple. If you happen to require some extra help in matching your colors (don't worry, we all started somewhere), bookmark colourlovers.com on your browser and select some schemes from there to use. Just make sure that at least two of those colors contrast visually.
Don't stress over layouts
As you build up your layout plethora, I'd suggest that you start with these basic ways that work even if you have no prior experience in design. It's easy to apply, virtually beginner-proof and looks excellent.
Rule of thirds
This is a technique that photographers use to compose their image and decide where they place their 'subject'. Instead of shooting a bird squarely in the center, the focal point of the image subject is placed about a third of the space from the left or right edge. More on the Rule of Thirds here. This has been empirically proven to be 'more interesting' to the eye. The asymmetry is more refreshing than always center-aligning your elements.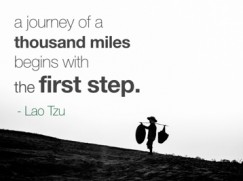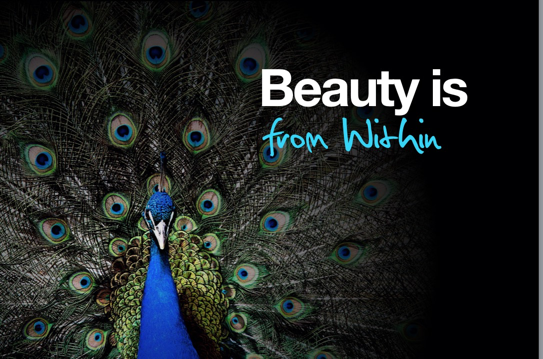 It's a very powerful technique for composing presentations because of the limited space that you have on each slide. In a 4:3 or 16:9 aspect ratio, it can be challenging to work with such little real estate. By using the rule of thirds, you'll now have a generous amount of space to insert your text opposite to where you placed your subject matter focal point. Perfect!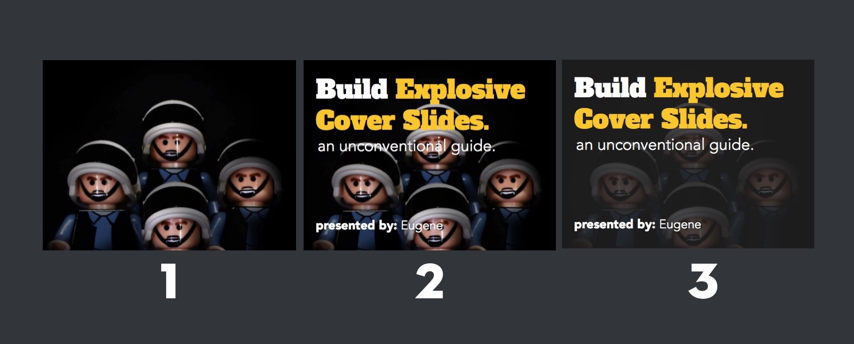 Image choice is really important in presentations because it affects how the audience consumes your message and provides context to what you say. We usually recommend choosing images with a single focal point and plenty of white space, but let's be honest, that can sometimes take too much time to search up. If you're not a photographer able to snap high-quality photos at will or lack a budget to purchase expensive stock photos from photo repositories, you'll be much better off making what you can find online work. If you happen to chance upon a great photo with too much detail, no biggie, here's a quick-fix:
Layer a darker or lighter shade shape over it,
Reduce its opacity
and Overlay your text above.
Blur the photo if you'd like ( optional )
Not only do the colors blend well with each other if the photograph is well taken, the reduced visibility removes distraction from your image for you to lay your text for just enough contrast and legibility.
Sometimes, when you have a super important point to make, or you're just feeling a little lazy, consider doing away with images completely and conveying your message solely through headlines. Note that when we say headlines, we mean a short text phrase of no more than 14 words, not chunks of text that hark back to boring college lectures. Don't be afraid to blow-up the size of your typography and fill the screen ( maybe even leak out of it ) to make your point. If the setting allows, an unconventional representation is usually very refreshing. You can also get a little creative with the layouts of your typography. Try playing with the sizes and weights of the fonts you have in your presentation. After all, fonts are works of art in their own right, mostly hand-drawn by professional type artists.
Typography: KISS
Again, to create a memorable presentation, you don't need to be a typeface ninja. We suggest choosing a simple, bold sans-serif font like Montserrat or Bebas Neue and using a tool like TypeGenius.com to choose a pairing font for you. Creative Market also offers a unique catalog of fonts to look at. With time, you'll have built up your own arsenal of go-to fonts to choose from.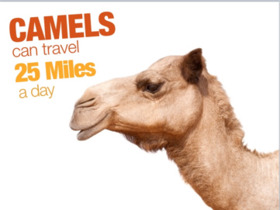 There are a few simple rules of thumb to follow:
not more than 2-3 fonts per presentation to avoid drowning your audience with the crazy amount of combinations. If you're not sure what you're doing, don't try to be too funky. Play it safe before you endeavour for more.
Make sure that the fonts are legible! Remember, if people are going to have to read the words, it's up to you to make their lives easier, don't pick obscure looking fonts that are difficult to make out, especially when you're delivering the presentation to an older crowd.
NEVER USE Comic Sans, unless for comedic relief. Some design enthusiasts may disagree, but I'd say it's much easier to go wrong with it than right. In most settings (unless you're presenting to pre-schoolers) Comic Sans would be inappropriate
Graphics: Invest to Impress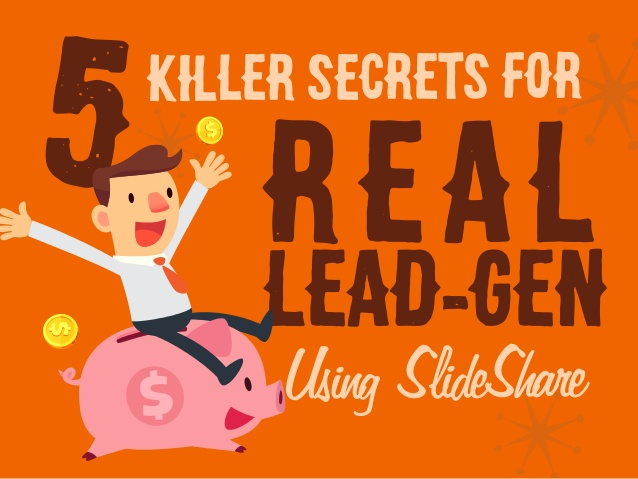 Your presentation is something worth investing in. If the value of your presentation is say.. a $10,000 deal, wouldn't you at least invest $100 to leave an impression? You'll need outstanding graphics to stand out and Googling for graphics or downloading freebies won't always cut it. Plus, you can run into copyright trouble if you use certain things without permission for commercial work. I'll let you in on a little secret of mine: I don't illustrate every single graphic in presentations I build. If I did that, I wouldn't have time to do anything else. Additionally, some designers are more specialized in certain types of graphics and produce work that's much higher quality than even I can churn out. You could create it on your own if you're a professional designer, but not everyone is born with creative talent or the luxury of time to build personal resources. Purchasing your graphics from stock websites ensures predictable and curated quality, a valid license to use them and saves you so much time in the long-run. Here's an example: This SlideShare presentation we did for our client got over 400,000 views and was named the top presentation of the year 2015. Creative Market. Imagine that, getting massive results and saving a ton of time just by investing a little into building a quality piece of work.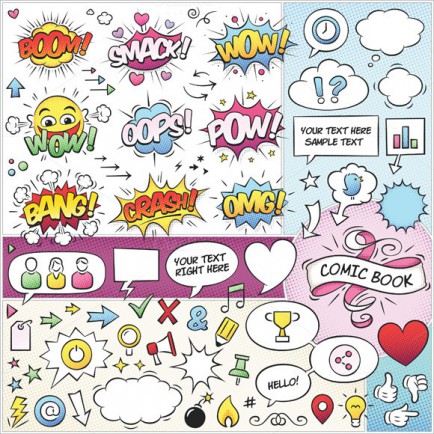 There's no point in getting into a mental conflict on 'using other people's graphics'. Marketplaces like Creative Market make it dead-simple to put together an awesome presentation in a fraction of the time by combining the best that creative contributors have to offer in one place. Purchase a couple of (very affordable) resources and give them a unique spin to make it your own.
Design for the medium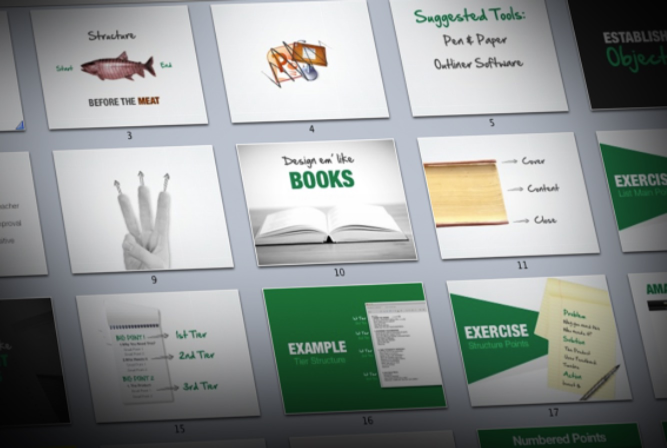 I think one of the biggest problems that professional designers face when it comes to building presentations is the leap they make from doing sites, brochures or iconography to a very different medium like presentations. The best creatives design to solve problems and that should be your goal. Decide on what the presentation needs to accomplish or on a micro-level, what each slide needs to accomplish before you start stirring your creative juices. Stop putting ALL those words on your slides This is not an informational website, you don't need everything on it, otherwise, it's as good as having it speak for itself (if it's a SlideShare that is). Presentation slides are meant to amplify the message of the speaker, not overwhelm, so focus on creating graphics that bring out the context of the point you are communicating. Now that you've got the 'look awesome' part down, let's get it to work better. Image Superiority Effect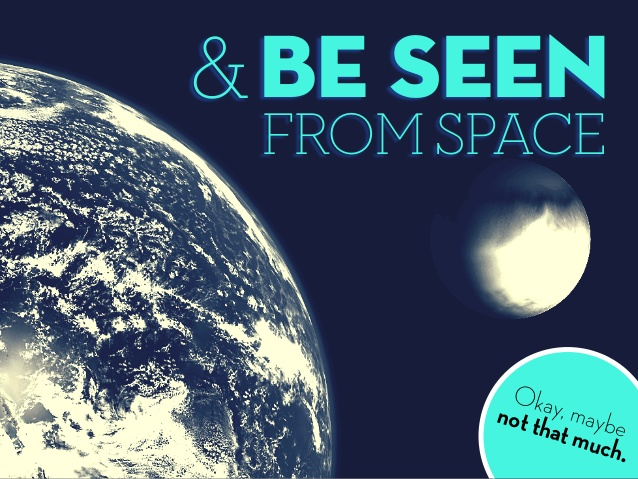 Our eyes are naturally conditioned to detect images before text, and for good reason. Presentations are meant to be used more like glance media (think ads) as opposed to informational media like websites and print publications, so they should be designed as such. The image should tell most of the story and the text serves to further explain what the image is supposed to mean. Think 80/20, 80% of the slide should be imagery followed by 20% text.
Aim for 'done', not perfection
Imagine this, you have a looming presentation deadline and all you've done in the past hour is create a couple of nice-looking slides and you won't be able to deliver the presentation on time. This happens more often than you think. The reason is simple: You're too much of a perfectionist! I know what you're thinking. That's a good thing, right? Wrong! Striving to get your presentation built as a whole first is going to save you more time in the long run because you'll stop fiddling on PowerPoint and start finishing your presentation! Write the Story First
Nothing feels worse than pouring late nights into designing your presentation slides, only to realize that they don't fit anywhere — and having to shelve them. Whether you are designing a blank template for a client or telling a story for an event, you should write the story on blank slides or even in a text-processor before jumping into PowerPoint. Slowly build your design onto your outline, layer by layer. Your story should always influence your design, and not the other way around. How I hedge against this problem is that I follow a strict process when it comes to building presentations: I start off with the outline, build the presentation as a whole by changing the background and fonts for all the slides, decide certain styles that repeat throughout the presentation (one-off work that can be reused) and then proceed to work on individual ones that need attention.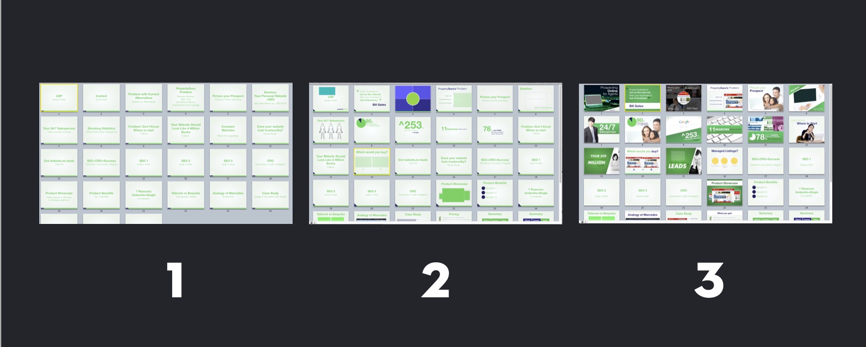 That way, even if the presentation deadline gets pushed early, I'll be ever-ready to deliver the presentation even without 'perfect' visuals because I have my story.
Learn presentation secrets
Creating presentations that wow your audiences online and offline doesn't need to be difficult. By keeping the simple rules above in mind, you can create presentations that get you results without breaking the bank, stressing yourself out or expending days on end. If you want to really learn the other 80% of presentation design secrets from some of the best authors on SlideShare- we are hosting a free 4-day virtual summit from March 9th through 14th where you'll learn how to create presentations, better, faster and reach more people. Sign up for free HERE.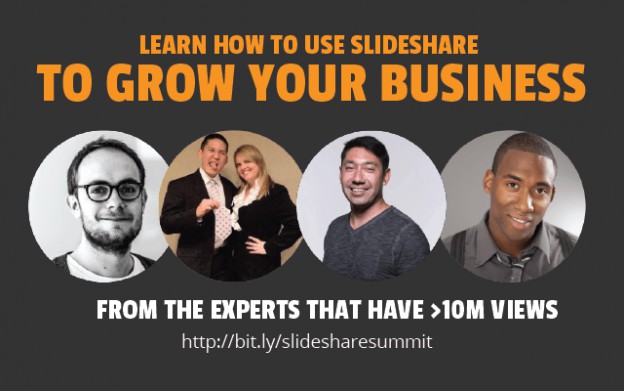 Bonus: All those who register will get an additional 20% off of Creative Market products to make presentations that really stand out! Enter the code here. See you there!
---
Eugene Cheng is the co-founder and creative lead of HighSpark (formerly Slide Comet, a strategic presentation consultancy that offers powerpoint presentation training to Fortune 500 companies like: Panasonic, Dentsu, Nike. A self-confessed presentation obsessive, he relishes in building compelling visual content for his agency's channel and his personal channel on SlideShare and is also a Keynote Author (top 1% of SlideShare).
---
Products Seen In This Post:
---

Getting started with hand lettering?
Free lettering worksheets
Download these worksheets and start practicing with simple instructions and tracing exercises.
Download now!