10 Glorious Email Design Examples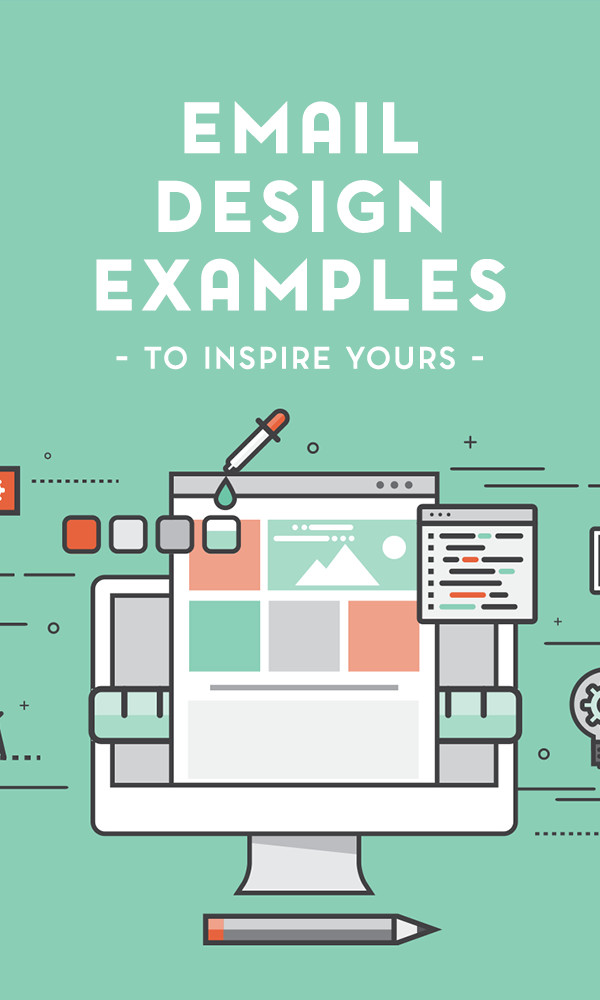 Never, ever underestimate email! The old-school email newsletter (at least by today's standards of social media and online video) is still as strong as ever. In fact, Forbes calls email marketing the "most effective," citing three, individual studies. With such a good and solid reputation, there's no reason that you shouldn't be making email marketing a big part of your promotional efforts. Many brands and businesses of all sizes today still rely on email marketing, and the most powerful way they're doing so is with the tried, tested and true email newsletter. An email newsletter is a personal and direct tactic to establish a close and continuous relationship with your leads, customers and subscribers. This works if you're just a solopreneur selling your creative digital assets or a bigger company trying to turn first-time customers into repeat ones. Here, now, are 10 of the most glorious email-newsletter designs to inspire you to appreciate what good, old email marketing can do for your brand, no matter what size you are!
Wayfair
This super-popular ecommerce company that sells everything, furniture-wise, for the home has some of the cleanest newsletter design ever. It achieves this in large part due to the smart use of card-based design.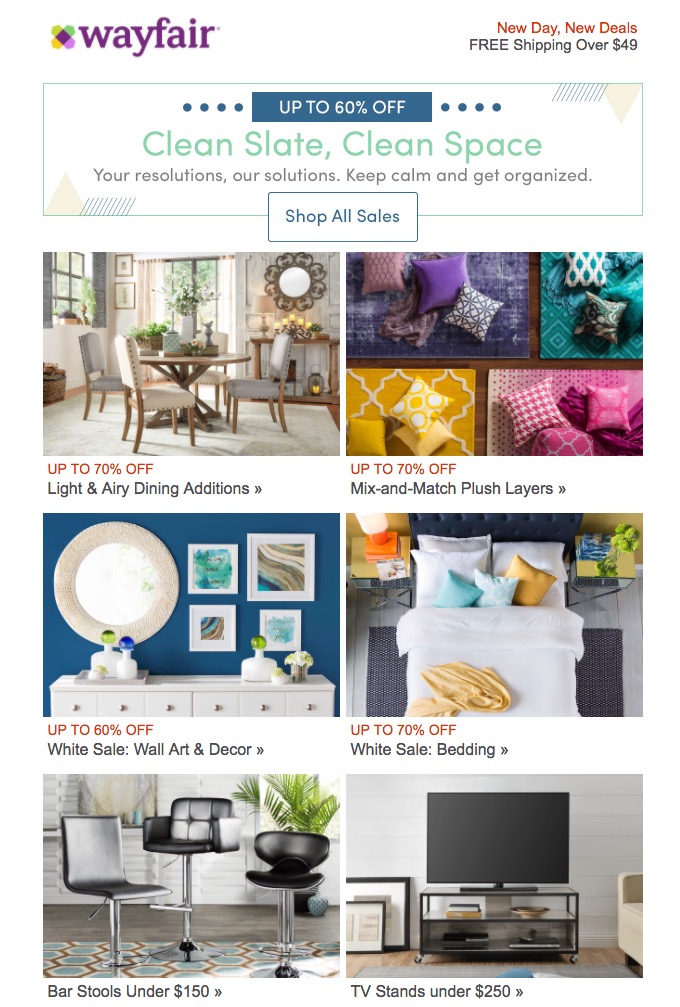 Card-based design is absolutely ideal for a retail company like Wayfair because it allows it to showcase its appealing furniture pieces in a very readable way. Using cards for images is an excellent way to present blocks and bits of visual information in a memorable way for the subscriber. Besides using cards, this newsletter also makes great use of clean and well-defined lines, borders and shapes for an overall design that screams legible. It's a definite role model for other brands that want to communicate information efficiently and simply.
MailChimp
Anyone who's ever used MailChimp realizes how deep a platform it is for marketing purposes while still offering users a very user-friendly interface. Part of that is thanks to the company's philosophy of minimalism, which is evident even in its email designs! Whereas other companies try to squeeze in as much info as possible in the newsletter's content, which only creates unattractive clutter, MailChimp newsletters err on the side of minimalism.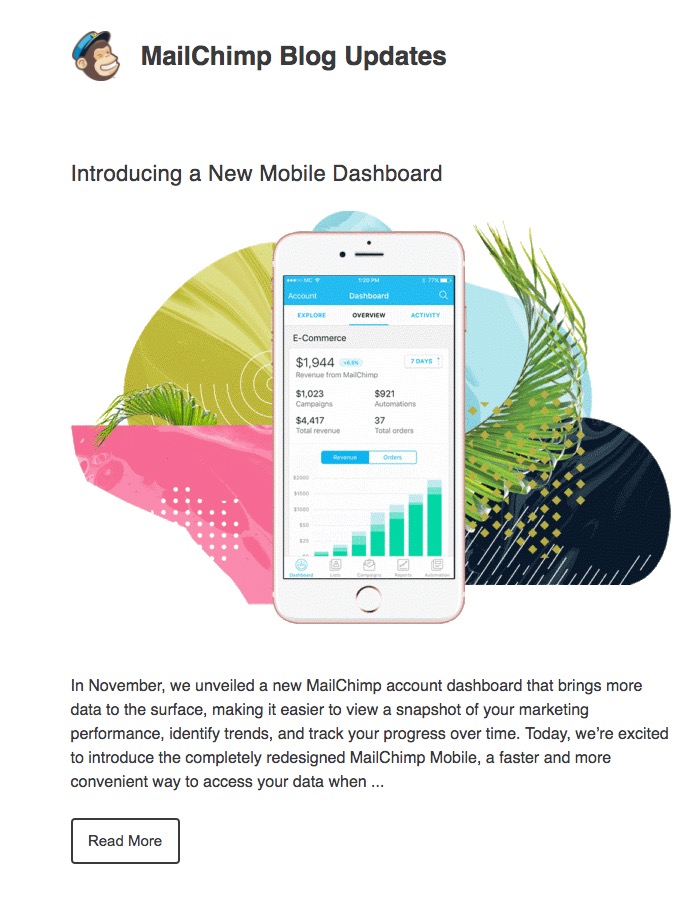 As a result of this policy, this brand's newsletter contains only one piece of information, not several updates competing for attention, numerous links and/or calls to action, and various images—which can all result in clutter. The only info is a headline, image and preview snippet of the latest blog post, with a simple-though-noticeable call to action button guiding readers back to the Mailchimp site.
MLB.com
Major League Baseball's newsletter takes a unique approach as far as newsletters go, and it ensures readability and "skimmability," if you will. Right off the bat—pardon the pun!—this newsletter leads with bullet points of the most important baseball-related news that subscribers will be interested in. Placing these points at the top ensures not only that they'll be read, but also a phenomenal user experience, from the standpoint of how people read on the web.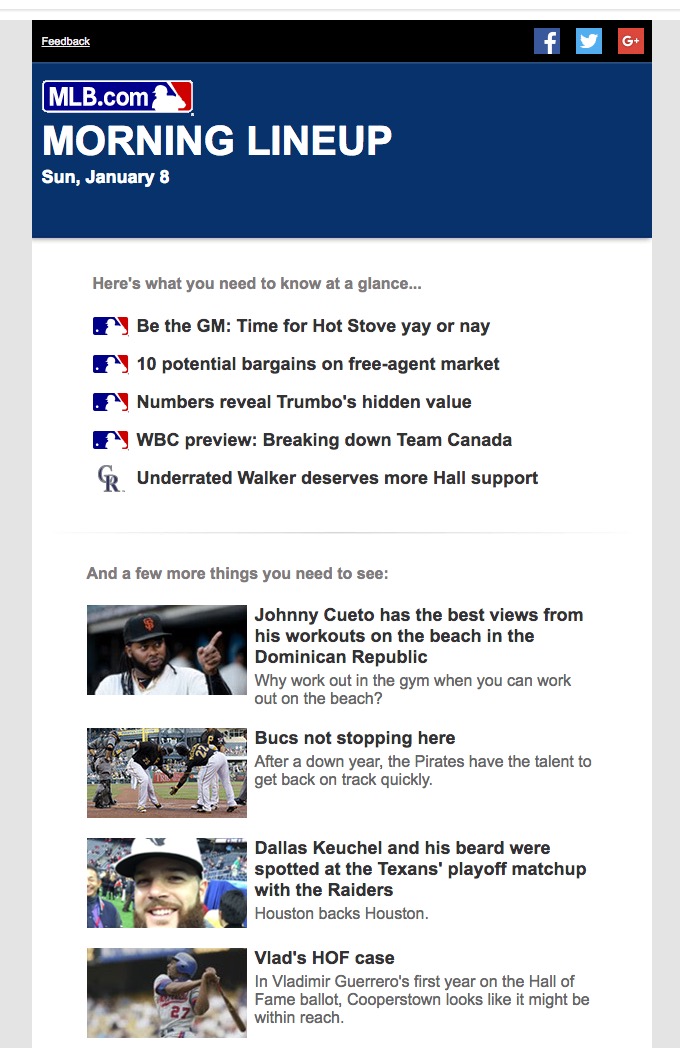 Studies show that people really skim content on the web instead of actually reading it word-for-word or line-by-line. Therefore, arranging the info in bullet points like this facilitates easy reading by allowing people to quickly skim them for anything of interest. This is a much better alternative to putting a lot of content into fat paragraphs and then forcing readers to pick out the headlines that interest them.
Food Network
Food Network's brand is one that does best with images because much of its programming deals with sinfully delicious calories and grub. Its newsletter takes advantage of images to the hilt by loading them up with—you guessed it—shot after shot after shot of different dishes.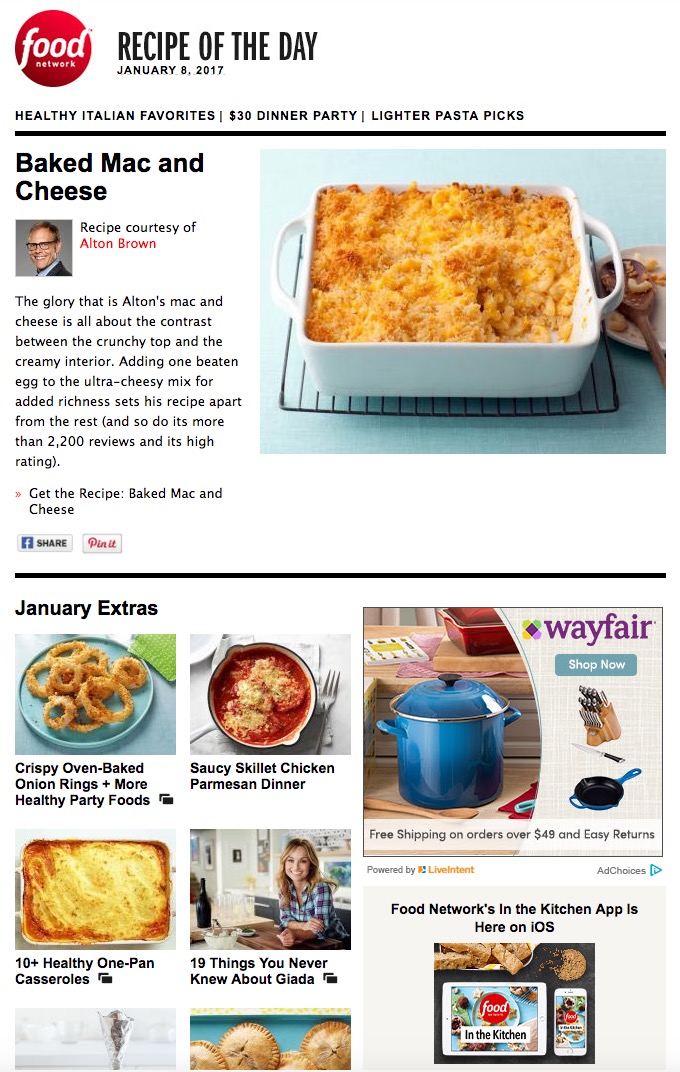 However, what's particularly effective, design-wise, in its "Recipe of the Day" edition is two elements: 1) The use of a hero image of the featured dish atop the email 2) The use of a Food Network celebrity to act as an authority figure to persuade more people to click back to the site to get the recipe for the dish Here, vivid imagery combines with food celebrities to deliver an effective newsletter.
HGTV
This newsletter from this well-known domestic brand takes the bare-bones approach, but does it with such style and elegance that the end result is visually appealing. HGTV's newsletter features a lot of white or negative space, so that its main design elements—the images of interiors and exteriors—can stand out even better.
By using nothing else except for images and white space, HGTV has virtually ensured that its subscribers do nothing else except for clicking on the beautiful pictures, which sends them straight to its site, where they can shop, browse site content, or share with their friends and family on social media.
The Travel Channel
The Travel Channel's "The Daily Escape" newsletter is a wrap-up of the best content the channel produced in the last week. Immediately, what grabs your attention is that it's one of the few newsletter that actually features its social-sharing buttons up top, which is meant to encourage sharing of the newsletter…and, by extension, more subscriber signups. Apart from that clever design decision, this newsletter also features a hero image splashed across the entire length of its top content block, so it's the first design element that entices readers.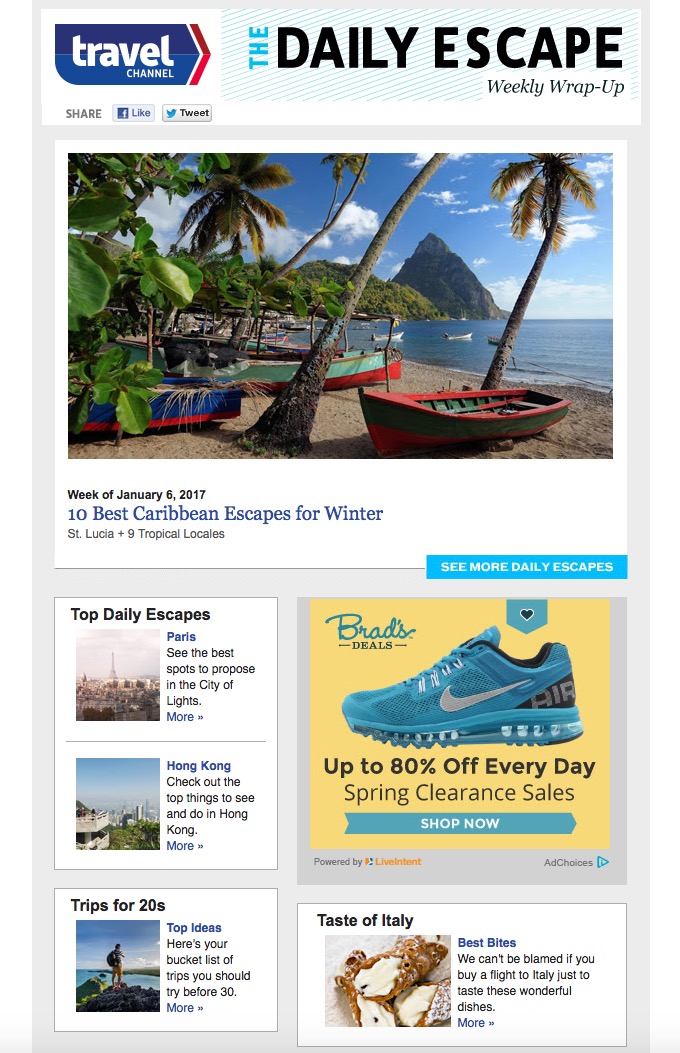 This makes a world of sense because the Travel Channel's site content features a lot of amazing visuals that are perfect for drawing the eye of its subscribers and producing click throughs to its site.
Nintendo
Nintendo's confirmation email does two things right from the start: 1) It uses the powerful brand recognition of Mario to connect with subscribers 2) It uses a huge, easy-to-read headline that welcomes subscribers to the newsletter Adding these two design elements into the email is a masterstroke since it establishes a rapport with readers immediately.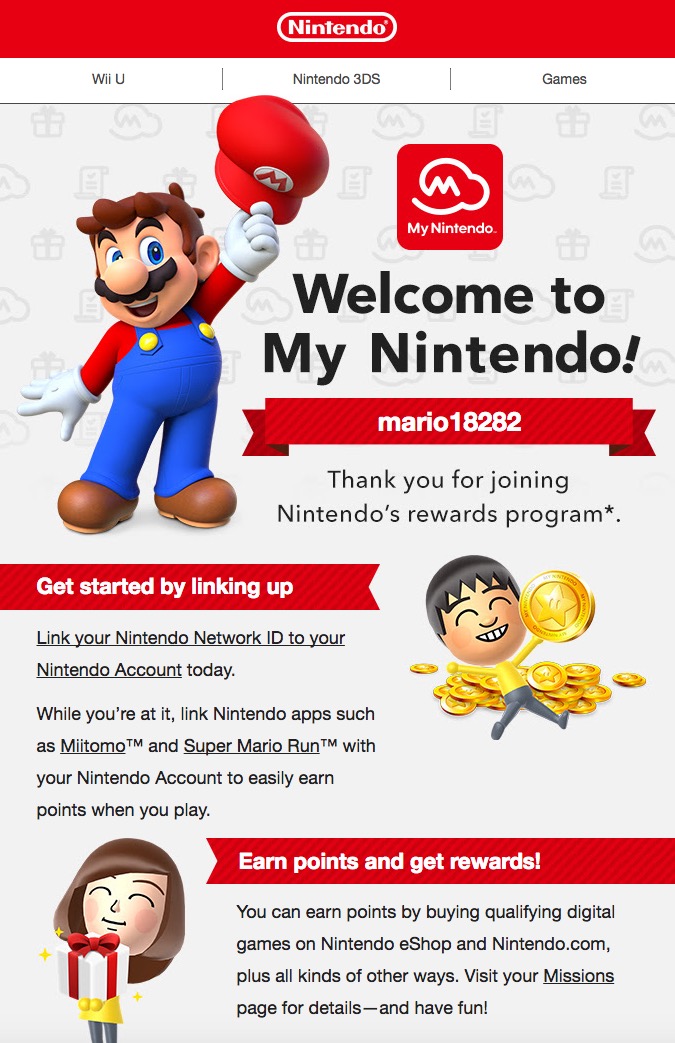 The rest of the newsletter is also noteworthy because the body copy that it uses is perfectly readable and visually appealing. It accomplishes that by:
Generous spacing between the characters
Generous spacing between each line of content
Using the Helvetica Neue font, which is known for readability
Its overall, cartoony look is also perfect brand alignment because, when we think Nintendo, we think video games.
HubSpot
HubSpot's approach is inordinately unique when it comes to its newsletter messaging. In other words, how the company addresses its subscribers is a wonder of copy design. Let me explain. Read the first couple of paragraphs of this newsletter. How many times do you count the word "you" or its derivates? I count it being used seven times…in just the first few sentences. That's impactful because it completely focuses the attention—the very purpose—of the newsletter on the subscriber alone. Not its deals, latest services, or any promos. But on you. The person reading the email.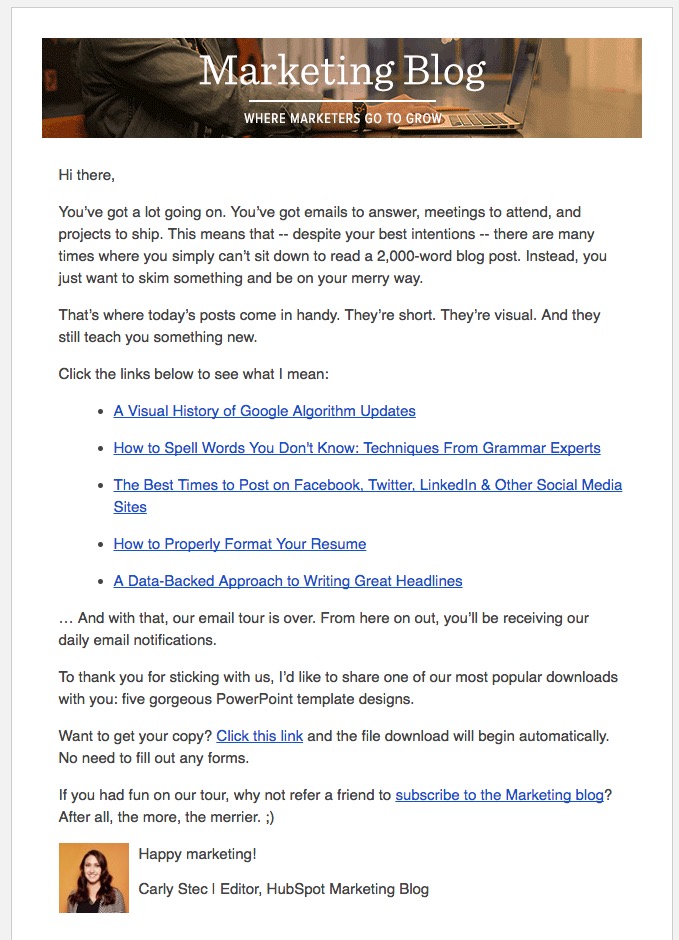 By ensuring that the company makes the newsletter all about the person, HubSpot is guaranteeing a higher level of engagement.
Amazon.com
The world's biggest web-based retailer unsurprisingly knows how to design efficient newsletters that bring its subscribers further down the conversion funnel than ever. The company specializes in to-the-point and no-frills newsletters that bring its valued customers the deals they're looking for, straight to their inboxes. Immediately, you notice the presence of big, vibrant and inviting call to action buttons. The use of color contrast against a white background makes it virtually impossible to fail to notice them. The deals are also presented in point-blank fashion, with one line in the email for each, new promo, deal or offer.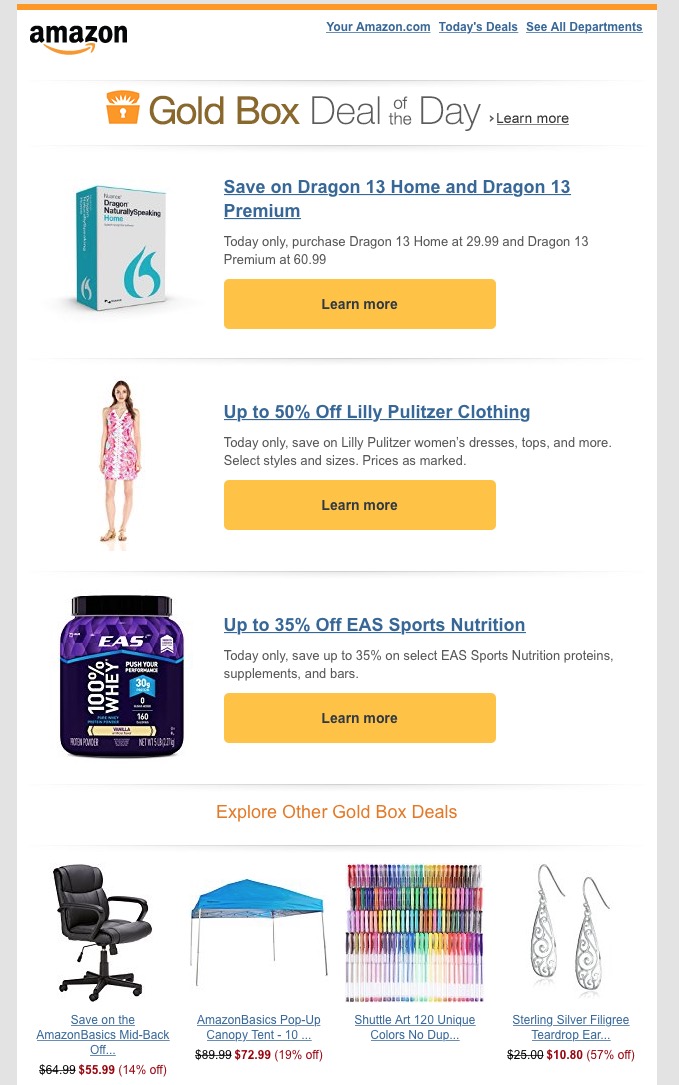 With such a clean and straightforward presentation, Amazon.com ensures that its subscribers have no distraction or friction in arriving at the goal of its newsletters: Clicking through to its site to make a conversion.
Brooks Brothers
This fashionable and long-standing prep brand displays its knowledge of style in its newsletter design. First of all, in the header, you see its wordmark logo, beautifully displayed in fancy font. Then, your eyes naturally travel down to the big discount promotion that's being offered only while supplies last—talk about artificially introducing scarcity to great effect. To finish it all off and beautifully tie it together, the email closes with models showing off Brooks Brothers' stylish line of prep attire.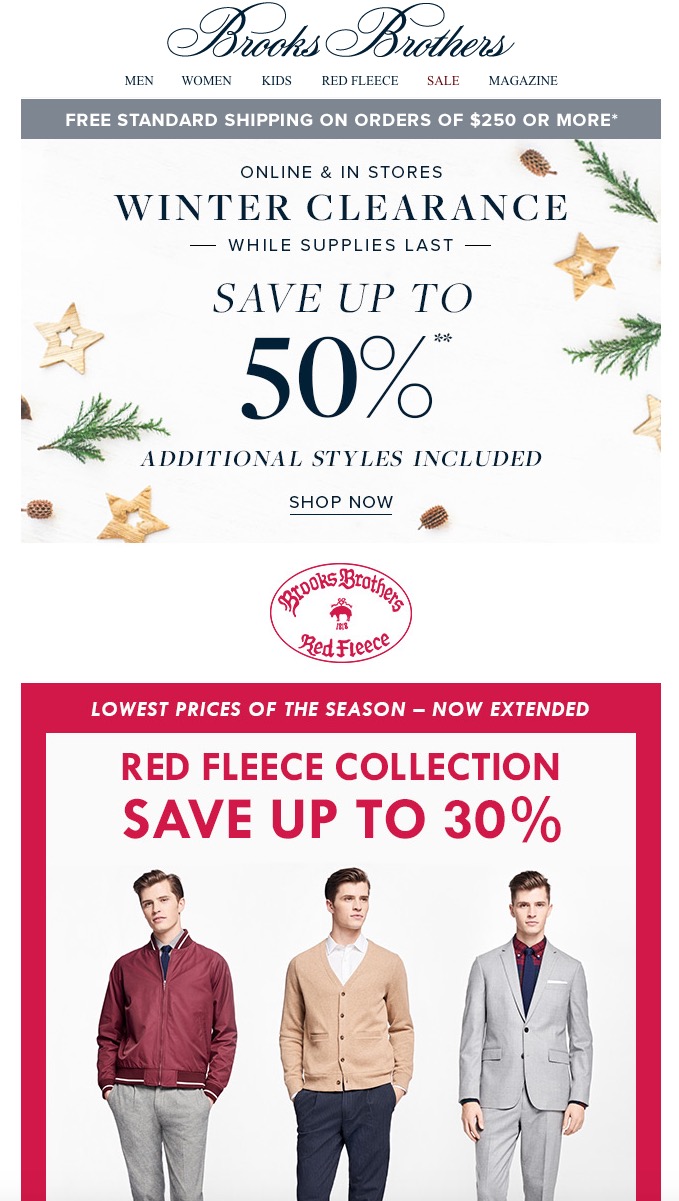 Overall, the design of the newsletter is clean-cut to match its prep clothing and uses bold and vibrant colors, also for brand consistency with its line of prep styles.
Design Is the Key to Successful Email Newsletters
It's 2017, and email newsletters are still every bit as powerful and effective as they were last decade. There's no sign of brands slowing down in their use of them, and they're still one of the most effective—if not the most effective—digital-marketing strategies out there. Their effectiveness and design beauty is only matched by their very cost-effective nature. In this roundup, you were able to gaze at some of the nicest newsletters that different brands across the spectrum are sending out to their subscribers today. Use them as inspiration not only for your own email marketing, but for your own design projects in general. Here again are the takeaways of design splendidness in these newsletters:
Cleanliness (lack of clutter)
Card-based design
Minimalism
Readability
High-quality images and hero images
Use of authority figures (celebrities, etc.)
White space
Social-sharing buttons up top
Brand recognition/consistency
Inviting headlines
Use of the word "you" to focus on subscribers
Big, bold and beautiful call to action buttons
Use of discounts and scarcity
---
Products Seen In This Post:
A handy checklist for your new site
Launch with confidence.
Check off these items before you go live and make sure that your visitors get the best possible experience.
Download your checklist
Marc Schenker
Marc is a copywriter and marketer who runs The Glorious Company, a marketing agency. An expert in business and marketing, he helps businesses and companies of all sizes get the most bang for their ad bucks.
View More Posts