Email Newsletter Design Fails To Avoid
From keeping your email subjects short to developing great content that begs to be shared all over the internet, online articles are filled with tips on how to improve your email newsletters. In fact, the amount of information out there is so overwhelming that people tend to forget about the things they should be avoiding when sending out emails to customers and readers. For example, building an email list on a WordPress blog requires many tactics to get everything right. You need to build your email list, choose a subscription service and implement handy tools for capturing information about your subscribers. It's great once you start sending out emails, but what if you're committing a mistake that's hurting your entire business? Are you not optimizing for mobile devices? Are readers not seeing the content they expect? Discovering mistakes is often more imperative than creating the perfect email newsletter. After all, people don't expect perfection, but annoying them over and over gets old fast. Therefore, keep reading to learn about the top email newsletter design fails to avoid.
Neglecting the Fact That Images Push Conversions
When deciding on an email newsletter sending service, it's prudent to test out how easy it is to upload images. For example, both MailChimp and AWeber have handy tools that allow you to upload a large collection of images in a single click. After that, they help you resize and edit the images to look awesome before sending out.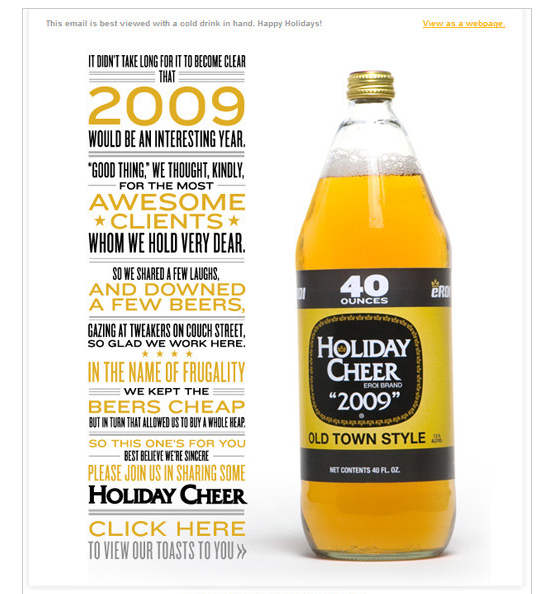 Although many people still only accept plain text emails, the numbers don't lie that images are known to push conversions. Services like Gmail are automatically loading images nowadays, so you have a much better chance of grabbing attention and showing people what they can expect when complimenting the emails with images.
Not Focusing on Sending People to a Single Link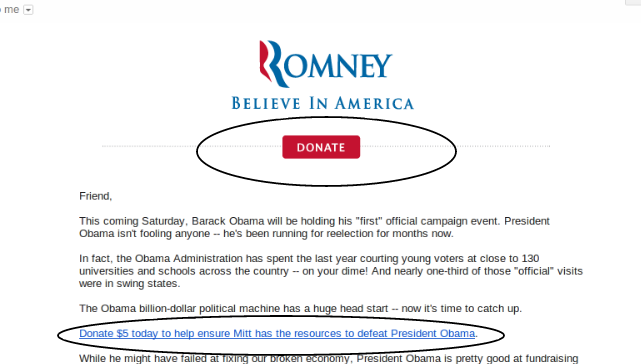 Think about when you open an email in your inbox. The chances of you browsing through the entire thing and clicking on dozens of links is slim. Therefore, it's not a good idea to litter your emails with tons of buttons and links. In fact, conversations are known to increase when you only have an individual button, right at the top of the page. Keep in mind that some people can't see those image buttons, so it's wise to include a text link somewhere in the email as well.
Straying From What Your Readers are Expecting
Nothing ticks off readers more than when they click on an email and the content doesn't correlate with the subject line. You'll notice that places such as Buzzfeed and other publications are notorious for creating catchy, clickbait subject lines, with the intention to bring in tons of opens. However, this diminishes trust between you and the reader, since many of these clickbait subject lines are only designed to make you click through. As an example, I recently received an email subject line that read: "Meet Me." That's it. I opened it because it seemed like a personal email, but it turned out to be a promotion for a computer company. They were actually giving away tickets to a free movie screening, but it also required you to buy something. Technically, they were using the subject line as a way to say something like: "Meet us at the free screening," but we all know it was mainly to deceive readers into clicking. Stray away from this strategy and just be honest.
Going Crazy With Different Fonts and Colors
When learning how to design your emails, it's essential to put a hard focus on your fonts and colors.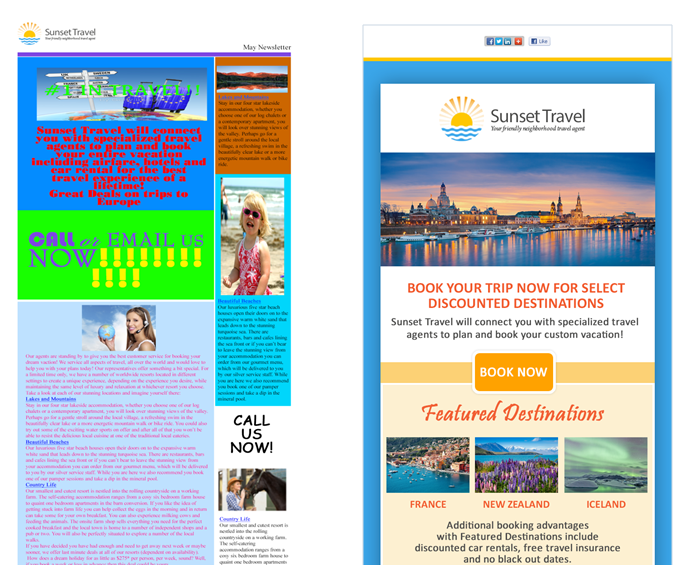 The email to the left is quite awful. It utilizes too many different fonts and colors. for some reason it's human nature to go crazy with the fonts and colors, but it only makes things harder to read. You're better off implementing a strategy like the one to the right, where only two moderate colors are used, and the fonts are kept in check.
Forgetting About Mobile Devices
Mobile devices are not only the future, but they are pretty much taking over the way people view emails. Let's say you utilize the MailChimp platform to send out your email newsletters. When you get to the end of the process, you probably send out a test email to view what it looks like. Do you even take a moment to see how the email looks on a mobile device? Most of these services provide handy preview tools so you don't have to use your own devices, so make sure you check to see if all the elements are snapping into place.
Forgetting About The Email Preview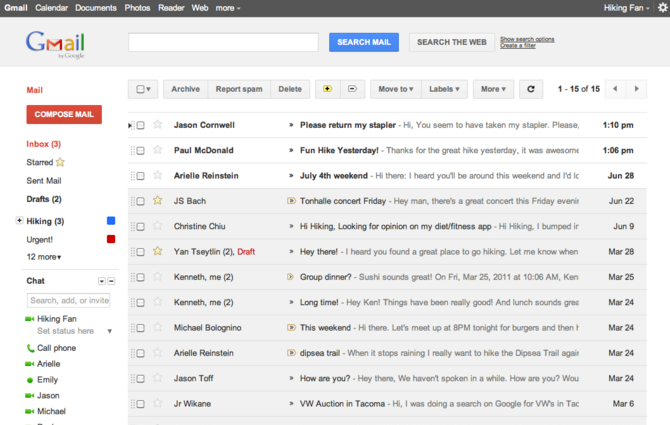 Did you know that Microsoft Outlook is still the most used email client in the world? Did you also know that it reveals a fairly large preview of the email before anyone even opens it? It turns out that many email clients, such as Gmail and most mobile platforms, show a little hint of what people can expect before clicking through to read more. Most people don't think about this but it's just as important as the subject line. Do yourself a favor and scan over the preview text before hitting the Send button. It may just increase your open rates quite a bit.
Putting All Your Focus on the Product and Not the Customer
Does your email content keep trying to convince people to look at your products? Are your email campaigns just a parade of ads? This is no way to connect with your customers. The point is to put your customers first. If you take a look at the Home Depot email below, you'll see that it's all about the product and the company.
On the other hand, Squarespace seems to be taking a genuine interest in customer concerns. They ask questions on how the company can help the customers, along with links to guide them through the whole process.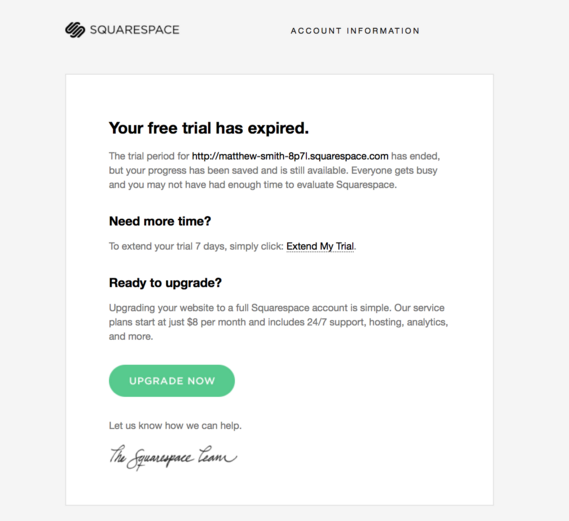 Over to you
Now that you've had a chance to learn about the top email newsletter design fails to avoid, share your own thoughts in the comments section below. As stated before, it's easy to get caught up with tips to improve your mailing efforts, but don't forget about the things you may consistently be doing wrong. About the Author Catalin is the founder of Inspired Mag, and his current obsessions are Sun Ra and matcha tea.
---
Products Seen In This Post:
---

Getting started with hand lettering?
Free lettering worksheets
Download these worksheets and start practicing with simple instructions and tracing exercises.
Download now!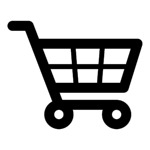 Catalin Zorzini
Ecommerce Platforms is an unbiased review site that shows the good, great, bad, and ugly of online store building software.
View More Posts